Boris seen frantically Googling, 'what happens if we leave the EU?'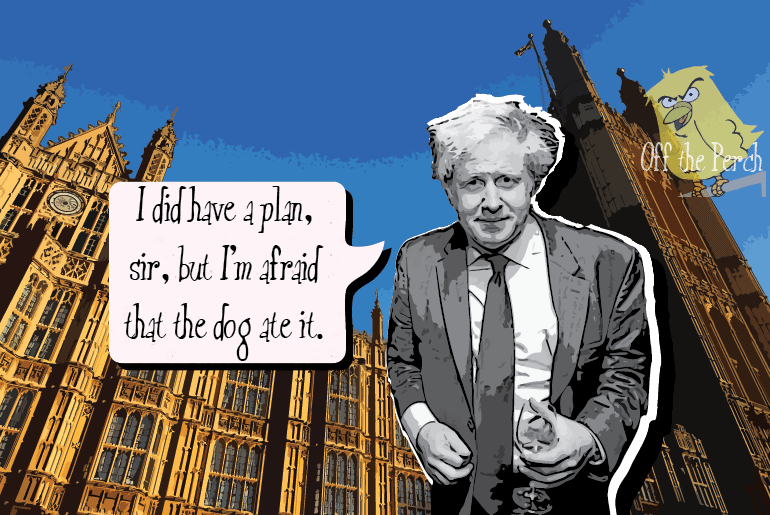 As Brexit began to look more and more like a distinct possibility last night, Google Trends reported a 250% spike in people searching for the term 'what happens if we leave the EU.'
+250% spike in "what happens if we leave the EU" in the past hourhttps://t.co/9b1d6Bsx6D

— GoogleTrends (@GoogleTrends) June 24, 2016
What Off the Perch can now reveal is that almost all of these searches were carried out by Boris Johnson, as the potential PM had apparently failed to formulate any sort of post-Brexit strategy.
We spoke to one of the interns that Boris has roped in to help him come up with a plan – one Larry Lastminute:
LL: "We've all been there, right? It's like when I got stuck up a tree that time, and I thought – 'well I'm not into this' – so I just fell backwards out of it and hoped for the best."
OTP: "What – like immediately? You didn't try to work out if there was a safe way of climbing down?"
LL: "Waste of time. And anyway, I knew that there were quite a lot of people underneath the tree, and that one or more of them would cushion my fall. In the end, it was six and a half of them."
OTP: "So you just knowingly leapt backwards into the unknown – safe in the knowledge that whatever happened it wasn't going to be you who was injured – rather than spend a second working out if there was a safer way of getting down?"
LL: "Sorry, was I not clear the first time?"
OTP: "And this is why Boris took you on board?"
LL: "Oh no, he was just approaching randoms on the street and offering them a cut of this £350m he says he has coming. Of course, that sounded like a lot of money then, but since the pound crashed, I'm being told that it's only enough to buy one croissant."
According to another source, Boris is looking at some of the progressive ideas for what a post-Brexit Europe could look like. Allegedly, however, this is only because saying that you're going to do things like increase spending to the NHS is a actually just a very good cover for doing exactly the opposite.
Featured image via Flickr
Since you're here ...
We know you don't need a lecture. You wouldn't be here if you didn't care.
Now, more than ever, we need your help to challenge the rightwing press and hold power to account. Please help us survive and thrive.
Support