The week in satire Vol. #5
Support us and go ad-free
And what a week it was!
A week which saw Angela Eagle crash landing, Owen Smith crashing without even taking off, and Boris Johnson's ego imploding in on itself like the vaccuous meringue that it is.
But what else happened?
Let's look back and see: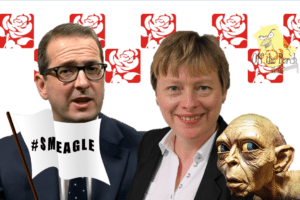 Labour plotters divided over a new joint name for their leadership candidates
by John Ranson
Read on...
Support us and go ad-free
A furious row has broken out among Labour party figures orchestrating the challenge to Jeremy Corbyn's leadership. Off The Perch understands there was "blood on the carpet" at Progress HQ after strategists facilitated a workshop on the branding for the anti-Corbyn campaign.
We spoke to a Progress intern who was in charge of the flipchart at the meeting. To protect her identity, her words have been typed by an actor:
We started by looking to the Brexit campaign for inspiration. It's pretty obvious that they won because they invented a new word that everyone hated but couldn't stop using. And it's a portmanteau – two words mangled together – which is so totally now.

So we asked ourselves how we could combine Owen and Angela. We wanted to use first names because that's really kind of "Call me Dave" isn't it? But "Owngela" just sounds rubbish, like Bonjella or something. I know it sounds a bit like Brangelina but I mean, come on, let's keep it realistic. "Anwen" was nice and short and easy but someone – THANK GOD – pointed out that it's not far off "Aneurin" and the last thing we need to be doing is reminding people that there was a time when the Labour party was run by left-wingers.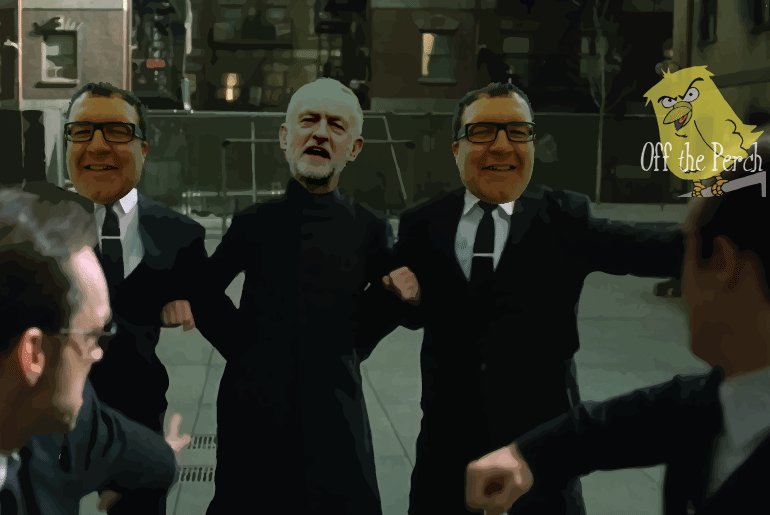 Saving Labour agents caught plugging members into their 'Democracy Matrix'
by John Shafthauer
Twitter was alight yesterday with claims that the group Saving Labour may have been illegally accessing the private information of lapsed Labour members. The reason why they've allegedly been perpetrating this potentially criminal action is that they want to give former members a chance to "save democracy" – namely because democracy is now something which must be saved at any and all costs – even if said cost is the complete and utter destruction of democracy.
Although these allegations are obviously more shocking than an electric eel blowing the 9/11 conspiracy wide open, Off the Perch can reveal that this rabbit hole goes even further than that – so far in fact that we feel obliged to offer you the following two options:
Click the blue link to be whisked away to a reassuring video of some golden retrievers having a bit of a paddle.
Click the red link to carry on reading and have your mind blown harder than an electric eel providing oral relief in a wind tunnel.
Although don't actually click the second one. Just carry on reading. It's red because the link is broken.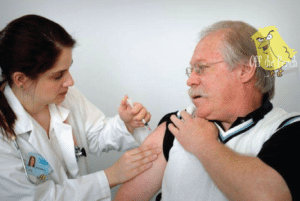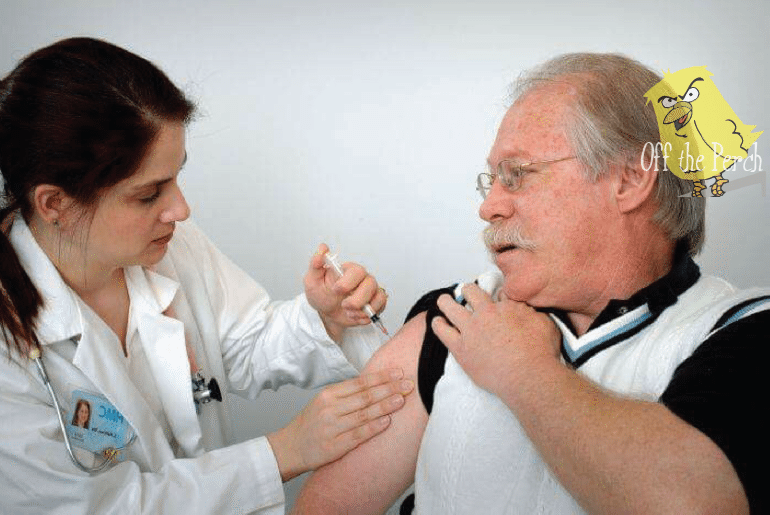 Man wakes from month-long coma, launches legal bid to be put back to sleep
by Kerry-Anne Mendoza
A man who spent a month in a coma following a cheese-rolling accident in June awoke this week to find the world in such complete disarray, he is now launching a legal challenge to be put back to sleep.
54-year-old taxi driver Roger Bird was participating in the annual Buxton Coombe cheese roll on June 18 when tragedy struck. As he and fellow villagers raced down a steep grass hill, chasing a giant ball of local cheese – Mr Bird tripped, somersaulted, and suffered a catastrophic landing which left him comatose for a month.
Mr Bird awoke to a very different world. As he told Off The Perch:
"I thought it was a flipping joke to begin with like. One minute I'm chasing a ball of cheese, next thing you know, we're heading out the EU, and every last bugger who told us to get out has swanned off! Oh, except the white-haired, racist clown one – he's now our FOREIGN SECRETARY!"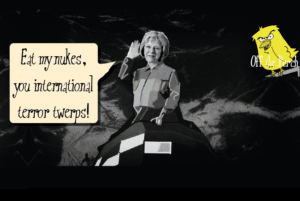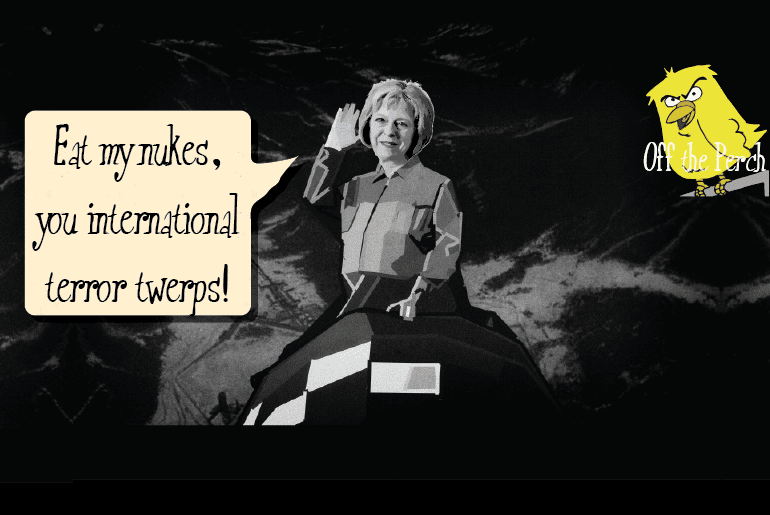 With Trident renewal agreed, UK is now safe as f*ck
by John Shafthauer
With the renewal of Trident having always been more likely than this heat-wave lasting longer than two days, global safety experts have upgraded our security level to AF – the second highest level there is after ON FLEEK.
Although we were nuclear-capable beforehand, our WMD's were a little bit Pound-Stretcher, and as such our enemies were more than happy to mug us off at every available opportunity – much like schoolyard bullies mugging off a nuclear-capable dweeb because he turned up to school wearing Nicks trainers and a bowl cut.
To prove that we've earned our AF security rating, we spoke to some of our greatest enemies to find out exactly how seriously the world will henceforth be taking us.
VLADIMIR PUTIN
When I was preparing plans to assassinate Alexander Litvinenko with radioactive badness in 2006, one of my generals said, 'but boss, don't the UK have nuclear missiles?' Are you kidding me – I said? Their deterrent is so old that their submarines probably have disco balls instead of modern halogen lighting.

We laughed, and laughed, and laughed of course, but then I had the general taken outside and shot, because I worried that he would attempt to pass the joke off as his own with friends or his barber.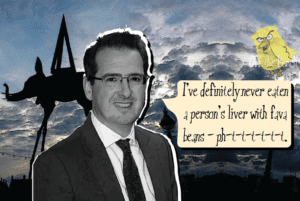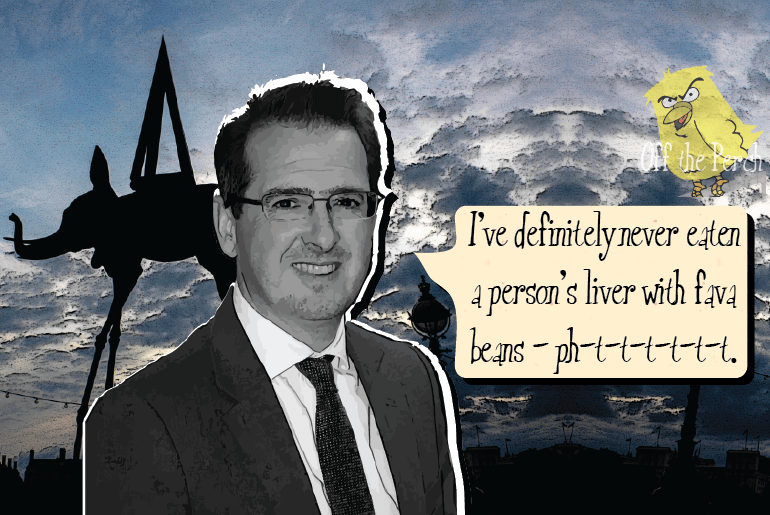 "I'm not a serial killer either," Owen 'normal' Smith assures voters
by John Shafthauer
When Owen Smith was interviewed last week, he responded to the suggestion he was 'normal' by saying:
I am normal. I grew up in a normal household. I've got a wife and three children. My wife is a primary school teacher.
When most people heard this, they thought that it was a clever bit of on-the-fly dog-whistle politics – cunningly insinuating that:
Angela Eagle isn't normal because she's shacked up with a woman, and how do their bits even go together?
All those Corbyn supporters are a right bunch of Trots, rabble, and dogs, and you just know that they didn't grow up normal. If I had to guess, I'd say that they were all raised by soviet infiltrators in East-London mansions that you paid for. They were probably wet-nursed by vegan bears too.
People's opinions have now become further confused, however, after Owen Smith came out to clarify his earlier comments, and ultimately made things even worse:
I'd just like to reiterate my earlier comments, and assert that I am incredibly and undeniably normal. I'd also like to add that I am not – that's not – a serial killer. I am definitely not the Manchester Canal killer for instance, who is more colloquially known as 'Jack the Dipper.'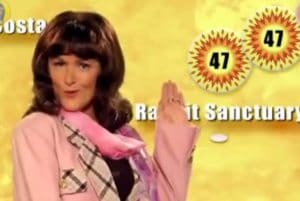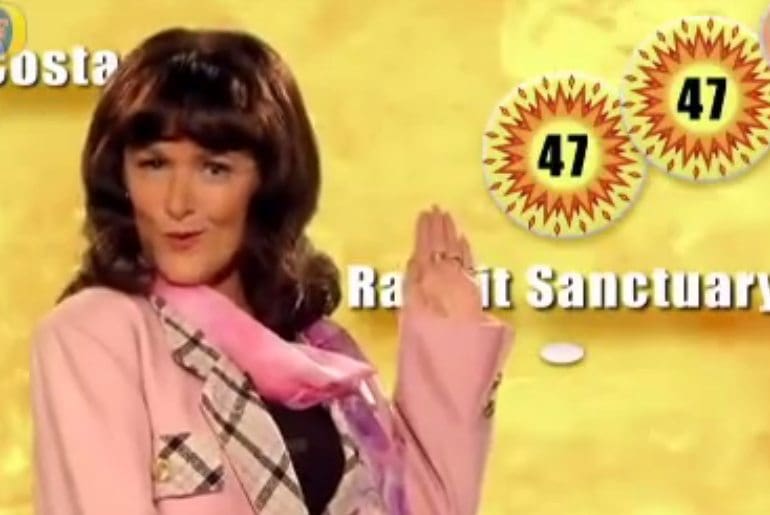 Record UK temperatures now officially labelled "Scorchio!" (VIDEO)
by Conrad Bower
In their ultimate wisdom the powers that be have decided that any day with record breaking temperatures in the UK will now be described as "Scorchio!" A commandment has been drafted and is currently being circulated to the BBC, the Met Office, and all other UK weather forecasting agencies apart from the joke one used by the Daily Express.
The new policy is a tribute to the late Caroline Aherne, who used the word "Scorchio!" to such great effect in her time as a TV weather presenter on the Mediterranean's favourite station, Channel 9. It was here she was discovered by The Fast Show and ultimately became a household name due to critically acclaimed shows such as Mrs Merton and the Royle Family.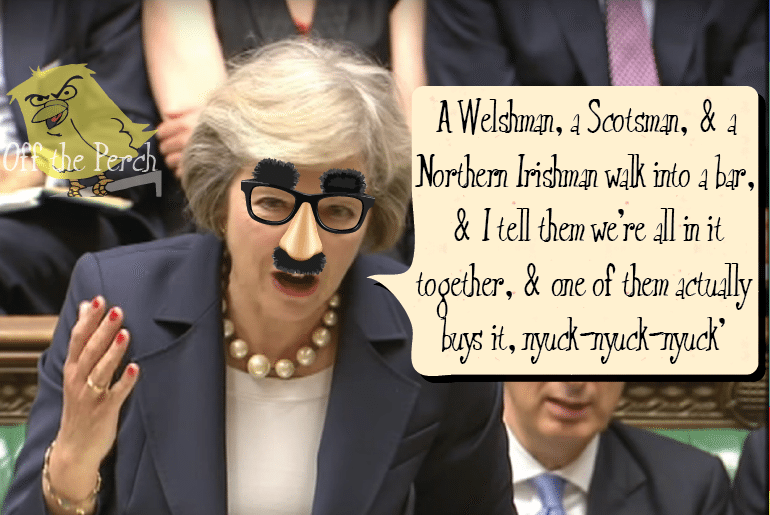 'Theresa's on fire' boast people who hate truth/answers/non gag-based politics
by John Shafthauer
When Theresa May was coronated, many people were worried about how she'd behave as the UK's accidental leader – namely because of her awful f*cking track record.
Thankfully, however, Ms May came out fighting, and heroically claimed that she's actually in favour of the United Kingdom working for everyone – even those people she has historically worked tirelessly against.
The mainstream media (MSM) collectively sighed with relief at this pronouncement, because why would a politician lie about something so obviously important, and who are they to question what a Prime Minister says in public?
Since then, Theresa May has gone from strength-to-strength – most notably so when she made her first appearance on Mock the Week.
Or was it Prime Minster's Questions?
Which is the topical news programme with all the gags and hooting laughter?
Anyone?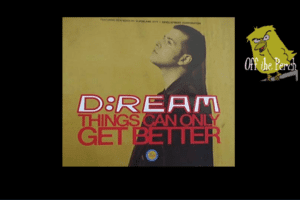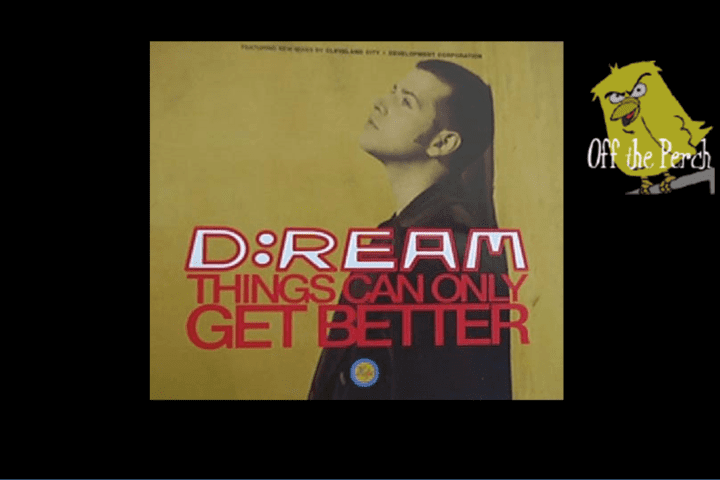 Would-be Labour supporters must own the 12″ vinyl of "Things can only get better"
by Alex McNamara
Following a frankly unsettling paperchase through several of north west London's more gentrified neighbourhoods, Off The Perch has managed to obtain the following leaked document:
LABOUR PARTY INTERNAL MEMORANDUM – CONFIDENTIAL

Dear members of the Parliamentary Labour Party,
Your undivided attention, please.
It doesn't matter what we throw at him, Obi-Wan just won't take the hint.  It's getting serious now: the man's a boomerang covered in dogsh*t. The whole bloody country's distracted by some of the most mental stuff we've ever seen on record, but we still can't get the old codger out. For f**k's sake people.
Many of you correctly predicted he wouldn't bugger off, no-matter what. Bully for you, you were right. Whatever these things are called "morals" and "principles", they seem to be proving tougher to crack than some of us initially thought. (We must get some of those.)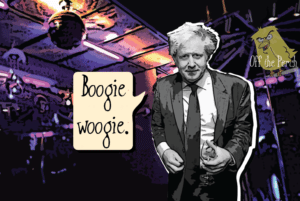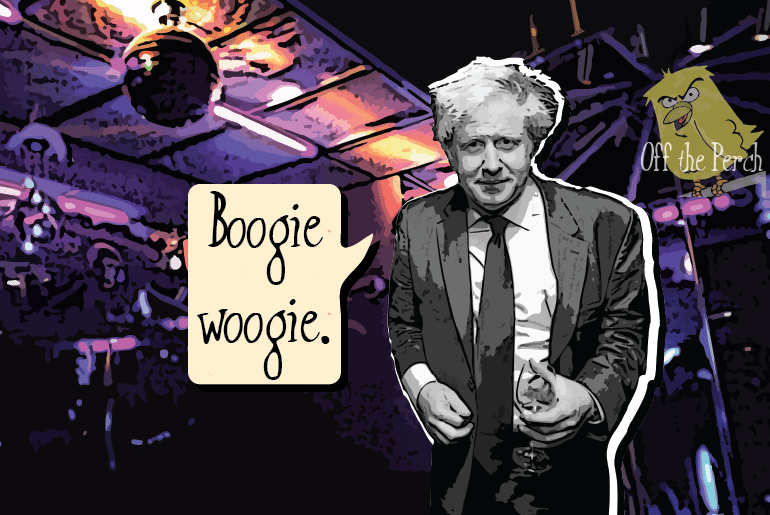 Boris Johnson made to dance for all the world leaders he offended [VIDEO]
by John Shafthauer
When Boris Johnson was made Foreign Secretary, most rational people thought:
AAAAAAAAAARRRRRRRRGGGGGGGGGHHHHHHHHH –WWWWHHHHAAAATTTT-DDDDAAAA-FFFFUUUUCCCCKKKK!!!!!??!?!?!?!?!??!!!!?
Although it seemed illogical to appoint a braying, jingoistic racist to the post – ie the sort man who is so universally offensive that he's probably set our entry to the Galactic Federation of Planets back by millennia – Off the Perch can now reveal that Prime Minister May has actually made the smartest post-Brexit move imaginable.
It's widespread knowledge that the world wants to punish us for our decision to split from the EU, and it's also widely known that when it comes to Boris, the leaders of the free-world have more bones to pick than a rat in a KFC mega-bucket.
What Theresa has done is arrange it so that Boris will be sent abroad for our foreign friends to have their sh*ts and giggles with him, and in return they'll f*ck us over a lot less than they originally intended to.
Featured image via Wikimedia / YouTube / Wikimedia / Wikimedia / Flickr / YouTube / Flickr / Flickr / Public Domain Images / Flickr / Youtube / YouTube / RockOfAges / Flickr / Flickr
Support us and go ad-free
We know everyone is suffering under the Tories - but the Canary is a vital weapon in our fight back, and we need your support
The Canary Workers' Co-op knows life is hard. The Tories are waging a class war against us we're all having to fight. But like trade unions and community organising, truly independent working-class media is a vital weapon in our armoury.
The Canary doesn't have the budget of the corporate media. In fact, our income is over 1,000 times less than the Guardian's. What we do have is a radical agenda that disrupts power and amplifies marginalised communities. But we can only do this with our readers' support.
So please, help us continue to spread messages of resistance and hope. Even the smallest donation would mean the world to us.
Support us