"We can win back the Corbyn w*nkers!" claim HeWhoShallNotBeNamedites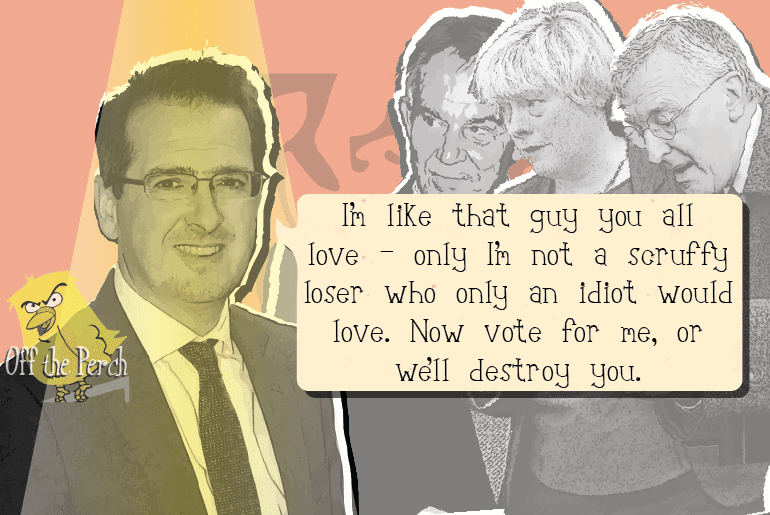 The HeWhoShallNotBeNamedite wing of the Labour Party is sticking to its belief that it can use Owen Smith to win back the "commies", "pie-eyed yogurt-heads", and "Corbyn w*nkers" who currently make up the membership.
To learn more about this 'logic', we caught up with a senior member of the #ChickenCoup who has asked to remain anonymous, and will henceforth be referred to as 'Beakthroat'.
Off the Perch: "So you really believe that you can win over Jeremy Corbyn's followers?"
Beakthroat: "The Corbyn w*nkers? I should think so. Hoodwinking w*nkers is what we do best."
Off the Perch: "And you don't think that constantly referring to them as "w*nkers", "trots", "rabble" and "dogs" will discourage them from having anything to do with you?"
Beakthroat: "Been reading memes online, have you?"
Off the Perch: "It's basically just common sense. Would you want to work with someone who kept calling you a w*nker?"
Read on...
Beakthroat: "The Corbyn w*nkers call us that all of the time – and much worse too!"
Off the Perch: "And do you want to work with them?"
Beakthroat: "Christ no! They're just ghastly. I hate them all! I hate them all so much it makes me want to spit."
Beakthroat: *SPITS*
Off the Perch: "So you see the problem with your plan, then?"
Beakthroat: "What I see is that we won three elections, and that if we want to implement our wonderful Labour policies, then we need to win."
Off the Perch: "Three elections is good, but you did also just lose two in a row."
Beakthroat: "Where did you read that – in a meme?"
Off the Perch: "It's public record. It was on the news for goodness' sake!"
Beakthroat: "Well regardless of what the public keep telling us about our electability, the fact is that we are actually very electable. If you want radical socialism, it's us or no one."
Off the Perch: "Well that's the other thing, we all remember you saying that Jeremy Corbyn is a dated, Trotskyist throwback-"
Beakthroat: "Oh yes – a real beardo, Maoist arse-brain."
Off the Perch: "-and yet you're supporting Owen Smith-"
Beakthroat: "Exactly the pair of safe yet radical hands that we need."
Off the Perch: "-despite the fact that his plan seems to have been copied and pasted directly from Jeremy Corbyn's."
Beakthroat: "Where did you read that – in a meme?"
Off the Perch: "It was in a meme actually: it was in a meme that Jeremy produced a year ago in which he laid out his plans for government."
Beakthroat: "Well it's not the policies which are the problem – it's Jeremy himself."
Off the Perch: "So in the past, when you said it was the policies, were you lying, or have you had some sort of socialist Damascus road experience? Because I think people are rightly concerned that if Owen Smith actually intended to implement any of these ideas, none of you would support him in the first place."
Beakthroat: "You're a real w*nker – do you know that?"
Off the Perch: "Yes – I read that in the meme a couple of New Labour-type MPs were sharing – the one which read:"
THE CORBYN SUPPORTERS ARE A BUNCH OF STALINIST W*NKERS WHO PROBABLY VOTED FOR SOMEONE ELSE IN THE LAST ELECTION.

IF WE WANT TO GET A MAJORITY GOVERNMENT, WE NEED TO MAKE SURE THAT WE SOLELY APPEAL TO VOTERS WHO HAVE ONLY EVER VOTED LABOUR.

OR THE CONSERVATIVES OR UKIP.

WHICH WE WILL DO BY PROPOSING A LOAD OF SOCIALIST IDEAS AND ARRANGING A SECOND EU REFERENDUM.

JUST LIKE TORY AND UKIP SUPPORTERS WANT.

#ReclaimTheInternet

#CorbynistasF*ckOff

#NaiveThrowbackW*nkers

#GodIF*ckingHateThoseC*nts

#VoteLabour
 Beakthroat: "Oh yes – I came up with that meme, actually."
Off the Perch: "That doesn't surprise me."
Although New Labour's plan to 'treat members mean and keep them keen' has so far been about as effective as one of Owen Smith's domestic abuse jokes, it has at least reminded voters that these people exist.
Because, you know, without fresh ideas, competent MPs, or a hope of success beyond the Tories miraculously imploding, nobody would even remember who these HeWhoShallNotBeNamed w*nkers are.
We're a thorn in the side of the establishment, but we can't do it without your help
Your fight is our fight. But as many of you will know, speaking truth to power has never been easy, especially for a small, independent media outlet such as the Canary. We have weathered many attempts to silence our vital opposition to an increasingly fascist government and right-wing mainstream media. Now more than ever, we need your support.
We don't have fancy offices, and our entire staff works remotely. Almost all of our income is spent on paying the people who make the Canary's content. So your contribution directly supports our team and enables us to continue to do what we do: disrupt power, and amplify people.
But we can't do this without you. So please, if you appreciate our work, can you help us continue the fight?
Support us