The week in satire Vol. #11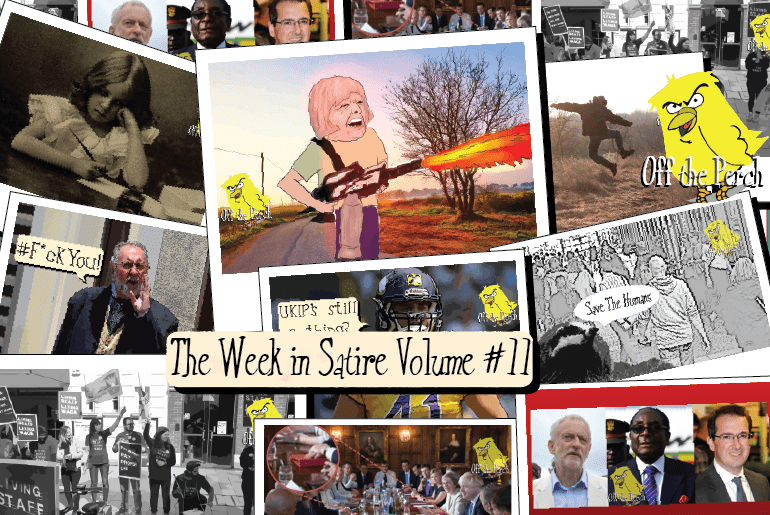 Support us and go ad-free
And what a week it was!
A week that saw J.K. Rowling attempting to 'Avada Kedavra' Jeremy Corbyn, Jeremy Hunt caught in the act and giggling his way through it like the irksome school twerp he is, and Ed Balls.
https://twitter.com/hourlyterrier/status/770240109270667264
But what else happened?
Let's look back and see: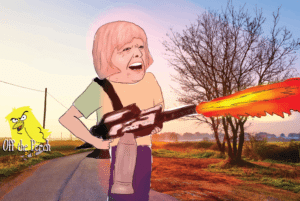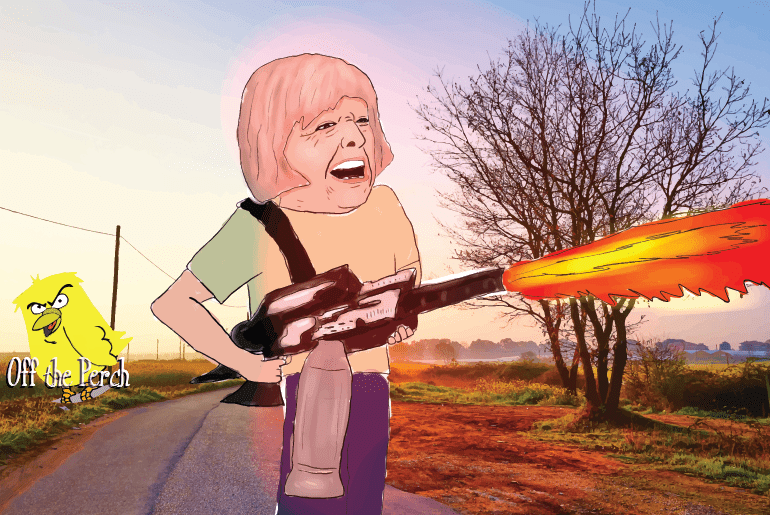 Tories unveil plan to tackle the environment
Read on...
by John Shafthauer
Theresa May made it clear on 26 August that, under her government, the Tories will tackle the environment once and for all. Some of the journalists she spoke to assumed she meant 'tackle climate change' or 'tackle pollution', but as she laid out her plans, it became increasingly clear this wasn't the case.
The three-point plan has now been released to the public, and a summary of each step can be read below.
Streamlining
It's the opinion of the Conservative government that currently we have too much environment. They also believe what we do have is spread across too wide an area. Although it can be nice to have a bit of environment for walking about in and such, it's ultimately very difficult to manage when it's spread all over the country like an untimely-dropped flan.
Their plan going forwards is to concentrate the environment in the south of Britain – having picked this region out of a hat for the sake of fairness. Or at least that's what they claimed they did anyway – in between bursts of laughter which they assured us were unrelated.
The rest of the UK's environment will be converted to things that are cheaper to manage – like fracking sites, multi-storey car parks, and emergency housing for foreign oligarchs. They say 'cheaper' to manage because privatising something doesn't actually mean that we ever have to stop funding it.
Primary school starters "don't know anything," complains Department for Education
by John Shafthauer
The Department for Education has complained that most children getting ready to start primary school are completely devoid of curricular learning – a discovery which led to Education Minister Justine Greening branding the infants as "piss-takers".
We spoke to a senior Tory to have the problem explained to us in full:
You wouldn't believe the total lack of knowledge that these pleblings turn up with. I sat in on a reception class, and most of them couldn't even answer basic questions.

What questions did I ask? Well, it was just simple stuff really, like how do you calculate the inheritance tax on a small fortune? Who discovered Crete? What's the correct manner of addressing a viscount? What's the rarest – and therefore most succulent – species of condor? And of course, what's the proper way of evicting a deceased groundsman's widow?

And you know what, not one of them put their hand up! I thought that one little girl was going to, but then she picked her nose and smirked at me, as if to say, 'that's right, if you want to mould me into a functional human being, you're going to pay through the nose for it'.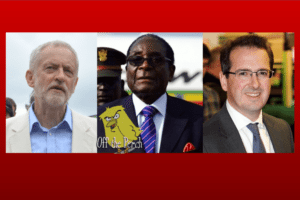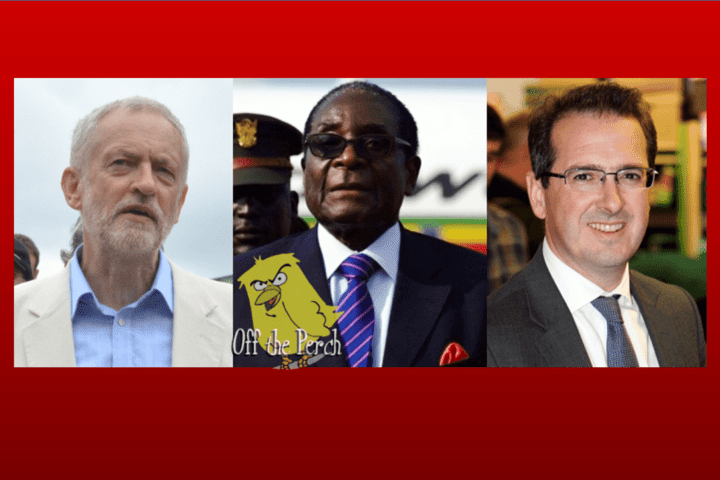 Zimbabwean dictator Robert Mugabe to oversee Labour leadership election
by Kerry-Anne Mendoza
The Labour party's ruling National Executive Committee (NEC) today announced the appointment of Zimbabwean dictator Robert Mugabe to oversee the leadership election between Jeremy Corbyn and Owen Smith. Mr Mugabe will review the processes and procedures of the election to evaluate fairness.
The decision comes at a challenging time for Labour's NEC, which is fending off criticism for purging high numbers of Corbyn voters in efforts to deliver a win – or at least a more acceptable loss – for coup candidate Owen Smith. Critics suggest that the employment of a bona fide dictator sends the wrong message to those with concerns about the party's commitment to democracy. But Avin Yuwan, spokesperson for the NEC told Off The Perch:
These concerns are, frankly, racist. The Trotskyite entyists attempting to takeover the party are known for their rampant bigotry, and this is just another example to add to that sorry list.

Mr Mugabe has a long and distinguished history as a leader, a humanitarian and a democrat. He has won 7 consecutive terms in power, leading his country for 36 years. Obviously, that is threatening to people who care more about providing an opposition than leadership. We are thrilled to be working with him.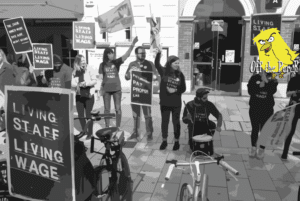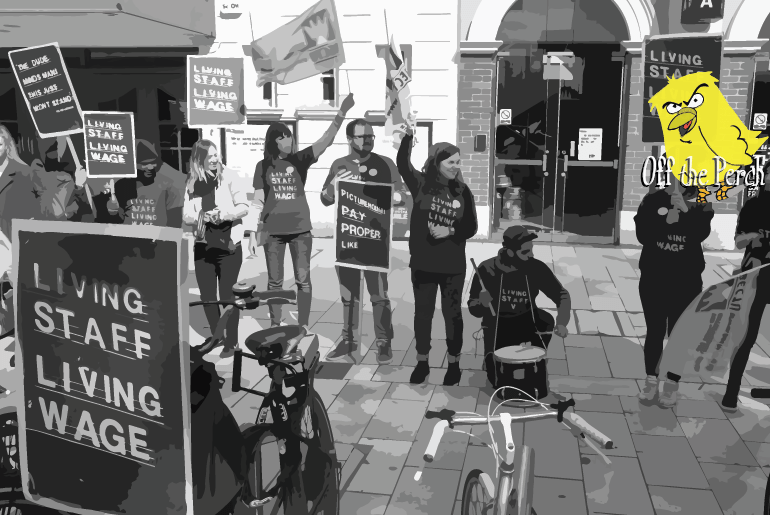 Tories to introduce negative-hours contracts
by John Shafthauer
The Department for Work and Pensions (a.k.a. DWP/Dangerous Work Pricks) has announced that it will henceforth be allowing employers to introduce negative-hours contracts – a scheme which will make zero-hour contracts look like paid leave from the cat café.
For those out of the loop, an employee on a negative-hours contract starts every week owing their employer several hours of work before they get paid. So a worker on a minus-8 hour contract would have to complete an entire shift before they were in fact owed any compensation.
We spoke to one of the DWP's top bastards about the scheme – a scheme which we thought was some sort of unfortunate typo before the vicious creature began defending it:
The people of Great Britain sent a very clear message when they voted for us – namely that people want jobs, and employers want employees. We've found a way of making that happen. We're making it happen!
When it was pointed out that employees would also like to be paid, the minister began to froth at the mouth and bang his forehead with the butt of a pistol that he had suddenly produced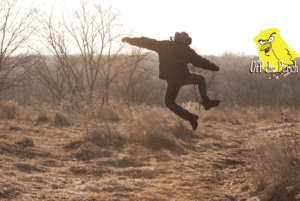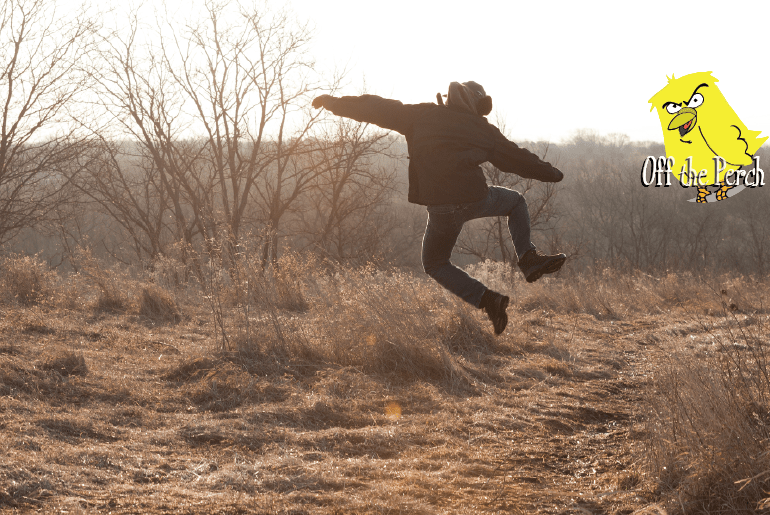 A day in the life of an abstaining MP
by John Shafthauer
When Labour MPs by-and-large abstained from voting against the Conservative Party's social cleansing budget in 2015, Off the Perch arranged to follow one of them round for the day – to find out what it's like to be a prominent abstainer.
Unfortunately, the MP in question abstained from signing off on us publishing, and so the story was left half written on a USB stick. We've since realised we can just publish it without his name attached, however, so here it is – a day in the life of an abstaining MP:
We followed REDACTED, the MP for REDACTED, for the day to see what it was like to abstain from life:

The first thing REDACTED does every day is walk his dog. Unfortunately, walking his terrier isn't as pleasant as it once was, because his entire street is littered with dog sh*t. He has a long conversation with a neighbour about it, and then pauses to watch his dog lay a turd out – a turd which he abstains from scooping up.

"That's terrible," he says. "Someone should really clean that up."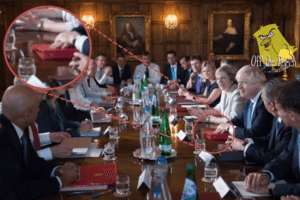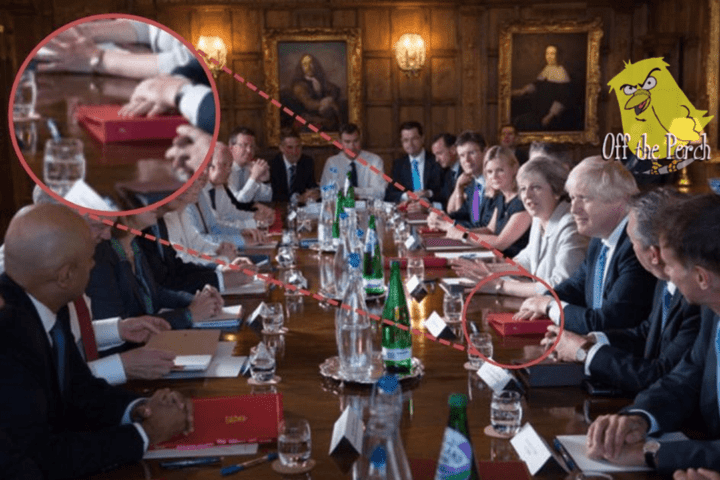 Boris has a smart new folder for the first day of term, but whoops… forgets his homework
by Alex McNamara
For millions of children across the country, the end of August and the beginning of September marks a transition to a new academic year. An ascension. A re-branding. A step closer to becoming a fully fledged adult. The same is kind of true for Boris Johnson.
It started, as ever, with the best of intentions. Boris was immensely proud of his smart new folder from WHSmith, but sadly turned up for the first day of school not having done the homework meant to go inside it. Aside from a few coloured-in pictures of dinosaurs and the handy calendar divider provided, our new(ish) Foreign Secretary arrived for his first lesson with Mrs May virtually empty-handed. His explanations that "the dog had eaten it" were not well received, and neither were continual references to Chequers as "Hogwarts".
Boris attempted to disguise this fact from photographers. But amazingly, clasped hands didn't quite act as the camouflage intended. It was only a matter of time before someone inspected the pictures more closely, putting two and two together. It seems clear that Johnson's contribution to the Brexit talks is, in all probability, as vacuous as his shiny red folder.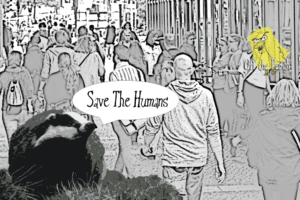 Voter cull urged "to tackle stupidity in politicians"
by John Ranson
Off The Perch can exclusively reveal that there is a growing call to roll out a cull of voters across numerous constituencies throughout England.
The measure, which is being promoted by political donors and landowning types, has been touted as a last resort to tackle the growing problem of stupidity in politicians. They claim this debilitating condition is actually being spread by voters, while also asserting that voter numbers have "got out of hand".
The cull will be carried out by government approved contractors, working to a quota system. Roughly half of the voters will be lured into modified football goals, taken from schools for the duration of the cull period and, once trapped, killed in the face with shotguns. The others will be picked off as they go about their business, by gunmen who have trained themselves by watching American Sniper over and over again and playing Call of Duty a lot. A government spokesman said that, in the event of the cull going ahead, the risk to the general public would be "negligible".
We asked a cull supporter to explain the rationale behind the proposed scheme:
What you have to understand is that it can take years to raise an MP. You have to select a chap, or yes nowadays even a lady, who you can trust to do the right thing. Then you have years of greasing the wheels, getting him chosen as a candidate, making sure he wins the jolly election dash-it-all. And then one day you look in his eyes and realise the poor chap's got nothing going on upstairs. It's heartbreaking. Mostly because of all the money it's cost to get him there. It's pretty clear to me, and to everyone I know, that MPs are picking up this condition from the voters. So a substantial reduction in the number of voters seems like the only sensible solution.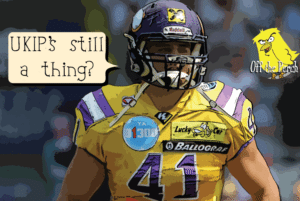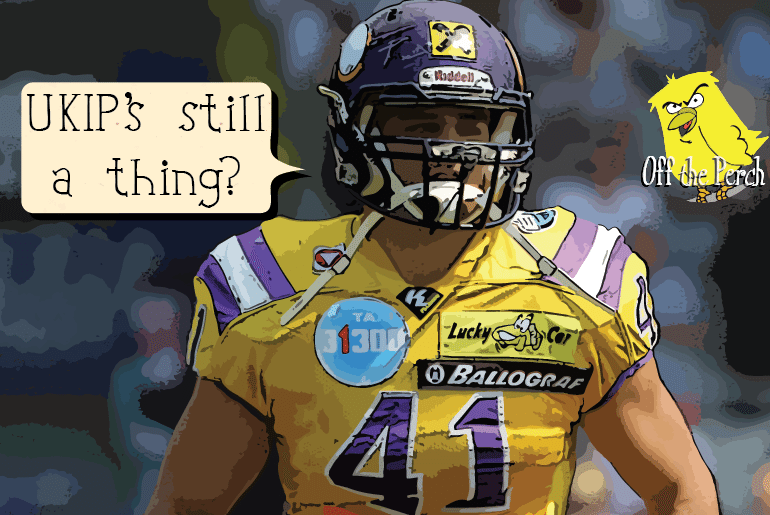 UKIP calls for American Football to be renamed 'Crown Traitor Health & Safety Rugby'
by John Shafthauer
UKIP has been somewhat on the ropes since the EU Referendum, as Nigel Farage has failed to reinstate himself as leader, and his potential replacements have failed to inspire anything other than a confused look – usually followed by the question:
Who?
One potential UKIP leader has now managed to make a name for himself, however, with a policy so popular that it's uniting people more efficiently than a super glue-coated kitten.
We spoke to the gentleman in question – one Enoch Malfoy – to find out about his plan to rename American Football 'Crown Traitor Health & Safety Rugby':
What Nigel realised is that once people get over their need to be politically correct, the heady thrill of scapegoating minorities is like a drug. It reached a peak with the EU Referendum, though, and now we're worried that people will start to come down and feel a bit queasy with it all. They may even realise that the 'wonderful' drug we sold them is laced with laxatives, false promises, and bad intentions.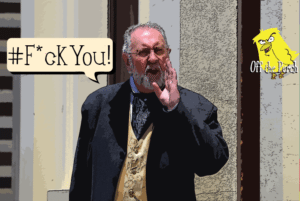 Tories advise supporters how to argue points they don't understand
by John Shafthauer
The Conservative government of Great Britain has issued a pamphlet aimed at helping its supporters to form and defend opinions that they fundamentally just don't understand.
To find out more, we spoke to Arnold Slumbaron MP – the recently appointed Secretary of Scattershot Bullshit and Bad Advice:
There's a great tradition of British people having opinions, and we would love for it to continue. Unfortunately though, people are being hampered from forming the right sort of opinions by a niggling feeling that they should actually understand the things they allegedly believe in.

What we're advising today is that you simply don't need to look into a subject that you claim to be an expert on. You just don't. You can just believe what we tell you to. It's quicker. Just believe what we tell you. It's quicker. Just believe what we tell you. It's quicker.
 By the end of this speech, Mr. Slumbaron had produced a black and white spiral on a stick and was twizzling it around – presumably with the intention of hypnotising our reporter. Thankfully, however, our roaming staffer was drunk, and therefore unable to process the governmental mind voodoo being spun at him.
Although the live-action coercion was ineffective, we have since been given a copy of the pamphlet-ised version, and can exclusively reveal its contents to you now:
Featured and in-story images via John Shafthauer / Flickr / Flickr / WikiCommons/Wikipedia/Wikipedia / Flickr / Flickr / Facebook / Pexels / Flickr / Flickr
We know everyone is suffering under the Tories - but the Canary is a vital weapon in our fight back, and we need your support
The Canary Workers' Co-op knows life is hard. The Tories are waging a class war against us we're all having to fight. But like trade unions and community organising, truly independent working-class media is a vital weapon in our armoury.
The Canary doesn't have the budget of the corporate media. In fact, our income is over 1,000 times less than the Guardian's. What we do have is a radical agenda that disrupts power and amplifies marginalised communities. But we can only do this with our readers' support.
So please, help us continue to spread messages of resistance and hope. Even the smallest donation would mean the world to us.
Support us