If UK political parties were school teachers – a satirical analogy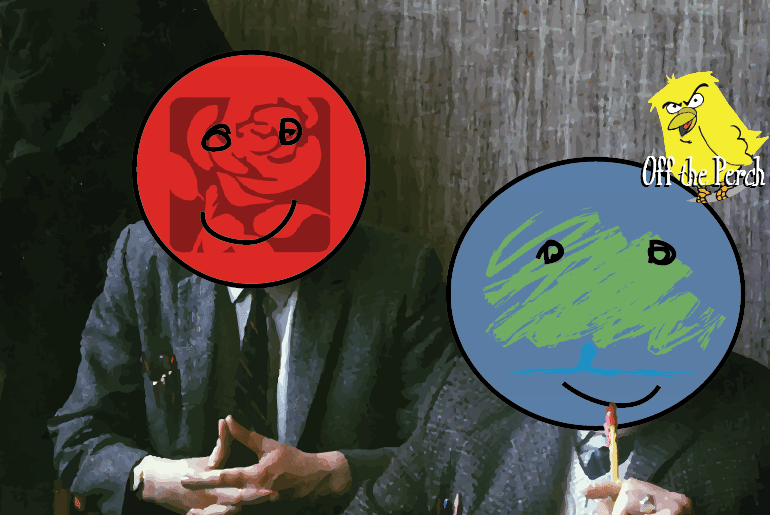 Support us and go ad-free
Now obviously the first thing you're probably thinking is:
So you're comparing voters to toddlers? Isn't that a little bit patronising?
 Yes – this analogy is very problematic. Although I'm not going to explain why it's problematic until the very end.
For the time being, please just be assured that the analogy "works" in that politicians are supposed to explain politics to the masses in the same manner that teachers are supposed to impart knowledge to infants.
The Beginning
To begin with, we start with a class of several infants and two teachers – Mr Conservative and Mr Labour (who I have gendered identically to avoid the suggestion that right or left-wing politics are male or female traits).
From the get go, Mr Conservative and Mr Labour have very different ideas about how to run the class. As the two teachers cannot agree which approach is best, it's decided that whoever can attract the most children will get to set the classroom's agenda.
Mr Conservative believes that individuals should be encouraged to concentrate on their own development, and that those with the greatest talents should receive the most support. The rationale for this is that students with the greatest aptitude will provide the greatest benefit to society, and so nurturing these people will advance society more quickly, and ultimately lead to a greater quality of living for everyone.
Read on...
Support us and go ad-free
Mr Labour believes that all of the students should be given equal attention, and that everyone's skills should be weighted equally. The rationale for this is that a society in which people are rewarded equally is a society in which everyone has a vested interest, and therefore everyone reaps the benefits that come from striving for progress.
Although both of these philosophies sound like they have some merit, the problem is that neither Mr Conservative nor Mr Labour really believed in them.
Mr Conservative was given his position at the school because he was friends with the shareholders, and as a result his main concern was always to keep the progeny of his backers satisfied – regardless of whether or not they were academically superior (or in some cases, whether or not they could even spell/not torture cats). Mr Labour attained his position through genuine struggle, and although he still held out hopes of providing benefits for all, the more that he struggled with the school board, the more jaded he became.
Hearts and Minds
In the past, Mr Conservative had been the only teacher in class, and Mr Labour's promise to make the classroom equal for all seemed like it would logically attract the most children to his side. However, a number of factors began to work against the new teacher's inevitable rise to educational prominence.
The first was that some of the children in class set-up their own newsletters. Some of these newsletters were run by the children of the school's owners, and so they obviously promoted the idea that Mr Conservative was the teacher of choice – primarily by drawing Mr Labour with stink-lines coming off him and a cock and balls on his head.
Other newsletters were written by children who had observed the benefits that Mr Conservative gave out. In an effort to acquire said benefits, they used their newsletters to shape the opinions of other children and then wielded this influence as a weapon – for instance by threatening to draw a picture of Mr Conservative sniffing the finger puppets if they weren't allowed extra milk at break time.
Others were largely supportive of Mr Labour, and yet also verbosely blasé about whether things could – or indeed should – ever change for the better. They also spent a lot of time talking about how kale was the most important part of school dinner, and so nobody really took them that seriously.
Dynamics
The other change was that several new students arrived at the school – students who were in fact from another country entirely.
Although Mr Conservative had always been fairly transparent about his uninterest in supporting the poor children, he was also now dependant upon these poor children supporting him. As such, the foreign arrivals were a God-send, as he was able to point at them and say to the class:
Sorry, kids. I was going to do some drawing with you, but these little devils have shoved all the crayons up their nostrils.
Now obviously, the poor children should have spotted that Mr Conservative treated the foreign children exactly how he had been treating them up until five minutes beforehand. There was, however, a reassuring sensation for some of them in no longer feeling like they were the problem children, and so several of them just willingly went along with it.
Back on Top
As a result of these factors, Mr Conservative managed to wrestle control of the classroom for a long period of time – adopting a strategy of accusing Mr Labour of being a squanderer who'd given all of the class' arts and craft supplies to nearby schools who couldn't afford their own.
Conditions in the class room became noticeably worse for the majority of students at this time – to the point that a minority of rich kids had free-reign over the classrooms while a majority of poor kids were crammed into a single broom cupboard. Although the poor kids could clearly see that the rich kids had a gross and unjustifiable monopoly of class space, Mr Conservative craftily said to them:
Imagine how much space you'd have in that broom cupboard if it wasn't for all of the foreign kids that I jammed in there with you?
The Pendulum Swings
Mr Labour eventually managed to find favour in the classroom again by appealing to the editors of the school newsletters. At this point, Mr Labour attempted to find a third way of running the class, and also began to refer to himself as Mr New Labour. This 'third way' essentially involved implementing his philosophies of education in the broadest sense, whilst simultaneously giving the rich kids their own common room, and allowing them to get on with doing whatever the hell they wanted to.
This sort-of worked for a bit, but the plan was unfortunately founded on the faulty notion that the rich kids would be satisfied with merely having far more than they could ever possibly need.
Tensions with the foreign students also exacerbated – even though Mr New Labour did far more to encourage multi-cultural learning than Mr Conservative ever had. Problems arose though when Mr New Labour heard a rumour that a nearby faith school had some really powerful Tipp-Ex, and in response went over there with his American friend and burnt the place to the ground – a weird and unjustifiable move which predictably created a toxic atmosphere of tension.
What finished Mr New Labour was that the entire school flooded – namely as a result of the rich kids pissing about with the sinks. Now some of the blame was certainly at Mr New Labour's doorstep, as he had told the rich kids that they could piss about with the sinks as much as they liked. Mr Conservative, however, cleverly told the children that the school flooded because Mr New Labour spent too much money on protractors and tennis balls, and the children drank that down like thirsty gerbils – despite the fact that the rich kids were sopping wet through, and they hadn't even stopped laughing and pissing about with the sinks.
Mr New Labour tried to defend himself by pointing out the climbing frame and swing set he'd built for everyone to use. But by allowing the rich trouble-making elements of his classroom to cling on to their status, he had prolonged a situation in which he required their validation to be seen as a serious educational operator. His dodgy backers quickly withdrew their support, however, when they realised that the flood would allow them to refurbish the school in a manner which was far more beneficial to themselves.
Chaos Reigns
At this point, Mr New Labour and Mr Conservative were joined by two new classroom assistants – Mr Green and Mr UKIP.
Mr UKIP was a former pupil of the warring teachers, and had really taken to heart the idea that the foreign pupils were responsible for every single educational problem there was. Mr Green had also been a former pupil, and although in favour of Mr Labour's beliefs, he believed that the teacher himself had failed to implement his philosophies as a result of constantly letting the rich children piss about with the fire alarms.
Mr Conservative managed to hold on to his position as the most popular teacher, but the classroom was actually more divided  than ever – especially as a number of children had ceased interacting with education at all, and were instead just wandering about the playing fields poking dead pigeons with sticks.
At this point, most children didn't even have a favourite teacher, and instead followed whichever one they disliked the least.
Mr New Labour attempted to curry favour with the kids by trying to find out what they were into, and then pretending that he liked things like Ed Sheeran and casual racism. The kids saw through this, however, as it was obvious that Mr New Labour didn't actually like any of those things, and that if his actual ideas weren't good enough to verbalise, then they probably just weren't very good.
Mr UKIP managed to convince a large section of the classroom that the education board were the ones who let in all of the foreign students, and in protest arranged a food-fight so messy that it saw the school being declassified as an educational institute entirely. Although Mr UKIP had a very clear notion of how education shouldn't be run, he had no idea as to how it should, and so after the custard had dried, he quickly grew a moustache and ran off.
Mr Conservative tried to straddle the line of persuading Mr New Labour's former children he was competent and convincing Mr UKIP's that he was a frothing, race-hating action man. This didn't go very well, but it did at least buy him enough time to siphon off the yearly chalk budget and buy the rich kids a new pool table for their common room.
A new teacher calling himself Mr Labour also turned up and got into a fight with Mr New Labour – a fight which was so all-encompassing that they didn't even notice when Mr SNP snuck in and removed all of the Scottish children.
Obviously, while all of this was going on, the majority of children weren't really learning very much – except of course for the rich children, who were learning that their mistakes were always somebody else's responsibility.
Conclusions?
And so to end, I will point out the problem with this analogy – namely that a teacher would never insult a child's intelligence as thoroughly as these politicians have insulted ours.
Featured image via Flickr
Support us and go ad-free
We know everyone is suffering under the Tories - but the Canary is a vital weapon in our fight back, and we need your support
The Canary Workers' Co-op knows life is hard. The Tories are waging a class war against us we're all having to fight. But like trade unions and community organising, truly independent working-class media is a vital weapon in our armoury.
The Canary doesn't have the budget of the corporate media. In fact, our income is over 1,000 times less than the Guardian's. What we do have is a radical agenda that disrupts power and amplifies marginalised communities. But we can only do this with our readers' support.
So please, help us continue to spread messages of resistance and hope. Even the smallest donation would mean the world to us.
Support us