The week in satire Vol. #21
Support us and go ad-free
And what a week it was!
A week in which PRESIDENT DONALD F*CKING TRUMP.
A result which threw everyone for a loop. Especially us, as we'd already written an article based on the assumption that Trump was going to lose. If you'd like to slip away for a minute into a parallel universe in which we're yet to have our first orange president, then please read the following. Alternatively, please scroll down a little bit to the satire of what actually happened this week.
Donald Trump announces his new book 'The Art of Running Up' [THE STORY THAT NEVER WAS]

by John Shafthauer (Idiot)
Following his devastating defeat at the hands of Hillary "bad-but-maybe-not-as-bad" Clinton, Donald Trump has announced his latest book. A follow up to 1987's The Art of the Deal, this latest tome is a statement about how coming second is actually a far greater achievement than coming first. As Donald asserts:
Really it is. Just a great position to be in. Believe me. Hillary wishes she came second.
Unlike his 1987 book, the (lack of) literary quality suggests that Trump was actually the author this time. Either that or it was authored by the fabled thousand monkeys at a thousand typewriters – somewhere on their path towards typing the complete works of William Shakespeare.
Read on...
Support us and go ad-free
Anyway, here's some extracts from the book:
Trump on the Presidency
It's nothing special. Really it isn't. I didn't even want to be President. You know how many people have been President? 20 guys at least. Maybe more. I've played golf with all of them. Bozos. Seriously.

You know who was never President? Einstein. You know who else? Mozart. I can go on. Ever heard of Picasso? Colonel Sanders? Robert Pattinson? And who would you rather be associated with? The greatest minds and bodies we've ever produced? Or those phonies in the White House? I know who I'd rather be associated with.
Trump on the chances of his book being a success
I'd be disappointed if this book was a #1 bestseller. Honestly I would. A #2 bestseller though? That's what I want. Maybe even #3. #4? Even better. Just any number below #1 is what I want. Really it is. Believe me.
Trump on being number #2
Someone said to me, I couldn't believe it. They asked if I knew if number #2 was a word for taking a sh*t. And so what, I asked? You'd rather be a number #1? So insubstantial. Where's the substance?
Trump on what he'll do next

I can do anything I want next. Anything. And what will Hillary be doing? Oh, oh, oh I need to deal with this crisis. Oh, oh, oh I need to deal with that crisis. Just sad. Really.
I'm the most famous man in the world now. I could be in movies. I could be Supertrump. I could be Iron Trump. I could be The Trump with The Trump Tattoo. So many great options out there for me.
If you're interested in buying a copy of The Art of Running Up, make sure to keep an eye out at your local petrol station. If the petrol station near to you is in New York, the person serving it to you may even be Donald Trump himself.
[Author's note: How f*cking wrong were we?]

Planet Earth 3 will be "deserts, cockroaches, and Tories", sighs David Attenborough
The BBC's flagship documentary series Planet Earth returned this weekend, and reminded everyone exactly what it is we're f*cking up.
This is what Sir Boaty McBoatface himself had to say on the matter:

This latest series of Planet Earth features the most amazing footage we've ever recorded to film. It includes a species of land-octopus that only has four legs and looks exactly like the common stoat. It includes an orangutan making a primitive saxophone from a hollow mangrove root and then using it to blast out the solo from Baker Street. It even features a tribe of discarded Apprentice contestants who display behaviour more typically associated with human beings.


And in a few years time, every last bit of it will be gone.


Except for the deserts, of course. And the cockroaches. And the ars*holes who presided over this self-wrought tragedy of senselessness.

Theresa May secures free hotel towels during Indian trade visit
Many predicted that Theresa May would return from India empty handed. But she proved otherwise by scoring some towels, a bathrobe, and a shower curtain, and taking a few selfies to prove it happened.
There were several reasons why people predicted the Indian trade visit would fail to bear mangoes. The first is that most countries simply won't enact deals with us until we've sorted out our affairs with the EU and the World Trade Organization (WTO). A process that may take up to ten years. And the reason they won't is the same reason you wouldn't arrange to marry someone who was already going through a messy and protracted divorce, while simultaneously being on fire.
India would also like to arrange a better immigration deal for itself in return for access to its financial services. Which would be beneficial to us in both directions. But, well. We're not really driven by common sense anymore. We're driven by ill-thought-out reactionary sentiment and deceitfully constructed right-wing headlines.

Human species to revert to living in small tribal groups
by John Ranson
Donald Trump's election as US President will herald a new phase of human existence, according to people who study these things.
All political scientists have resigned in disgrace, so anthropologists are the only experts left. And they believe that the human race is going to do things differently from now.
Migration
Many US citizens are simply packing their bags and shuffling north to Canada. But they'll have to jostle for room with the countless Brexit refugees moving there from the UK. In fact, some people expect Canada to be the world's most populous nation by about 2018.

Dazed Bill Clinton seen repetitively muttering 'Corbyn's the maddest guy in the room'
With Hillary Clinton's defeat by an over-filled cheese toastie in a suit, it became apparent to everyone that 'business as usual politics' was dead. Which was awkward, as her husband had recently been recorded referring to Jeremy Corbyn as the "maddest person in the room".
What Billy failed to predict was that the "maddest" people in the room were actually the ones predicting that what people wanted was more of the same. More disparity. More institutional racism. More war. More greed. More lies.
The people will, of course, get all that and then some with Trump. But at least they'll get to spite the f*ckers who pretended to represent them in the meantime. Or at least they may get to feel like that for a spell anyway. Briefly. Before reality crashes back over them like the final cold wave on a shipwreck.
And this is why Bill Clinton became stuck in some sort of loop. Wandering around his empty palace of entitlement, muttering the same phrase over and over:
He's the maddest guy in the room. Jeremy Corbyn. Maddest guy in the room. Corbyn they call him. He's the maddest guy in the room. Jeremy Corbyn. Maddest guy in the room.

Obama and Cameron to open a youth club for Oxfordshire youngsters hit by cuts
by John Ranson
Not one to let the grass grow under his feet, Barack Obama has announced his plans for post-presidential life. Surprisingly, this will involve coming to the UK to set up a youth club with his fellow obsolete world leader David Cameron.
Motivation
Normally, ex-leaders jump straight on the gravy train to unbelievable riches the moment they're out of office. And to be fair, Cameron has got some irons in the fire in case the youth work gets boring. But it seems Obama was so moved by his mate Dave's concern for the deprived people of Oxfordshire that the cashing in will have to wait for a while.
Speaking to Off The Perch, a slightly shell-shocked President Obama said:
I'm feeling a little delicate right now, but I'm sure looking forward to getting over to England and helping Dave and the other anti-poverty campaigners in his family – his Mum and his Aunt. I think it's great that Dave's rolling up his sleeves and helping young people in his new job at the National Citizen Service. And now with the youth club, too. I know he's always wanted to hug a hoodie, and I think it was unfair that the police stopped him doing that while he was still in charge. You do have hoodies in Oxfordshire, right?

Mainstream parties agree to brand supporters like cattle
by Ed Sykes
Democracy is technically "government by the people". But today, many of the world's biggest 'democratic' parties seem to think it actually means 'government over the people'. (Or above. Or on top of. Their definitions vary.) And one thing that annoys them more than anything else in their magical little world of spin-fairies and control-freakery is people daring to change party allegiance. So now, they've come up with a new way of ensuring a one-time vote becomes a vote for life. Branding! You know, what they do to animals with those hot metal sticks.
A plan as cunning as an upside-down turnip
The ugly seeds of this new plan were sown after the Democratic Party's recent loss in the US presidential election. In particular, it came to life in the stinky little back-room of a high-level Democrat's brain:
Traitors, I say! How dare they not vote for Hillary Clinton? She was perfectly lovable. What with all those secretive corporate speeches. And her covert clusterf*ckery abroad. What more could people ask for? There ought to be a way to ensure that once a person goes Democrat, they can never go back… Hmm…

'Trump's no worse than the alternative, right?' shrugs straight, white man
On 8 November, the human haggis that is Donald Trump was unexpectedly elected to the White House. Since then, several people have been assuring us that he probably won't be any worse than the alternative. And primarily, these people have been straight, white men.
Off the Perch went stateside to catch up with one of them and bask in the comfort of his certainty. This is what Jack Imalright had to say:
Primarily, I'm just glad that Shillary didn't get in. I mean, can you even…?
At this point, there was a commotion outside, and Jack went to the window to close it.
There's been a lot of outbursts like that, sorry. What happened first was the Trump Squads came to ship Muslims off to Guantanamo. So I shouted down at them 'hey, just be glad Killary didn't get in, right?' Because even though the Cold War seems to have been a failed, decades-long experiment into whether or not the world's superpowers could commit collective suicide, I'm still convinced it could go hot at any minute. I feel bad for all those deportees, obviously. But it's gotta be better than living with the incredibly improbable likelihood of nuclear annihilation, right?

The predicted de-evolution of American Presidents
The key difference between Donald Trump and the previous American Presidents is basically just everything about him. This break in tradition makes us wonder what sort of Presidents we can expect to see next. Now that candidates don't have to be experienced. Or up to the job. Or even vaguely human.
To discover what's coming next, we had an octopus make some predictions. Which seems ridiculous, but the octopus' hit-rate is actually better than most professional polling companies.
Anyway – let's have a look at who he predicted will be the next Presidents/Vice Presidents.
2020
Hulk Hogan / Dog the Bounty Hunter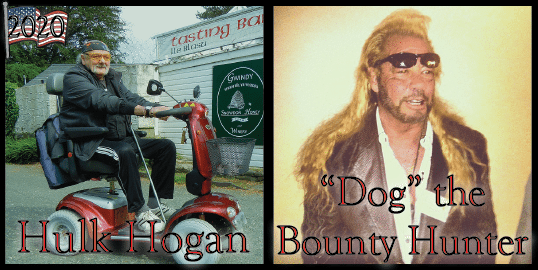 CONS: Both are known for using derogatory racial slurs and looking ridiculous.
PROS: Both are known for using derogatory racial slurs and looking ridiculous. And that plays now.
2024
Two kids in a rain mac / Sock puppet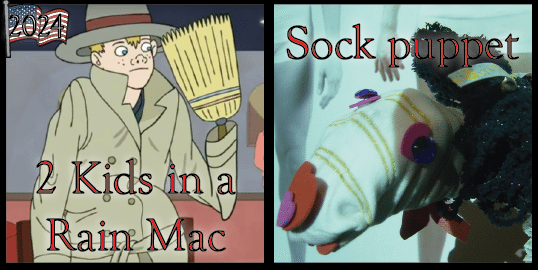 CONS: Having a puppet President being an actual puppet might be a bit on the nose.
PROS: There are two kids in the rain mac, so the President will be at least twice as smart as Bush/Trump/etc.
Get Involved!
– For more satirical news, follow Off The Perch on Facebook and Twitter.
Featured image via John Shafthauer / Flickr / Flickr
In-story images via Flickr / Flickr / Flickr / Flickr / Pixabay / Flickr / Flickr / YouTube / Flickr / Flickr / Public Domain Pictures  / Flickr / Flickr / Youtube / Flickr
Support us and go ad-free
We know everyone is suffering under the Tories - but the Canary is a vital weapon in our fight back, and we need your support
The Canary Workers' Co-op knows life is hard. The Tories are waging a class war against us we're all having to fight. But like trade unions and community organising, truly independent working-class media is a vital weapon in our armoury.
The Canary doesn't have the budget of the corporate media. In fact, our income is over 1,000 times less than the Guardian's. What we do have is a radical agenda that disrupts power and amplifies marginalised communities. But we can only do this with our readers' support.
So please, help us continue to spread messages of resistance and hope. Even the smallest donation would mean the world to us.
Support us