Conspiracy theorists claim Sweden has been invaded by Mars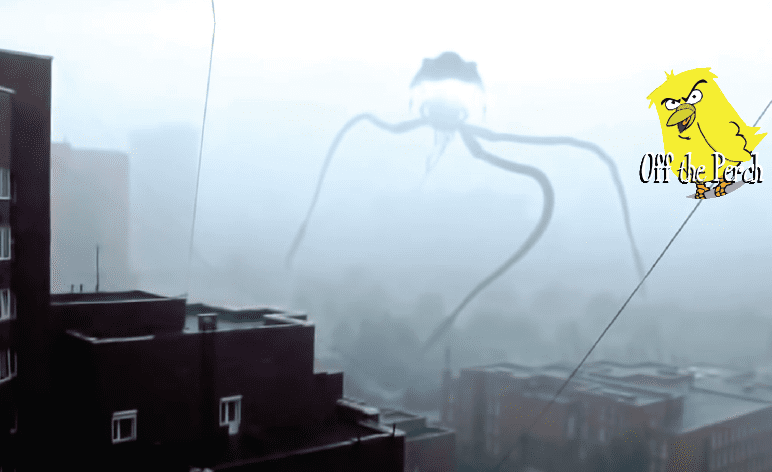 For some time now, conspiracy theorists have been claiming that Sweden has descended into a hellish maelstrom of refugee-led carnage. A place where you can't walk down the street without having fistfuls of grenades lobbed at you. A nightmare in which roving militias wage constant bazooka-wars with ineffectual police forces.
And although Sweden is definitely having some issues – including some related to changing demographics – the portrayal of it as a failed state that's 90% on fire is basically like claims Birmingham is a 'no-go' zone. In short, it's horseshit.
The people peddling this verbal garbage aren't used to being challenged on their nonsense, however. Which is almost certainly why the popular conspiracy wanker (actual title), Bob Ollocks, felt comfortable offering any journalist who would accept a paid trip to Sweden.
Unfortunately for Ollocks, every journalist in the world accepted his offer. Which is why he and his website, Crap Shoot, have had to come up with an even bigger lie to stop those journalists from going.
Mars Attacks!
Most conspiracy theories start from a place of truth. To expand on that, we'll take one of the most famous conspiracies:
Guns N' Roses is a great band
By analysing the evidence, we can prove that part of this statement is true. So we can verify that:
Guns N' Roses is a band
But obviously, someone has added the word 'great' to mislead others. More than likely the people who make their money selling ugly T-shirts.
And this is where Crap Shoot's latest nonsense has come from. They've taken this demonstrably true story:
NASA to host major press conference on 'discovery beyond our solar system'

And turned it into this:
NASA to announce that Muslamic space-Martians have returned from the 8th dimension to drain the planet's IKEAs

War of the weirds

Crap Shoot has released an audio recording of what it claims is a Swedish radio presenter describing the attack. Although strangely, said Swede seems to talk in English throughout. And every so often, an overdubbed voice says 'SWEDEN'. As if the man talking had actually said something else. Like 'AMERICA'. And furthermore, the audio sounds like it was recorded a hundred years ago.
Oh, and it's clearly just Orson Welles' War of the Worlds broadcast, too.
Yet all of the supporters of Crap Shoot have replied positively. Almost as if they'll believe anything that confirms their petty and bitter prejudices. Even if it's clearly – CLEARLY – hyper-jabber of the highest order.
Get Involved!
– For more satirical news, you can also follow Off The Perch on Facebook and Twitter.
Featured image via YouTube
Fund our Investigations Unit
You can help us investigate corruption, expose injustice and uncover the truth.
As one of the only independent investigations units in the country, we work for you – but we need your help to keep going. We need to raise £10,000 to continue our groundbreaking investigations. Can you chip in?
Fund us