'Brexit' to be given religious status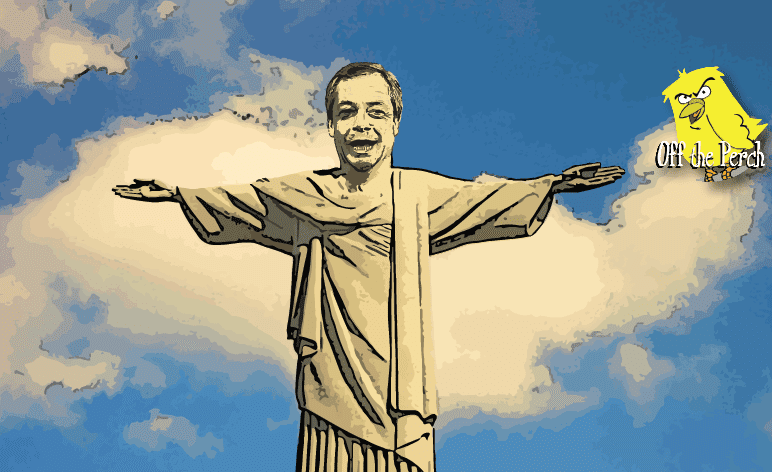 The reasons for going ahead with Brexit are vanishing faster than Nigel Farage's post-referendum moustache. And as such, the dedicated people who thought they were voting for a better NHS, reduced immigration, and having our cake and eating it are having to reframe the issue in their minds. They're having to take something they thought was a rational choice and turn it into something they believe in.
Just like you might believe in Jesus Christ, the Mighty Ducks, or a half-baked soufflé. Although obviously only one of those three has ever actually delivered.
Repent!

The benefits of Brexit becoming a religion are obvious. For a start, the Brexians will be able to have people trialled for blasphemy. And several of them are already floating possible punishments:
Quoting blasphemous (i.e. accurate) statistics = BANISHMENT.
Depicting the prophet Nigel Farage in a negative light = STONING.
Judges ruling that parliament must have sovereignty when it comes to the return of the parliamentary sovereignty that we technically already had anyway = CRUCIFIXION.
There's also the issue of religions being given tax exemption status. Leading many to speculate that this whole thing may be a scam on top of a scam. Especially as the prominent Brexiteer and Wetherspoons founder has offered his pubs as churches of Brexit.
Although some say Wetherspoons pubs were already fulfilling that role anyway.
Remain!

Not to be outdone, several prominent Remainers have set up their own church. Their 'logic' is that the referendum was lost because of the 'weak faith' of many Remainers. Primarily because people who voted Remain did so grudgingly, and also:
Refused to accept that the EU is an all-loving super entity with only our best interests at heart.
Refused to see the whole Greece fiasco as being part of the EU's mysterious yet benevolent plan.
And refused to let neoliberalism into their hearts, and worship the holy trinity of corporatism, banksterism, and austerity.
To banish this sinful weakness, Pope Alistair Campbell is making his Church of Latter Day Remainists march through London while self-flagellating themselves with copies of The New European.
Agnostic
There are also those who are agnostic about the whole affair. People who dislike the EU but think that leaving right now will see us becoming (more of) an ultra-right-wing sh*thole. And also people who think that, although Brexit may be bad in the short term, it could ultimately lead to a fairer future.
And to those people, we say WE WILL FIND YOU, AND WE WILL MAKE YOU SUFFER FOR YOUR LACK OF FAITH!
PRAISE BREXIT!
PRAISE EU!
HALLELUJAH!
Get Involved!
– For more satirical news, you can also follow Off The Perch on Facebook and Twitter.
Featured image via Public Domain Pictures / Flickr
Fund our Investigations Unit
You can help us investigate corruption, expose injustice and uncover the truth.
As one of the only independent investigations units in the country, we work for you – but we need your help to keep going. We need to raise £10,000 to continue our groundbreaking investigations. Can you chip in?
Fund us