As they often do when things look bad for them, the Tories have said that they can't get away with austerity anymore: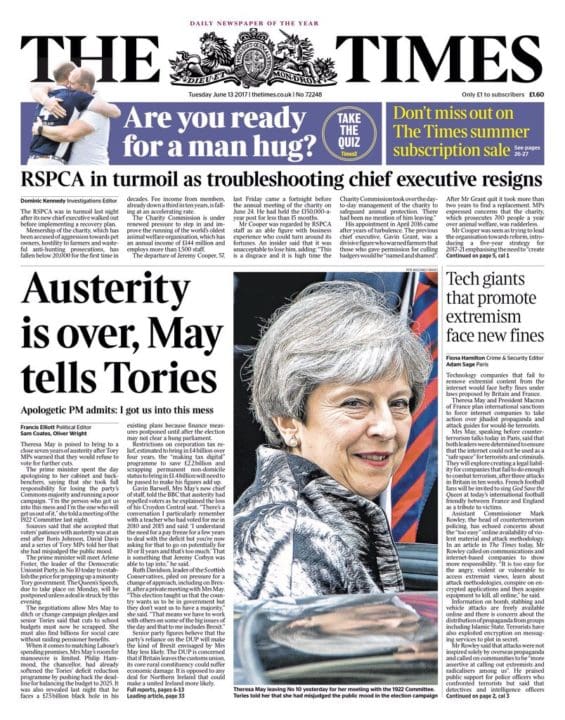 And this time, they may have to live up to their usually good-for-nothing word. Mainly because their parliamentary position is more precarious than a tightrope walker covered in Pedigree Chum walking across a shark-infested acid vat.
This means that, if they want to lead as a minority government, they'll only be able to bring forward proposals so uncontroversial that they'd even win support in a parliament comprised of the Nazi Party, Bob Marley and the Wailers, and that X-Man whose super-power was the inability to ever agree with anything.
Wait, but what?
To some people, the idea that austerity can just be dropped is a mystery:
Don't we have to balance the books? Don't we have to live within our means? How can we just stop it when you told us it was the only way of getting us out of this mess?
Whereas most other people already realise that austerity was always an ideological ploy designed to redirect money from public services to the rich. A ploy which has actually seen national debt do nothing but rise. A ploy which has seen life get harder for most of us while the rich have got even richer. Like blood-sucking mosquitoes draining the last liquid from a dehydrated cash-cow in the desert:
If you admire or trust me. East end boy done good by honest graft.For the good of the UK I sincerely advise NOT to vote for Corbyn #TRUSTME

— Lord Sugar (@Lord_Sugar) June 7, 2017
So promising to drop unnecessary austerity after seven years of unnecessarily perpetrating it is just another slap in the face. Coming after a long period of our government offering nothing but slaps. Meaning there's no chance of us turning the other check, as most of us ran out of cheeks years ago!
Backlash
Off The Perch asked people to respond to this development:
Public reacting to the Tory admission that austerity was a load of bollocks designed to make us poorer and their friends richer pic.twitter.com/HbrPMsuVLV

— John Shafthauer (@hourlyterrier) June 13, 2017
The Tories have found themselves in an impossible situation. They can:
Carry on trying to push austerity and not being able to get it through parliament.
Admit it was all just top japes and hope they don't get strapped onto a rocket and fired into the sun.
Which will at the very least be fun to watch. Especially for those of us who got screwed over and now see a light at the end of the tunnel.
Get Involved!
– For more satirical news, you can also follow Off The Perch on Facebook and Twitter.
Featured image via Pexels
Become a Canary member to support fearless independent journalism