The week in satire Vol. #57
Support us and go ad-free
And what a week it was!
A week in which Boris Johnson demanded more money for the NHS! A week in which Boris Johnson was revealed to be an ancestor of a famous mummy! And a week in which it became achingly apparent that Boris Johnson is doing pretty much anything other than being the Foreign Secretary!
But what else happened?
Let's look back and see:
Mr Blobby is odds-on favourite to be the next UKIP leader
Henry Bolton has lost the confidence of UKIP. A party that famously placed its confidence in Paul 'pants-on-fire' Nuttall – the man who once claimed to be the inspiration for the character Hercules.
If you didn't already know, Bolton has been the leader of UKIP since September 2017 – something most people had forgotten about until he left his wife and children for a young racist.
Read on...
Support us and go ad-free
With Bolton likely to get the boot, bookies have been questioning who could be the next leader. And with the party in an absolute state, it's ended up being a very strange list indeed.
Odds
The list includes:
Mr Blobby 2/1
Nigel Farage 4/1
Some guy off the street 7/1
Morrissey 9/1
Nigel Farage with a moustache 18/1
Two kids in a rain mac 25/1
The Benny Hill theme 28/1
Eddie Hitler (again?) 56/1
Cardboard cut-out of Nigel Farage 62/1
Evil duck with a dark secret 78/1
Sentient/racist smart fridge 495/1
Swarm of stink beetles 3,561/1
An effective politician 58,000,000/1
But Blobby?
Some people were confused by Mr Blobby's prominence on the list. Was Blobby always hard-line on immigration? Or does the pink funster view the UKIP leadership as the latest wheeze in a long career of absurdist comedy?
There's speculation that it isn't the real Blobby at all, though, and it's actually just Nigel Farage in a costume. Presumably hiding from the accusation that he helped Russia win the US election.
Regardless of whether or not that's true, it couldn't be any more ridiculous than what they have now.
The Tories' 'fake news' rapid response team flags every single Tory tweet
In a bid to stop the spread of disinformation, Theresa May has called for a 'fake news' rapid response team. The team has already encountered a problem, though. Namely that the biggest muck-spreaders of all appear to be the Tories themselves.
You're fake news!
We spoke to one of the rapid-responders to see what went down:
In preparation to go live, we needed to confirm that our bullshit detectors were configured correctly. To do so, we analysed some public declarations from prominent Tories – assuming that they'd all be factual. The machine came back with a reading of 10 Nuttalls out of 10, though – the highest ranking on the political bullshit scale.

We assumed that some sort of error was giving us a reverse reading. But when we actually read the tweets, that clearly wasn't the case. There were tweets from Jeremy Hunt claiming that the NHS wasn't literally on fire; tweets from Boris Johnson claiming that Toby Young was the right man for anything; and tweets from Theresa May claiming that she was actually the Prime Minister.

We took the machine to 10 Downing Street to show them what we'd found. When we turned the detector on them, though, we discovered something shocking. The Tories themselves are made out of pure, unadulterated codswallop.

They literally are fake news.
Factoids
Although the government has been exposed as an assemblage of charlatans and bullshitters, that's never stopped it before. And it possibly won't now, as long as it's got the press to shift the blame onto the poor/refugees/transgender people/all of the above.
Experts discover cost of royal weddings is equivalent to GDP of 'small African dictatorship'
by Steve Topple
Experts have calculated that 2018's two royal weddings will cost as much as the total wealth of a "small African dictatorship"; plus "the yearly bounty of six rogue pirates" and "two dozen herds of Freedom Food-approved, organically-bred, gluten-free mountain goats".
But their groundbreaking research has been slammed by commentators loyal to the monarchy, who branded the group "liberal, tofu-eating, Guardian-reading bleeding heart Corbynistas".
EAT THE RICH!!!
On Monday 22 January, FAMOX – the campaign to "raise poor people out of poverty by just enough to stop them grabbing their pitchforks" – launched its annual How Much Do The Windsors Rip Us Off By? report. It calculates how much the British royal family owns, compared to the other 99.9% (recurring) of the solar system.
And in 2017, it found that Brenda and Co owned a staggering 26,345% more than the median wage in Angola. And 5,735% more than in the UK.
FAMOX also looked into the cost of the two royal weddings that are being held this year. And it's that research that discovered the headline findings. FAMOX's Senior Analyst for Vacuous Displays of Pageantry, Carl Marcs, told Off The Perch (in an exclusive interview recorded in FAMOX's plush Islington head office):
It is scandalous that in 2018 the royal family can spend £234,363,792 on two weddings. This money could keep the entire population of Angola fed on mung beans and brown rice for the next 25 years.

Imagine that? Imagine how happy those people would be, knowing that they had the security of one meal a day? Also, the money could go towards ensuring every child has a UK government-backed, privately-financed Western education. And vaccines from GlaxoSmithKline. And it would keep five FAMOX executives in all the Pret a Manger they can eat for a decade…
EAT THE POOR!!!
But critics have hit back at FAMOX's research. Tobias Jung, from the Institute of Economic Arrogance (IEA), told Off The Perch (in an exclusive interview recorded in the IEA's plush Islington head office that it shares with FAMOX):
The liberal, tofu-eating, Guardian-reading bleeding heart Corbynistas at FAMOX have got it wrong. Again. As the IEA has repeatedly shown, it's the capitalist free markets – controlled by 147 corporations, rigged by the City of London and with repeated financing by the taxpayer – that ensure that brown people have just enough to live on so they don't end up eating each other. WELL, having said that – they probably do that for fun, anyway…
Off The Perch asked a woman we nearly ran over with our Boris Bike what she thought of FAMOX's research. She said:
It's OUTRAGEOUS the royal family has so much money!

But have you seen Meghan Markle in this week's OK Yah! magazine?

I feel SO sorry for those poor brown babies in Africa!

But look at the diamond-encrusted engagement ring my boyfriend just got me!
EAT ME!!!
Politicians, meanwhile, shrugged their shoulders. Because FAMOX's report was pretty much the same as last year's. And the year before. And the year before that. And the year before that…
Mail Online accuses Nicola Sturgeon of strangling a beefeater with a Saltire
On Wednesday 24 January, several 'news' sources accused Nicola Sturgeon of something which apparently isn't true. The Telegraph even used its front page to make the claim:
This shocking lack of rigour from a mainstream 'news' source led many people to question the day's other stories. One in particular stood out. It was entitled: Rowdy Ruddy Scot Strangles Beefeater with Saltire.
Stereotripe
In an article filled with stereotypes and slander of the worst kind, Mail Online reported:
One eye-witness saw the First Minister sneaking up behind a beefeater – a Saltire in one hand and her mouth foaming. The poor serviceman didn't stand a chance, as the vicious, haggis-breathed witch strangled the life out of him.

Once our brave boy had copped it, the Irn-Bru harpy dragged the corpse back to her lair. Allegedly she shouted, 'You can finance our decadent, leftist scrounging, but you'll never take our ungratefulness!'

Sturgeon then dislocated her jaw and began to swallow the sturdy beefeater whole – an ability which is common only to snakes and the Scotch.
Scot the nine o' clock news
The SNP disputed the claims – saying that it was "more typical racism from the English establishment".
A spokesperson from Mail Online, however, spent half an hour explaining to us why Scottish people were genetically and culturally inferior – pointing to head measurements and other dubious forms of 'science' as an explanation.
Buckingham Palace has also added that it's illegal for anyone other than the Queen to hunt and eat beefeaters.
May to be replaced by 'pair of flaming underpants' at future PMQs
by Steve Topple
The government has announced that a "pair of underpants (on fire) and the entire Manchester City defence squad" will replace Theresa May at Prime Minister's Questions (PMQs) as of February.
The move was organised by the Secretary of State for the Department for Universal Narnian Communications and Exchanges (DUNCE) – a large, Victorian mahogany wardrobe. It is thought to have come off the back of May's performance at PMQs on Wednesday 24 January.
Wales, Wales, Wales
While Off The Perch gossiped about it at the Star and Garter pub in Kentish Town, Jeremy Corbyn attacked May over the NHS crisis during this week's PMQs. The angry Labour leader said:
EAT THE RICH!!! NATIONALISE EVERYTHING!!! DOCTORS, NURSES, PERFORMING SEALS!!! [inaudible muttering about 'red flags'] SMASH CAPITALISM!!! STATE-PROVIDED EXTRA LARGE MARROWS FOR ALL!!! [inaudible muttering about 'allotments'].
To which May responded:
Does the Leader of the Opposition forget that in Wales over 15 million people are currently on waiting lists for breast implants? Or that in Wales over 12 million people are currently on waiting lists for male enhancement surgery? Or that in Wales nearly seven million sheep are currently on waiting lists for laser eye surgery? Or that in Wales…
May was cut short by Boris Johnson loudly singing a rendition of L'internationale. To which Corbyn responded:
COMRADE JOHNSON!!! JOIN US TO BRING DOWN THE BOURGEOIS AND RESTORE THE PROLETARIAT TO ITS ONCE PROUD GLORY!!!
To which May responded:
Does the Leader of the Opposition forget that in Wales…
At this point, the PM was bundled out of the chamber by the Permanent Under-Secretary at the DUNCE, Aslan the Lion, and some pixies.
Jobs for the parrots
Off The Perch has learned from some bloke in the gents' at the Star and Garter that advising May's replacements will be:
A parrot.
Richard Nixon's ghost.
Charles Ponzi's great grandson.
Jeffrey Archer.
A mime artist from Winchester re-enacting the Jim Carrey movie Liar, Liar.
Living in Narnia
Meanwhile, a woman Off The Perch fell over outside a kebab shop on Camden High Street said:
I heard that the NHS has a mass shortage of nurses, that waiting times were through the roof and that the Tories had been caught fiddling the A&E figures! Must be that 'fake news' the government are going to be cracking down on. Bloody good job too, I say! Effing Russians…
At the time of publication, it was unclear whether some flaming underpants and Manchester City's defence would be as good at lying and deflecting as May is. Off The Perch will keep you posted…
Tabloids celebrate as someone says Brexit is 'less' dire than he expected
Brexiters haven't had much to celebrate. No one in government seems to know what they're doing with it. The experts are still stubbornly refusing to acknowledge the obvious link between straight bananas and prosperity, and even the blue bloody passports were the wrong colour.
But the time has come to rejoice! As a man they previously said you shouldn't listen to has said that Brexit isn't as dreadful as he predicted.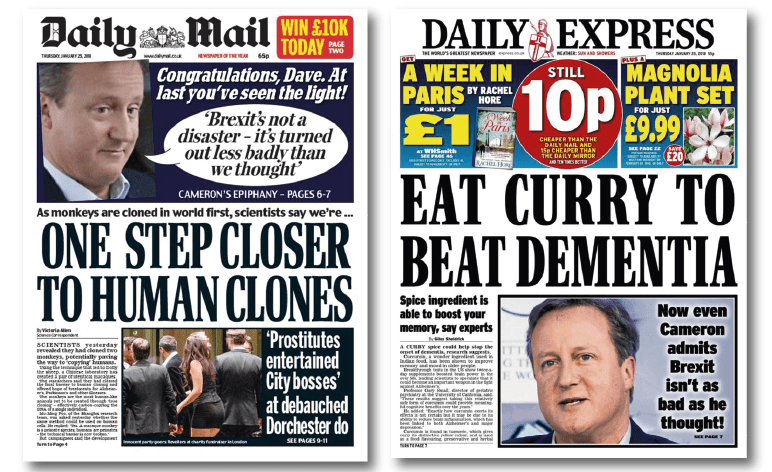 What did Cameron say?
Of course, it wouldn't be difficult for Brexit to be less terrible than Cameron anticipated. He was after all the man who said:
I don't want to exaggerate, but Brexit will literally lead to World War III. And by our estimates, this war will be 50 times worse than World War II. A war so bad that the movies they produce about it will make Schindler's List look like Dude, Where's My Car?

And even if we survive this war, Britain will be forever befouled. The pound will be so devalued that bankers will receive their bonuses in Freddos. The NHS will be so understaffed that operations will be performed by work experience kids and convicts. And our standing in the world will be so diminished that Bono will write patronising songs about us for charity.

Although obviously things might not be quite that bad.
Rule Britannia
Saying something is less bad than you expected really is damning it with faint praise, but it's not surprising that the tabloids have leapt on it. Brexit is going less badly than many of us anticipated, after all. Which is why we should probably change the country name from 'Great Britain' to 'Not Quite as Bad as You've Heard but Still Only a 6/10 Britain'.
Piers Morgan conducted the Trump interview entirely from within the President's arsehole
There's a long history of British interviewers getting the most out of American presidents. The most notable examples being: David Frost, who drew an apology from Richard Nixon; and Simon Amstell, who made George W. Bush storm off the set of Never Mind the Buzzcocks.
The most recent addition to this pantheon of greats is Piers Morgan. Because he too has shown a bit of that British ingenuity. Namely by becoming the first person to conduct an interview entirely from within the arsehole of the interviewee.
Sycophancy
When asked if it was difficult to squeeze up there, Morgan said:
Not really. I've had several years of practice.
From this unique vantage point, Morgan was able to ask some hard-hitting questions. They included:
I like you. Do you like me?
What did you think of the new Jumanji?
People say we're unpopular, but look at how many Twitter followers we have. That means we're popular, right? Right!?
Have you nuked anywhere nice recently?
You've had several allegations of sexual assault made against you. Bitches be crazy, am I right?
I've had this rash for over a week; do you think I should get it checked out?
Who was your favourite Spice Girl?
Would you like to talk uninterrupted about how well your presidency is going?
Oh my god, tell me how it went with Vladimir Putin!
Golf this weekend?
Questions
Trump has also been interviewed by Michael Gove. But his toughest interview will likely be during his planned visit to the UK, when millions of marching Brits will ask him:
Why don't you just fuck off?
Get Involved!
– For more satirical news, you can also follow Off The Perch on Facebook and Twitter.
Featured image via Flickr – Robert Lindsell (image was altered) / Jette Carr – Wikipedia (image was altered) / Comrade King/Flickr, Edward Hands/Wikimedia [image altered] / government of Japan/Wikimedia [image altered] / Public Domain Pictures / Flickr / The Guardian/YouTube, JoeX/Wikimedia and RonaldPlett/Pixabay / Flickr – Gareth Milner (image was altered) / Flickr – Evan Guest (image was altered)
Support us and go ad-free
We know everyone is suffering under the Tories - but the Canary is a vital weapon in our fight back, and we need your support
The Canary Workers' Co-op knows life is hard. The Tories are waging a class war against us we're all having to fight. But like trade unions and community organising, truly independent working-class media is a vital weapon in our armoury.
The Canary doesn't have the budget of the corporate media. In fact, our income is over 1,000 times less than the Guardian's. What we do have is a radical agenda that disrupts power and amplifies marginalised communities. But we can only do this with our readers' support.
So please, help us continue to spread messages of resistance and hope. Even the smallest donation would mean the world to us.
Support us