The week in satire Vol. #61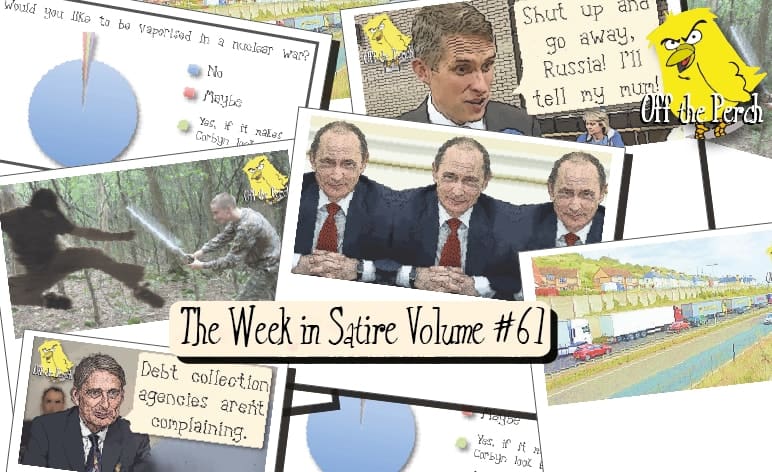 Support us and go ad-free
And what a week it was!
A week in which unequivocal condemnation of Russia was mandatory! A week in which wilful ignorance of Russian oligarchs financing UK politicians was also mandatory! And a week in which pointing out that discrepancy was treachery!
But what else happened?
Let's look back and see:
Tommy Robinson (pictured here punching an African gentleman in Italy) was recently 'attacked' outside a McDonald's. Although some have suggested the video may in fact have been staged:
Read on...
HAHAHAHAHA this is the video of Tommy Robinson being "attacked" by "antifa". do take a few minutes to watch this hilarious staged video, its like something off Eastenders. Absolute fucking gold. https://t.co/iAxRf37IgS

— Dan Hett (@danhett) March 11, 2018
Not one to be embarrassed by others when he can do the job himself, Robinson released a video of a second 'assault'.
Everybody was kung-fu fighting
In the new video, Robinson is walking out of a Kentucky Fried Chicken when several assailants come flying towards him.
"Ninjas!" Robinson shouts, although the attackers clearly seem to be dressed like the shaolin masters from Crouching Tiger, Hidden Dragon.
The 'ninjas' are visibly flying in on wires. A fact which becomes painfully apparent when one of the harnesses snags and the 'ninja' in question is left dangling like a deadly testicle.
Just seen the footage of Tommy Robinson being attacked by antifa. Shocking scenes. pic.twitter.com/XYs9wGvyOh

— heartbeeps (@hrtbps) March 11, 2018
Most people staging such a video would probably pretend to get beaten up in order to make their enemies look like the bad guys. Robinson's ego is such that he had to get the upper hand though – even in a pretend video.
This is why Robinson was seen to 'beat up' his attackers as he shouted "so much for the tolerant left!"
Those pricks were as fast as lightning 
Robinson dispatched the 'ninjas' who ran away shouting "Sharia law rules!" Robinson was then confronted by what appeared to be a rubbery bad guy from the 1990s show Power Rangers.
"Look, it's George Soros!" Robinson shouted, before tackling the prosthetic terror.
If you're unfamiliar with George Soros, he's a billionaire Jewish person whom many on the right think secretly controls the world. He isn't actually a children's TV bad guy, but you'd be forgiven for thinking otherwise if you run in Tommy Robinson's circles.
Really, though, if these people are that bothered about 'globalism', they should probably think about this:
It's disappointing to see Tommy Robinson get beaten up outside a McDonald's. A true British patriot would get chinned outside a Beefeater's or a Little Chef.

— John Shafthauer (@hourlyterrier) March 11, 2018
As Russia once more seems to have poisoned someone on British soil, politicians are demanding some sort of political action. Unless that action involves returning donations to wealthy Russian oligarchs, of course – a suggestion from Jeremy Corbyn which is just 'playing politics'.
And after all, politicians discussing politics in the Houses of Parliament simply isn't cricket.
From Russia with no expectation of anything in return
Several Tories have taken money from Russian oligarchs – money which they're refusing to give back.
Theresa May gave a speech about why this is okay:
Russia is bad, and we must stand up to it disrupting UK politics!
May then looked alarmed, as she realised she was reading from the wrong speech.
Sorry about that. What I meant to say is that Russians are good, and we must stand up to anyone who says they're giving us money to disrupt UK politics!
Deadline
Theresa May has given Russia a 36-hour deadline to explain what it's been up to. A leaked copy of the speech she will give reads as follows:
I was very clear about giving a deadline, and that deadline has now passed. To clarify, a deadline was given under threat of some sort of response, and I am now here to discuss that. As such, no one can say that I did not discuss a response at the time when I said a response would be discussed.

To sum up: deadline means deadline.
It's likely that the politicians who are currently criticising Corbyn's lack of a 'firm response' will be the first to say fuck all when they hear May's speech.
The Tories introduced austerity to deal with the deficit. Although most people didn't even know what the deficit was, we were led to believe it was very bad. We were also told that if we didn't do something about it, things would go very badly for us.
Ironically, things have gone very badly for us anyway. Because although austerity might eventually remove the deficit (which no one had ever heard of), it has also caused manifold other problems – all of which we're painfully clued up on.
These problems include:
Failing public services.
Worsening quality of life.
Smirking Iain Duncan Smith.
Despite all this, the chancellor assures us that austerity is working. Which rather implies that these 'side-effects' are intentional.
Snide effects
The chancellor of the exchequer, a.k.a. 'Blandalf the Grey', gave his speech while tap dancing on the grave of an unknown homeless person. At one point he asked:
If austerity doesn't work, how come the Russian oligarchs who back us keep getting richer?
In it together
Although there's some concern that austerity is actually about transferring money from the poor to the rich, that won't make a difference, because none of the people worried about that are in the Tory Party.
If they were exposed as caring for things like 'decency' and 'other people', they would have had their membership revoked.
Gavin Williamson – the secretary of defence and alleged adult – has told Russia to "go away" and "shut up".
This led to Russia ridiculing the prominent Tory. The ridicule has ceased, however, as Williamson's mum stepped in to dish out some thick ears.
Big boy
In his speech, Williamson said, "Russia needs to shut up and go away".
When a confused journalist asked if there was any chance of us going to war, the defence secretary responded:
We can't do a navy on them because my mum said I can't get wet, alright?
Another journalist asked if Williamson was okay, to which he yelped:
Stop making people think I've pooed myself when I haven't! These trousers just fit me funny!
The defence secretary then waddled backwards off the stage – his eyes tearing up as he angrily wagged his fingers at the audience.
Woe betide
After Williamson's mum found out, she hot-footed it down to the UN to dish out some motherly justice.
"What have you been doing to our Gav?" she shouted at the Russian ambassador.
Fearing a robust response, the ambassador ran off to hide in some nearby bushes and wait it out.
Williamson, meanwhile, was seen staring at the scenes though his bedroom window. He quickly closed his curtains when he was spotted, though.
It's so far unclear if he'll be at school tomorrow, or if he's managed to sneak a sick day out of it.
By John Ranson
The government has admitted it won't be able to do Brexit properly because it would be difficult and things would take too long.
Transport bigwig Chris Grayling has realised that actually stopping lorries at Dover would mean other lorries having to wait around. As this would hit productivity / profits / bonuses / kickbacks etc, it CAN'T BE ALLOWED TO HAPPEN! Because apart from anything else, it would look bad if Brexit turned out to be bad for the economy.
Dismay
But some people are gutted to be missing out on 30-mile tailbacks. Terry Chestnuts, whose Facebook profile says "STOUT KENTISH YEOMAN – REAL ALE – UNIVERSITY OF LIFE", led the complaints:
Sitting in queues is one of the things we English do best. Give me ten minutes of stationary traffic and I'll have a game of five-a-side going on the hard shoulder. 30 minutes and I'll have made some friends for life. If we're stopped for an hour I might turn the ignition off. You can't beat it. Normally, everyone just minds their own business. But the moment there's a bit of snow or a loose dog running around, we all park up and muck in together. I was looking forward to being able to turn a half hour trip to Dover into a day out.
Slick show
However, not everybody shares Grayling's confidence that there won't be traffic chaos. Ken Chisel, from the Institute of Criticism, pointed out:
It's blatantly obvious what's going to happen here. The government will make all sorts of promises about automation, computerised tracking, automatic numberplate recognition and the like. But then it'll outsource it to some clowns like G4S, Capita, Serco or a consortium of former Carillion executives and the whole thing will go tits up. It'll have all the technical expertise of the millennial railcard launch.

In the worst-case scenario, the area round the channel ports will end up like a scene from a disaster movie. But if we're lucky, the best of human nature will shine through and Kent will just turn into a massive picnic site.
Britain is a nuclear power. The reason we have nukes isn't to use them though: it's to prevent the horrors of world war from happening again.
Or that's the theory anyway. A theory which has so far panned out.
It's just that the same people who argue for having nukes now seem to be suggesting a land war with Russia is entirely realistic. Which would be a bit weird for the soldiers who had to go and fight in it obviously – knowing full well it was the military equivalent of a football friendly.
Most of us know what such a war would entail, though. And a new survey has shown that most people aren't all that up for it.
Most apocalypse
Off The Perch caught up with one of the MPs who's demanding an immediate and robust response to Russia. We're not sure if they were a Tory or a Labour MP. We're not sure if they knew themselves:
It's completely obvious that Russia did it. Just look at Putin's face. Who smirks like that?
We agreed that Russia almost certainly did it, but questioned the rush to ignore international protocol. Was there some worry that the Russian landmass might flee the globe if we didn't nail it immediately?
The British public want a quick and robust response! And I should know; I met one of them once.
War games
We pointed out that most people don't really want to escalate something to the point of a potential nuclear war – not when we're so close to the end of Game of Thrones.
The MP didn't answer though. There'd been another round of sabre rattling in Parliament, and they pulled their weapon out in response. They also tore their shirt off and screamed:
THIS! IS! WESTMINSTER!
Get Involved!
– For more satirical news, you can also follow Off The Perch on Facebook and Twitter.
Featured image via The Camo – Deviant Art / The Kremlin / Secretary of Defense – Wikimedia / YouTube screengrab / Geograph © Copyright John Baker and licensed for reuse under this Creative Commons Licence / John Shafthauer
We know everyone is suffering under the Tories - but the Canary is a vital weapon in our fight back, and we need your support
The Canary Workers' Co-op knows life is hard. The Tories are waging a class war against us we're all having to fight. But like trade unions and community organising, truly independent working-class media is a vital weapon in our armoury.
The Canary doesn't have the budget of the corporate media. In fact, our income is over 1,000 times less than the Guardian's. What we do have is a radical agenda that disrupts power and amplifies marginalised communities. But we can only do this with our readers' support.
So please, help us continue to spread messages of resistance and hope. Even the smallest donation would mean the world to us.
Support us