The week in satire Vol. #63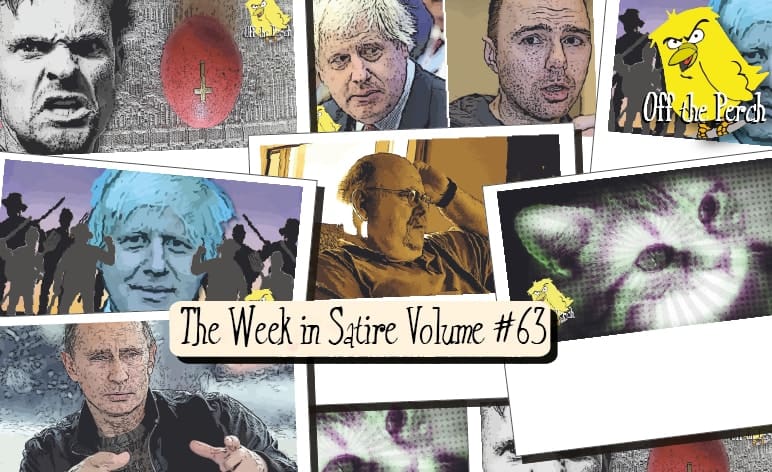 Support us and go ad-free
And what a week it was!
A week in which Boris Johnson was exposed as a liar! A week in which that wasn't a sackable offence for some reason! And a week in which people realised lies must actually just be government policy!
But what else happened?
Let's look back and see:
For the past few years, some people have worried that the word 'Easter' has been banned from Easter eggs. The problem is that:
It hasn't.
The use of the word 'Easter' was never universal in the first place.
Bourgeois cocoa ovoids have sweet fuck all to do with Christianity anyway. Jesus wasn't resurrected from a massive chocolate egg. He reanimated himself with magic like a normal person.
Hot and cross
This year, to avoid the head-bangingly aggravating chorus of complaints, Cadbury launched its new line. It's called:
Read on...
OF COURSE THEY'RE FUCKING EASTER EGGS! DO WE REALLY HAVE TO WRITE THE WORD 'EASTER' ON EVERY ONE OF THEM? WOULD YOU NOT UNDERSTAND WHAT A CAR WAS IF IT DIDN'T HAVE THE WORD 'CAR' WRITTEN ON IT? BUT FUCK IT – HERE YOU GO – HERE'S ALL THE EASTER YOU CAN HANDLE.
It's a range which is heavy in its use of:
The word 'Easter'.
Heavy-handed Christian iconography.
Little crucified bunnies with nails through their paws.
Outrageous!
Although this satisfied the sort of people who think that God is cool with you being an arsehole as long as you eat moulded chocolate once a year, there has been an issue. A shop put some eggs on display upside down, making it look like the crosses on them were somewhat satanic.
The interim leader of UKIP, one Arthur Braincell, tweeted:
Sad to see a English firm siding with satan and the paedos at the BBC! [SIC]
To which Cadbury replied:
FUCK OFF! JUST FUCK OFF! IT'S CHEAP CHOCOLATE IN THE SHAPE OF AN EGG THAT WE USE TO GOUGE MONEY FROM PEOPLE AROUND A HOLIDAY OF FORMER SIGNIFICANCE! IF YOU'RE GOING TO BE ANNOYED ABOUT ANYTHING, BE ANNOYED THAT WE USE JESUS' DEATH AS A MARKETING GIMMICK! BECAUSE THE ONLY THING HE HATED MORE THAN GREED WAS CUNTS LIKE YOU!!!!
Cadbury later deleted the tweet and said instead:
It was upside down, sorry.
They later tweeted:
Jesus Christ.
It's unclear if this was a shout-out to your boy JC or exasperation.

Jeremy Corbyn spent Seder with Jewdas – a group of left-wing Jewish people. Jewdas may not have been the most prudent group to have met with right now considering some of its views, but these views do not mean its members are not Jewish.
Unless you're subscribed to the scumbag blogosphere of course, as many MPs and supposed anti-prejudice campaigners are: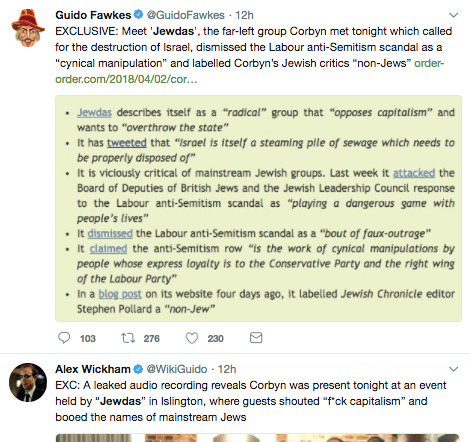 This is deliberately baiting the mainstream Jewish community days after they pleaded with him to tackle antisemitism. And he must know that meeting them now will give his members the message that the group's extreme views are ok. Irresponsible and dangerous https://t.co/NORQQiFq8J

— John Woodcock (@JWoodcockMP) April 2, 2018
 These bloggers do provide a valuable service, though. Bigotry can be quite confusing after all, and we need someone to list which groups do/don't deserve our prejudice.
The list
Corbyn's latest antisemitic act saw him meeting with Jewish people and celebrating a Jewish feast (the horror).
"Boo! Corbyn needs to get out and meets some Jews!"

[Corbyn spends Passover with some Jews at Jewdas]

"Boo! Not those Jews!"

— David Schneider (@davidschneider) April 2, 2018
It was brought to the public's attention by the somewhat questionable Guido Fawkes.
Labour MPs and members approvingly sharing Guido Fawkes is grotesque.

He's a hard right extremist who championed the Contra terrorists, who told me the left is "evil", who told me he opposes democracy because it gives power to the "have nots", whose blog is a cesspit of bigotry

— Owen Jones🌹 (@OwenJones84) April 3, 2018
This is the sort of content he puts out. Seriously, if you want to approvingly share Guido Fawkes attacking the Labour leadership, fill your boots, treat yourself. Just don't pretend you're on the left. pic.twitter.com/ZYFrLRfOqj

— Owen Jones🌹 (@OwenJones84) April 3, 2018
It has also been jumped on by the equally scummy blog Rodney Guevara. The site's titular reporter said:
These so-called 'Jewish people' don't even like capitalism. What sort of self-respecting Jew doesn't like to horde wealth?
When it was pointed out that this statement was in itself antisemitic, Guevara responded:
Yes, but only against the bad ones.
And they chanted "Fuck Capitalism"?? With Corbyn there?! *clutches pearls* *faints.* Also, are you suggesting that capitalism is somehow a manifestly Jewish value? Bcz that's pretty fucking anti-Semitic, mate.

— Dimi Reider (@reider) April 2, 2018
Opportunism
Despite Rodney Guevara's history of vileness, that didn't stop several Labour MPs from lapping up its latest expulsion like hungry dogs on vomit.
When it was suggested that the MPs sharing material from hate-mongers possibly don't even understand antisemitism, one of them remarked:
Nonsense. Some of my best friends are Semites.
Depending on who you listen to, Jeremy Corbyn said that either:
We shouldn't rush ahead of the evidence with the Skripal poisoning.
We should lay down and expose our soft bellies to our new Soviet overlords – Hail Stalin!
One reason not to rush ahead of the evidence is that said 'evidence' might be wrong. Especially when said evidence is literally made up, as was the case with Boris Johnson's claim that Porton Down scientists told him:
It was Russia alright. You could tell by the lingering scent of vodka and anti-Western sentiment.
When actually what they'd said was:
Why are you cackling maniacally and gleefully rubbing your hands together like that?
And obviously this lie is a big problem.
Because even now, some people are refusing to believe it.
https://twitter.com/alexnunns/status/981671538889035777?ref_src=twsrc%5Etfw&ref_url=https%3A%2F%2Fwww.thecanary.co%2Foff-the-perch%2F2018%2F04%2F05%2Fmedia-accuses-the-public-of-treachery-for-questioning-boris-johnsons-lies%2F&tfw_creator=hourlyterrier&tfw_site=TheCanaryUK
TREACHERY! 
Of course, there's a very good chance that Russia did do the poisoning. But just saying that isn't enough.
YOU MUST AGREE THAT, IF THE UK GOVERNMENT SAYS RUSSIA DID IT, RUSSIA DID IT!
It's a bit like when Big Brother insisted that people believe 2+2=5 in 1984. Except actually, this sum is more:
2 + this number we're not actually disclosing but can assure you is correct = 579
And this is perfectly fine.
It isn't the job of the media to question things. And why shouldn't people trust this benevolent alliance of journalists and politicians? They steered us right on the invasion of Iraq and austerity, after all, so why doubt?
Order 66
Since the 1970s, every British journalist has been fitted with a microchip that activates whenever there's a sniff of war. Once triggered, the artificial anti-intelligence makes otherwise sensible journalists abandon all rational thought and start banging the nearest war drum.
They are of course completely unaware of this defect in their brains – which is why they're all so thoroughly shocked when no one seems to trust them.
by Fréa Lockley
Rupert Murdoch has asked his best chums at MI5 to recruit vets as a "matter of urgency" and in the "interests of national security". As his impartial tabloid The Times reported [paywall], suspicious cats and guinea pigs are at large in the UK:

Murdoch insists these beasts can provide evidence that will explain why Jeremy Corbyn is to blame for the Salisbury poisoning.
Piddle
Robert Brown, a vet from Lower Piddle in Dorset, spoke exclusively to Off The Perch. He said:
It's well known by vets that cats are communists. I mean, you've only got to look at the way they behave. And guinea pigs were spotted at nearly every recent terrorist attack in the UK. Obviously, this isn't common knowledge. But I think it's fair to say that the cat is well and truly out of the bag now. Excuse the pun.
Brown added:
That's why, on our incomes, most vets have dogs as pets.
Pause
Off The Perch contacted Corbyn, a well-known cat lover, for comment. He was not available, but a spokesperson said on his behalf:
Jeremy would like you to know that he thinks the current escalation of events needs pause for thought. He will comment further soon.
Recruitment
Murdoch promised MI5 that he'll run a free recruitment campaign in his papers to ensure they find the best vets in the country. Off The Perch has seen a preview of copy that will appear in papers from 6 April. Questions include:
Do you like vodka?
Have you ever taken a cat-nap at work?
Can you imitate a guinea pig squeak?
List three more things that Jeremy Corbyn is responsible for.
Have you ever voted for a winner on Britain's Got Talent?
With this rigorous approach, Murdoch said he will "cleanse the country of communist cats". And Jeremy Corbyn.
Say what you will about Boris Johnson, but he's certainly reinvented the role of foreign secretary. Whereas previously the job involved putting Britain's best foot forward, Johnson has foregone feet altogether & stumbles the globe, arse over tit.
This reinvention may not be entirely of his own design, however. As Karl Pilkington, a.k.a. the Idiot Abroad, has alleged plagiarism.
Moron at large
Pilkington claims that several of the foreign secretary's 'antics' were direct rip-offs from his show. The borrowed material includes when Johnson:
Pinched his nose for the duration of a France visit.
Exposed himself during a meeting with Brazil's president and asked "does this look normal to you?"
Sold minted hit-maker Ed Sheeran to Japan for a year's supply of tentacle porn.
Loudly ate kangaroo testicles at an Austrian state function (yes – that's Austrian).
Wiped his filthy hands on India's second-most revered sacred cow.
Refused to believe that Kenya has plumbing and conducted his bathroom behaviour accordingly.
Blunder fuss
Of course, this tom-twattery isn't the worst thing Johnson does. If anything, it's probably just a mask for the rest of it.
That isn't to say you can't criticise him for both, though. Because An Idiot Abroad may be funny, but so was Airplane!, and no one holds that up as an example of exceptional travel provision.
Get Involved!
– For more satirical news, you can also follow Off The Perch on Facebook and Twitter.
Featured image via Annika Haas – Wikimedia (image was altered) / Rick Walker – Wikimedia (image was altered)
Get Involved!
– For more satirical news, you can also follow Off The Perch on Facebook and Twitter.
Featured image via ΙΣΧΣΝΙΚΑ-888 – Wikimedia / Nathan Cowley – Pexels / Brenden – Flickr (image was altered) / Think London – Wikimedia (image was altered) / Robert Couse-Baker – Wikimedia (image was altered) / Pixabay (image was altered) / Wikimedia (image was altered) / Annika Haas – Wikimedia (image was altered) / Rick Walker – Wikimedia (image was altered)
We know everyone is suffering under the Tories - but the Canary is a vital weapon in our fight back, and we need your support
The Canary Workers' Co-op knows life is hard. The Tories are waging a class war against us we're all having to fight. But like trade unions and community organising, truly independent working-class media is a vital weapon in our armoury.
The Canary doesn't have the budget of the corporate media. In fact, our income is over 1,000 times less than the Guardian's. What we do have is a radical agenda that disrupts power and amplifies marginalised communities. But we can only do this with our readers' support.
So please, help us continue to spread messages of resistance and hope. Even the smallest donation would mean the world to us.
Support us