The week in satire Vol. #64
Support us and go ad-free
And what a week it was!
A week in which Trump proved his long-held belief that Middle Eastern intervention doesn't work by bombing the Middle East! A week in which Theresa May proved her long-held claim that she's strong and stable by jumping into a warzone with a "stable genius"! And a week in which Macron proved everyone else's long-held opinion that he's the French Tony Blair.
https://twitter.com/hourlyterrier/status/984842803518861313
But what else happened?
Reducing police numbers does not seem to have reduced crime. While this was predictable to most, it turns out the Tories expected otherwise.
Which has now thrown some of their other plans into doubt…
Read on...
Support us and go ad-free
Idiocy is competence
The Tories had planned the following:
Increase the number of fires being extinguished by firing fire fighters.
Decrease the number of people kicking the can by shit-canning doctors.
Lay waste to heaps of rubbish by dumping refuse collectors.
Grow the number of children getting a decent education by shrinking the number of teachers.
Build a country with fewer builders but more buildings by engineering a situation in which engineering contracts were given to Carillion.
Who would a' thunk it
Off The Perch caught up with the UK's leading expert on obviousness. We asked her if gutting the number of people tasked with performing a function ever led to said function being performed better.
"Obviously not," she told us. "What's less obvious is why you had to ask an expert."
The government has hit back, however, with a spokesperson announcing that:
How were we supposed to know that gutting public services like an eel would lead to a hot, slippery mess?

To be honest, we blame the experts. It's very difficult to get anything done when they're constantly warning you about stuff. It took all our energy just to blank them out and do what we planned in the first place.
FFS
Obviously there's no joy in the Tories being proven wrong though.
Not when what you were right about was the absolute fucking state of this.
And this.
And this.
In a twist that will surely provoke cries of "What the…" and "Ooooh," a high-ranking BBC employee has defended the corporation from persistent accusations of bias.
In a move that didn't patronise anyone and most certainly wasn't supercilious, editor of the Andrew Marr Show Rob Burley tweeted:
Here's how it seems to work: you think the BBC is biased. You then look for evidence and find it whenever this particular view is challenged or contradicted or balanced. Then you amplify this. Meanwhile, when your view is aired, articulated, argued for you ignore this fact.

— Rob Burley (@RobBurl) April 8, 2018
This robust defence of his paymaster comes in response to accusations that the BBC has a pro-government bias. These include a report that shows the media giant has given twice as much airtime to critics of Jeremy Corbyn.
An Independent article about a Media Reform Coalition report highlighted that when analysing descriptions of Corbyn and his followers:
BBC journalists used language deemed by the researchers to "emphasise hostility, intransigence and extreme positions" more frequently in these programmes, such as the words "hostile" and "hard core"
But, according to Burley, i.e. the person in charge of the BBC's political coverage, there's nothing to see here, and we should all kindly move along.
And, in other news, Syrian President Bashar al-Assad has reportedly said:
I'm a peace-loving pacifist
And a European brown bear said:
No, we bears do not shit in the woods. I don't know what you stepped in, but maybe look where you're walking?
So, here's how it seems to work: despite the mounting evidence to the contrary, the BBC 100% does not hold any political bias. No siree Bob. After all, the BBC Andrew Marr Show editor and recipient of BBC money said so.
There are now more potential centrist parties than voters. The problem is that centrists define themselves by their distance from parties on the left and right of them. But the more parties there are, the harder it is to truly be at the 'centre'.
As a result, an almighty brawl has erupted between the warring centrists.
By which we mean a tepid scuffle has farted out between bickering nobodies.
Stuck in the middle with them
The Liberal Democrats were formerly considered the centrist party of choice. They were considered 'centrist' because they espoused the social equality of the left and the fiscal inequality of the right – the latter making the former impossible, obviously.
There are now several parties even more vacuous than them, however. And as such, the Lib Dems are now considered 'hard-left' or 'far-right', depending on what beliefs they claim to have that day.
Nevolution
The leader of Nevolution – a mould-breaking party that vows to agree with celebrities for money – said today:
This country needs leadership! The sort of leadership that says maybe most people do deserve a worse quality of life! That says failed policies from successive failed governments probably are for the best! And that says talking about having fresh ideas is more important than actually having them!
As he finished his speech, the leader of rival centrist party Nomentum appeared. She accused her opponent of being a "left-wing extremist" because he once ate an organic yogurt. She also proceeded to show off her own centrist credentials by simultaneously smiling and existing in public.
Where will it continue?
After much more insipidness, rock band Status Quo became embroiled in the fight. It turned out they hadn't formed a cutting-edge centrist party, though. 'Status Quo' just sounds like the sort of thing one would call itself.
Facebook has, to put it delicately, dropped a heaving, sweaty bollock when it comes to:
Protecting people's privacy.
Ensuring democracy isn't subverted.
Providing a 'dislike' button. Some times we hate things, Mark! ENABLE OUR VITRIOL!
As the person who is ultimately responsible for this world-shattering fuck up, Mark Zuckerberg was summoned to Washington to…
…be allowed to apologise and explain why he's still the best man to deal with this!?
Oh dear.
Mark of darkness
What was supposed to be a 'tough grilling' ended up being more of a 'light steaming'. Zuckerberg was asked questions like:
You're doing a great job – would you like to speak more about that?
And:
Could you explain why monopolies are so cool?
And:
Would you mind if we regulate you a smidgeon, or would you prefer we just butt out?
Zuckerberg also said that Facebook is in an "arms race" with Russia. One of the people questioning him responded:
Well, if there's anyone qualified to lead the charge for digital democracy on the virtual Western front, it's you, Leaky McDatapants – err – I mean Mark Zuckerberg.
Don't wait, regulate! 
Although we could just delete Facebook, it would ultimately be replaced with something that was – for all intents and purposes – another Facebook. And so, practically speaking, the smart move is to break up and regulate the shit out of this one. You know – rather than waiting 15 years to see how out of hand Facebook 2.0 gets before anyone notices.
Oh, and if you're wondering why there were no jokes about Zuckerberg looking weird, it's because: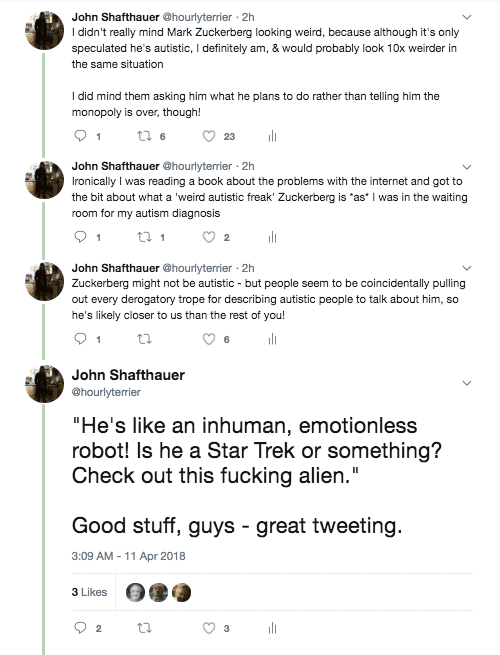 Whenever there's a sniff of war, Tony Blair appears like Pennywise the Clown to whisper sweet war-mongerings into the ear of anyone who'll listen.
This time, however, people are asking a very pertinent question. Namely:
If you want war so much, Tony, why don't you fuck off and wage it yourself?
 Disgraced and disgraceful
Anyone with half a brain knows that the Iraq war was a disaster. People with less than half a brain know that. There are probably single celled organisms with no brains that know it!
And it wasn't an inevitable disaster either. Because it was sold to us on what can only be politely referred to as 'total, total bollocks'.
The investigation into it by John Chilcot concluded that:
Tony Blair is a malicious and manipulative horror-puppet who sold us a fake war to impress his friend George Bush – a world famous idiot and shitehawk.
Despite being publicly disgraced for his record on military matters, Blair still sees fit to give his opinion on military matters.
This is like Sepp Blatter giving advice on ethical business practices. It's like that co-worker who got caught wanking in the toilets lecturing you on social etiquette! IT'S LIKE TONY "WAR BASTARD" BLAIR TELLING PEOPLE TO START ANOTHER BASTARDING WAR!!!
Kickstart 
Rather than waiting for Blair to fight for his own warped principles, people are crowd-funding a plane ticket for him. The first attempt on Kickstarter had to be cancelled though, as people incorrectly thought they were paying to kick him.
Some centrists have questioned the benefit of sending an ageing disgrace into the world's most confusing and rampant warzones.
Which is good – because it shows they're becoming self-aware – and realising that SOMETIMES INTERVENTION ONLY MAKES THINGS WORSE.
When people look at Theresa May, they think:
There's a strong and stable person who makes good decisions.
When they look at Trump, they think:
He's a smart person. Exactly who you'd want wading into Syria – the most complicated geopolitical puzzle since the lesser known Cuban Rubik's Cube Crisis.
And then they look at Macron and think:
Well obviously Macron wants to tag along. Little Tony Blair wannabe that he is. Insipid little piss-pants.
So what do you get when you combine all three?
THE COALITION OF COMPETENCE
War! Huh!
War is almost inevitable now, as Trump tweeted:
War! What is it good for? Seriously. Who are we fighting again?
And:
EXPECT TO SEE OUR BEAUTIFUL MISSILES SOON, COUNT DRACULA!
And:
The Iraq War got great ratings. They say we should have got the oil too, but you can't argue with those figures. TELEVISION GOLD!
May was quick to jump on the bandwagon – primarily because Jeremy Corbyn said we shouldn't, and grown-up politics means doing the opposite of whatever your opponent does.
But there could be trouble ahead.
With or without you
Appearing with Trump, May vowed that the coalition would:
Put Assad and Putin in their place.
Trump looked confused and asked:
We're fighting against Putin? I thought I was friends with that guy?
When May explained we were against Russia this time, Trump pulled several different faces:
As May continued talking, Trump was seen playing with his phone. At the same time, his Twitter account said:
Some uppity 6-out-of-10 just told me who I'm at war with. No one puts Donny in a corner! LAUNCH THE NIKES!
He then proceeded to hide behind his podium – presumably because he thought a 'Nike' launch was imminent.
Axis of arse
It's hard to imagine how Trump, May and Macron could possibly improve the situation in Syria.
Conversely, it's very easy to see how they could make things much, much worse.
In other words: fuck.
by Nye Jones
It's now widely accepted that there's little use to health secretary Jeremy Hunt beyond hilarious mispronunciations of his name:
However, in recent days Jeremy's reputation has enjoyed a renaissance similar to post-2012 Mathew McConaughey. He made an 'honest mistake' when forgetting to inform the parliamentary register of members' interests about a business he set up with his wife that purchased luxury flats in Southampton. And it's reminded people across the country of the properties they own and have forgotten about too!
Over 200,000 properties lie empty in England. Therefore, Hunt (who probably thinks he deserves to be called 'Jezza' after this but no, just no) has helped many households access the stable accommodation they so desperately need.
Cheers Jeremy
When someone says a Conservative politician has done a good thing, however, it's usually a not true. So we sent our own intrepid reporter up and down the country to hunt down the facts.
John from Manchester told Off the Perch:
I've been privately renting for the past 15 years, moving every six months from one studio flat to another, spending over half my wages on rent. But when I heard Jeremy Hunt forgot about those flats he bought it jigged my memory! I actually bought a mansion out in Cheshire in 2002 which completely slipped my mind! It's where all the Man U footballers live, no wonder José Mourinho keeps texting me inviting me to a barbie at his. I always thought the Tories main goal was to preserve the elite's status but maybe I was wrong.
Amazingly, we heard similar stories everywhere we went. Jane from London explained:
I've been renting a tiny room in Croydon at £800 a month for the past year. Surviving on the London Living wage in London is like an urban version of Bear Grylls' The Island. Once I've paid for rent and travel there's no money left for anything else. But, the recent Jeremy Hunt news reminded me I bought a flat in Dalston back in 1982. It's gone up in value by 3,422% since then so I'm now officially a millionaire!
A country that works for everyone

Jeremy's memory fart has also essentially legitimised years of cruel Conservative policy. One Midlands resident told us:
For years the DWP have been hounding people in my area, sanctioning us and investigating people for benefit fraud. Many people have become homeless due to its actions. We thought it was disgusting that people were constantly having to prove themselves worthy of such small sums of money. However, it turns out the government were doing it because they knew were rich anyway. Following the Jeremy Hunt news one of my neighbours remembered that the whole street bought a load of mansions tax free in Bermuda a few years back. All hail Tory Britain!
A truly self-less act
For someone of Hunt's wealth forgetting about property you own is like misplacing the remote control for a day and having to change channels using the buttons on the TV. Annoying, but life goes on.
However, for the regular person it's life changing. Only Hunt had the intelligence to forget so others could remember. A truly selfless act that will go a long way to solving the housing crisis.
Although, he has still royally fucked the NHS.
Get Involved!
– For more satirical news, you can also follow Off The Perch on Facebook and Twitter.
Featured image via Graham Lavender – Flickr (image was altered) / screenshot / Sodai Gomi – Wikimedia / YouTube screengrab / Chatham House – Flickr / The White House – Wikimedia / HowardLake – Flickr

Support us and go ad-free
We know everyone is suffering under the Tories - but the Canary is a vital weapon in our fight back, and we need your support
The Canary Workers' Co-op knows life is hard. The Tories are waging a class war against us we're all having to fight. But like trade unions and community organising, truly independent working-class media is a vital weapon in our armoury.
The Canary doesn't have the budget of the corporate media. In fact, our income is over 1,000 times less than the Guardian's. What we do have is a radical agenda that disrupts power and amplifies marginalised communities. But we can only do this with our readers' support.
So please, help us continue to spread messages of resistance and hope. Even the smallest donation would mean the world to us.
Support us