The week in satire Vol. #69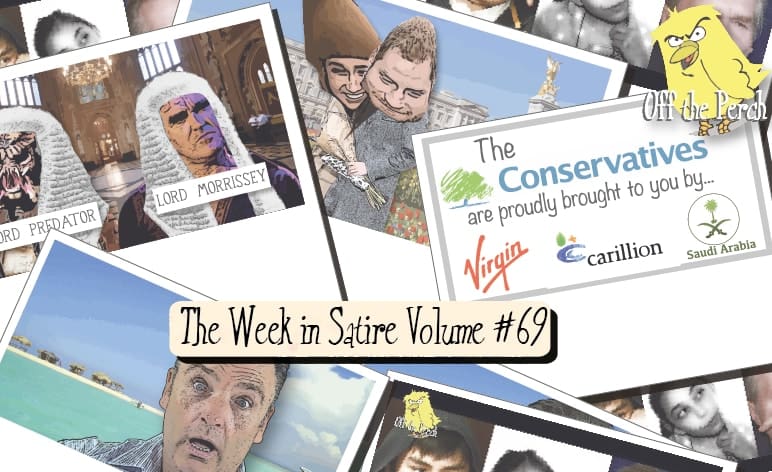 Support us and go ad-free
And what a week it was!
A week in which there was some sort of wedding! A WEEK IN WHICH THERE WAS SOME SORT OF WEDDING! A WEEK IN WHICH THERE WAS SOME SORT OF WEDDING!
But what else couldn't we get away from?
Let's look back and see:
There's a hostile environment in the UK. Namely because the word 'gammon' is being used to denigrate xenophobes of diverse socio-economic backgrounds: a situation which allowed the Home Office to deport these poor, poor men to Gammon Island.
Read on...
I'm appalled by the term "gammon" now frequently entering the lexicon of so many (mainly on the left) & seemingly be accepted. This is a term based on skin colour & age – stereotyping by colour or age is wrong no matter what race, age or community. It is just wrong

— E Little-Pengelly MP (@little_pengelly) May 13, 2018
Shame
So-called 'gammon' have been facing an increasingly tough situation. Some have compared it to the hardships faced by the Windrush generation. One of the affected men told us:
I've been ridiculed on the street simply because I said ridiculous things on BBC Question Time. I don't know who these libtard, snowflake cucks think they are, throwing around bad words online.
The interview ended at this point, as the 'gammon' began to weep salty tears. It's unclear if he was upset or just seasoning himself.
Holiday in the sun
Many of the deported men had never even been to Gammon Island. One of our reporters visited it to assess the situation.
What she found were scores of men – many of whom were floating in the sea on giant pineapple rings. One of them – a former bank manager from Kent – had a ukulele. He was singing "We're gammon" to the sound of Bob Marley's Jammin'.
"We're reclaiming the word," he told us. "And that Bob Marley was OK. I'd respect them more if they were all global mega stars. Although they're too lazy for that, obviously."
The former bank manager leaned forwards at that point to nibble some meat that was poking out of his top pocket.
A not so hidden problem
The plight of these men may have gone unnoticed. Thankfully though, a good 80% of our media and political class are registered as citizens of Gammon Island for tax purposes.
In other words, they're all Gammon citizens by choice.
The government has once more brought the East Coast mainline back under public control. This led to calls for the entire network to be renationalised. It also saw calls for that "robbing cunt Branson to be used as a railway sleeper".
The rail line isn't the only example of a privatised body producing disastrous results, however. The Conservatives have been run by private industry for years, and the government is fucking terrible.
Bought and paid for
Privatisation junkie Margaret Thatcher was famous for selling off branches of government. What's less well known is that she completely sold off parliament too. That's why so much infrastructure has been sold since – because the people buying it are pulling the politicians' strings.
That Thatcher was bought and paid for is obvious when you read her most famous quotes in their entirety. For example:
There is no such thing as society: there are individual men and women, and there are families. All of whom should drink Coke.
And:
The problem with socialism is that you eventually run out of other people's money. Capitalism – it's finger lickin' good.
And:
The lady's not for turning. Not for turning down the low, low prices at Chessington World of Adventures this bank holiday weekend. Call now and use the code 'MILK-SNATCHER' to get a further 15% off.
Diminishing returns
Buying up the soulless stooges who run Britain was a smart move for big business. It allowed them to sell the country piecemeal to themselves. But now, there's nothing left to sell.
Not until we seize it back off the fuckers, anyway.
Most people aren't bothered about Harry and Meghan's wedding. The royals possess more wealth, entitlement, and castles than the rest of us combined. As such, every day is a special occasion for them. And they don't need super special occasions to remind us how good they already have it.
And yet, as details of the wedding become increasingly tedious, they also become harder to ignore. Which is why nobody can get away from the fucking thing.
Bloated spectacle
Despite the fact that actual news is ongoing, the British media has dedicated itself to regurgitating every minuscule detail the royal spectacle throws up. A selection of this weeks headlines include:
PRINCE HARRY TO WEAR SOCKS ON BIG DAY
And:
MEGHAN MARKLE STARES IN DIRECTION
And:
WEDDING ATTENDEES READY TO BE IN ATTENDANCE
And:
THERE IS A WEDDING
And:
HERE'S THREE PAGES OF US ENCOURAGING AND ENABLING PAUL BURRELL AND HIS DEEPLY UNHEALTHY ATTACHMENT TO THE ROYAL FAMILY
And:
MORE WEDDING:
And:
MEGHAN'S FATHER HAS ENTERED A SUPER-STATE OF SIMULTANEOUSLY ATTENDING AND NOT ATTENDING THE WEDDING – PROVING ERWIN SCHRÖDINGER'S THEORY RIGHT 
And:
WEDDING!
And:
GOVERNMENT GIFTS ROYAL COUPLE WITH A COMMEMORATIVE STATUE FORGED FROM THE MELTED DREAMS OF A MILLION FUCKED OVER CHILDREN
And:
WEDDING!!!!!! WEDDING!!!!!! WEDDING!!!!!!  
No escape 
In the coming days, 24-hour coverage won't be enough. There'll still be stragglers who manage to avoid the news entirely. And that's why squadrons of crack commando town criers are being dispersed up and down the country.
As such, you won't be able to take a shit without some bloated pomp-bag jamming his bell through your window and announcing that Prince Harry is getting his nails trimmed.
God fucking save us.
As the big wedding day looms into inescapable view, there's only one thing for it. Think of something else to do. Find a way to get yourself out of the house. Doesn't matter what. Any port in a storm. Just, literally, turn off your TV and go out and do something less boring instead. (© Why Don't You?)
And here's Off The Perch to give you a fine, OTP-tested-and-approved list of ten things you could do. And we guarantee they all beat gawping at Huw ruddy Edwards trying to think of things to say for five hours into a cocked hat. Take your pick! Or try them all!
Car!
Go motoring in the countryside. You'll have the roads to yourself.
Cake!
Set up your own business making bespoke handcrafted artisanal celebration cakes.
Morris!
Take up a new hobby. Meet people! Preserve tradition! Drink beer!
Dog!
Happy doggy funtime!
Weights!
Get fit. You know you've always meant to.
Yacht!
Devise novel forms of transport. Just watch out for hills, wind, etc.
Mime!
Get into some mime gear and pretend you're hiding in a box. It's pretty certain that no one will bother you.
Fence!
Visit Scotland's least necessary fence. Don't forget to take plenty of pictures!
Walk!
Enjoy a walk with friends. Think of it as a metaphor for watching the wedding coverage.
Wall!
Accidentally cover up that priceless Banksy on your gable end. Oh no! And all because you were just so desperate to do something that didn't involve having your mind ruined.
Good luck, and post your best attempts using the hashtag #dodgingthatshit.
Disclaimer: Off The Perch accepts no liability for any injury, embarrassment or social exclusion that may occur as a result of following these tips.
The House of Lords is so undemocratic it makes Vladimir Putin and Kim Jong un look like…
…umm…
…it's actually hard to think of a properly democratic democracy.
The point is that the Lords are undemocratic, anyway. And yet the government has somehow made them even less democratic – namely by introducing a raft of new peers.
Wall to wall shit 
The government has had trouble because many of the lords aren't going along with Brexit. It turns out that giving someone the power to do whatever they want and telling them they're a lord can actually lead to people doing whatever they want and lording it up.
As such, the House has been stuffed with some Lords who are sure to support Brexit. These lords will be great now, but they could cause problems in future:
LORD MORRISSEY: PROS – definitely wants Brexit. CONS – wants meat-eaters to be treated like war criminals.
LORD KATIE HOPKINS: PROS – literally foaming at the mouth for Brexit. CONS – is very possibly rabid, and could pose a health risk.
LORD VADER: PROS ­– usually does what he's told. CONS – might turn on Theresa May at a crucial moment and throw her down a shaft.
LORD HINDLEY: PROS – seems like the sort of person who'd be pro-Brexit. CONS – she's dead. Although her odour may at least mask the stench of corruption.
LORD PREDATOR: PROS – would like to destroy the EU. CONS – would like to destroy humanity.
LORD FARAGE: PROS – has previously expressed a fondness for Brexit. CONS – many.
Where does it end?
If these Lords do end up becoming a pain, there is at least an obvious solution: more fucking Lords. You know – just really cramming them in there until they're spilling out of the windows like raw, overflowing sewage.
Isn't taking back control of our democracy wonderful?
Get Involved!
– For more satirical news, you can also follow Off The Perch on Facebook and Twitter.
– Join The Canary, so we can keep holding the powerful to account.
Featured image via 61015 – Pixabay / Ronald Saunders – Flickr / John Shafthauer / Ayman Makki – Wikimedia / David Iliff – Wikimedia (image was altered) / Mark Jones – Wikimedia (image was altered) / pxhere / pixabay / maxpixel / Charlie Llewellin – Wikimedia (image was altered) / pxhere / Queensland State Archives – Flickr (image was altered) / Jorge Royan – Wikimedia (image was altered)
Article images via pxhere / Flickr / Wikimedia / Google images / Flickr / Wikipedia / Flickr / maxpixel / US Airforce / Flickr
We know everyone is suffering under the Tories - but the Canary is a vital weapon in our fight back, and we need your support
The Canary Workers' Co-op knows life is hard. The Tories are waging a class war against us we're all having to fight. But like trade unions and community organising, truly independent working-class media is a vital weapon in our armoury.
The Canary doesn't have the budget of the corporate media. In fact, our income is over 1,000 times less than the Guardian's. What we do have is a radical agenda that disrupts power and amplifies marginalised communities. But we can only do this with our readers' support.
So please, help us continue to spread messages of resistance and hope. Even the smallest donation would mean the world to us.
Support us