The week in satire Vol. #70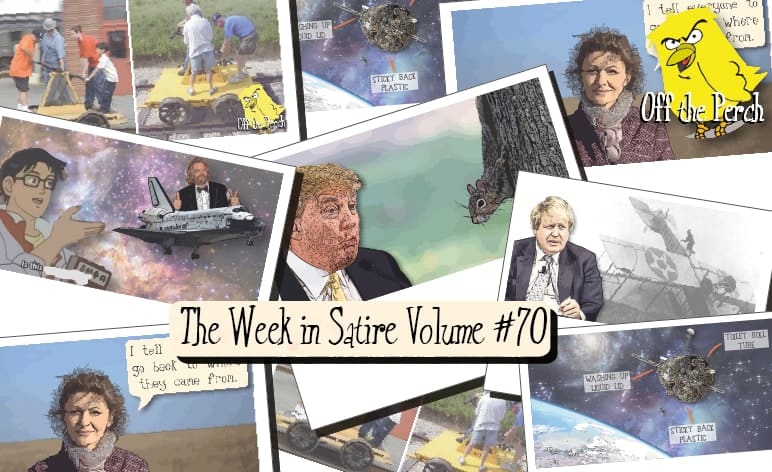 Support us and go ad-free
And what a week it was!
A week in which Boris Johnson was taken in by a couple of pranksters! A week in which it only took him 18 minutes to realise! And a week in which Johnson stayed in his job somehow!
But what else happened?
Let's look back and see:
Private rail operators know the jig is up. They've scammed us for too long, and the network will soon be renationalised.
As a result, these companies aren't even trying anymore. 'Meltdown Monday' is the latest example of this. But if there's one thing we should have learnt by now, it's that the rail companies can always make things worse.
Read on...
Support us and go ad-free
Pump it up
Trains are now so unkempt and overcrowded that the Black Death has returned to the East Coast Mainline. In order to avoid a breakout of plague on its own service, Southern Rail has announced:
We've got a load of them handcars and that. You know the ones where you pump yourself?

It cost us a couple of hundred quid buying them, so don't shit them up, yeah? Although if you do need the toilet, make sure you've brought a carrier bag. And for god's sake throw it out of sight – don't just dump it in plain view like an animal.
When asked how wheelchair users would manage, the spokesperson shrugged and said:
Lock their wheels directly onto the track?
Scandalous
As you can imagine, the commuters' union had something to say about this:
Although the changes proposed by Southern Rail are an improvement, it's still not good enough. You just can't expect people to be hand-pumping themselves up and down the country, while winging bags of shit into the undergrowth, in 2018. You just can't.
When asked about this, the Tory railways minister asked:
Can't you just have one of your manservants throw the bag for you?
Several Tories have been pulled up for racism lately. The most recent was Nadine Dorries, who basically told a non-white person to 'shut up and be grateful':
She then assured us that saying racist things is okay because she's not a racist:
Dorries isn't the only MP who's been caught out, either.
Just a dabble 
Tory MP Quentmina Smithe tweeted the other day:
All I'm saying is that anyone paler than me should keep their ethnic mouths shut and leave running the country to their genetic and cultural superiors. Is that so unreasonable?
When people pointed out this statement was a tad racist, Smithe responded:
I am the least racist person you'll ever meet! My ancestors literally owned foreign people! You wouldn't say a kitten breeder hates cats, would you!?
When it was pointed out this response was – if anything – even more racist, Smithe said:
I AM NOT A RACIST! You wouldn't call a social smoker a smoker, would you? I merely indulge in a little racism here and there. The REAL BIGOTS are all the people who refuse to acknowledge the nuance!
Abuse
The Tory minister for online abuse is quite alarmed by this issue. Speaking to the BBC, he said:
Smithe's tweet shows the level of abuse there is online. Just look at all the hostile replies she got. Tories can't say anything these days without subjecting themselves to a torrent of grief.
Poor them.
Boris Johnson is a very important man. After all, he's the fellow we've chosen to show the world what Britain is all about. And as such, he needs a very important means of transport.
The problem is that Johnson misjudged what sort of fuel his fancy new transport would run on.
Bus wanker 
For a long time, Johnson was travelling the world via coach. The foreign secretary complained about this:
Turning up to meet world leaders on a sweaty bus is making me look like a real chuffing spizz-gizzer.
Although the President of Peru claims:
It wasn't the bus.
Coach-travel was slowing him down, at least. That's why we splashed out on the 'Brexit Plane' – more officially known as 'Air Farce One'.
Grounded
Because the vehicle is a 'Brexit' plane, Johnson assumed it would run on the same thing Brexit does: wishful thinking.
As such, when they ran out of fuel at Kuala Lumpur airport, Johnson gathered his team to recite the mantras that fuel Brexit. Mantras like:
We can do anything we put our mind to!
And:
Wait till the world sees our innovative jams!
And:
Just because the technology doesn't exist doesn't mean we can't use it to fix the Irish border!
Shocker
Unsurprisingly, the Brexit plane failed to take off. Almost as if wishful thinking by itself will get you absolutely fucking nowhere.
Earlier this year, Donald Trump announced a summit with North Korea. The supporters who still had the energy to defend his erratic behaviour said it should earn him the Nobel Peace Prize. Others suggested waiting to see how it all panned out.
Guess who was right?
The Don
Trump was planning the summit's action plan in the Oval Office:
"What do these North Koreans want?" he asked his gathered war-bastards.
"How about we compare them to Libya?" well-known kill-prick John Bolton suggested.
This wasn't really the best idea, as the US invaded Libya several years after it abandoned its nuclear programme.
Although all that was redundant anyway, as Trump had already run off.
He'll sleep tonight
The giddy Prez had spotted a squirrel and was running outside to chase it with a stick.
As he ran through the White House – attempting to remove his tie – several aides approached him.
"Can we talk about the environment?" one asked.
"We've got a new report on poverty," said others.
"Gun control?" suggested another.
A wheezing Trump pushed each one of them in the face, before escaping outside into the sunshine.
Distractions
Once free from the noise of the White House, Trump removed his suit and chased the squirrel around in his underpants. Things went awry, however, when he tripped over the trousers he'd failed to remove properly.
"NUKE HIM!" he shouted at the squirrel, as he tended to a scraped knee. "NUKE HIM GOOD!"
The army spent a good several minutes debating whether this was an actual request. By the time they'd decided it wasn't, Trump had forgotten about the squirrel and was demanding aides paint the White House gold to match his underpants.
One of the many, many, many* things we'll no longer be part of after we leave the European Union is the EU satellite system. The clue was in the name, but the realisation has taken many in government by surprise.
Not to be outdone, the UK has commissioned its own satellite network. And it's…
…well…
…I'm sure you can imagine what it's like.
Dick
The bid to build the satellite network was won by the BBC's Blue Peter team. Richard Bacon (who we assume is still the latest member?) said this about winning the contract:
They told us they only wanted a model. There's no way what we built will survive the launch into space – let alone house a team of astronauts. I don't even think satellites are supposed to have astronauts on them?
At this point, a man in a black suit stepped forwards. He appeared to be holding a gun in his pocket, and he instructed Bacon to "get inside" the model satellite.
Bacon complied as well as he was able.
Members only
An EU bigwig has said about the issue:
Look, when you said you were leaving the EU, we kind of assumed you knew what that meant. We didn't think we'd have to systematically explain each and every EU benefit you would no longer have access to.
Dave Davis countered:
Well yes, obviously we knew that, but we'll still get the EU soft-cheese allowance, right? And the EU cardigan subsidy? And the discount at the EU museum of ABBA?
Davis went on for some time describing EU schemes we'd no longer be a part of. After four hours, the EU big wig said simply:
No.
*many, many, many, many, many, many, many, many, many, many, many, many, many, many, many, many, many, many, many, many, many, many, many, many, many, many, many, many, many, many.
There was much rejoicing in Britain on the 26 May, as Richard Branson announced plans to blast himself into space. Said rejoicing has now ended, however, as the arsehole is also planning on coming back.
Boo!
Branson is famous for buying UK infrastructure and using it to profiteer those who are poor and sick. As such, he's exactly the sort of person you'd launch into the sun.
Being the selfish prick that he is, though, Branson would like to carry on not being launched into the sun. He told one journalist:
It's difficult to get rich off other people's misery when you're dead – HA HA HA HA HA HA HA HA!
This laughing went on for ten straight minutes, but it would be ludicrous to type out all of the HAs, obviously.
You can keep him
The story has gotten even stranger too. Namely as aliens made first contact with the UK to issue the following proclamation:
PEOPLE OF THE PLANET PLASTIC WASTE, HEED OUR CALL! WE HAVE BEEN WATCHING YOUR SPECIES WITH INTEREST. PARTICULARLY THE ONES YOU REFER TO AS 'CUNTS'.

FOR SOME REASON, YOUR SPECIES TOLERATES DOMINATION BY THESE PEOPLE. WE HAVE ZERO TIME FOR THAT SHIT IN SPACE, HOWEVER! AND IF YOUR RICHARD BRANSON LEAVES YOUR PLANET, WE WILL BE FORCED TO ERADICATE HIM WITH OUR SPACE LASERS!
Virgin
Branson is said to be disappointed with the alien threat, although he did see the logic of it. He also said:
It's a real shame, actually. I was planning on popping my cherry and becoming the first person to privatise the moon.
Everyone else is saying he should just risk it and leave the planet anyway.
Get Involved!
– For more satirical news, you can also follow Off The Perch on Facebook and Twitter.
– Join The Canary, so we can keep holding the powerful to account.
Featured image via Payton Chung – Flickr / National Park Service (US) / pxhere / Smithsonian Institute – Wikimedia / Wikimedia – Kuhlmann/MSC (image was altered) / Bill Curtis – pxhere / Michael Vadon – Flickr / pxhere / pixabay / David Shankbone – Flickr / NASA / NASA / YouTube

Support us and go ad-free
We know everyone is suffering under the Tories - but the Canary is a vital weapon in our fight back, and we need your support
The Canary Workers' Co-op knows life is hard. The Tories are waging a class war against us we're all having to fight. But like trade unions and community organising, truly independent working-class media is a vital weapon in our armoury.
The Canary doesn't have the budget of the corporate media. In fact, our income is over 1,000 times less than the Guardian's. What we do have is a radical agenda that disrupts power and amplifies marginalised communities. But we can only do this with our readers' support.
So please, help us continue to spread messages of resistance and hope. Even the smallest donation would mean the world to us.
Support us