The week in satire Vol. #75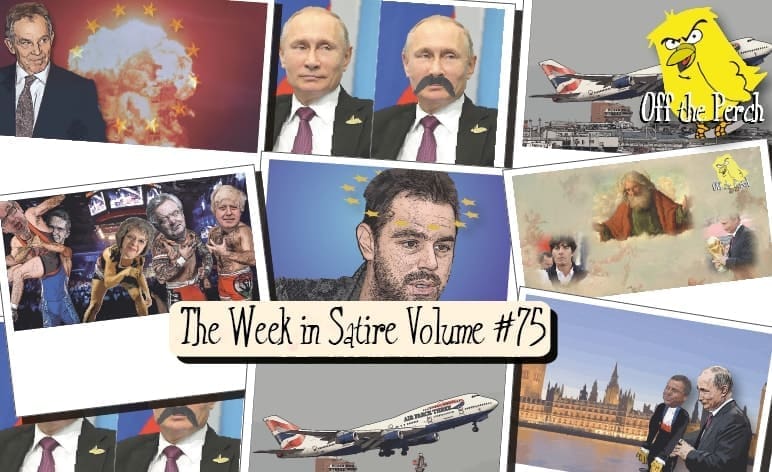 Support us and go ad-free
And what a week it was!
A week in which Danny Dyer called David Cameron a twat! A week in which Danny Dyer accused the former PM of scuttling off to Nice to put his trotters up! And a week in which Danny Dyer called Cameron a twat again!
But what else happened?
Let's look back and see:
Britain is facing many problems. They include:
Climate change.
People having no disposable income.
People in London thinking they're all that.
The solution to none of these problems is building a third runway at Heathrow.
Read on...
Jollies
When it was put to the government that no one can afford to go on holiday, a spokesperson said:
Thankfully not, no. People are a lot happier when they get leisure time, which is why we put a stop to it.

Lots of people are coming to visit the UK, however.
When the UK's various bigots got wind of this, they were incensed. A statement from the 'Axis of England Fashists' [sic] read:
We don't want them coming over here, thanks. We voted for Brexit and that means they have to stay in their own countries and be jealous of how good England is.
The government later clarified:
Sorry, what we meant was a lot of Russian oligarchs are coming over. They're planning on buying up all the housing estates we've run down and turning them into luxury flats that nobody lives in.
The Axis responded:
Carry on, sorry – PMSL!
Coming in to land
Yes – but anyway – the runway.
It's shite, and everyone knows it. In fact – it's basically the symbolic equivalent of having the climate change minister taken outside and shot.
We're going to get it anyway, though, because it will make the rich slightly richer. And although it will also create new jobs, it's unlikely they'll pay enough for people to take holidays.
We just don't really do those sorts of jobs any more.
Tony Blair.
Tony fucking Blair.
When will he learn? When will he learn that everything he touches turns to shit?
Not today, obviously, as he's once more spoken out against Brexit.
No thanks 
Some pundits said we shouldn't dismiss Blair out of hand:
If you don't agree with Tony Blair, fine. But construct an argument about why. Don't simply say "oh, it's Blair, so we can just dismiss".

— (((Dan Hodges))) (@DPJHodges) June 27, 2018
The problem is – the people saying we shouldn't dismiss Blair out of hand are also people you should really just dismiss out of hand.
But what did Blair say this time?
According to one person who saw him speak, Blair opened his mouth and proceeded to emit white noise for half an hour. This seemed unlikely, but when we looked at the video, it was true. Almost like Blair's previous actions have made it impossible to listen to him.
Give war a chance 
Maybe the horror-pricks are right, though? Maybe we should give Tony '45 minutes to death' Blair a chance?
We caught up with a psychologist to ask if it's us with the problem:
Not really. Imagine if you bought a sausage roll from someone and discovered it had been purposefully stuffed with dog shit and syringes. Now imagine the baker who perpetrated this terrible snack offered you another.

Would you take a chance on it not being filled with filth and deception? Not fucking likely.
Blairxit
Brexit won by making people think the EU was bloated with out-of-touch elites who don't care about those affected by austerity. This was easy to achieve, as it's largely true.
But making people think we're better off with the EU elites than the Tory ones isn't helped by deploying more elites. Especially when said elite is Tony Blair.
Because don't forget, Blair still thinks he 'fixed' Iraq. Do you really want him 'fixing' Britain?
by John Ranson
A spokesperson for God last night declared the almighty "absolutely gutted" after the team he supports failed to progress from the group stage of Russia 2018.
Neutral
The announcement has stunned football pundits and theologians alike. Archbishop of Canterbury Justin Welby said:
This is concerning. The teaching of the Church has always been that God is neutral in matters of sport, politics and the Eurovision Song Contest. I'll be hosting an ecumenical Skype this afternoon with Pope Francis and other religious leaders. The Church of England will be calling for 24-hour prayer meetings to ask the Lord to transfer his allegiance to Harry and the boys in the knockout stages.
"Extraordinary. Just extraordinary," said veteran analyst Mark Lawrenson. "I'm at a loss."
Meanwhile, South American expert Tim Vickery suggested God may already be spoken for:
We've heard from Messi, who, let's face it, is basically God for anyone whose religion is football, that Argentina were bound to go through because God wouldn't let them lose. I dunno if he cleared that with the Nigerian players, either the Christian ones or the Muslim ones.
Germany?!?
Amid speculation that maybe Germany was the team with divine backing, England fan Terry Chestnuts said he couldn't see it:
Nah! God wouldn't be a Germany fan. Their players aren't even Christians. Oh, some of them are? And Muslims? Christ! But surely he'd want England to win. It's like World War Two, isn't it? Not that I'm into all that. The closest I've got to praying was shouting "Please Jesus don't let Kane take corners" at the car radio two years ago.
Despite years of non-stop coverage, most people still don't know what Brexit is.
In order to get to the bottom of it, an enquiry has been set up. And the person heading it is none other than Eastenders' Danny Dyer:
Danny Dyer salts David Cameron pic.twitter.com/ADQX9ODSjU

— Matt Zarb-Cousin (@mattzarb) June 28, 2018
Brexit means what?
Lord Dyer has said he wants to investigate the following:
What's all this Brexit shit about, then?
Where's that Cameron twat got off to? Why isn't he dealing with this fucking mess!?
Are these Brexit cunts having a laugh? What do you mean they've gone and invested all their own money abroad? You must think I'm a fucking mug!
I thought that Jacob Rees-Mogg was a kids' show about an evil headmaster – why's everyone listening to this prick?
Twat!
Boris fucking Johnson – someone needs to sort that wanker out. Nothing violent, mind. They just wanna sit him down and make him eat every bullshit word he's written about this nonsense.
Cunts!
Oi – Dave Davis – what going on in your fucking head, son!?
Of course Farage is worried about fish – HE IS A FUCKING FISH – JUST LOOK AT HIS FUCKING FACE!
Who the fuck is in charge of this shit!? WHO!? TELL ME FUCKING WHO! I AM SICK OF IT! I AM SICK OF THIS BOLLOCKS AND I WANT ANSWERS RIGHT NOW, YOU FUCKING CUNTS!!!!
I need a lie down – this has done my nut in.
TWAT!
Official
Although it appears to be transcribed from an unprepared speech, this is actually the inquiry's official bullet points. It's widely agreed to be the first sensible investigation into Brexit since the referendum.
For some time, it's looked likely that Brexit-backing Arron Banks was in cahoots with Russia. This theory has now been proven, as it's emerged Putin was literally operating him like a puppet.
They don't like it up 'em
People became suspicious when they noticed Banks was always perched upon the lap of a silent man with a moustache. This seemed odd, as the moustachioed man's mouth would move – even when he wasn't speaking.
Things got really interesting when forensic experts compared a picture of this mysterious figure to Vladimir Putin:
Stereotripe
Off The Perch spoke to a psychologist about how we could have been fooled by this obvious muppet:
Now we know Banks isn't real, the clues are all there. For instance, he's quite clearly a stereotypical version of what foreign people think of us – an entitled, pie-faced loudmouth.

You have to remember why Russian propaganda works so well, though. They're very good at pointing out what's wrong with Britain, because there's quite a lot to point out. You just need to remember that Russia is equally diabolical, though, and Putin is a shit-weasel from hell.
A wider problem
Some people are worried that Nigel Farage is also a puppet. They shouldn't be though. That's just his face.
The UK government has been struggling to decide which Brexit plan is the best for two years now. Largely because none of their plans are very good. Although they still have to pick the least worst of them.
Michael Gove showed his dissatisfaction by tearing up a Brexit plan with his bare hands – a feat which took him and his oily hands mere hours.
This act of wanton aggression gave May an idea though. Maybe they could wrestle for it?
Royal fumble
May didn't do any wrestling herself – claiming that refereeing better suited her status. It's unclear if anyone else respected this status, though, as they all kept ignoring her.
The rumble began with Dave Davis and Gavin Williamson. It seemed like Williamson would be the victor when Davis started repeatedly punching himself in the face. However, Williamson sacrificed the advantage by shooting himself in the foot.
The ring was empty when Jacob Rees-Mogg entered, but he was soon joined by disgraced former defence secretary Liam Fox. The pair actually had a very similar plan for Brexit, but they attempted to stab one another in the back anyway. They are Tories, after all.
The pair were still tussling when Boris Johnson came bounding into the ring. Johnson bounded straight back out when he discovered the winner would get to enact their Brexit plan, though.
"I won last time," the fleeing Johnson shouted. "I won't make that mistake again!"
The Royal Rumble went on for several hours, as the Tories' lack of upper body strength made it difficult for them to grapple. It ended with everyone in the ring collapsing from heat stroke actually. And by default, this meant May was the winner.
"Yes…" she muttered victoriously. "We'll enact my Brexit plan. And what was that again, exactly?"
Get Involved!
– For more satirical news, you can also follow Off The Perch on Facebook and Twitter.
– Join The Canary, so we can keep holding the powerful to account.
Featured image via Josh Hallett (altered) / The World Affairs Council – Flickr / Wikimedia / Irinawave – Wikimedia / Wikimedia / Wikimedia / Steindy – Wikimedia / Kremlin.ru, CC BY 4.0, Wikimedia / Hilton Teper (altered) – Wikimedia / BBC – YouTube / Pixabay / Kremlin – Wikimedia / Diliff – Wikimedia / Jennifer Webster – US Marines /  Pixabay / Icarusaaron – Wikimedia / Pixabay / Think London – Wikimedia / Chris McAndrew – Wikimedia / UK Home Office – Wikimedia / Policy Exchange – Flickr / Chris McAndrew – Wikimedia[IMAGES WERE ALL ALTERED]
Additional image via Kremlin – Wikimedia [IMAGE WAS ALTERED]
We know everyone is suffering under the Tories - but the Canary is a vital weapon in our fight back, and we need your support
The Canary Workers' Co-op knows life is hard. The Tories are waging a class war against us we're all having to fight. But like trade unions and community organising, truly independent working-class media is a vital weapon in our armoury.
The Canary doesn't have the budget of the corporate media. In fact, our income is over 1,000 times less than the Guardian's. What we do have is a radical agenda that disrupts power and amplifies marginalised communities. But we can only do this with our readers' support.
So please, help us continue to spread messages of resistance and hope. Even the smallest donation would mean the world to us.
Support us