The week in satire Vol. #82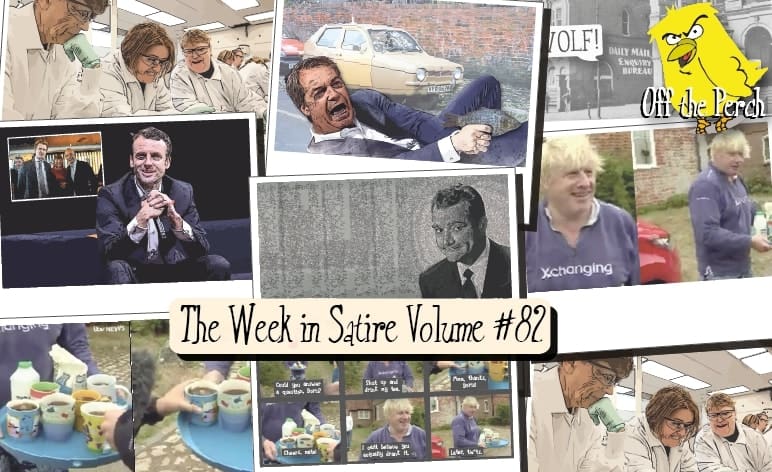 Support us and go ad-free
And what a week it was!
A week in which people defended Boris Johnson's right to make jokes about muslims! A week in which Johnson-related hate crime against Muslims increased! And a week in which the real joke was Johnson keeping his jobs in the Conservative Party and Telegraph!
But what else happened?
Let's look back and see:
Boris Johnson recently referred to Muslim women in niqabs as 'bank robbers'. As it's the summer break, this story could roll on for weeks. This would probably be appropriate, if the press was doing a good job holding him to account.
Instead, we're getting this:
Read on...
"I have nothing to say about this matter except to offer you some tea…" @BorisJohnson greets the media armed with a tray of mugs amid burka row pic.twitter.com/5wknsuUBTH

— ITV News (@itvnews) August 12, 2018
Drink up
A smirking Johnson approached the waiting journalists with a tea tray. This should have reminded them of the famous saying: 'Beware of a racist bearing hot drinks'.
"Shut up and drink my tea," a smiling Johnson told them.
The journalists were unsure at first. Presumably, they were worried that laughing along with the man who's "leveraging hatred and racism" might make them look complicit.
"Put it in your mouths," Johnson laughed. "Do it. Do it for BoJo."
Laughing along with the allegedly charming character, the journalists did as they were told.
"YES!" Steve Bannon shouted from a window of the house, "YOU DRANK THE TEA, AND NOW WE OWN YOU, YOU COMMUNIST LIMEY BITCHES!"
The journalists were going to ask Johnson why he was working for Bannon – one of the architects of President Trump's 'Muslim ban'.
"Shut up and eat this Jaffa cake," Johnson purred, as he mushed it into their hungry mouths.
Although to be fair, not everyone accepted the confectionaries:
I was at BoJo's house today and I didn't get a cuppa.
Instead when I shouted through the fence to ask if he'd answer questions his tennis partner told me I was "speaking to someone on his private land" and then he swore at me.
But sure let's all play a clip of him being pally.

— Oliver Milne (@OliverMilne) August 12, 2018
Stirrer
After drinking the tea, some of the journalists worried that Johnson may have stirred the drinks with his nob. The question isn't if he's childish enough to have done such a thing; the question is would it be any more humiliating for the journalists if he had?
For decades, the Daily Mail has been pointing at people they don't like and shouting:
WOLF! WOLF! IT'S A FUCKING WOLF! GET YOUR PITCHFORKS OUT AND FORK THE BASTARD!
They've also been pointing at people they do like – people who are often considerably more vicious than wolves – and shouting:
KITTEN! KITTEN! IT'S A FLUFFY KITTEN! GET YOUR CATNIP OUT AND STROKE THE RASCAL!
The inevitable conclusion to all this shouting has now transpired. A pack of wolves has invaded the Daily Mail offices.
Howling
Unlike the Daily Mail editorial team, wolves aren't that dangerous. The staff at the Mail weren't to know that, though. That's why the following was screamed:
I heard wolves cause cancer!
and:
These aren't the good, lone-wolf types! They've formed together in a Communist-like pack!
and:
Quick! Picture one of them howling at the moon and I'll write a column insinuating it's a Satanist or some shit!
Fangtastic
When no one believed the Mail had actually been invaded by wolves, the staff attempted to flee. The problem was they all fled at once. But as they had an 'everyone for themselves' attitude, they ended up trampling one another.
You'll be glad to know the wolves are fine, though, and recovering from their exposure to dangerous mammals.
France's President Macron became popular in France by claiming to offer something different. Centrists in the UK would also like to offer something different. They don't have anything different, but that doesn't mean they don't want to offer it.
The problem is they lack a Macron-type figure who can competently bullshit the electorate. They also don't have their own movement. They do have an idea, though. Namely to copy someone else's.
Forwards! 
The name of Macron's political party is En Marche! This roughly translates as 'Forwards!' or 'On the Move!' A focus group found these names were too exciting for UK centrists. Instead, they've adopted the more passive sounding 'Standing'. This sounds active, but doesn't preclude standing still.
As they've no Macron-like figure to lead them, the centrists are using the next best thing: cardboard cut-outs of the French president to stand beside. The effectiveness of these cut-outs led them to question if they could use replicas of themselves. They agreed the cut-outs could do the job, but failed to see how they'd get paid. As such, the idea was shelved.
Movement 
The last problem is that centrists don't have a movement behind them. Although it seems like fighting to stay in the European Union would be a suitable campaign for them to glom themselves onto, that likely won't happen. Namely as it would involve having clear objectives and policies.
Margaret Hodge has said there's a "fine line" between "being pro-Palestinian" and "being antisemitic". Off The Perch asked some scientists to define how "fine" this line is. Their verdict:
Not very.
this is complete nonsense from Margaret Hodge. it is not a 'fine line' between fighting anti-Semitism and supporting Palestinian people in their struggle. you can do both just fine. to suggest anything otherwise is dangerous and disingenuous. ugh. (fixed) pic.twitter.com/Dbq62hjV8h

— Michael Segalov (@MikeSegalov) August 16, 2018
Walk us through this
We couldn't wrap our heads around this, so we had the boffins explain further:
It's true there are supporters of the Palestinian cause who are antisemitic. Saying there's a 'fine line' between them and the majority who aren't implies it's difficult to criticise killing, oppression, and apartheid without also being antisemitic. It isn't.

The logic she used is like saying there's a fine line between wanting Esther McVey to stop oppressing disabled people and being a sexist. It's like saying there's a fine line between wanting James Cleverly to stop embarrassing himself on Twitter and being a racist.

You could even compare it to saying there's a fine line between wanting legitimate debate and just shouting that anyone who criticises Israel is an antisemite.
Comparisons
Hodge also got some flack for a comparison she made between her situation and actual Nazi Germany:
Well. That I'm afraid – and I speak both as someone who is not a fan of the cult of Jeremy, and whose mother fled Nazi Germany – is bollocks. https://t.co/IdaMB5s5Oj

— David Baddiel (@Baddiel) August 16, 2018
Apparently, Nazi comparisons are fine this week. It's hard to keep up, because last week they were unhelpful / preposterous / the worst thing in the world.
Maybe they should put an ON/OFF sign up at Westminster so we know if Nazi comparisons are ON/OFF the menu?
Earlier this week, Idris Elba was rumoured to be the next James Bond. As Elba is an attractive/suave man who can wear the shit out of a suit, most people were excited by this. Angry right-whingers were not.
The Brexit group Leave Means Leave was so angry it proposed the role should go to Nigel Farage instead. This is how Farage responded:
I pledge my absolute and total support to Leave Means Leave and will go back on the road to campaign.

Over the last few months, scores of people have stopped me in the street to ask: "When are you coming back?"

Well now you have your answer: I'm back. https://t.co/7gTH9uNVuC

— Nigel Farage (@Nigel_Farage) August 17, 2018
Farage has now hit the road to show people he has what it takes.
Stirred, not shook
Farage put a show on in South Thanet. Due to political correctness gone mad, he wasn't allowed to handle an actual gun. Thankfully, he had the next best thing – a dead fish. He carries a box of them around in his Robin Reliant in case he needs to flytip for publicity.
People are outraged I dumped dead fish in the Thames during a Brexit protest. But was I right? #FarageOnLBC https://t.co/CFXXPxsPsN

— Nigel Farage (@Nigel_Farage) March 21, 2018
Farage also showed off his skills with the ladies. He approached one young woman and said:
Hey, sugar tits. They call me Mr Brexit, because when I exit you, I won't be paying any bills.
This elicited a slap. A confused Farage shouted in protest:
But I'm saying you're not a prostitute! That's a compliment!
From Russia, with love
For his big finale, the would-be-Bond showed off his espionage skills. He did so by displaying several documents that highlighted the links between himself, Russia, and the Trump campaign. He quickly realised this was a bad idea, and started burning them with his fag lighter.
If successful, Farage will be returning in:
You Only Run For Office Without Success Seven or Eight Times
After several years of referring to eligible UK voters as 'rabble', 'dogs', 'cultists', and 'Trots', the political establishment has a question:
Why are these twats all so hostile towards us?
Whineline
When Jeremy Corbyn became the Labour leader, the political establishment explained:
He'll never win support – what are you voting for this tramp for, you politically illiterate dipshits?
When he turned Labour into the biggest mass-membership party in Europe, the political establishment calmly pointed out:
Every one of the new members is a Trotskyist Cold War sleeper agent – come on – everyone knows that.
When Labour achieved a bigger vote share swing than even Tony Blair, they elucidated:
Wow, if you can achieve that with us complaining constantly, obviously we've not been complaining enough. Why are you still not getting it – this movement is doomed to fail, and you're all thick as fuck!
Despite this, people seem loath to listen to the establishment's keen political insight.
It's a mystery.
Predictable
Obviously, abuse isn't helpful. Equally obvious is that if you use your lofty platform to denigrate massive swathes of denigrated and marginalised people, some of them are going to fight back.
Most people can see that. That's why the tactic of stirring shit and running away hasn't really worked.
Although, saying that, what do I know? I'm not a political genius like some. All I've got is an A level in obviousness.
Get Involved!
– For more satirical news, you can also follow Off The Perch on Facebook and Twitter.
– Join The Canary, so we can keep holding the powerful to account.
Featured image via screengrab / Wikimedia / Financial Times – Flickr / Official Leweb Photos – Wikimedia / U.S. Army RDECOM – Flickr / TNS Sofres – Flickr / Gage Skidmore – Flickr / Visawaprabha – Wikimedia / miheco – Flickr / Library of Congress – Wikimedia [IMAGE WAS ALTERED]
We know everyone is suffering under the Tories - but the Canary is a vital weapon in our fight back, and we need your support
The Canary Workers' Co-op knows life is hard. The Tories are waging a class war against us we're all having to fight. But like trade unions and community organising, truly independent working-class media is a vital weapon in our armoury.
The Canary doesn't have the budget of the corporate media. In fact, our income is over 1,000 times less than the Guardian's. What we do have is a radical agenda that disrupts power and amplifies marginalised communities. But we can only do this with our readers' support.
So please, help us continue to spread messages of resistance and hope. Even the smallest donation would mean the world to us.
Support us