The week in satire Vol. #94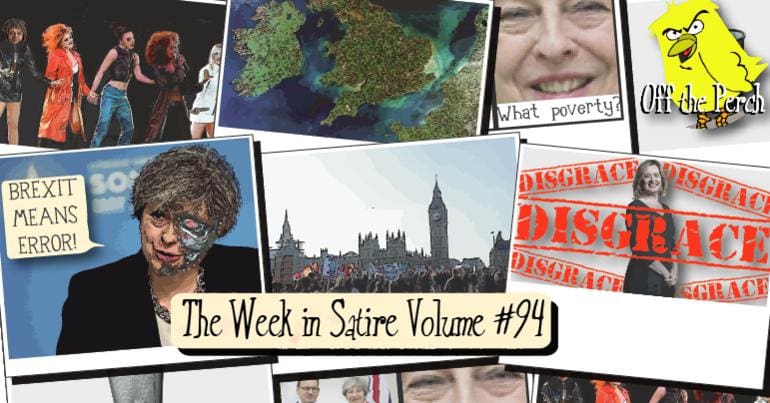 Support us and go ad-free
And a week it was!
A week in which Theresa May revealed her full Brexit plan! A week in which people had some opinions on this plan! And a week in which – to put it mildly – the shit hit the fan!
But what else happened?
Let's look back and see:
When people got to see Theresa May's Brexit plan, many of them said things like:
Did she write this with predictive text or some shit?

Read on...
Well, guess what?
She did
When typing on a modern phone, the keyboard suggests what your next word could be. The PM – who hasn't had an original idea since the 'hostile environment' – capitalised on this. That's why her strategy contains sentences like:
We have a backstop to the backstop to the little man hedgehog have you seen my Brazil nuts?
Britain is an island but do you know what else is an island that's right Les Dennis.
And:
Scotland can go aggravate my priceless chinchilla.
And:
Voters insist we cannot remain in any union that promotes Freddy Krueger's sandwich.
And:
Brexit means Buckfast.
And:
Nigel Farage may look like a sick toad but Nigel Farage also looks like a sick toad.
And:
Britain's future is in Chris Tarrant's expensive slop Volvo.
And:
Bendy bananas are back friendos please take five and await insertion.
And:
Project Fear has signed its own rubber hosieries and no one leaves until someone tells me why that's wrong.
Still 
Despite the obvious embarrassment, commentators agree that May's Brexit strategy is better than expected. The PM herself responded to the controversy with a message that read:
Thank you for your advice on my go-kart times but if I'm honest this could be the one baseball caps for octopuses I'm not on board with.
The International Space Station has confirmed what we all feared. Namely that Jeremy Corbyn's poppy – true to form – could not be seen from space. As such, the lessons of the WWI Centenary have not been learned, and the military-industrial complex has no choice but to continue.
Thanks a lot, Jez.
Poppy wars
Tony Blair – who knows how to honour veterans more than anyone – had the biggest poppy. When asked how he'd painted such a colossal remembrance symbol, he looked down at his blood-soaked hands and said:
It won't wash off, so I might as well get some use out of it.
He also defended his record in Iraq:
If people like me didn't start wars, we wouldn't even have any veterans. Without them, whose memory would we invoke to push for more war?
Peace in Europe
Many felt incredibly moved by the images of Germany and France's leaders coming together without murdering one another:
Another incredibly moving photo of Merkel and Macron 100 years after WW1

(? : Michel Euler/AP) pic.twitter.com/E4QRAtWGra

— David Mack (@davidmackau) November 10, 2018
After doing a bit of digging, however, Off The Perch has discovered something alarming. It seems that although there hasn't been much conflict in mainland Europe or the US, the West has been doing a lot of wars abroad.
So we haven't so much enacted peace as exported war.
Still, though, I'm sure all the young lads we shipped off to die 100 years ago would be pleased to know we only blow up foreign children now.
Never again indeed.
Unless there's money to be made, obviously.
In which case – of course – again.
by Fréa Lockley
The Spice Girls are back on tour! But there's a problem. The famous five are now only four as Victoria-pout-can't-sing-Beckham has chosen to stay at home and direct her minions to make more overpriced clothes instead. However, all is well in Spice World. Because they've signed up Theresa May.
Zig-a-zig-May
Off the Perch caught up with the Spice Girls to find out more about May's entry to 'Girl Power'. "Oh, we don't do Girl Power now," said Emma-infantile-spice-Bunton. "We're all about People Powaah now!" She went on:
We got fed up, when everyone who said 'Girl Power' didn't get us. We're all feminists – that's not about women, that's about making sure men don't feel left out. So we love Tezzy May, because she doesn't think women need feminism either. And she can dance.
Catching on to the hot issue, Gerri-bad-PR-for-ginger-Spice got really excited:
Yeah great dancer! She got more hits on her Insta this year than I did with those moves. We love her, and that shows how much we really love women. Yeah. People Powaah!
So, tell May what you want, what you really, really want…
At this point, the girl's – sorry people's – new tour manager, Boris Johnson appeared. "Aren't they great," he said, beaming and winking. "Have you shared the new hit yet?" he asked, as he undid a few buttons on his shirt to reveal a sequinned Union Jack singlet. At this, the four jumped up, pulled on May masks in perfect synchronisation and formed a conga line – singing as they did so:
Yo, tell May what you want, what you really, really want.
Johnson joined the line singing too:
Yeah, tell May what what you want, what you really, really want.
Together, they sang in perfect discord:
We want a, we want a, we want a,

We wanna really, really, really wanna hard-Brexit ah.
With this, they congo-ed away. With the exception of Mel-not-scary-these-days-Spice, who flicked the v's and walked off in the opposite direction, saying:
I don't even fucking live here any more. Where's Simon Cowell? He promised me a hit single with Sinitta and Gary Barlow.
After what feels like 200 years, Theresa May has finally cobbled together a Brexit agreement. With that done, Britain can move onto the next stage of the process – throwing her agreement straight into the bin.
Disagree to agree
Speaking to parliament, May said:
You can please some people all the time, and you can please all people some of the time. What you can't do is deliver a Brexit that people will actually get behind!

It turns out they want either no Brexit at all or a return to the British Empire with magical electronic borders and child labour factories. So here's my compromise – 500 pages of nothing!
She then proceeded to throw her Brexit agreement in the bin and set fire to it. MPs cheered as it burned, and a dancing May returned to the microphone:
Let this be a lesson to the rest of the world! Britain is open for business, and this is how we conduct ourselves! Come and trade with us or else!
Rudderless
It's difficult to predict what's next for Britain. If May remains in charge, it's likely we'll follow her Brexit agreement straight into the fucking bin, though.
Since 2016, the people of Britain have been drifting apart. Theresa May has done the unthinkable though. She's managed to bring everyone together in agreement that her Brexit plan is the worst option of all.
No Brexaggeration 
There are three main groups in the UK:
Strident Brexiteers who want nothing short of hard Brexit.
Ardent Remainers who want nothing less than super-Remain.
Everyone else (i.e. the vast majority of people) who want TO STOP HEARING ABOUT FUCKING BREXIT!
Brexiteers hate May's plan because it means being tied to the EU's rules. Remainers dislike it because we'd lose all our EU privileges. Everyone else loathes it BECAUSE IT MEANS PROLONGING BREXIT FOR SEVERAL MORE FUCKING YEARS! JESUS! ENOUGH ALREADY!
Come together
Protests were briefly planned, but agreeing on a chant proved difficult. The hardcore Brexiteers suggested:
What do we want?

The British Empire and 'Allo, Allo' back on TV!
The ultra-Remainers (i.e. Alastair Campbell) proposed:
What do we want?

To get back to a status-quo in which we can pretend everything is tickety-boo because the only ones affected are plebs, foreigners, and people who give a shit!
And everyone else demanded:
What do we want?

TO STOP FUCKING TALKING ABOUT BREXIT!

SERIOUSLY!

I'M FURIOUS AT MYSELF FOR EVEN CHANTING THIS SHIT!
Moving forwards
It's difficult to see who could (or would want to) replace May at this point. Although by the time this is published, you probably already know. You might even know who replaced the replacement.
Happy Thursday, everybody!
Theresa May finally delivered a Brexit agreement this week. The problem is she won't stop delivering it.
The Maybot has malfunctioned. And she's pursuing her broken Brexit whether we like it or not.
Error
Signs of the Mayminator going on the fritz began at the Conservative Party conference. Her operating system crashed as she walked on stage. Party officials claimed she was 'dancing', but people could see something had gone wrong.
Since yesterday, May has been calling press conference after press conference despite having nothing to say.
"NOTHING HAS CHANGED!" she's been droning on. "NOTHING HAS CHANGED!"
She's also attempted to go over her ministers' heads and appeal directly to voters. That's why the PM has been turning up at people's houses, sticking her head through their catflaps and shouting:
BREXIT MEANS STABLE! STRONG AND BREXIT! SLOGAN MEANS FUTURE!
The pundits who've spent the past two years telling us May is a credible person are obviously 'shocked' by this turn of events. At the end of the day, though, this is what happens when you put a heartless robot in charge of the country.
Powerless
Thanks to democracy, the UK is completely unable to stop this bland terror. But democracy is still better than the alternative. If May had more power than she does now, she'd possibly be able to enact some of the nonsense she's threatening.
The Department for Work and Pensions (DWP) is a national disgrace. Running the DWP requires a minister to cover themselves in disgrace like a naughty dog rolling in fox shit. So who would take on such a role?
With Theresa May's government on the brink of collapse, she didn't have time to bring in an amateur; she needed someone who'd already mired themselves in so much dishonour that the only thing visible above the filth was the whites of their eyes.
Re-enter Amber Rudd.
Hostile environment
Rudd helped oversee May's 'hostile environment'. In a sensible country, that would have been enough to see her get slung out on her cloven hooves. Not in the UK, though. In Britain, a minister like Rudd needed to repeatedly mislead parliament before she went.
This is exactly the sort of experience that's landed her the DWP job.
Several UN reports have broadly asserted that the DWP is, in layman's terms, evil. A new one came out just this week. And this body of evidence gives any potential DWP boss two options:
Fix this unholy mess.
Lie through their fanged teeth while DWP staff continue to throw marginalised people onto the Tory bonfire.
That's one option if you're a Conservative MP, obviously. Because they all voted for this situation. They all continue to vote for it. They all approve of it.
Reaction
Still, though, Rudd can't escape her reputation. She doesn't need to. Not when vast swathes of the media are happy to ignore it.
When they say being a Tory is like playing politics on easy mode, this is what they mean.

???? pic.twitter.com/HJiGY405c0

— John Shafthauer (@johnshafthauer) November 16, 2018
Yet another UN report has criticised austerity in the UK. This report said that Tory ministers are in denial about the problem. The Tory ministers in question responded by saying:
Poverty? What poverty?
#marr
Kwasi Kwarteng just denied that poverty was a problem in U.K., proving what UN rapporteur said about Ministers being in denial.#SocialistSunday#GeneralElectionNow

— Melanie Melvin #JC9 #NHSLove ? (@melaniekmelvin) November 18, 2018
Marr-velous
Andrew Marr interviewed Kwasi Kwarteng about the issue, and he – you guessed it – denied the problem. Marr didn't interrogate further, as he needed more time to talk over Shami Chakrabarti:
It's Andrew Marr's job to put politicians through the wringer, no matter what their political stripe. I support that. But I just don't understand why Dominic Raab is getting handled with kid gloves, while Shami Chakrabarti got treated like this? pic.twitter.com/Tn41LN0It2

— Ash Sarkar (@AyoCaesar) November 18, 2018
When journalists later asked Theresa May, she repeated the party line:
Poverty? What poverty?
In response, someone shouted:
It's behind you! Behind you! BE-FUCKING-HIND YOU!
May didn't fall for it, though. Tory politics have been a pantomime for decades, so she knows how it works.
Unseen and unheard
Some Tories are worried that simply ignoring poverty might not be enough. As such, they've proposed:
Draping a big tarpaulin over the North.
Setting up fake food banks with inescapable labyrinths inside them.
Instructing the media to never give a proper platform to people affected by austerity.
As you may have noticed, the Tories are well along the way with that third option. Obviously, you might see a poor person interviewed every so often when one of their loved ones is austerity'd to death, but that's just for colour. The majority of news is driven by well-off types who think of poor people as zoo animals we need to manage better.
That's why the Tories get away with:
Poverty? What poverty?
Get Involved!
– For more satirical news, you can also follow Off The Perch on Facebook and Twitter.
– Join The Canary, so we can keep holding the powerful to account.
Featured image via John Shafthauer / European Space Agency – Wikimedia / Melanie Laccohee/Wikimedia / UK Home Office/Wikimedia / RyGuy – Wikimedia / Geograph – Robert Lamb / Jim Mattis/Wikimedia / Wikimedia – Chris McAndrew / Fot. P. Tracz Kancelaria Premiera – Wikimedia /  /  / (IMAGES WERE ALTERED)
We know everyone is suffering under the Tories - but the Canary is a vital weapon in our fight back, and we need your support
The Canary Workers' Co-op knows life is hard. The Tories are waging a class war against us we're all having to fight. But like trade unions and community organising, truly independent working-class media is a vital weapon in our armoury.
The Canary doesn't have the budget of the corporate media. In fact, our income is over 1,000 times less than the Guardian's. What we do have is a radical agenda that disrupts power and amplifies marginalised communities. But we can only do this with our readers' support.
So please, help us continue to spread messages of resistance and hope. Even the smallest donation would mean the world to us.
Support us