The week in satire Vol. #95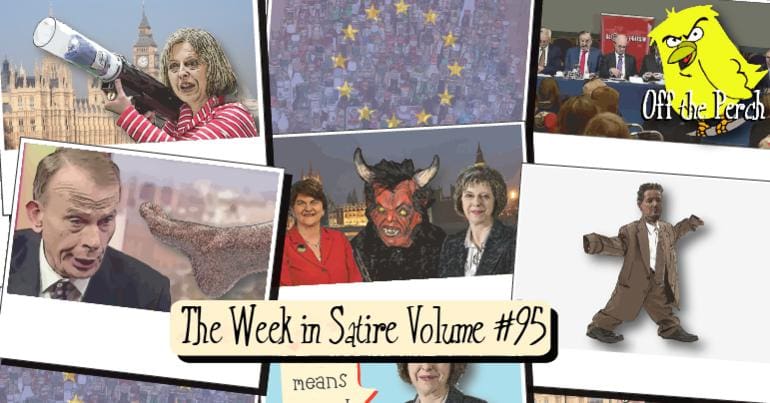 Support us and go ad-free
And what a week it was!
A week in which May continued to pretend she had a workable Brexit deal! A week in which everyone else continued to shout, "NO YOU FUCKING DON'T!" And a week in which May notably wasn't dancing anymore!
But what else happened?
Let's look back and see?
Andrew Marr has been accused of showing bias towards the government. Partially because he shouted over Shami Chakrabarti. But mainly because he gave Dominic Raab a foot massage.
Read on...
It's Andrew Marr's job to put politicians through the wringer, no matter what their political stripe. I support that. But I just don't understand why Dominic Raab is getting handled with kid gloves, while Shami Chakrabarti got treated like this? pic.twitter.com/Tn41LN0It2

— Ash Sarkar (@AyoCaesar) November 18, 2018
Rub a dub-dub
As the interview began, Raab looked a bit tense. He'd just resigned to protest a deal that he himself negotiated, and had recently admitted he didn't know the island of Great Britain relied on boats to import stuff.
Sensing Raab's nervousness, Marr sidled over with a bottle of Baby Oil.
"Shh," he whispered. "Don't you worry your little head, baby bird. Andy's here to make all your worries melt away."
Marr then rubbed Raab's foot for 20 minutes while the former Brexit secretary said things unquestioned. Compare this to the Chakrabarti interview, in which Marr screamed:
Don't you patronise me, you fucking jam tart! I eat people like you for breakfast! Do you know who I am? I'm Andrew-fucking-Marr! You don't come into the doghouse unless you expect to get bitten! Now pipe down and show me the proper deference, you uppity witch!
Blah Blah Corporation
The BBC has spoken out in defence of Marr, saying:
The BBC is impartial. Ergo, if we do something, it's correct, and only seems otherwise because you're so un-impartial, you smelly, leftist shits.
So that's that solved.
On Monday 19 November, the DUP failed to honour its Confidence and Supply Agreement with the Conservative Party. This is bad for the government, as the Coalition of Strength and Stability relies on these political mutants.
The fear is that other allies could drop support next.
Coalition
The government is in a loose coalition with the following malevolent entities:
The DUP.
People who tut in public.
Satan.
Newspaper owners.
The monster army on the other side of Jacob Rees-Mogg's wardrobe portal.
Britain's most racist landlords.
Gary Barlow's accountant.
The woman who put a cat in a bin
Invertebrates that badgers prey upon.
Obviously, many of these groups can't abandon the Tories; they're reliant on them, in fact. But one person who thinks enough is enough is the Prince of Darkness.
In an exclusive interview with Off The Perch, the fallen angel said:
Theresa May's agreement has brought the nation together in agreement that Theresa May is an absolute chapstick. That's no good for me. I liked it better when the country was split down the middle. Time to stir the pot!
Strange times
The devil proceeded to stir a small pot he'd brought with him for emphasis. He had several other props too, including a rubber chicken, an Alan Shearer mask, and a sexy postman costume. Turns out the devil is a weird dude.
But yeah – that's the Tory party anyway – slightly more fucked than it was yesterday.
The European Research Group (ERG) thought it had the numbers to overthrow Theresa May. Despite the fact she's less popular than a hot dog made of actual dogs right now, it turned out it couldn't. This forced several ERG members to appear in public.
They probably should have stayed in their coffins.
Sucks to be them
Headed by Jacob Rees-Mogg (a former Doctor Who villain and current MP), ERG members appeared before several journalists. During the briefing, they promised:
No-deal Brexit will be best for the cattle of Great Britain! It will also be good for livestock and fishing.
At this point, a journalist asked:
Who are you referring to when you say 'cattle'? And forgive me if I'm mistaken, but are you all vampires?
Following some nervous looks between the pale, old men, ERG member Lord Dracula took the microphone and said:
No.
He covered his mouth as he spoke, prompting several people to shout, "show us your teeth!" Lord Dracula refused, and accused the gathered "cattle" of being:
Project fear!
Dracula then transmogrified into a bat and bit the faces of several prominent journalists.
Stand up and be counted
Following the ERG conference, people are starting to question if a cabal of decrepit old vampires really does have the best interests of ordinary Britons at heart.
If you'd like to know the answer to that question, please see the 'Get Involved' section below.
It's been a big week for Piers Morgan. First came International Men's Day, which meant he had to spend 24 hours talking about how women want to castrate him or some shit. Then he told young women they needed to try harder to earn his respect because that's something they should want for some reason.
His constant drive for attention at any cost has thankfully diminished, though – much like the man himself.
Honey, I shrank the twat
Susanna Reid explained what happened:
Piers was blathering on when I caught sight of a tube of Anusol that Barry Manilow had accidentally left behind. I noticed that it promised to 'shrink inflamed arseholes'. Looking at my co-host, I wondered what would happen if I put some on him.
To cut a long story short – very short, in this instance – the salve worked. As soon as I rubbed it on Piers's gammony face, he immediately began to shrink.
Twatriarchy
Speaking through a megaphone, Morgan claimed (in a very squeaky voice):
This is women's plan for all men! First they came for me; next it could be you!
Reid denied this, pointing at the Anusol and saying:
It only works on massive rectums, see?
So it turns out we can diminish the volume of arseholes in the media without simultaneously banishing all white men.
It's Black Friday again – that time when we give a little back to the companies who've spent all year profiteering from us. Still, though, there are some good deals to be found. Unless you're Theresa May, of course.
No deal or no deal
May is preparing to finalise a deal with Europe – a deal which no one expects to get through parliament. This makes negotiations somewhat awkward, as Europe has better things to do than humour May's delusions.
This pantomime hasn't been entirely without merit, though. It's seen May become the first person not to secure a deal on Black Friday.
The Guinness World Records people added this to her other achievements, which include:
First PM without a spine.
World's most racist vans.
Least clear person to ever use the phrase "let me be clear".
Most inaccurate slogans.
Best dance from someone who has nothing to be dancing about.
Only person to think making Boris Johnson foreign secretary could possibly be a good idea.
Most questions unanswered.
Most files conveniently lost concerning investigations into a Westminster paedophile ring.
First person to pogo-stick around the Isle of Man on ketamine.
Record breaking
When we looked into it, it turned out one of these records was inaccurate. Not even May thought making Johnson foreign secretary was a good idea. She just had to do it because she's got no spine.
So 'Black Friday' indeed, then.
May isn't very popular in the UK right now. To get away from that, she's heading off to Europe to nail this deal no one wants. As a reward for our patience in waiting for her to fuck things up this badly, she's promised to bring back one billion litres of duty free plonk and 30 million cases of cigarettes.
Lovely jubbly
Some Britons love being in the European Union – others love the thought of leaving. While these positions can never be reconciled, there is one thing many can agree on. Namely that getting a car boot full of cheap booze and fags is as good as it gets (unless you're somebody's liver).
A Brexiteer told Off The Perch:
Basically, she's delivered a deal that's Brexit in name only; one that shackles us to a corrupt economic system that's bleeding southern Europe dry to benefit Germany. But, saying that, if she gets me 10,000 B&H and an Olympic swimming pool's worth of gin, who am I to complain?
A Remainer said:
I had wanted to study in Europe, but I suppose I could accept a wheel barrow full of David Beckham branded cologne instead.
Someone who isn't on Twitter said:
Didn't we do Brexit already?
Duty free
May had a duty to deliver on the Brexit referendum. She might have fucked that up, but she can still do right by getting us all some souvenir fridge magnets. Unless she fucks that up too, in which case the past two years will all have been a massive waste of time.
With support for her deal thin on the ground, May has had to convince people to back her. This is suspected to be why Eurosceptic MP John Hayes received a knighthood this past week. It's also why May is running around Westminster with a modified t-shirt cannon – firing honours at anyone who'll back her.
You're fired
Liam Fox called for a press conference outside Parliament. People believed he would be abandoning May, but the wily PM was watching from the bushes. As soon as he spoke out, she fired a knighthood at him. A pleased Sir Fox winked at the cameras and said:
Brexit means Brexit, dweebs.
Later in the day, a similar thing happened with the now-Dame Leadsom. The problem for May is that all of her MPs realised they could use this cheap ploy to get an honour for themselves. This led to a situation in which MPs were running out to Parliament Square, while the PM – perched atop a lamppost – elevated their standing with her honours cannon.
Diminishing returns
People have asked if firing out honours like this might diminish the integrity of the system. As we've got knights like Sir Philip Green and Sir Nick Clegg, however, the idea that the honours system ever had integrity is nonsense.
Featured image via Aleser – Wikimedia / YouTube / UK Home Office – Wikimedia / Northern Ireland Office – Wikimedia / pxhere / Andrew Dunn – Wikimedia / YouTube / Aqua Mechanical – Flickr / Pete Riches – Wikimedia / UK Home Office – Wikimedia / Scott Feldstein – Wikimedia / UK Home Office – Wikimedia / YouTube (IMAGES WERE ALTERED)
We know everyone is suffering under the Tories - but the Canary is a vital weapon in our fight back, and we need your support
The Canary Workers' Co-op knows life is hard. The Tories are waging a class war against us we're all having to fight. But like trade unions and community organising, truly independent working-class media is a vital weapon in our armoury.
The Canary doesn't have the budget of the corporate media. In fact, our income is over 1,000 times less than the Guardian's. What we do have is a radical agenda that disrupts power and amplifies marginalised communities. But we can only do this with our readers' support.
So please, help us continue to spread messages of resistance and hope. Even the smallest donation would mean the world to us.
Support us