The week in satire Vol. #96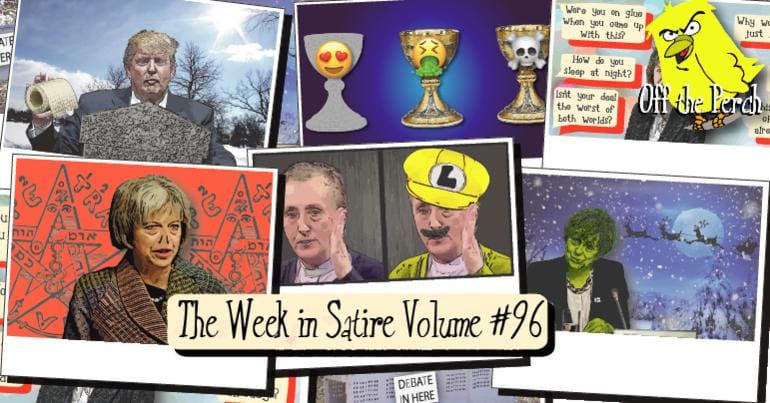 Support us and go ad-free
And what a week it was!
A week in which almost everyone turned on May's Brexit deal! A week in which the BBC found the one person who still backs it! And a week in which said one person turned out to be an actor/weirdo!
But what else happened?
Let's look back and see:
Theresa May – who is possibly the least forthcoming PM we've ever had – has offered to debate Jeremy Corbyn on Brexit. Or has she? Because a leaked Snapchat suggests she has something more sinister in mind.
It's a trap!
In the leaked message chain, May spoke with someone calling themselves ACME Corporation. It read:
Read on...
TM: So you can get me the big cage trap?
AC:
TM: And the ACME rockets?
AC:
TM: And the 50 ton anvil?
AC:
TM: Hot diggedy damn!
Another leak revealed who May wants to lure into her trap:
All the leaders of the major UK political parties (Vince Cable was left off – presumably because she'll need him to form a new coalition government if / when things go sideways).
Anyone under 50.
Anyone with a Twitter account.
People she's made poorer / more wrongly deported.
Snap
It's unclear why there'd be a debate in the first place, what with there being nothing for people to vote on. But maybe that's why May wants a debate. It was too much of a risk during an actual election, which is why she sent the recently bereaved Amber Rudd in her place.
Will the other leaders fall for this trap? They might as well. If her Brexit plan is anything to go by, her latest trap will make Wile E. Coyote look like Machiavelli.
Pretty much everyone hates Theresa May's Brexit agreement, but at least it will get us a trade deal with America, right?
RIGHT!? 
Well, no – apparently not – because Trump has chosen to behave exactly as you'd expect.
Downing Street responds to Donald Trump after he says Theresa May's Brexit deal could harm UK trade with US https://t.co/WMeNi0SGCI pic.twitter.com/8o0DttXM6m

— ITV News (@itvnews) November 26, 2018
Movement
May's Brexit agreement was already dead and buried. Even the MP she (allegedly) gave a dodgy knighthood to is saying he'll vote against it. Not wanting to waste any time, Parliament carried the agreement out to Hyde Park and buried it in a shallow grave.
Things got worse, as President Trump flew over to let everyone know what he thought of the deal – namely by taking a big, ol' American dump on it.
After the executive movement, Trump told reporters:
This is the art of Donald Trump. You lure them in with a deal, and then you give them a steaming pile of CNN when it's too late for them to back out.

You Brits thought you were cute with that little balloon, but look who's – for god's sake, I just wiped without toilet roll again.
Upon closer inspection, it appeared that the presidential poo had several plastic grapes in it – suggesting Trump has been eating ornamental fruit again.
Predictable
Of course, most people predicted that Trump would screw us over. His motto is literally "Screwus bigly – winnus muchly".
Now May is finally catching up, and learning that when you lie down with an arse, you wake up with shit.
In 2016, people like Boris Johnson and Nigel Farage sold us a mythical chalice. They told us this shiny goblet was filled with a honey-like ambrosia that would nourish us like we'd never been nourished before. And then, when we voted to drink from this blessed receptacle, they ran off.
Since then, we've learnt that the promised chalice doesn't actually exist. Several others do; they're just a bit poisoned, that's all. This puts Theresa May in the position of having to hold our noses while we swallow what she insists is the least poisoned option.
Bottoms up
The choice is between May's chalice and the 'no-deal chalice' – the one we'll receive if we back out of our chalice negotiations. Although this second chalice is 99% poison, Jacob Rees-Mogg has repeatedly claimed:
It's better for people to drink lots and lots of poison than just a little bit.
It's since come to light that Rees-Mogg runs a poison business called Jacob Rees-Mogg's Incredibly Toxic Poisons. He's subsequently denied that his involvement in the poison business influences his promotion of poison drinking.
Democracy
There's an outside chance we just won't drink any poison. The middle classes seem to think so – largely as they don't realise that most elections present a poisoned chalice. The difference this time is they're swilling it back with the rest of us.
Still, if not drinking poison becomes an option, make mine a double.
Do you find answering questions difficult?
If so, you should probably avoid becoming a politician. You should especially avoid becoming prime minister.
Theresa May doesn't have that option, but she does have a strategy. Namely: to answer every single question with the same answer.
The woman with all the answer
In the 2017 general election, May answered every question with:
Strength and stability.
To put it mildly, May's government ended up offering less strength and stability than a Wonderbra made of toothpaste. The strategy worked, though, because people voted for this promised might and consistency.
As part of her Brexit prep, May originally threatened:
No deal is better than a bad deal.
After she proposed a deal – a deal which is demonstrably quite bad – she changed that to:
Any deal is better than no deal.
She's since spiced that up to:
It's my deal or literal fucking Armageddon.
Which may work on some people. Because if this right now – if this isn't chaos, then how bad will no-deal Britain be?
Account
Of course, May can't get away with not answering questions forever. Oh no, wait, they've booked the debate on the BBC.
So yeah – looks like she will get away with not answering anything.
Theresa May is threatening to cancel Christmas if her deal isn't voted through parliament: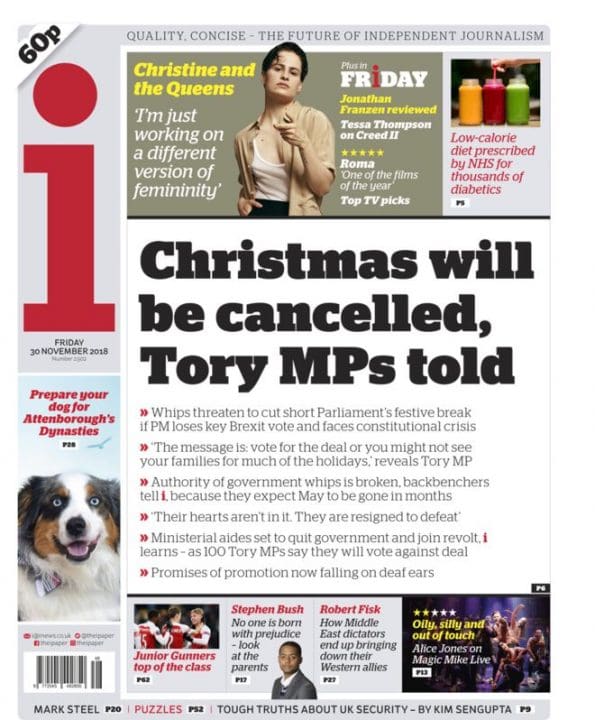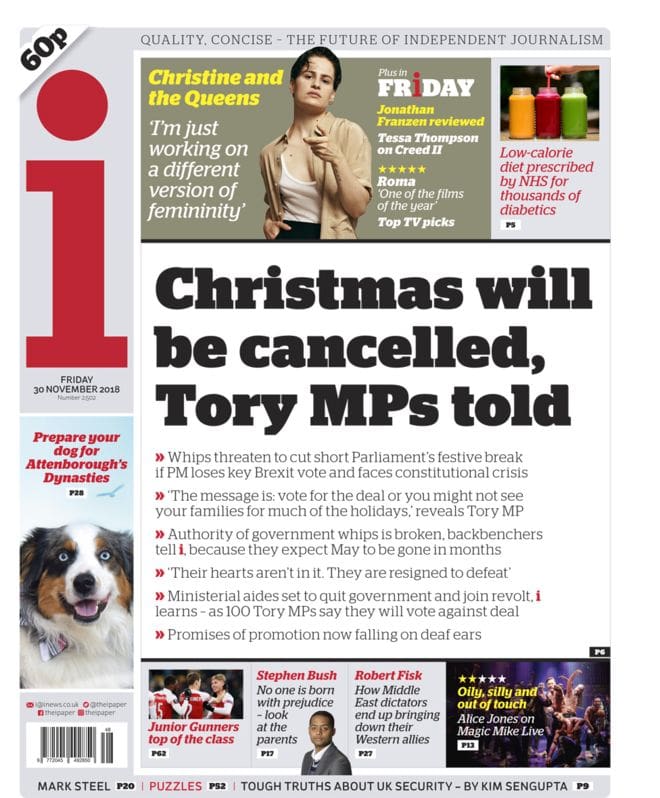 Parliament isn't likely to agree to May's Brexit plan, because it isn't the Christmas cracker they want – more of an undercooked turkey. Despite that, May's plan to ruin the holiday is already taking a stuffing. Largely because the Grinch has issued a cease and desist letter.
Not very merry
The Grinch has been plotting to ruin Christmas for several decades. He's never actually managed it, but he has made a great deal of money selling merchandise. With that in mind, he copyrighted the concept of 'ruining Christmas'.
Speaking to Off The Perch, the Grinch told us why May poses a threat to him:
"I've worried she's ripping me off for a while,
Just look at that frown! Clearly my style!
And observe her hatred of humanity,
None would deny that she took that from me.
But too far she took it, and went after Christmas!
That shall not stand, as Santa's my witness!
I called up my lawyers and set them upon her.
Now I can't say more about this legal matter."
No, no, no
May has denied that she stole the idea from the Grinch. Her nose grew as she said it though, which landed her in further legal trouble – this time with the puppet Pinocchio.
'Tis the season to be a wally, it seems.
A furore blew up this week after the BBC had a somewhat dubious pastor on to talk about Brexit. The BBC has since cleared everything up though:
Claims that Lynn appeared on #newsnight as a paid actor are false. Lynn is a pastor and was a genuine participant of our Brexit debate. She carries out work as an extra using her middle name but this is not relevant to the capacity in which she appeared. #VicarGate

— BBC Newsnight (@BBCNewsnight) November 29, 2018
The BBC didn't pay an actor to come on and defend Theresa May's hated Brexit deal. No, it just got a pastor who does some acting on the side. A pastor who was ordained over the internet. And has a side-line in Islamophobia.
Hey, @BBCNewsnight, I'm starting to have my doubts that this here 'Reverend Lynn' is the fine upstanding vicar she said she was… pic.twitter.com/y667i5H95r

— Mike Stuchbery💀🍷 (@MikeStuchbery_) November 29, 2018
Some people have said that many of these issues might be worse than if they had just booked an actor. Someone who disagrees is Lynn the plumber.
Woo hoo
Appearing in the audience of some BBC politics show, Lynn the plumber was given chance to ask a question. Instead she said:
It's-a me, Lynn the plumber. I just want to say that the BBC was very smart to speak to Lynn the vicar – she's a very smart lady.
As you can imagine, the BBC was forced to issue another 'apology':
Claims that Lynn appeared as a paid actor (again) are false. Lynn is a plumber who was ordained by an internet plumbery. Yes, she may in fact also be Lynn the vicar, but come on – we've got better thing to do than screen all our guests.
So that's an 'apology' in the BBC sense then – i.e. a short statement explaining why you're an idiot to question them.
Leak
In an interesting twist, an anonymous employee from the Beeb has explained why Lynn keeps getting booked:
Look, she may be a weirdo with some hideously bigoted opinions, but we literally can't find anyone else who supports the PM right now.
The government has got some legal advice on the impact of May's Brexit agreement. She doesn't want any MPs to read it, but she does want them to vote for her deal – a scam which makes the 'Nigerian prince' emails look like Ocean's Eleven.
With MPs trying to access the legal advice, May has been left with little option but to divide it into seven Horcruxes.
Theresa May and the Strategy of Shite
Her Brexit agreement can't die until all seven Horcruxes have been destroyed. There's just one problem with this plan, as an MP pointed out:
Horcruxes are supposed to keep something alive, but the PM's agreement is already dead. It's like a Frankenstein made of zombies at this point.
Despite this, MPs still plan to hunt down the Horcruxes and destroy them. When asked why they'd go to such lengths to annihilate May's terrible agreement, Jeremy Corbyn said:
Fuck her.
Diane Abbott added:
We heard she likes hostile environments, so that's what we're giving her.
Theresa May and the Coalition of Chaos
May isn't safe from her fellow Tories, either, as the party has sent its top Dementor after her. Although, for the sake of political correctness, we should really refer to him as Iain Duncan Smith.
There is still some hope for May though. If she can find a Time-Turner, she can go back in time and stop herself from fucking up. Ideally by encouraging her younger self to never run for office.
Featured image via Ariefiandy A, Purwandana D, Seno A, Ciofi C, Jessop TS (2013)- Wikimedia / pixabay / Gage Skidmore – Wikimedia / pixabay / pixnio / pixabay / UK Home Office – Wikimedia / Pexels / Jim Mattis – Wikimedia / screengrab / Wallpapers Craft / Chatham House – Wikimedia / Nyo – Wikimedia (IMAGES WERE ALTERED)
We know everyone is suffering under the Tories - but the Canary is a vital weapon in our fight back, and we need your support
The Canary Workers' Co-op knows life is hard. The Tories are waging a class war against us we're all having to fight. But like trade unions and community organising, truly independent working-class media is a vital weapon in our armoury.
The Canary doesn't have the budget of the corporate media. In fact, our income is over 1,000 times less than the Guardian's. What we do have is a radical agenda that disrupts power and amplifies marginalised communities. But we can only do this with our readers' support.
So please, help us continue to spread messages of resistance and hope. Even the smallest donation would mean the world to us.
Support us