The week in satire Vol. #104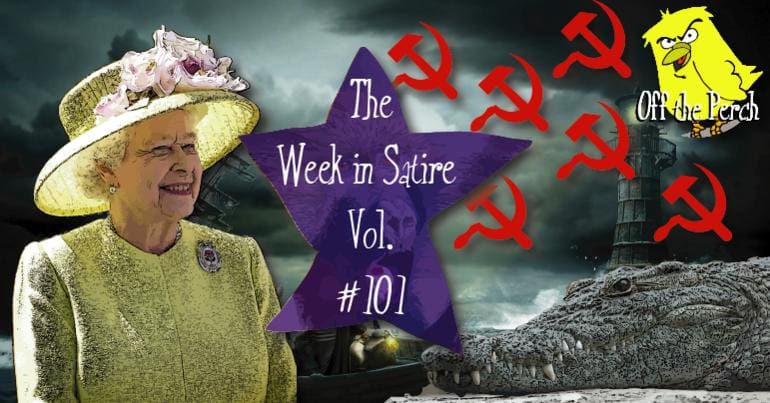 Support us and go ad-free
And what a week it was!
A week in which the PM blamed Labour for her horrible Brexit strategy! A week in which the Tories blamed each other for the horrible austerity they all voted for! And a week in which a fresh election looked increasingly likely!
But what else happened?
Let's look back and see:
You could accuse Theresa May of being many things, but a 'negotiator' isn't one of them. In the latest 'last-ditch attempt' to save her Brexit deal, she allegedly read from a script. And yet, despite her obvious negotiating failings, she's considering a rewrite of the Good Friday Agreement.
Read on...
Northern Ireland hasn't had a government for over two years because of political deadlock. A bomb went off in Derry on Saturday. The Northern Ireland Secretary admits she just discovered that unionists don't vote Sinn Fein. And the government's big plan is to renegotiate the GFA? pic.twitter.com/lrBcf9P044

— Jon Stone (@joncstone) January 20, 2019
Reassurances
May sought to reassure people with the following statement:
Let me be clear. I am very knowledgeable about the Northern Ireland. For instance, did you know Northern Ireland is a part of the United Kingdom in the north-east of the island of Ireland, variously described as a country, province or region? Northern Ireland shares a border to the south and west with the Republic of Ireland. In 2011, its population was 1,810,863, constituting about-"
"Hang on a minute!" one of the gathered attendees shouted. "You're just reading from the Wikipedia entry!"
In response to this, May pulled out a different script.
"Oh no I am not," she read from it, before returning to her original:
The Northern Irelanders drive on the left hand side of the road; their capital is Belfast, and their political situation is… hmm… probably shouldn't read that bit out, actually. But let me assure you: Good Friday Agreement means Good Friday Agreement.
Gloomy predictions
If you're worried about May befouling the deal, you probably shouldn't be. It took her over two years to start doing her Brexit plan – by the time she gets a look at the Good Friday Agreement, she'll be long gone.
A number of companies have announced plans to move their business abroad. The timing suggests this may be Brexit related.
Sure, "mate". Hitachi and Toshiba pulled out of nuclear plants for personal reasons, Philips is closing in Suffolk because of the rain, Sony and Panasonic relocating to Holland because they love clogs and the NHS is buying fridges because we'll all get free ice cream. UTTER TOOL. https://t.co/cZTNoBbJb6

— Alex Andreou (@sturdyAlex) January 23, 2019
After trying to convince people it's all coincidental, Brexiteers have now switched tack. The latest argument is that corporations fleeing the country is part of the 'plan'. The ever-changing 'plan' which has never been spelled out, and yet every Brexiteer allegedly understood when they voted for it.
Froth
Jacob Rees-Mogg said:
Brexit isn't about people having jobs – it's about waving tiny flags and shouting 'traitor!' at anyone who quotes experts.
JRM: Stern stuff! They don't mind a few decades of being in the shit!

PUBLIC: Wait – I thought you said no-deal would-

JRM: That's right – the sternest of stuff. They don't mind losing their workers' rights or milk costing £400 a litre

PUBLIC: Wait, wha-

JRM: Stern, I said! https://t.co/3tCcZdKyHR

— John Shafthauer (@johnshafthauer) January 21, 2019
Others have suggested these companies leaving may be a good thing. James Dyson, after all, is a fan of treating employees like circus chimps. The fact he's moving some of his operations to Singapore suggests he thinks no-deal Brexit is off the cards.
That or he's tired of people referring to him as 'Jimmy Suck'.
Chaos
Of course, we don't want to judge everything by how popular it is with corporations. The problem is that a lot of the Brexit-types do want to judge success on purely economic terms. As such, it seems they may not have thought things through.
They may not have thought at all.
On 23 January, Owen Jones made a joke about nationalising Dyson: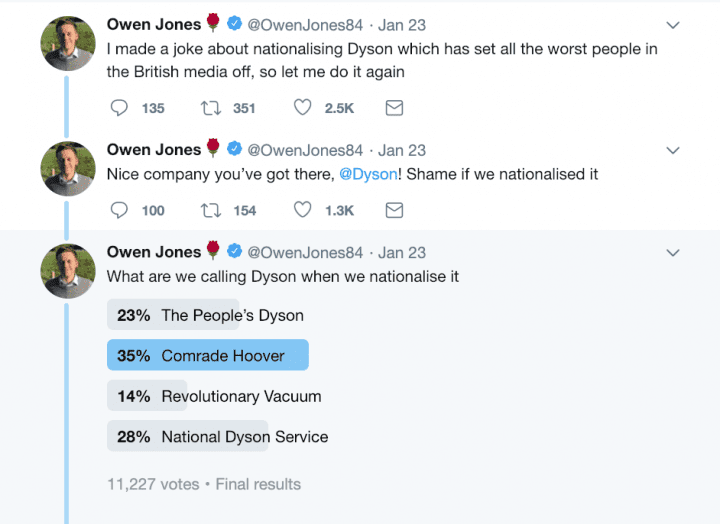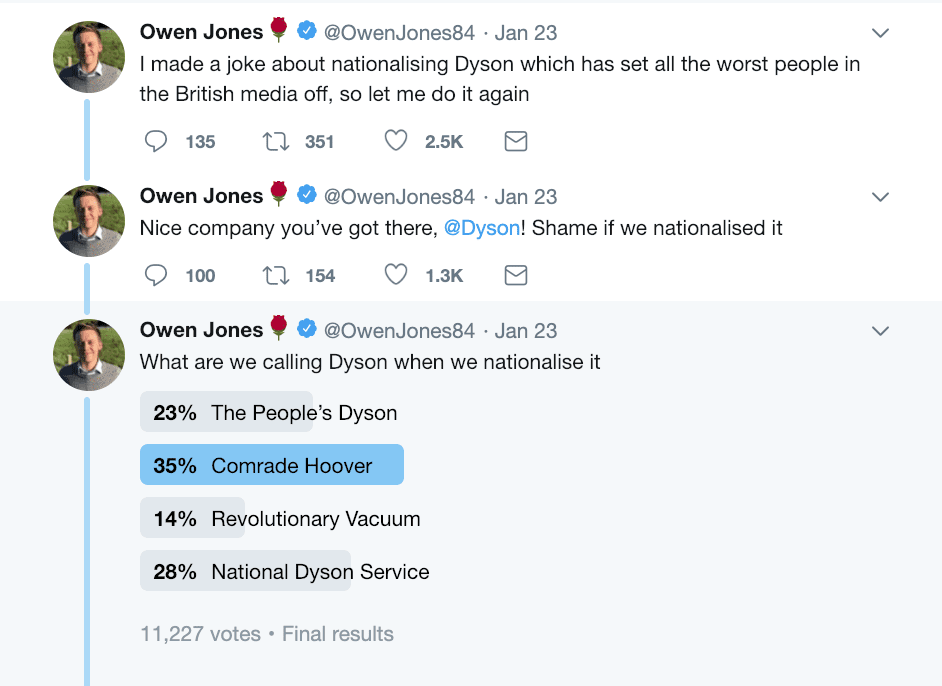 The expected backlash included this typically paranoid fantasy from Mail on Sunday columnist Dan Hodges:
Lot of people laughing at @OwenJones84 nationalisation threat to Dyson. They shouldn't be laughing. Because this is precisely the philosophy that will underpin UK Government policy in the event of a Corbyn government. Not redistribution, but retribution.

— (((Dan Hodges))) (@DPJHodges) January 23, 2019
As ridiculous as his suggestion was, it did give the Labour top-team an idea:
Why not nationalise Dan Hodges?
Dan of the people
Labour's shadow secretary for leftist retribution said:
I'm sorry to report that Dan Hodges, as things stand, is completely and utterly shit. He may serve the interests of Mail owner Lord Rothermere, but he does nothing for the majority of people in this country. That's why we've decided to buy him out.
Rather than waiting to seize power, Labour sent a crack-team of vegan commandos to abduct Hodges. They then whisked him away to an abandoned Toys R Us – threatening to douse him with non-organic yogurt if he tried anything. Once there, they instructed him to write several opinion pieces that actually served the public's interest.
"How am I supposed to type when you insist on me holding this hammer and sickle?" he asked.
The people's Hodges
After several hours of rigorous re-education, Hodges admitted his error, and agreed to start writing. The problem was he didn't know how to write insightful analysis in the people's interest. He overcame this problem by just doing the opposite of whatever he thought seemed right. This led to articles like:
Maybe asking corporations to pay their taxes won't kickstart the apocalypse.
And:
Now that I think about it, I can see a difference between Stalin's bloody revolution and the call to stop Richard Branson treating formerly public services as his personal fuck pigs.
Hodges may not like being nationalised, but that's socialism I'm afraid. We wouldn't get anywhere unless we carried out the baseless fantasies of tepid political commentators. Although Hodges should be glad that one of his predictions has finally come true, at least.
Periodic reminder: Dan Hodges is paid silly money to have the worst track record in the history of punditry. ALWAYS wrong
cc: @ggreenwald https://t.co/RZkQ95ojYq

— Peter Kofod (@peterkofod) June 10, 2017
by John Ranson
Always keen to be where the action is, Off The Perch has just spent several days in Davos. As you can see from our holiday snaps, we got fully into the Davos spirit with our free bobble hat from Zurich Insurance and also met some of the big stars who were there.
Hard work
But it wasn't all fondue evenings and glühwein on the chalet porch. Oh no, far from it. Definitely not. We were there to work. As such we took a small delegation to help us get to the bottom of things. And to get to the bottom of the glühwein, obviously. Here's how the delegates got on.
Environmentalist Terry Chestnuts hopes that Brexit could see the end of what he calls "the craziness of the Common Agricultural Policy". But he also says: "Michael Gove gives me the shits". Chestnuts declared himself "chuffed as Quorn" to meet teenage climate warrior Greta Thunberg, but her anti-flying stance hit him hard. As we go to press, Chestnuts is somewhere between here and Davos, on a skateboard. He reckoned he could exploit the 'potential energy' of Davos being halfway up an alp and be able to freewheel most of the way home.
Osborne on the snow
Community rave promoter Melody Bassline had a right go at George Osborne. She collared him at the bottom of one of the nursery slopes:
You've got a cheek tobogganing around on a battered red briefcase, which by the way I think you should have given back. You ballsed up the country and then walked straight into a cushy job 'editing' the Evening Standard. And you still get to come on these jollies and hang out with your jet-set mates.

If that wasn't enough, you're piping your thoughts about the People's Vote straight back to British tellies. You do know what a lot of people think of the People's Vote, right? That it's just rich business types telling us they know better? So how's it going to help you and Blair and that Roland Rudd spouting your thoughts from Davos?

I want another vote, because I'm shit-scared of what it'll mean for lots of my friends if we leave and I can't think how else to stop it. But I just talk to people face-to-face, not from some lofty platform. And d'you know what? It works a hell of a lot better.
What's it all about?
We asked Ken Chisel, from the Institute of Criticism, what his impressions of Davos were. He started by pointing out that Davos is, of course, just the location:
It's the annual meeting of the World Economic Forum. A chance for policymakers as well as business and community leaders to come together and discuss the issues of the day. This year the 'theme' is "Globalization 4.0: Shaping a Global Architecture in the Age of the Fourth Industrial Revolution". I don't have the first flying shit of an idea what that means. will.i.am is here. I'm really not sure how that helps.
The Queen has decided to intervene in the Brexit debate. She didn't mention the B word itself, but she did talk about "common ground" and respecting "different points of view". This prompted big thinkers on either side of the debate to reply:
Shove it up yer arse!
It also saw some ponder:
Is this the same monarch who can't even stop her suitor terrorising the countryside in his Land Rover?
One is not amused
A source close to the Queen says she's been trying to 'Brexit' Philip from his car. The problem is Philip wants to stop driving while maintaining all the benefits of being a driver. They suggested he could just use one of the several hundred chauffeurs they employ, but Philip shot back:
Where's the bloody fun in that? The wretched car monkeys won't even pull out into traffic when I bark orders at them! And one of them was from the fucking north!
Negotiations with Philip are ongoing. At least they are right up until the point when he drives off, anyway.
The Crown
The recent saga of Prince Philip vs the Highway Code will be portrayed in the new season of Netflix's The Crown. Originally, they booked Kathy Burke to play the Queen (with the aid of prosthetics). Burke refused to read out the lines as written, however, instead shouting things like:
Stop driving around that twat-wagon you stupid, old cunt.
And:
I threw your driving gloves in the bin you horrible fucking skeleton; you'll be in there with them if you don't stop taking the piss.
And:
We should have hung the bastards – just like the French did.
Burke claims this last quote was misleading – saying she'd actually been talking about tapestries. She went on to explain her preferred method of execution would have been "just twatting them with whatever came to hand".
Although Burke has been let go from The Crown, there are hopes she may help out with the Brexit negotiations. She probably won't have a fix, but she will swear at all the right people, at least.
With the Tories completely unable to move forwards on Brexit, we could be facing another election. In completely unrelated news, one of the Tories who eagerly voted for austerity has now come out against it.
See ya later, alligators
Heidi Allen MP is on a tour of the country. Her plan is to look at the poor people she helped cause and state:
Oh, well that's sad, isn't it.
She also said the word "sob" at one point. And she's been crying a lot.
In completely unrelated news, she appears to be carrying half an onion with her. She keeps jabbing herself in the eye with it. Maybe she's trying to wipe away the genuine emotions she's having?
During a speech in Newcastle, Allen said:
Labour could be in power soon. Maybe they'll investigate why my party ignored all those UN reports into abuse of disabled people's human rights? If that happens, I just want it to be very clear that I WAS ONE OF THE GOOD ONES! Look – I'm here – saying that I care about people. I only voted for this nightmare society we've created by accident! My finger slipped! I WAS ON KETAMINE!
Unbelievable
Some people have suggested Allen may have less than good intentions. As one person noted about Tory MPs:
I can tell they're lying because they open their mouths.
Featured image via Jim Mattis – Wikimedia / Pixabay / YouTube / Twitter-Mathias Lüfkens / Zurich Insurance-BBC / BBC / YouTube – Le Parisien / Korconsult – Wikimedia / NASA/Bill Ingalls – Wikimedia / Leigh Bedford – Wikimedia /  / (image was altered)
We know everyone is suffering under the Tories - but the Canary is a vital weapon in our fight back, and we need your support
The Canary Workers' Co-op knows life is hard. The Tories are waging a class war against us we're all having to fight. But like trade unions and community organising, truly independent working-class media is a vital weapon in our armoury.
The Canary doesn't have the budget of the corporate media. In fact, our income is over 1,000 times less than the Guardian's. What we do have is a radical agenda that disrupts power and amplifies marginalised communities. But we can only do this with our readers' support.
So please, help us continue to spread messages of resistance and hope. Even the smallest donation would mean the world to us.
Support us