The week in satire Vol. #105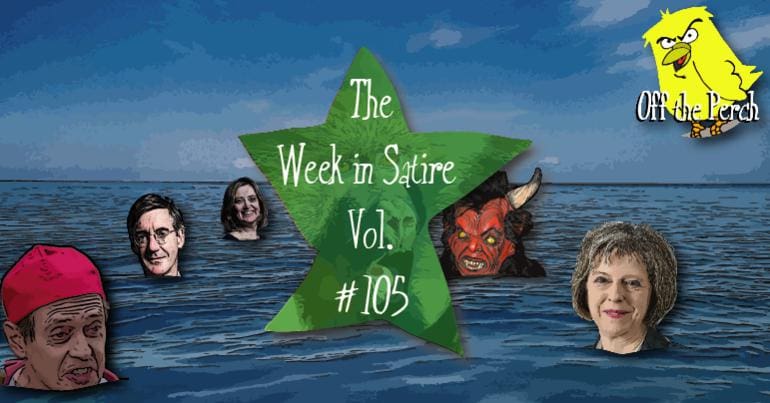 Support us and go ad-free
And what a week it was!
A week in which the worst Tory MP somehow got worse! A week in which the worst PM carried on being just as terrible! And a week in which the worst political party looked increasingly dreaful!
But what else happened?
Let's look back and see:
A group of allegedly rebellious MPs are once more threatening to set up a new centrist party. As such, any reasonable journalist would ask:
Okay. You've actually told us this 43 times, now – do you think you'll go through with it this time?

Read on...
The Observer said:
Okie dokie – let us put that on the front page for you.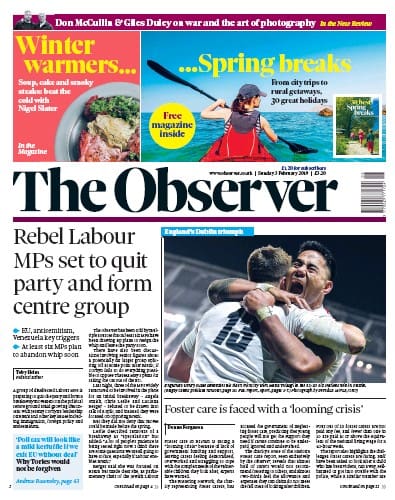 But is something else afoot?
Scam 
Some thought talks of a new centrist party were the work of a hoax caller – one who preyed on the Guardian writers' wishful thinking and lack of curiosity. Other pointed out these stories usually come out at the weekend; possibly because Chris Leslie cuts loose on Friday nights and drunk-calls anyone who'll listen.
The truth has now been revealed anyway. It turns out the whole thing is a betting scam. As one bookie told us:
I kept noticing this shifty looking guy coming in and placing bets on a new centrist party. Every time the party never actually materialised, the odds went up. They're up to 20,000,000/1 now, and that's when I realised – the guy who kept coming in – it was Chuka Umunna. Obviously we've suspended all bets in response.
Busted
A spokesperson from the centrists has now said:
Yes, it was all a scam. Obviously there's no need for a new centrist party. No need whatsoever. As such, we will now return to what we do best – drumming up noise about everything other than our actual politics.
In other news, a man who bet on the centrist party never actually forming has won 75p from a £10 bet.
Turning Point is a right-wing youth movement. It aims to prove that young people love the economic system which will see them have less wealth and opportunity than their parents.
But… err… do they actually love it?
I'm still pretty sure that Turning Point UK will be a hilarious and embarrassing failure but: in the US, the organisation runs a Professor Watchlist which intimidates academics with feminist, anti-racist or left-wing views, so I'm just THRILLED that it has Tory party support. https://t.co/fuoFgsCGYR

— Dr Charlotte Lydia Riley (@lottelydia) February 4, 2019
So conservative "college" Turning Point USA's FB ads are almost exclusively reaching Boomers pic.twitter.com/BAb8hmgtae

— jordan (@JordanUhl) February 4, 2019
An Off The Perch investigation revealed something shocking.
Quelle surprise
One of our journalists visited the Turning Point UK offices undercover. We expected to meet a group of affluent, young rich people with a passion for holding the rest of their generation back. All was not as it seems, however.
"Cowabunga, dudes," the 'youngster' greeting us said.
The man in question wore shorts and had a backwards baseball cap on.
"Excuse me, but aren't you Jacob Rees-Mogg of the Conservative Party?" our journalist asked.
"That's a bogus accusation," Rees-Mogg responded. "I'm just an everyday British teen who loves capitalism and chill."
"Umm…" our reporter said – not buying it.
I see that new hip young right wing group, Turning Point, have got Jacob Rees-Mogg backing them. Because nothing says "youth vote" quite like double breasted morning suits, being tucked in by Nanny and wishing for the good old days of Castlereagh

— Mark Hebden (@unionlib) February 3, 2019
Hip trick
"Let me put this in terms you'll find more on fleek," Rees-Mogg continued. "Socialism is like the bad guy in the Harry Potter books, and conservatism is like the good guy – whatever his name was. I think it was Ron Jeremy or something."
We pointed out that the good guy in Harry Potter was called Harry Potter.
"Totally," Rees-Mogg agreed.
He then attempted to do a kick flip on his skateboard – a move which saw him shatter every bone in his leg.
"I told you… that would be… hip…" he moaned, as the paramedics carried him away.
Dad jokes aside, Turning Point UK is offering young people something that no one else is. No one except the government and its corporate backers, obviously.
Theresa May is between a rock and a hard place when it comes to Brexit. But what if she turned that 'hard' place into a 'soft' place? What if she constructed a 'hard Irish border' out of jelly? And furthermore, what if she's not been getting enough sleep, and the strain is starting to show?
These are all questions that came up during May's trip to Northern Ireland.
Backstop claptrap
May began her speech to Northern Irish politicians by saying:
I can't get my plan through with the backstop; I can't get it through without the backstop. So that's that, I suppose – I'm fucked.
Following a sniff of something which smelled like paint stripper, May seemed to have an idea:
Or am I? Did anyone suggest building the border out of jelly? That's it, isn't it?!? Let's have a strong and stable border that's actually weak and wobbly!
Although this seemed like a semi-good idea by the standard of Brexit proposals, the government couldn't make it happen. Jacob Rees-Mogg has been stockpiling jelly with the intention of selling it back to the masses. He's also in talks with Donald Trump who wants to use it for his southern border wall.
On the bounce
Some people have pointed out that building a wall from jelly might not work for other reasons. These people are Remainer scum pushing project fear. People knew what they were voting for in the referendum, and it was borders made of desserts!
On 6 February, Donald Tusk suggested there might be a "special place in hell" for "those who promoted Brexit, without even a sketch of a plan of how to carry it out safely". While that's a cheery thought in and of itself, Lord Satan has now confirmed there's a special place in hell for all Tories.
Burn, baby burn
Speaking on BBC Breakfast, the devil said:
Oh yeah, hell's full of them. Registering as a Tory MP is like buying a season ticket to the lake of sulphur. Do you think Anna Soubry will get a free pass because she likes visa-free travel in the Eurozone? Have you seen her voting record?
The host asked how another famous Tory woman had been doing in hell – namely Margaret Thatcher:
We actually stopped torturing her recently. It turns out she's having a bad enough time watching the slow death of her political ideology. Who would have thought everything she stood for would be unsustainable and harmful to everyone but the super rich? Most people, as it happens. That's why she's in hell, the bastard.
Bless
Of course, a lot of Tories don't like the accusation that they might be going to hell. Well – tough. If you can't do the time, don't do the Conservative government.
After years of threatening to leave the party (and years of being encouraged to do so), Labour MPs are once again threatening to leave. We know they almost certainly won't. They just want people to listen to them. The problem is… umm… they don't have anything to say…
Speak up
Off The Perch spoke to one of the MPs threatening to leave. He told us his name, but we forgot it, so we'll call him Barry Barry:
OTP: So, what are you annoyed about this time?
BB: Brexit. And we'll leave if we don't get our way. Seriously.
OTP: Yes, well obviously you'll actually go through with it. But what do you want to be done about Brexit?
BB: Second referendum.
OTP: Oh wow, this is already more thought out than most of your other revolts. What would be on this second referendum?
BB: Questions.
OTP: I mean what questions? Because there's a risk of a second referendum looking like a stitch-up unless it's worded right, and some people have raised issues with every set of options.
BB: That's what we'll do. We'll word it right.
OTP: I see you've put a lot of thought into this. And how would you campaign for Remain in the lead-up to a second referendum?
BB: Good campaign.
OTP: And what would this good campaign involve?
BB: We'll get experts from the establishment to come in and tell people that they voted wrong last time and need to make a smarter choice now. We've already lined up Tony Blair.
OTP: But people hate Tony Blair.
BB: If they want radical status-quoism, they'll have to grow-up and start liking Tony Blair.
OTP: People hate radical status-quoism too.
BB: Troll! Troll! I'm being trolled!
OTP: Excellent. Well, best of luck with that new party you're never going to set up.
BB: I'm going to tell the BBC you said that.
Having had quite enough of our nonsense, Barry Barry stormed off to cry to the mainstream media.
As part of its no-deal Brexit planning, the government… well… it didn't actually do any planning, but it did offer money to anyone who'd sign a contract. One such entity was NoBoaty NoBoatFace. But now, said funding has been pulled.
As it turned out, NoBoaty NoBoatFace had failed to fill out the necessary paperwork for the boat it doesn't own. This meant it wouldn't be insured for the trips it's incapable of fulfilling.
No boaty mo' problems
Ironically, the governments 'planning' for no-deal has done nothing but expose how unprepared we are. How unprepared we are for anything. It's a miracle we survive through the winter each year.
Other no-deal Brexit planning has included:
Seeing how many Pot Noodle flavour sachets we can get from one zoo monkey.
Experimenting to see if confiscated street drugs can be used as children's medicine.
Seeing how traffic copes following a controlled detonation of innovative jams in the Channel Tunnel.
The results, according to the Brexit ministry, were:
No sachets whatsoever and several stitches for the government's chief monkey wrangler.
We'll let you know when the kids come down off the ceiling.
Why did we explode the jam again?
Chaos with the Tories
You'd think all this failure would make our threats of leaving with no-deal ring hollow. What you're forgetting is that we're the idiots who gave NoBoaty NoBoatface a contract in the first place.
Featured image via John Shafthauer / Graeme Maclean – Wikimedia / Graeme Maclean – Wikimedia / YouTube – 30 Rock Official / pixabay / Mark Fickett – Wikimedia / Chris McAndrew – Wikimedia / Chris McAndrew – Wikimedia / Think London – Wikimedia  / pxhere / Chris McAndrew – Wikimedia / UK Home Office – Wikimedia / Flickr – Amtec Photos / Pexels /
We know everyone is suffering under the Tories - but the Canary is a vital weapon in our fight back, and we need your support
The Canary Workers' Co-op knows life is hard. The Tories are waging a class war against us we're all having to fight. But like trade unions and community organising, truly independent working-class media is a vital weapon in our armoury.
The Canary doesn't have the budget of the corporate media. In fact, our income is over 1,000 times less than the Guardian's. What we do have is a radical agenda that disrupts power and amplifies marginalised communities. But we can only do this with our readers' support.
So please, help us continue to spread messages of resistance and hope. Even the smallest donation would mean the world to us.
Support us