The week in satire Vol. #107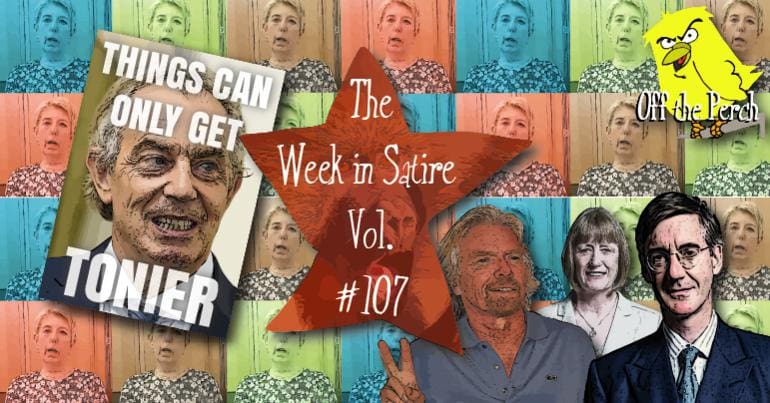 Support us and go ad-free
And what a week it was!
A week in which a new political party formed! A week in which… oh, hang on… they're saying they're not even a political party – they're a private company. What – and they're also saying they represent a new form of politics without having any actual policies?
Jesus fucking christ.
Let's have a look:
After years of speculation, failed attempts and botches, seven Labour MPs have finally left the party. They've done so to reverse Brexit in the…
…hang on a minute…
Read on...
Looking again, they actually haven't promised to reverse Brexit. Wasn't that the only issue they had any actual fucking plan for?
Is this a joke?
What's their actual policy proposal then?
Wait… no… it can't be…
Things Can Only Get Tonier
As it turns out, the Independent Group manifesto is just Tony Blair's last autobiography. They have at least highlighted the relevant passages, so we have some idea what they're going for. The highlighted bits include:
They say that privatisation doesn't work – that it only benefits a small handful of shareholders. People said the same thing about me, though, and I won three consecutive elections.
And:
Borders are crucial to any functioning nation. Ideally, our borders should be in the middle of other people's countries. You really can't be too sure.
And:
People in the UK don't want ideology – they want bland statements that mask the underlying neoliberalism you're pushing through at every given opportunity.
Fresh ideas
To be fair, the Independent Group has also committed itself towards 'fresh ideas'. Promising 'fresh ideas' is a notion they took from Blair's other book – the one titled Fairness and how to beat it.
On 18 February, former Labour MP Angela Smith said:
it's not just about being black or a funny tinge … you know, different – B, err from the BME community
She received some criticism for this, but Smith has now said she will stand for people of all tinges.
Anti-tingism
The so-called 'Independent Group' that Smith belongs to denies it has a prejudice against certain tinges:
All we're saying is that maybe we treat some tinges better than others. That doesn't mean we don't support each and every tinge – just that we should support some of them less than currently.
Smith also clarified her original statement:
Look, when I said 'funny tinge', I only meant in comparison to 'normal tinges'. If these people went back to where they came from, it would be them who had the normal tinge. I'm not saying they should go back, by the way – not until we've had the mugs printed.
The Independent Group also denied breaching its own policy on the matter:
We don't actually have a policy. We don't have any accountability at all – other than to the people anonymously funding us, obviously.
Perspective 
Of course, it would be unfair to say this new political party is institutionally prejudiced against people of tinge. It isn't actually a political party, after all; it's technically a company.
The Independent Group is unlike any political party in the UK. Not because of its policies (of which it has none), but because it isn't actually a 'party' – it's a private company. This has so far allowed it to avoid declaring who funds it.
A political party or group receiving this level of coverage and exposure but that hasn't declared who's funding it is dodgy as hell, and tbh it's quite telling that liberal journos who have spent three years going on about campaign financing in the EU referendum are quiet on this

— Matt Zarb-Cousin (@mattzarb) February 20, 2019
And guess what sort of politician that's attracting?
That's right – the absolute fucking worst!
No one makes the decision to leave the Labour Party easily, Joan included.

But as Joan was one of the few London MPs to have a taxpayer subsidised 2nd home, and voted to keep MP expenses secret, there aren't many people I know who'd find it difficult to say goodbye either. https://t.co/TmpIKtwqk5

— Ash Sarkar (@AyoCaesar) February 19, 2019
Overnight Joan Ryan became the 8th Labour MP to join the ´Independent Group'. She's the Chair of Labour ´Friends of Israel' & 6 of the 8 are Supporters of LFI. Moreover Ryan was caught on camera discussing £1m of MPs trips to Israel. Yet we're being gaslighted to ignore all this https://t.co/aTzq1z9NVl

— Neil Clark (@NeilClark66) February 20, 2019
There was surely no public interest in Joan having spent £4,500 of expenses on her 'second' home – in her constituency – before flipping it with her 'main' home, in south London. Joan felt deeply wronged by the Telegraph smearing her so outrageously. https://t.co/CWCJo0uTsk

— Shaun Lawson (@shaunjlawson) February 20, 2019
Who funds you?
When asked what attracted her to the Independent Group, Joan Ryan put her phone down and glared at us.
"Do you mind?" she said. "I'm speaking to a man about getting a new conservatory put in."
When asked how she'd be funding this lavish extension, Ryan tossed her head back and laughed.
"If you've got a problem, direct it to our complaints department," she said – giving us the finger.
Unfortunately, it turned out the Independent Group doesn't actually have a complaints department. It does have a 'complaints' page on its website, but much like its 'policies' page, it's completely empty.
Who wants this?
It's unfair to say that no one in Britain wants a political party that:
Has no accountability.
Has no actual plan.
Is filled with MPs who've supported the most unpopular political decisions of the 21st century.
Is 12.5% Mike Gapes.
Hasn't even backed the so-called 'People's Vote' it supposedly formed to support.
It would be unfair to say that, because some media types obviously do crave a 'party' like this. That's why they're avoiding any scrutiny of the above.
Just a heads up. There's no demographic in Britain to whom this new party appeals to more than senior journalists at national broadcasters and newspapers. It's their worldview made into a party. Do bear that in mind in the coverage in the days and weeks ahead.

— Owen Jones🌹 (@OwenJones84) February 19, 2019
Following on from the success of… err… Virgin Rail, Richard Branson has set his sights on a new target. In a step up from destabilising the Northern mainline, the entrepreneur is now actively seeking to undermine an entire country.
Richard Branson's Live Aid interventionist propaganda show has brought the reality of Venezuela's "humanitarian crisis" into the open:

A local bus line is offering affluent Venezuelan opposition supporters luxury vacation packages to "the most trendy concert of the decade" pic.twitter.com/J0iJEwaFS0

— Max Blumenthal (@MaxBlumenthal) February 20, 2019
Virgin Revolution
The nation of Venezuela finds itself torn between an elected yet divisive president and an unelected and probably much worse fringe character from the far right. For some reason, the rest of the world has decided this is its business. Which is odd, because you didn't see the US recognising Katie Hopkins as the legitimate PM of Britain when the UN reported on our human rights abuses.
Still, it's not like the West instigating regime change has gone badly in the past, right?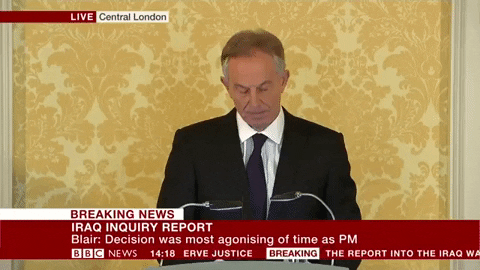 With that in mind, Branson has decided to hold a concert. If all goes to plan, it will break down barriers, allow the US to steamroll into Venezuela, and possibly get a bunch of people killed. Branson said on the matter:
Yeah, music's great, isn't it? We just think all this can be solved with a big concert, and a little *COUGHS* intensive privatisation *COUGHS*.
Branson then showed off his plan to use Virgin Rockets to airdrop Virgin Sub-Machine Guns into the proposed Virgin Kill Zone. If this goes well, the proceeding Virgin Elections will confirm the new Virgin President of the United Corporations of Virginzuela.
Virgin Dystopia
It's obviously horrendous that nations are – once again – trying to destabilise a foreign country and install a 'friendly' regime. It's just fucking depressing that Richard Branson is doing the same thing while trying to look like a cool dude.
In its bid to one day become a political party, the Independent Group (TIG) has begun preliminary talks about potentially discussing some policy proposals. As you'd imagine, these talks have not been going well.
Nowhere fast
A leaked audio recording revealed the following conversation. Although it's unclear who said what, it doesn't really matter, as no one had any more clue than anyone else:
"Right. So policy ideas, then."
"Yeah… policy ideas."
"Does anybody… have any…?"
"We could… oh no… that would be blasphemous, thinking about it."
"What about foreign people?"
"What about them?"
"Well… we could… you know… have fewer of them?"
"Or more."
"Yes, well that's the thing, isn't it? Some people like them, and others don't."
"I suppose the moderate thing to do is let them in but make sure things are quite bad for them here – that way everyone's happy. I mean – not the foreign people themselves, obviously, but you can't make a pizza without cracking a few eggs."
"Umm… pizzas don't have eggs in them."
"They do in my house. Could that be a policy? Egg pizzas?"
"I don't think so. I don't think migration can be either, so it's best to just make vague statements on the matter. But what about public services?"
At this point, a series of boos went around the room.
"Yes, yes – obviously we all hate public services, but the public they serve seem to like them. Is there a policy that would allow us to have our pizza and egg it?"
"I want to sell all our bridges to Richard Branson!"
"You what? How would we justify that?"
"We just say that our party leader loves the IRA unless he supports the position."
"But I'm the leader now."
"That's your problem, not mine!"
The group argued for a good forty minutes at this point.
Not so merry-go-round
Eventually – after discussing every topic they could think of – the group decided on a policy that no one could disagree with. This is why TIG will henceforth be supporting the continuation of egg-free pizzas in the UK.
Unfortunately, Anna Soubry couldn't get on board with this status-quo proposal. She's now formed her own breakaway breakaway group to promote eggs on pizzas.
It's been announced that Jacob Rees-Mogg will be playing himself in the next James Bond movie. If nothing else, he seems like the logical fit, as they're adapting The Man With the Silver Spoon.
Live and let die
The director Cary Fukunaga had this to say:
While being escapist fun, it's also good when a Bond villain reflects what's going on in the world. That's why we've gone for a useless, privileged idiot with a plan that makes no sense.
The movie will feature Rees-Mogg trying to separate Britain from Earth using balloons – something he convinced the public into voting for, despite having no understanding of how it might work. Although Earth is admittedly terrible, Rees-Mogg's plan doesn't really solve that – it just pulls people into high orbit where they'll suffocate.
In a first for the franchise, the film will have two female sidekicks alongside the villain. The first is Mary Poppins – Rees-Mogg's actual nanny. The second is his parliamentary chum Jess Phillips.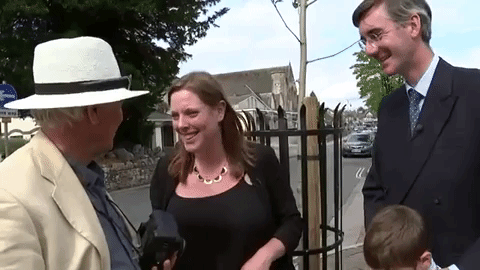 "The problem with James Bond is that he never reaches out to the supervillains," Phillips said.
Phillips also made a good point about Bond being sexist, as she's often pretty good on that stuff. Despite this, it didn't stop her being close with Rees-Mogg, whose previous evil schemes have disproportionately murdered women.
"If you can't be friends with the people who perpetrate everything you're supposedly against, who can you be friends with?" she asked.
You only vote twice
The latest flick will see Bond trying to secure a second vote against Rees-Mogg's diabolical proposal. His main obstacle is other second vote proponents who label the people they need to win over as 'fucking idiots who need to vote better next time'. Bond eventually overcomes this issue by running them over in his Aston Martin.
Featured and in-story images via YouTube / Cabinet of Ministers of Ukraine – Wikimedia / Twitter / Chris McAndrew – Wikimedia / Joyce1235 – Wikimedia / pxhere /[email protected] – Flickr / YouTube / Petar Milosevic – Wikimedia / Chris McAndrew – Wikimedia  (images were altered)
We know everyone is suffering under the Tories - but the Canary is a vital weapon in our fight back, and we need your support
The Canary Workers' Co-op knows life is hard. The Tories are waging a class war against us we're all having to fight. But like trade unions and community organising, truly independent working-class media is a vital weapon in our armoury.
The Canary doesn't have the budget of the corporate media. In fact, our income is over 1,000 times less than the Guardian's. What we do have is a radical agenda that disrupts power and amplifies marginalised communities. But we can only do this with our readers' support.
So please, help us continue to spread messages of resistance and hope. Even the smallest donation would mean the world to us.
Support us