The week in satire Vol. #108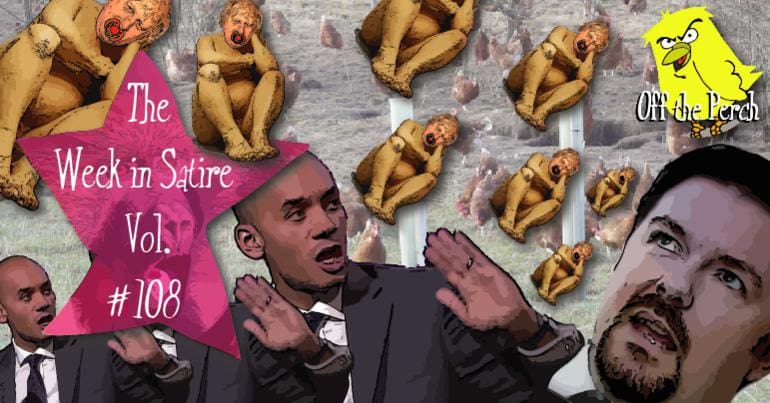 Support us and go ad-free
And what a week it was!
A week in which grownups worried about children being in danger from the 'Momo challenge'! A week in which the 'Momo challenge' turned out to be a hoax amplified by the mainstream news! And a week in which children worried about their parents being in danger from the media!
But what else happened?
Let's look back and see:
The Independent Group (TIG) gained 11 MPs in its first week. It may struggle to attract more, though – partly because these MPs don't have any policies; partly because they're discouraging people from joining:
Read on...
REBEL MPS: The Corbyn project is a vanity regime that will never get into power

REBEL MPS IN THE INDEPENDENT GROUP: Please stop joining us before it brings down the government https://t.co/uE73O0qXAI

— John Shafthauer (@johnshafthauer) February 21, 2019
With this in mind, there's a push to get more celebrity backers. Following a sales pitch on the Andrew Marr Show, TIG has now snagged itself popular reality TV star David Brent:
This is the David Brent party.

"You're not looking at the whole pie!"

"Can you give me five practical changes that you've actually made?" "I'll give you three, and then another two if you need them. Effiency. Turnover. Profitability."
pic.twitter.com/pm7GOhEEyp

— Owen Jones🌹 (@OwenJones84) February 24, 2019
Celebs before plebs
Speaking about his foray into politics, Brent said:
TIG has created an atmosphere in which they're your mates first and politicians second. They're probably the sort of people you'd ask about cheap printer ink third. I told them I don't know anything about politics, but they said that's not a problem. I mean – I told them I could definitely do what they're doing if I fancied it. They nodded and asked me to tell some more jokes. Now I'm here endorsing them.
Brent continued:
You'll never get a party like TIG again. They're basically like chilled-out PPI claims lawyers. When I first joined TIG, people asked if I want to be a well-respected politician or a clown. My answer's this – they're not mutually exclusive. Just look at the media's coverage of Ian Austin. Funny guy. He played the bear on Bo' Selecta!
Humour
Brent seems like a big catch for TIG, as he recently starred in his own docu-movie. Although many viewers watched David Brent: Life on the Road, few can remember what actually happened in it. Coincidentally, people are saying the same thing about every TIG interview.
by John Ranson
In a surprise move, the Labour Party is proposing another national referendum. But some critics have accused the party of "chasing popularity" after it turned out the vote will be about Olivia Colman.
Unity
Terry Chestnuts is a cultural advisor in the leader's office. He told Off The Perch:
The country needs unifying. May couldn't unify a glass of water, and Jeremy remains a work in progress. In the past we might have tried to rope in the Queen but, well, you know…

So who's a person that literally no one dislikes? No, you're wrong. It isn't David Attenborough; some people feel guilty when he speaks. It's Olivia Colman of course. We did some research and we couldn't find any example anywhere in the entire world of anyone saying anything even slightly negative about her. It's extraordinary.
Options
The details of the referendum, Chestnuts explained, will have to be thrashed out by parliament. Possible voting options include:
Olivia Colman to be made Queen on the death of the current Queen.
Olivia Colman to be made symbolic head of state (the 'Irish Option').
No Olivia Colman deal.
Olivia Colman to be allowed to do whatever she wants (the 'Trump Option').
Olivia Colman to remain first choice for all funny / serious / dramatic / light / pregnant acting roles.
Criticism
The move has faced opposition. Ken Chisel, from the Institute of Criticism, says referendums aren't always the answer:
It's a very blunt tool. At some point, all these possible questions will have to be narrowed down to some sort of yes or no binary choice. But it's bound to leave some people dissatisfied. I mean no one's going to say no to Olivia Colman, but what if they want her to both run the country and carry on acting? This could end up fracturing the electorate in unforeseen ways. There's a strong argument in favour of Labour simply waiting until they're in power and then installing Colman in some kind of role.
Olivia Colman was unavailable for comment, her agent describing her as "absolutely banjaxed".
It's been fifteen years since the UK voted to leave the EU [editor's note: it's actually been less than that – it just feels that long]. Scarily, as we still haven't come up with a workable plan, we may have to do the unthinkable. We may have to delay Brexit to spend more time not coming up with a solution.
How long it gets delayed for is up for debate, but experts predict anywhere between mid-April and the end of time.
Delay
A sensible country would have come up with a Brexit plan before the referendum. A less-than-totally idiotic one would have cobbled together a deal after. Britain (mainly England) has just kind of fucked around for thirty years (or however long it's actually been).
Off The Perch asked one MP to explain the purpose of the delay:
There aren't the numbers in parliament to get May's deal through. There also aren't the numbers for a second referendum, or a no-deal Brexit. As no one is able to get what they want, most people are up for delaying it on the off chance they get the upper hand. Or – you know – that something else happens which changes the situation.
When asked what such a 'something' might be, the MP replied:
A lot of us are hoping climate change speeds up a bit. We could really go for the sky catching fire round about now. That or the dinosaurs returning on that comet they flew away on.
Delay of the land
Theresa May was set to give reasons for a potential delay yesterday, but she delayed the delay-briefing due to entirely foreseen circumstances. She also delayed explaining her delay of the delay-briefing. So at least we've finally found out what she's good at.
Because human beings are awesome, we've created a situation in which avoiding nuclear Armageddon relies on Donald Trump and Kim Jong-un getting along with one another. We've now stepped a little closer towards such an apocalypse, following a summit in which the two men missed their afternoon naps.
This baby's got a temper
Surprisingly, Trump and Kim got along quite well at their first meeting. Or should that be 'not surprisingly'? They're both large man-children with more power than sense, after all.
Beyond the two men exchanging action figures, not much happened at the first summit. This meant the real work had to start now – a fact which produced a lot of huffing and puffing from both parties. Things didn't get properly heated until nap time, however, when Trump tossed an apple juice on the ground.
"NO!" President Big-Pants shouted. "NO!"
"THAT WIENER STOLE MY APPLE JUICE!" Kim shouted in Korean.
"WHAT DID HE CALL ME!?" Trump fired back. "HE BETTER NOT HAVE CALLED ME A WIENER!"
Big boy club
Having gone into full-on tantrum mode, the two men began grappling and slapping at one another. This proved to be more dangerous than it sounds, as both men brought their nuclear buttons with them. Thankfully, some wily aides leapt in and snatched the buttons away.
"HE STOLE MY BUTTON!" Trump complained.
"MY BUTTON'S BIGGER THAN YOURS ANYWAY!" Kim replied in Korean.
"YOU BETTER NOT BE MAKING FUN OF MY BUTTON!" the leader of the free world replied, before resuming grappling.
A third summit has yet to be arranged, and won't be until "that lousy Kim gives me my yo-yo back!"
The Independent Group (TIG) has made Chuka Umunna its spokesperson. This makes sense. He is a person, after all, and he certainly speaks – but does he actually say anything?
According to the Guinness World Records people, the answer is an impressive 'no'.
Empty words
When announcing his promotion to spokesperson, Umunna said:
It's all about synergy, yeah? We want to do away with the old ideology of having policies and ideas. Instead, we want to usher in a politics-style results mainframe that responds dynamically to the world without any need to engage vote-providers. Basically, we want to do for governance what Nando's has done for feeding people.
When asked if this meant creating a bland experience catering primarily to the middle classes while generating poverty wages for the people making it work, Umunna answered:
It's all about synergy, yeah?
He then carried on talking for a record-breaking 72 hours – producing a stream of words with less content than Tony Blair's Iraq apology.
Partystarter
Everyone has heard of crowdfunders that promise a lot but deliver nothing. The difference between those scams and TIG is that dodgy crowdfunders at least promise something. TIG is vaguely talking about a new form of politics it can't explain and hasn't even figured out yet.
This makes Chuka Umunna – the man with many words but no ideas – exactly the person to speak on its behalf.
With Brexit looming, Britain may soon be importing lower quality meats from America – a move which will really show those EU slugs who's boss. The most notable addition to our menus will be chlorinated chickens. One MP who's in favour of these ultra-clean birds is Boris Johnson. To prove how much, he agreed to be chlorine washed himself.
Bleached Boris
Speaking before the hosing, Johnson said:
If chlorine is good enough to rid our pools of child widdle, I think we can trust it to un-foul our fowl.
The former foreign secretary then stripped all of his clothes off and entered the dousing room.
"You see!" he said cheerfully, as jets of mildly toxic water rippled his flesh, "Nothing to worry about here!"
Despite seeming like a grand gesture, it's been alleged that Johnson has some experience with this sort of thing. According to one former aide, the MP washes with chlorine every day to, "wash the smell of commoners off". This is supposedly why his hair looks like that, and also why he reminds people of a verruca.
CFQ
As a real test, Johnson was asked to eat some chlorinated chicken. He refused this point blank, saying:
I'm more of a CFG chap than a KFC man.
After looking it up, we discovered that 'CFG' stood for 'Cambridge Flambéd Goose'. Notably, it uses 'hand-reared, caviar fed geese' – suggesting this chlorinated chicken issue won't actually affect the people pushing for it.
Featured image via YouTube / YouTube – ABC / Maurice – Wikimedia / RobbinHiggins – pxhere / Blue House – Wikimedia / Shealah Craighead – Wikimedia / YouTube / Dianna Bonner – Wikimedia / Javier Ignacio Acuna Ditzel – Flickr / Sylvia Duckworth – Wikimedia (images were altered)
We know everyone is suffering under the Tories - but the Canary is a vital weapon in our fight back, and we need your support
The Canary Workers' Co-op knows life is hard. The Tories are waging a class war against us we're all having to fight. But like trade unions and community organising, truly independent working-class media is a vital weapon in our armoury.
The Canary doesn't have the budget of the corporate media. In fact, our income is over 1,000 times less than the Guardian's. What we do have is a radical agenda that disrupts power and amplifies marginalised communities. But we can only do this with our readers' support.
So please, help us continue to spread messages of resistance and hope. Even the smallest donation would mean the world to us.
Support us