The week in satire Vol. #111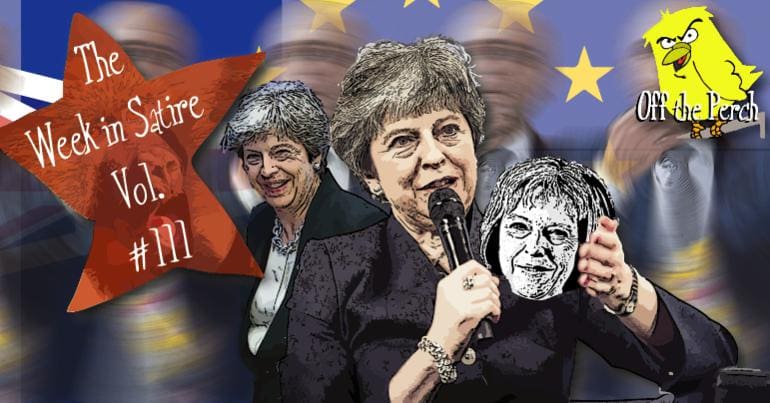 Support us and go ad-free
And what a week it was!
A week in which CHAOS! A week in which MORE CHAOS! And a week in which Ed Miliband?
Britain faces a simple and inescapable choice – stability and strong Government with me, or chaos with Ed Miliband: https://t.co/fmhcfTunbm

— David Cameron (@David_Cameron) May 4, 2015
Read on...
Support us and go ad-free
Not exactly, but what else happened?
Let's look back and see:
Theresa May is known for having great catchphrases like:
Brexit means shmexit.
Strong and slogan.
Nothing has improved.
Now it's time for her to deliver on those dynamite mottos. As a result, people are beginning to question if she's as strong and slogan as she claims to be.
She isn't
May had nearly three years to concoct a Brexit plan that the country could get behind. Instead, she spent that time dancing and cracking wise: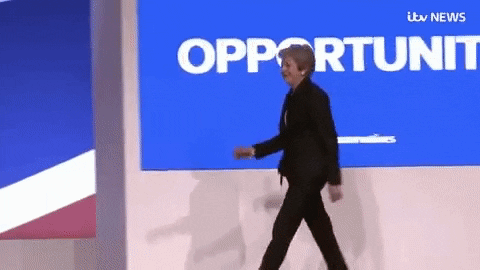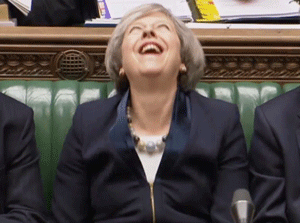 The people of Great Britain beheld this jiving clown and thought:
Wow – if she's confident enough to spend three years busting a move like some sort of excitable party moron, then she must be really sure she knows what she's doing!
And then she came up with a terrible Brexit deal no one wanted. And then she pulled the vote because no one would support it. And then she scheduled a vote on it that lost by the biggest margin in history! And then she scheduled another vote – on the same fucking thing! AND NOW SHE'S LINED UP ANOTHER ONE – AGAIN – ON THE EXACT SAME FUCKING DEAL! AND ALSO EVERYTHING ELSE SHE'S DONE AS PRIME MINISTER HAS BEEN ATROCIOUS!
FFS
Although it's obvious to many that May has always been shit, it's not been obvious to everyone. Or it wasn't, anyway. Obviously, that's changing, but don't expect the establishment to treat her any worse than those other abject failures – Margaret Thatcher, Tony Blair, or David Cameron.
Privilege means privilege.
In 2016, the United Kingdom (or bits of it, anyway) voted in favour of bringing a unicorn to life. Although the newspapers assured us it would be easy thanks to modern sorcery, it proved to be anything but. Which is why – in late 2018 – Theresa May unveiled a creature that definitely wasn't a unicorn.
Mr Dead
In late December, the PM entered parliament with what appeared to be a unicorn. That's appeared to be from a distance, anyway. Anyone who got closer realised it was a horse with a Cornetto glued on.
"Unicorn means unicorn," May responded to the several hundred questions she received.
To be fair, it wasn't just a horse; it was also incredibly sick. This is why it ended the session by coughing, shitting itself, and then dying.
"Nothing has changed," May argued, although she did hold off allowing people to vote for this allegedly magical beast.
The neighs have it
A vote was later held – a bizarre spectacle that revolved around May beating the dead horse with the Cornetto we were supposed to believe was its horn. When that vote failed – she brought forwards a second, smellier vote – the horse being in a much more advanced state of decay.
Sadly, for everyone who loves unicorns, the speaker has now said May can't keep flogging this dead horse. He claims it's undemocratic to keep defiling its stinking corpse until everyone just relents and says it's a unicorn.
What a bastard.
In 2016, we held the EU referendum despite having no plan for leaving. This meant we ended up having to do a Brexit with no plan for leaving. And now the Tories' inability to reconcile their competing ideas has well and truly hit the fan.
Tories falling apart, governing in the interests of the Tory Party not in the interests of the country, they are running out of road fast…. https://t.co/nKUYpANtBX

— Angela Rayner (@AngelaRayner) March 19, 2019
Tory vs Tory
This is the list of things Tories want from Brexit:
Some sort of Norway+ type thing.
HARD FUCKING BREXIT!
To fudge it through so the PM can get on with proving she's more than just the PM who fudged Brexit.
HARD BREXIT WITH A MAGICAL IRISH BORDER!
To have our cake and eat it.
To have other people's cakes and eat those too.
A BREXIT SO HARD IT CAUSES A RIFT IN TIME – CREATING A NEW TIMELINE IN WHICH THE BRITISH EMPIRE NEVER DISBANDED AND ROBO-WINSTON CHURCHILL RULES THE GALAXY WITH AN IRON FIST!
Just whatever at this point – get the bastard done so we can get back to tormenting the poor.
HARD REMAIN!
You Brexit, you pay for it
The Tories are in an unenviable position. Their position, however, is far less unenviable than the one they've put ordinary Britons in. At the end of the day – when they're done fucking up Brexit – they'll go back to their castles and live long and ghastly lives.
So fuck them, in other words. They caused this; they own it; they deserve it.
Theresa May has deployed several strategies to avoid having an actual Brexit strategy. The latest may be her boldest yet, and that's to:
BLAME EVERYONE BUT MYSELF!
What schemes May come
May's Brexit proposal is – to put it mildly – a rock-venue-toilet of horror. As such, most people didn't want anything to do with it. But May asked:
Is it my fault for not getting a good deal? OR IS IT PARLIAMENT'S FAULT FOR NOT PRETENDING IT'S A GOOD DEAL?!? They pretended austerity was good – they pretended Iraq was good – why won't they back this!?
The PM almost had a fair point. British MPs have been supporting the absolute worst politics for centuries. Where she's gone wrong is that Brexit won't simply murder poor or foreign people – it will also mean the middle classes have extra custom checks when entering the French Alps.
As the MP Tarquin Quill-Volvo raged:
THIS DEAL SHALL NOT PASS!
Limp and failing
In response to these MPs not greasing her turd of a deal through the parliamentary intestine, May responded:
I AM NOW DECLARING WAR ON EVERY MP WHO REFUSES TO BACK ME! HOW DO YOU LIKE THAT? BECAUSE UNTIL YOU GIVE ME WHAT I WANT, I WILL CONTINUE TO MAKE INCREASINGLY ERRATIC AND ULTIMATELY IMPOTENT THREATS AGAINST YOU!
MPs have responded exactly as you'd expect. Unless you're Theresa May, obviously, and don't have any political foresight whatsoever.
There are several things the UK could do to break the Brexit deadlock. Sadly, we can't do any of them, because our PM is a massive spanner who's jammed herself in the works:
It's amazing that President Trump exists, and yet May is still the most useless leader in the world right now https://t.co/IRIBWNBAwI

— John Shafthauer (@johnshafthauer) March 21, 2019
Unfortunately for May, the UK has a contingency plan for encouraging people it doesn't like to leave. And she's the person who invented it.
Go away, May
As home secretary, May commissioned a fleet of 'racist vans' to encourage illegal immigrants to leave the country. These ended up being part of a 'hostile environment' that made non-white people feel unwelcome in Britain. The fleet was rightfully put out of action, but now we have someone who genuinely deserves a hostile environment.
The plan is to have these vans hang around outside parliament displaying messages like:
Just stop.
But are you being 'very clear'?
If you're worried people will remember you as the worst PM ever, it's already too late to change that.
Everything you just said is nothing.
If you'd quit already, you'd be running through a field of wheat by now.
STOP!
This isn't normal.
You're not normal.
Unless you're a super villain with a secret scheme to devalue Britain and sell it to North Korea, your plan isn't working.
Even James Cleverly is tired of kissing your arse.
So long, and thanks for all the fash!
Botherance
Some people have argued that harassing May with vans isn't nice. And it isn't. It's a phenomenon we used to recognise as 'protest'. And if you can't protest the politicians who've harassed an entire nation of people, then who can you protest?'
Many people predicted that trying to implement Brexit would be chaos. Although WWIII hasn't transpired, the shit has definitely hit the fan.
Chaos with Brexitland
The Tories have mishandled Brexit so gravely that even the media is questioning if the 'strong and stable' party is actually just a bit shit. The worst Tory of all is Theresa May – a woman we knew was terrible, but sailed into office on a raft of compliments like:
"Safe pair of hands."
"Proper, grown-up politician."
"Unlikely to drive the country into a maelstrom of piss."
Now May spends all day hiding around Westminster – leaping out at unsuspecting MPs and screaming:
SUPPORT MY DEAL!? SUPPORT MY DEAL!?
Her fellow Tories and DUP sidekicks can't support her deal, though. We've reached a point at which their hatred of one another is outweighing their hatred of everyone else.
"I SAY WE ENACT THE WORST BREXIT POSSIBLE!" you'll hear one of them screaming.
"I DEMAND WE GO ONE WORSE THAN THAT!" someone will reply.
"NO! YOU'RE ALL FUCKING IDIOTS! THE ONLY PLAN WORST ENOUGH IS MINE!" shrieks another.
The fall
There's a scene at the end of Return of the Jedi when Darth Vader – following several decades of genocide and child murder – looks at Emperor Palpatine and thinks:
Fuck this – if I can't get my own way, I'm gonna throw this cunt down a hole.
This is basically the mindset of a significant number of Tories right now. In other words, expect imminent implosion.
Featured and in-story images via YouTube – Channel 4 News / Public Domain Pictures / Wikimedia – Rlevente / Flickr – Gareth Milner / Flickr – EU2017EE Estonian Presidency / Ian Burt – Flickr / UK Home Office – Wikimedia / pixnio / Kuhlmann MSC – Wikimedia (images were altered)
Support us and go ad-free
We know everyone is suffering under the Tories - but the Canary is a vital weapon in our fight back, and we need your support
The Canary Workers' Co-op knows life is hard. The Tories are waging a class war against us we're all having to fight. But like trade unions and community organising, truly independent working-class media is a vital weapon in our armoury.
The Canary doesn't have the budget of the corporate media. In fact, our income is over 1,000 times less than the Guardian's. What we do have is a radical agenda that disrupts power and amplifies marginalised communities. But we can only do this with our readers' support.
So please, help us continue to spread messages of resistance and hope. Even the smallest donation would mean the world to us.
Support us