The week in satire Vol. #114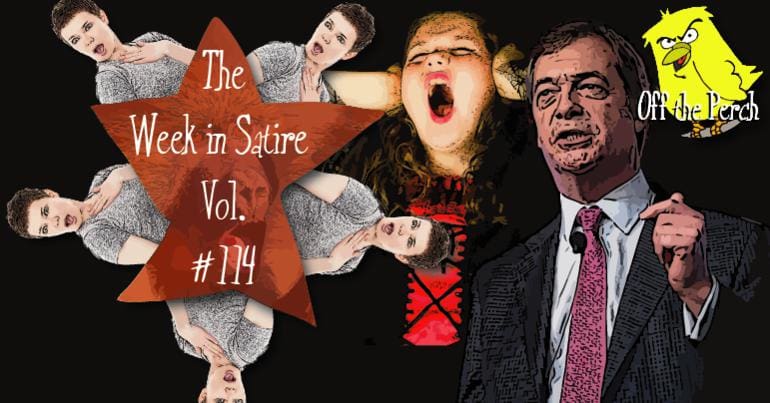 Support us and go ad-free
And what a week it was!
A week in which Labour leapt ahead in the polls! A week in which millionaires publicly shat themselves! And a week in which people realised why Labour have leapt ahead in the polls!
This bizarre rant just proves how out of touch the super rich are in Britain.

1. Virgin trains cost a fortune
2. They're horrifically overcrowded in normal person class
3. Yet they're bloody subsided by us!
4. Nationalisation of trains has >70% public support
5. GTFO https://t.co/NJk6AzROqx

— Jack D 🌹 (@JackDunc1) April 12, 2019
Read on...
Support us and go ad-free
But what else happened?
Let's look back and see:
Over the course of her career, Theresa May has shown herself to be pretty much incapable of compromise. Not because she's tough or knows what she wants; it's more like a toxic mix of privilege and middling intellect has rendered her incapable of understanding her own failings.
She's now come to the end of the line, however, and has to work with others. Her idea of how to do that is basically just saying the word 'compromise' a lot.
Compromise
A leaked conversation between May and Jeremy Corbyn went as follows:
TM: How about you compromise by agreeing to my deal?
JC: How is that a compromise?
TM: You'd be agreeing to support me, and I'd be agreeing to agree to that.
JC: That isn't how compromise works.
TM: Yes, compromise.
JC: …
TM: Compromise?
JC: You can't just say the word 'compromise' – you have to actually shift your position.
TM: What if I shout it? COMPROMISE! COMPROMISE!
JC: *GROANS AUDIBLY*
TM: I could sing it?
JC: Please don't.
Cross parties
It's very likely that May is running down the clock so politicians are left with a choice between her deal and no deal. It's very likely, because that's her only strategy. The other option is she comes up with a new plan, and May just doesn't roll like that.
by Glen Black
The EU is spearheading a new form of animal rights. It's proposed a law that, on the surface, appears to support the meat industry. But, the EU claimed, it's instead an attempt to inspire creativity in "dimwitted" vegetarians and vegans.
"Vurger"
On 4 April, 80% of MEPs agreed the plant-based food industry lacks imagination. Using words such as burger and sausage to describe meat-free products is a classic sign of B12 deficiency, common amongst vegetarians and vegans, MEPs suggested. As a result, the EU's agricultural committee (AGRI) proposed to ban their use in the branding of meatless foods.
British Green MEP Letitia Febreze suggested the move would help veggies and vegans who, "lacking a healthy nervous system", are "unable to think outside the box". Febreze said the ban will "unleash vast torrents of creativity" by forcing producers to think of more imaginative names, such as "vurger".
Meanwhile, French socialist MEP Ken Chisél argued that the ban would prevent "B12-deficient veggie idiots" from getting confused. He said "people must know what is on their plate". The law would, therefore, let "people who want to eat plants not meat know when the thing that looks like meat is plants. And when it's meat." Chisél suggested the new regulation was a "common sense" way to protect plant-eaters from their own addled brains.
Real steak
Critics were quick to point out the new law appeared to have the meat industry's fingerprints all over it. But Chisél said the "meat people" weren't involved in the decision. He insisted that "steak is only steak when it's steak", clarifying that a steak was "made of meat".
AGRI has allegedly shot down proposals to prefix chicken products with "antibiotics-riddled" and sausages with "possibly cancer-inducing". It's claimed the committee believes changing the name of meat products displays a lack of creativity.
It's been a rough time for the Tories. Their leader has no idea what she's doing; the cabinet is divided; the backbenchers have gone feral; and the membership is increasingly just Nigel Farage with a series of fake moustaches.
So could this be it for the party?
Perhaps not, as billionaire cockroach-capitalist Mike Ashley has expressed an interest in buying it.
Junk politics
Ashley is known for bailing out failing businesses (and treating his employees like Victorian child labourers). He told Off The Perch:
I don't know how it's gone so badly for them. They could be raking it in – all they have to do is lower the highest tax rates and cream off the donations. Instead, they've turned Brexit into a weird death cult and gone around torturing disabled people.

There's gonna be a lot of layoffs. The PM; the cabinet; the MPs – all fucking useless. I've spoken to my team, and they reckon we can replace the lot with an alarm clock that goes off once a year and reminds some civil servant to lower taxes.
Electioneering
Of course, there's more to politics than just implementing policy. When asked how the Tories would fight elections with no physical politicians, Ashley answered:
We'll let the mainstream media worry about that.
So it's looking like Brexit will be extended – again – this time for up to a year. It's taken us three years to negotiate fuck all, so obviously having time to arrange 30% more fuck all is vital. But how are Brits reacting to this lengthy Brextension?
Badly, it turns out. We cracked open a window here at Off The Perch, and can confirm that many UK citizens are responding as you'd expect – by screaming endlessly into the void.
Breactions
People have varying methods of coping with the never-ending Brexit. We spoke to a few of them. One person told us:
I've got this metal bin that I put over my head. Whenever someone mentions Brexit, I twat it with a spanner until they shut up. I've developed terrible tinnitus as a result, which has been something of a relief if anything.
Another said:
I've trained my cats to attack anyone who mentions the word 'Brexit'. Unlike dogs, cats can get away with mauling people. Now attack, my pretties! Savage the bad man and his insufferable Brexit questions!
Many told us:
I've just stopped engaging with the news and politics altogether.
How are people canvassing for the local elections finding the mood? One of my kid's teachers (Labour, Preston) said a lot of people he's spoken to are basically just sick of every party as a result of Brexit.

— John Shafthauer (@johnshafthauer) April 10, 2019
Bredicament
The longer Brexit goes on, the more damage it will do to people's trust in politics. To be fair, though, there shouldn't have been any trust in UK politics anyway. Possibly this whole mess will lead to a larger political awakening; possibly the complete opposite.
Either way, we should know sometime before the end of the century.
The Tory adviser Roger Scruton indulged in some choice racism the other day – a move which saw him lose his position:
On Roger Scruton and his defenders:

– There is no context in which it is ok to refer to a "Soros empire" (an anti-semitic trope).

– Or to refer to Chinese people as replicas of each other (a racist trope).

– Or to refer to Islamophobia as a "propaganda word" + Muslim "tribes".

— George Eaton (@georgeeaton) April 10, 2019
He's previously shown himself to be homophobic:
After his rampant Islamophobia, antisemitic tropes and gratuitous anti-Chinese racism, Tory advisor Roger Scruton has finally been sacked by the Tory Party.

But they did nothing last November – when Scruton said homosexuality wasn't "normal" and Islamophobia was "invented". https://t.co/pUQoxvB48j

— Owen Jones🌹 (@OwenJones84) April 10, 2019
The issue for the Tory Party seems to be that he's a little bit too open about these opinions:
So No10 is basically saying if people hadn't been so outraged about Roger Scruton's racist comments he'd still be advising the Government. Wow. https://t.co/L8rA8rLefA

— John Prescott (@johnprescott) April 10, 2019
But how has the media responded given its recent dedication towards rooting out racism, antisemitism, and homophobia?
I'm just looking for the outrage and front page spreads now…
Hmm…
There doesn't seem to be any…
Although I have found… err… this:
Scruton is a terrific writer. His book on aesthetics is first rate. I like his short history of western philosophy. And he writes well about Kant. Plus, his late critique of libertarianism is persuasive. https://t.co/gI45hcSvjQ

— Jason Cowley (@JasonCowleyNS) November 7, 2018
Love the Tories, Sometimes Hate Racism
This seems a little strange. The media has gone to town on any hint of racism in the Labour Party. It also had a lot of opinions about mainly Muslim parents protesting LGBTQI+ schooling.
So does the media actually care about these issues? Or were they just an excuse to bash Labour / Muslims?
We spoke to the Sun's editor-in-chief to find out – one Toby Greasefingers:
The Sun has always stood against bigotry. Or stood near it, anyway. Sometimes it may have looked like we were standing behind it, but that's just you looking at us from the wrong angle.
All in it together
For whatever reason, a man who works for the Tory government being openly bigoted isn't as important as some random Twitter account who may or may not be a Labour member / bot doing the same thing.
Although, to be fair, a Tory being reprehensible is a bit of a 'dog bites man' story.
Nigel Farage earned a decent amount of money as an MEP – especially as he rarely did any work. That could be coming to an end soon, which means Farage needs a new gig to keep him in the public eye. This is why he's launching the Keep Farage Employed Party (KUNT).
A new political party launches today – @brexitparty_uk@Nigel_Farage tells @BBCr4today the idea behind it ⬇️ pic.twitter.com/HBszqenEqO

— BBC Breakfast (@BBCBreakfast) April 12, 2019
The Farage façade
Farage left UKIP when the party became more interested in appealing to far-right YouTube shitheads than campaigning for Brexit.
He is known as Count Dankula on YouTube https://t.co/DZ8exwxHPG

— Metro (@MetroUK) April 11, 2019
According to someone close to him, Farage said:
Who's going to donate to a bunch of sad, middle-aged wankers pretending to know what a Pew-Die-Pie is?
As Farage needs money to fund his addiction to tweed, he needed a new gig, and fast.
Nigel Farage: ''#UKIP is a radical party, or it is nothing''. Here's an inspiring image of Nigel, in his radical tweed: pic.twitter.com/akzHB0SvPd

— Brexit Comedy (@BrexitComedy) March 1, 2017
This is why he founded KUNT – a party which will:
Fight for MEGA-BREXIT.
Be like UKIP was before teenagers ruined it.
Put Farage on every single BBC political programme – even if he has to run back and forth between sets.
Appeal
The party is proving popular with angry men who have more money than sense. They particularly enjoyed an advert which featured Farage singing 'We're Gammon' to the tune of Bob Marley's Jammin'.
"We're gammon," he sung. "And I hope you like gammon too. We're gammon, we're gammon, we're gammon, we're gammon…"
Nigel Farage's Brexit Party was formed to fight the establishment. Obviously, this meant the first person they asked to join was a plucky outsider from the Rees-Mogg dynasty:
The EU elections will be held on 23rd May. Our first candidate to be announced is @zatzi Annunziata Rees-Mogg!

Brexit is being betrayed, it's time to send a clear message to the establishment. pic.twitter.com/F8B9TC5qhj

— The Brexit Party (@brexitparty_uk) April 12, 2019
Now – to show how serious it is about opposing the 'establishment' – it's brought in several more of them.
Send in the crowns
The Rees-Moggs to join include:
Poseidon Rees-Mogg: Owns a small navy which could benefit from no-deal Brexit – primarily as it's drawing up a trade agreement with North Korea/pirates.
Poshspicia Rees-Mogg: Intends to make chimney sweeping and moat dredging a form of national service for anyone earning under £50k.
Persephone Rees-Mogg: Owns a network of childcare homes she plans on turning into workhouses as soon as the red tape's been cut.
Ulysses Rees-Mogg: Owns the midlands – intends to turn it into something useful like a big car park.
Dracula Rees-Mogg: Has plans to privatise the NHS. Also plans to draw blood from children as payment. He hasn't clarified what he'll do with the blood, but he did laugh maniacally when asked.
Power to the people
Some people have suggested that the Rees-Moggs are actually part of the establishment. And… err… yeah – now you mention it – their faces are literally on the £50 note.
Featured and in-story images via YouTube – Guardian News / Flickr – BONA LUMO / Max Pixel / YouTube / MaxPixel / PublicDomainPictures /  Gage Skidmore – Wikimedia / Wikimedia / Wikimedia (images were altered)
Support us and go ad-free
We know everyone is suffering under the Tories - but the Canary is a vital weapon in our fight back, and we need your support
The Canary Workers' Co-op knows life is hard. The Tories are waging a class war against us we're all having to fight. But like trade unions and community organising, truly independent working-class media is a vital weapon in our armoury.
The Canary doesn't have the budget of the corporate media. In fact, our income is over 1,000 times less than the Guardian's. What we do have is a radical agenda that disrupts power and amplifies marginalised communities. But we can only do this with our readers' support.
So please, help us continue to spread messages of resistance and hope. Even the smallest donation would mean the world to us.
Support us