The week in satire Vol. #118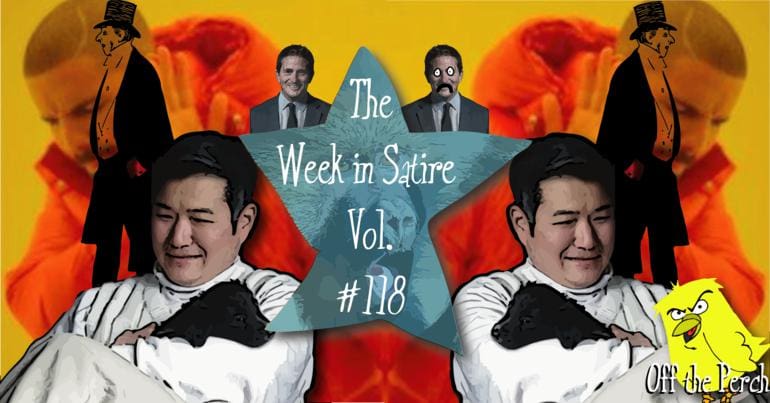 Support us and go ad-free
And what a week it was!
A week in which a royal baby was born! A WEEK IN WHICH A ROYAL BABY WAS BORN! AND A WEEK IN WHICH A ROYAL BABY WAS BORN!!!
But what else happened?
Nothing, that's what:
ANOTHER ROYAL BABY HAS SPRUNG FORTH!
How many is that now? 6? 37? 48,534? It's certainly not enough. After all, if it wasn't for these apparently important sprogs, HOW WOULD WE DISTRACT OURSELVES FROM THE POST-CLIMATE APOCALYPSE WE'RE INFLICTING UPON OURSELVES!?
Read on...
MORNING BRIEFING: Yesterday, the UN reported that 1 mil species face extinction. A royal baby was also born. Here are the front pages of British papers. pic.twitter.com/Rf7AsfHq4V

— Tina Carmillia 🇲🇾 (@tinacarmillia) May 7, 2019
Cry sis 
In a few decades' time, the planet may be uninhabitable. Unless of course you're a royal super baby. As we all know, the Windsors can withstand temperatures of up to 400°C. They can also exist in the vacuum of space. Most of them can fly and defecate rainbows.
A newspaper editor told us:
In the event of the climate collapsing, the only thing saving us will be our royal overlords. Perhaps they'll drag the entire planet a few million metres to the left so things cool down a bit. Or maybe they'll fly us all one by one to a new planet.

This is why we're putting so much focus on the royal offspring. That and because Rupert Murdoch said we have to.
ADAM BOULTON: The environment? Who has time to give a fuck about that shit?

ALSO ADAM BOULTON: I'VE BEEN THINKING ABOUT ROYAL BABY NAMES AND I HAVE SOME IDEAS https://t.co/p5ukfBtzef

— John Shafthauer (@johnshafthauer) May 7, 2019
Doubts
Scientists are in disagreement over the media's position. One biologist described it as:
The dumbest fucking shit I've ever had the displeasure of witnessing.
Others have described it as:
Suicidal.
Regardless of which side is proven right, it's clear we can all agree on one thing. Stories about babies are less terrifying than climate breakdown.
The problem is we should be terrified.
Theresa May has said she'll be gone by autumn. She's said other things in the past. Guess how many she stuck to?
If you guessed '0', you may have won a prize. Well done. According to our honest PM, that puts you in line for a £1m payout.
Broken promises
May has frequently failed to live up to her word. She's previously promised to:
Be a good prime minister.
Have the first clue what she's doing.
Do a Brexit.
Not hold an election.
Win an election.
Somehow cobble together a government despite losing her majority.
Eat chips like a human being.
If I said how Theresa May eats chips shows she's unfit to govern, Tories would call me bonkers. It's literally what happened to Ed Miliband pic.twitter.com/ZUzhEOZ02c

— Owen Jones🌹 (@OwenJones84) May 2, 2017
To be fair, she has kept some promises. Like all Tories, she's upheld the party's dedication towards:
Fucking the poor.
Fucking the marginalised.
Fucking everyone on less than £100k per annum.
She also followed in the proud Tory tradition of giving ministerial positions to the people least capable of fulfilling them.
Let her be clear
May's promise tells us one thing: she definitely won't be going in autumn. She might get booted out before then, or she might leave in winter. Leaving on time just isn't on the cards.
Unless of course hell freezes over. Which it might, given the Tories' continued fucking of the environment. Another right-wing promise they've kept.
The Tory government is shit on pretty much everything. The MP Johnny Mercer is on board with that. But he wants to go further. Namely by allowing soldiers to get away with (allegedly) murdering civilians, if said soldiers live past pension age.
Bad's Army
To be fair, that's not entirely accurate. Mercer wants all soldiers to avoid scrutiny.
The ones facing justice over events in the north of Ireland are quite old now. That isn't because the victims' families thought:
Let's wait until the murderers get old so it's really inconvenient for them to face up to their crimes.
No – it's because successive UK governments swept the issue under the carpet.
Mercer has some support, though. The campaign group Squaddies Against Justice (SAJ) argued:
Do you know how much it costs to train a soldier? If we're not constantly murdering people then all that money is going to waste.
Slippery slope
An SAJ spokesperson added:
It's easy to criticise us for gunning down unarmed civilians. The fact is that the only sure fire way of stopping unarmed civilians becoming armed civilians is murder.
People have pointed out the Nazis had a similar philosophy. SAJ shot back:
We'll be working to get German soldiers pardoned next. They were all just following orders, after all. If soldiers follow instructions, everything's fine. It's also fine if they use their own initiative. You know why?
The SAJ spokesperson showed us his gun.
"Yeah you know why," he smiled.
The BBC has no time for racism. That's why it sacked Danny Baker. Conversely, it does have a lot of time for racists. Hundreds of broadcasting hours every year, in fact.
Is that balance? Condemning one act of racism while platforming shitheads like this:
Nigel Farage has been accused of openly discussing conspiracy theories linked to antisemitism during a series of interviews with a far-right US talkshow. https://t.co/LiJPE7vtRu

— HeraldScotland (@heraldscotland) May 7, 2019
Or employing people like Lord Sugar:
Alan Sugar defends 'racist' tweet comparing Senegal team to beach sellers https://t.co/gSHH9LKhqO via @MetroUK

Oh @BBC , you forgot to sack this raging racist? Is it cos he is a millionaire?

— Sarah Roberts, Antisocial Socialist. (@saya80) May 9, 2019
And today interviewing this guy:
Source for point 2 – he is a vile racist about Arabshttps://t.co/o4ueQPnZyz pic.twitter.com/Ugfr30hW0N

— Miqdaad Versi (@miqdaad) May 10, 2019
So what's the deal? Well, according to one senior executive, it's that:
We're dedicated to representing a variety of opinions. Unless said opinions disrespect the Royals, IN WHICH CASE THERE WILL BE BLOOD!
Queen and country
Another BBC employee explained:
Look – we can't stop Nigel Farage appearing on every politics show that goes out. We tried once, but he just ignored us. What we have done is made clear we'll take him off the airwaves if he directs his hard-right rhetoric at prince Archie.
When asked why they don't do that for all hard-right rhetoric, they said:
Look, they're just ideas, they can't hurt you. Unless you direct them at the royal family, in which case we will hurt you.
Progress
Obviously there's no place on the national broadcaster for a man likening a mixed race baby to a chimp. It's just a shame there is space for a bunch of fascist apes. But still – at least there's some progress. It's just specifically only for people born into the royal family.
An important story in Rupert Murdoch's Times has warned us that THE POOR PEOPLE ARE COMING!!!
Buying education is buying privilege, jumping the queue. Private school children aren't more intelligent than those comprehensively educated & not more deserving of Oxbridge places, even if fee-paying system promotes that view. My priority is preserving the comprehensive system. pic.twitter.com/ngCGLrTozq

— Laura Pidcock MP (@LauraPidcockMP) May 11, 2019
Although, by 'warned us', I do of course mean 'warned anyone with the money to abandon their offspring in a private boarding school'. But still, pretty terrifying, right?
You might even say that pushing for our (allegedly) best universities to reflect society is AS BAD AS NAZISM:
The Times have actually run a front page story not only claiming that the privately educated are being discriminated against by Oxbridge – but that pointing out people who went to private school dominate society is akin to Adolf Hitler's persecution of the Jews. pic.twitter.com/3cuMn3h4IS

— Owen Jones🌹 (@OwenJones84) May 11, 2019
Hitler youth
One of these marginalised elites told us:
What's the point of earning 50,000 times more than the average British citizen if my children have to go to school with literal slum donkeys? I did some questionable things to earn my riches. If Britain stops rewarding the mega-rich for being smart enough to avoid tax, then I'll just go and avoid tax somewhere else.
Of course, not all rich people are criminal. Some are just a drain on society – hoarding money away in bank accounts where it's of no use to anyone. Some even recognise that. One of them admitted to us:
Growing up rich and going to Cambridge, I thought I was a special person – a smart person. I believed I had a god-given right to lead. I've gone on to lose the nation billions and billions of pounds. Maybe if I'd encountered working class people sooner, I'd have realise I was actually just a useless fuckwit with no idea how to do anything.
This person asked to remain anonymous. But we can say their name rhymes with 'Kris Greyling'.
Prejudice
So, are the elites of Britain a marginalised group being disadvantaged by the downtrodden people they tread upon? The short answer is no. The long answer is NOOOOOOOOOO.
Featured image via pixabay / pixabay / YouTube /Wikimedia – UK Parliament / Flickr – DFID UK Department for International Development / Mount Pleasant Granary (images were altered)
We know everyone is suffering under the Tories - but the Canary is a vital weapon in our fight back, and we need your support
The Canary Workers' Co-op knows life is hard. The Tories are waging a class war against us we're all having to fight. But like trade unions and community organising, truly independent working-class media is a vital weapon in our armoury.
The Canary doesn't have the budget of the corporate media. In fact, our income is over 1,000 times less than the Guardian's. What we do have is a radical agenda that disrupts power and amplifies marginalised communities. But we can only do this with our readers' support.
So please, help us continue to spread messages of resistance and hope. Even the smallest donation would mean the world to us.
Support us