The week in satire Vol. #119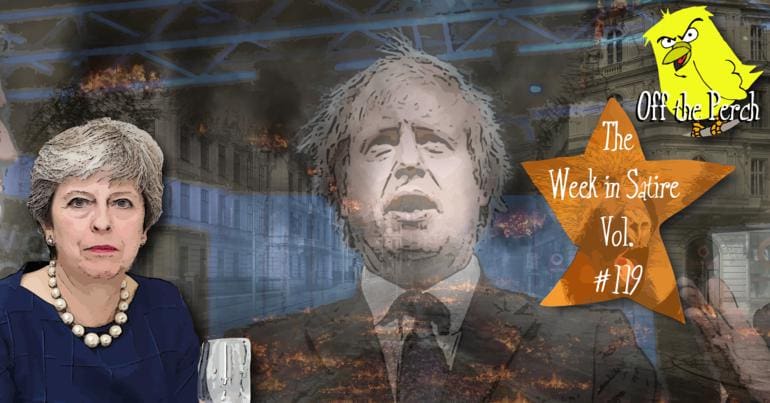 Support us and go ad-free
And what a week it was!
A week in which Theresa May announced her imminent departure! A week in which Boris Johnson announced his imminent promotion! And a week in which Britain announced its immediate "for fuck's sake!"
But what else happened?
Let's look back and see:
The BBC has given a lot of airtime to Nigel Farage over the years. It argues that doing so holds him to account. Despite that, Farage's Brexit Party has now overtaken the Tories in the European election polls:
Read on...
Support us and go ad-free
European Parliament voting intention:

BREX: 34% (+4)
LAB: 16% (-5)
LDEM: 15% (+5)
GRN: 11% (+2)
CON: 10% (-3)
CHUK: 5% (-4)

via @YouGov
Chgs. w/ 30 Aprhttps://t.co/HB9DIZKfah
(£)

— Britain Elects (@britainelects) May 13, 2019
How has Farage prospered despite the countless hours the BBC has afforded him?
It's a mystery, alright.
The British Nigel Corporation
Off The Perch spoke with producer Barry Bennington-Carter of the BBC to find out more:
OTP: The people who support Farage famously respond to emotional messages over reason. Have you ever considered that continuously trying to trip him up with facts doesn't work – especially when you do such a poor job of it?
BBC: No.
OTP: No, you don't think so?
BBC: No, I've not considered it. I just stick to what I remember reading in the charter about balance or whatever.
OTP: So how come you've not booked lots of Greens following their success in the local elections?
BBC: Who?
OTP: Sorry – are you saying you've never heard of the Green Party?
BBC: I know Change UK write their logo in green sometimes – are you talking about Change UK?
OTP: No… But one final thing – if constantly booking Farage holds him to account, then why does he keep coming back?
BBC: Presumably to take advantage of the private car parking space we gave him.
Account
People support Farage because he hates the same things they hate. There's no amount of tepid BBC interviewing that's going to dissuade them. Unless the BBC turns the interview on its head and asks:
Why do we keep booking this bullshitting failed MP?
Jeremy Kyle has tortured poor people for years. He's potentially driven one of them to their death. That makes him nearly as bad as an apprentice Department for Work and Pensions (DWP) assessor. As such, the government is eyeing him up for a position.
Misery
The absolute hell inflicted on poor and disabled people is coming from the very top of the Tory government. Not every assessor is gleefully carrying out this malign programme. But enough are.
A DWP minister told us:
We've been eyeing Kyle up for a while. Although a bit soft for our liking, the boy has potential. Not everyone can look a marginalised person in the eye and think 'I'm going to fucking destroy you'. Kyle has that. With a little bit of training, he could one day be a mid-level manager in our assessment department.
The department's over-führer Amber Rudd added:
Left-behind Britons deserve the very best. That's why we employ people with the most remorselessness; the greatest hate; the absolutest inhumanity. If Jeremy Kyle thinks he has those qualities, he's welcome to apply. If not, we'll be seeing him at his local job centre.
Systematic
Without successive arsehole-led governments demonising the poor, we wouldn't have 'pleb-baiting' as a viable form of morning television. Kyle didn't invent hatred against poor people. He just capitalised on it.
As vile as this oozing sore of a man is, he's more a symptom than a cause.
Change UK (a.k.a. The Independent Group (a.k.a. Chuka Umunna Vanity Project 2019)) promised something new in politics. It's delivered on that. The party has now gone from this:
Westminster voting intention:

LAB: 34% (-1)
CON: 25% (-7)
LDEM: 15% (+4)
BREX: 10% (+10)
UKIP: 4% (-3)
GRN: 3% (-1)
CHUK: 1% (+1)

via @Kantar , 09 – 13 May
Chgs. w/ 08 Apr

— Britain Elects (@britainelects) May 14, 2019
To negative numbers. No one understands how it's done that. It should be impossible. But CHUK is currently polling at minus 17.
Crisis
As it tends to do, CHUK has reacted to its fading fortunes with a name change. Several name changes, in fact. Since yesterday, it's gone by:
Consistency.
The Electable Party.
Votey McVoteFace.
Please?
Tony Blair Said We'd Clean Up.
FML.
According to one party member, the issue is:
The other parties keep fielding candidates against us! How are we supposed to win elections when people with actual policies keep bullying us? I'm sorry, but this really just isn't fair.
The party is now pressing for a 'fairer' system of governance in which political parties are assigned seats according to how many friends they have in the corporate media. Such a system would make it the second biggest party in parliament.
Slim to none
Of course, Change UK does still have a chance of getting into power. If everyone but Chuka Umunna slept through election day, for example, or if every opposing candidate got abducted by yetis.
It's not much of a chance, but still.
Despite having all the personality of an old flannel, Chris Grayling is a noteworthy politician: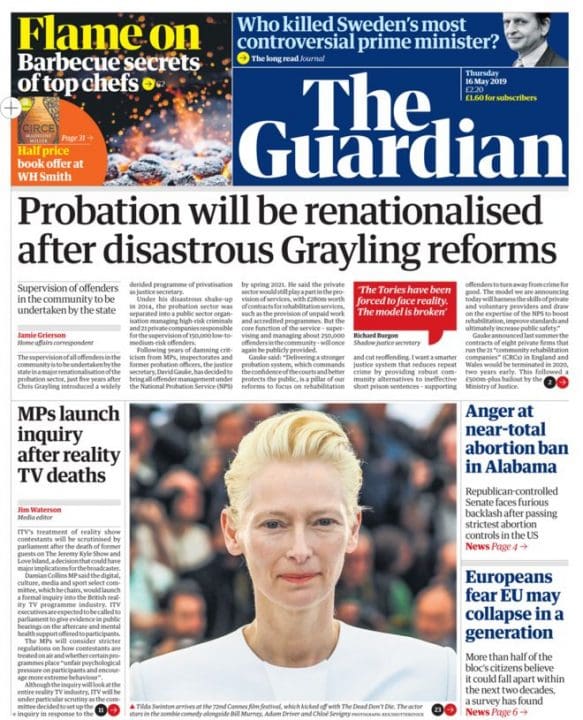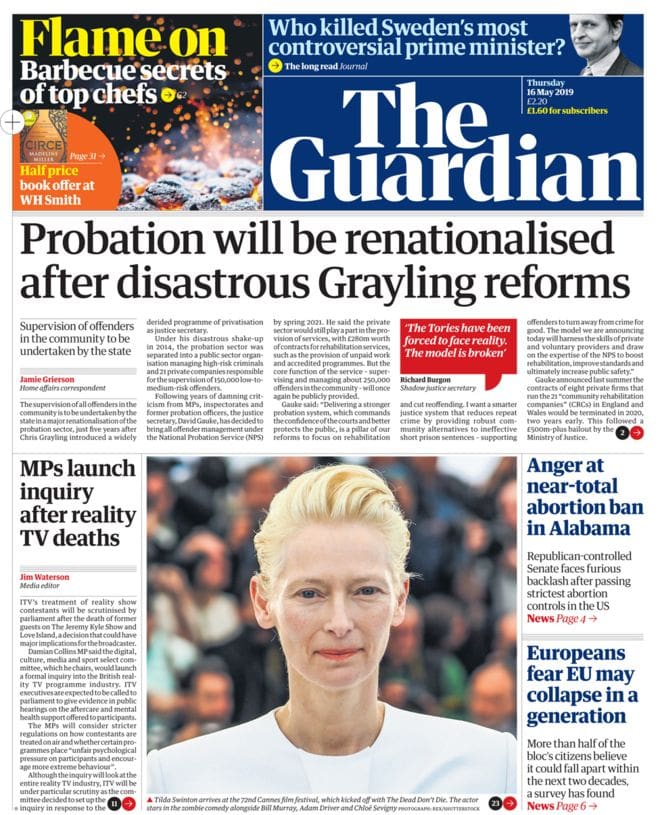 Chris Grayling, chaos entity, fucked up the probation services so badly he's forced a Conservative government to commit to renationalising them.

— Ash Sarkar (@AyoCaesar) May 16, 2019
Following this latest Chris-tastrophe, Grayling has overtaken the financial crash on the list of Great British economic crises.
Bad company
The list of things to fuck the British economy is currently:
10. The Black Death.
9. Every time the England football team went to extra time on a school night.
8. Privatising everything that wasn't nailed down (and then privatising everything that was nailed down (and then privatising the nails)).
7. Irn-Bru changing its recipe.
6. The financial crash.
5. Chris Grayling.
4. Declaring an unwinnable war on drugs instead of selling them at corner shops for profit.
3. The Great Depression.
2. The World Wars.
1. The Tory Party.
Too rich to fail
As disastrous as the Tories are in general, Grayling accounts for a good 20% of that. It's important to note how academics compiled this list though. As one of them explained:
We based our findings on how much these things affected regular people. Rich people actually benefitted from several of them – especially the financial crash. Some profited from the Black Death. Who do you think processed the dead after they got brought out?
Grayling has yet to respond to this latest 'achievement'. He did try, but he ended up accidentally ordering a second Channel Tunnel at a cost of several hundred billion pounds to the taxpayer.
Theresa May has made it her mission to fuck Britain as thoroughly as possible. She did a good job of it. But now her departure is looming, and many aspects of British life remain un-fucked.
What will she do to rectify that? She's got an idea, actually.
Race to the bottom
May has a scheme to ruin vast swathes of the country as quickly as possible. Her chief boffin explained to us:
The PM commissioned a giant robot that will stamp up and down the country – destroying wildlife and areas of natural beauty. Said robot will have water cannons filled with piss to give ordinary Britons a taste of her legacy. It will also have 'GO HOME' written on the side for good measure.
Let her be clear
As you'd expect from a scheme devised by May, the robot is unlikely to ever be realised. The boffin continued:
She explained what she wanted. To build it, she gave us £50 and a binbag full of lollypop sticks. We tried telling her that we couldn't build a 100tn piss-robot with that. She said, 'not with that attitude'.
The boffin shook his head before summing up May as only a brain-genius could:
Absolute fucking clown.
He then apologised to everyone in the clown community.
Following two years of dreadfulness, Theresa May will soon be gone. She might be the worst prime minister ever. But who will replace her? If the Tory membership has its way, we're going to double down on the dreadfulness and elect Boris fucking Johnson:
Boris Johnson is likely to be Prime Minister in months, if not weeks. Let that sink in. https://t.co/6eFZoG2EEo

— Owen Jones🌹 (@OwenJones84) May 17, 2019
Dumber and dumberer
The public opinion of Boris Johnson is he's a bumbling buffoon. The media's take is he's actually a political mastermind. The reality is, he's an idiot who thinks he's a genius pretending to be an idiot.
So how has he prospered?
Well it's a mystery, isn't it – that despite his wealthy upbringing, and despite graduating from Oxford University – he's gone on to be massively successful in politics – despite constant, constant fuck ups.
Some media types explain this by saying:
Although it seems like he's blundering from one catastrophe to another, he's actually constantly raising his profile. It's very clever, really.
A guy we met on the street suggested:
He's immune to failure because he's an establishment wanker. If he worked at Tesco, he'd be out on his arse. Because he works in politics, the powers that be have rewarded him with a string of increasingly lucrative newspaper columns.
Surely something
Presumably, he has done something to warrant becoming PM, though, right? I mean – we can't just elect an absolute fucking dolt because he really wants us to, can we?
Oh no – wait – we have done that before, actually – with like 95% of our prime ministers.
Featured and in-story images via pixabay / Wikimedia – Annika Haas / pixabay / Wikimedia – Chris McAndrew / Wikimedia – Chris McAndrew / Wikimedia – James Cridland / YouTube – Guardian News / Flickr – Gage Skidmore / Kuhlmann MSC – Wikimedia / World Economic Forum – Wikimedia (images were altered)
Support us and go ad-free
We know everyone is suffering under the Tories - but the Canary is a vital weapon in our fight back, and we need your support
The Canary Workers' Co-op knows life is hard. The Tories are waging a class war against us we're all having to fight. But like trade unions and community organising, truly independent working-class media is a vital weapon in our armoury.
The Canary doesn't have the budget of the corporate media. In fact, our income is over 1,000 times less than the Guardian's. What we do have is a radical agenda that disrupts power and amplifies marginalised communities. But we can only do this with our readers' support.
So please, help us continue to spread messages of resistance and hope. Even the smallest donation would mean the world to us.
Support us