The week in satire Vol. #122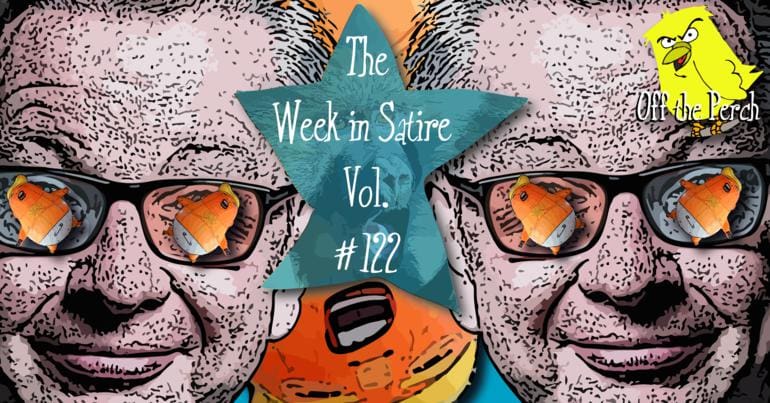 Support us and go ad-free
And what a week it was!
A week in which Donald Trump came! A week in which Donald Trump saw! And a week in which Donald Trump told everyone that the tens of thousands of people protesting him actually think he's a great guy!
But what else happened?
Let's look back and see:
In 2018, an evil balloon caused havoc in the UK. In 2019, the balloon has come back.
Hot Air II: The Balloononing
The cursed inflatable hails from the United States of America, but it's caused problems all over the world. When it first invaded Britain's skies, the boisterous balloon bombarded those below with noxious streams of hot air. This could have been easily dealt with, but our famously flimsy leaders sought to pacify the blowup blowhard.
Read on...
Back in 2018, Theresa May famously said:
Let me be clear, I'm not afraid to look out for Britain's interests when dealing with the blimp.
Seconds later, the balloon grabbed May's hand and dragged her skywards. Although obviously embarrassing for her, May screamed:
This is fine, actually!
In 2019, Boris Johnson is going a step further and trying to imitate the bawdy blimp. He's doing this by blowing hot air into a length of hosepipe and sending it straight up his own arse.
Gasbag
By using the hosepipe method, Johnson has managed to expand his already swollen ego by some 10,000%. The dirigible dimwit has stretched so much that he had space to write a message on the side of himself. It read:
Let's take money back from the EU and give it to BORIS JOHNSON!
He later had this message scrubbed off under the advice of his lawyer. Or he would have done if he hadn't entered the upper atmosphere and popped, anyway.
Since President Trump landed in the UK, Tory leadership hopefuls have been queuing up to please him. This took an unfortunate turn when Jeremy Hunt and the Fanta-faced menace went to the Henry VIII museum.
"Now this guy got respect!" Trump beamed when they got to the exhibit on the ruler's bathroom regime.
Arsewipes
Henry VIII famously employed a so-called 'groom of the stool' – a gentleman who functioned as his "bottom-wiper-in-chief". The men employed in this role would actually be respectable 'nobles', and this gave Trump an idea.
"Hey, Cunt – do you know how to wipe?" he asked.
"Umm… it's pronounced 'Hunt', actually, and yes – yes I do."
"Are you sure? Because you look like maybe you don't have the brain biglies."
"I can assure you my brain biglies are the bigliest, Mr President, and I'd be more than happy to -"
At this point, Hunt was interrupted by Boris Johnson leaping out from behind a tapestry.
"If you're going to grace anyone with the honour of cleansing your under-carriage, Mr President, you should choose me," Johnson slimed. "I have the soft hands of a Prussian viscount, and a wiping technique taught to me by Jacob Rees-Mogg's nanny."
Brownfall
Trump only understood about 30% of what Johnson said, but he could see the desperation in his eyes. Unfortunately for Johnson, he wasn't the only leadership hopeful stalking Trump. This resulted in something of a fracas in the museum as more and more Tories showed themselves.
"This is the kind of special relationship I like," Trump said, as he watched them fight. "I like buying stuff cheap from desperate losers, and these Tories will sell anything that isn't nailed down."
Thankfully for the leadership hopefuls, Trump had more than enough arse to go around.
Speaking on 4 June, Donald Trump said:
When you're dealing with trade everything is on the table, so the NHS or anything else, or a lot more than that.
But what 'table' did he mean? As it turns out, he meant the butcher's table. The same one he's been using to carve up America these past few years.
The chop
As Trump himself explained:
There's an art to making deals – a finesse. I don't like that. If you ask me, the smart guys go in with a meat cleaver and cut off the bits that they like. We're talking about the steaks; the loins; the McNuggets. You understand? Nigel Farage tells me you bozos would be happy with the gristle, which makes me think I should probably take that, too.
Trump has since rowed back on these comments. His latest stance is:
We're going to give you a truly good deal. It's just a shame your fake news media reported otherwise. That forty-minute video of me waving a knife at some doctors and telling them their meat belongs to me now – totally fake! You people treat me so unfairly. You're lucky I don't hold grudges.
Butchery
With soft Brexit a distant memory and butcher-boy Trump slavering over the NHS, it's looking like the options for Britain are increasingly Cleave or Remain. Going off the past few years, I'd probably prepare for the wurst.
The idea of 'no-deal Brexit' is even stupider than it is unlikely to get through parliament. This is obviously a problem for hardcore Brexiteers. Thankfully for them, the nugget-headed no-deal enthusiast Dominic Raab has had an idea.
Dom Raab has refused to rule out proroguing Parliament to ensure Britain leaves without a deal on October 31

This is what senior figures in the ERG have been demanding – get round MPs by simply pushing the nuclear button and proroguing

— Steven Swinford (@Steven_Swinford) June 5, 2019
Restrictions
As Raab explained:
These MPs standing in the way of Brexit are preventing democracy. As such, I'm proposing that all MPs who disagree with me should be locked up in the Tower of London.
When asked if he was "some sort of fucking idiot", Raab huffed:
I'm obviously very clever; I know all sorts of smart things. For instance, did you know that there's a sea between England and France?
Raab clearly expected people to be impressed, but the gathered journalists looked at him as if he was some sort of fucking idiot.
"Not a lot of people know that, actually," he continued. "That's why everyone says we're 'in Europe' when we're technically not. You probably aren't aware of this, but Great Britain is actually an island."
This went down as well as you'd expect.
"Right, well now I'm proposing we lock all you up, too!" he snapped. "I bet you'll say nice things about me now you know what you'll have in store when I become PM!"
Hmm 
In a move that surprised no one except Dominic Raab, the press did not have nice things to say about him. His rank stupidity doesn't mean he won't be the next PM, however. If anything, it might even make him more popular with the Tory membership.
It's been something of a week for Change UK. Only a few days ago, it lost half its MPs. Now it's declaring victory in the Peterborough by-election.
To do this, it's using the same 'logic' that led its MPs to believe the UK needed another bland centrist party.
Nothing has Changed
Speaking to a gaggle of journalists, Mike Gapes announced:
Looking at the results, it's clear that the only parties who didn't lose this election were Labour and Change UK.
At this point, a journalist pointed out that Change UK didn't actually field a candidate.
"Exactly!" Gapes said – beginning to sweat. "You can't lose if you don't enter the race. We also saved a lot of money by not fielding anyone, so we've actually done better than Labour from a financial perspective."
The audience looked unsure.
Disasterclass
"Look, it could have been a lot worse, okay?" Gapes continued. "At least no one spoiled their ballots by writing 'Mike Gapes is a bumhead'."
At this point, an aide approached the flailing MP. He took on a sombre expression as the assistant whispered something into his ear. When they'd finished, Gapes turned back to the microphone.
"I regret to inform you that several people spoiled their ballots by writing 'Mike Gapes is a bumhead'," the MP explained.
As no one had used any stronger profanities than that, Change UK is still claiming victory.
Michael Gove is known for saying a lot of things – many of which are wrong – a lot of which are idiotic. Most people have beheld his time in government and thought:
Wow – look at this twat running his mouth. How does someone say so much while thinking so little?
Gove himself has now tried to answer that question.
Gove's cocaine confession underlines again the prevalence of drugs. Johnson admitted to coke & cannabis, Rory Stewart to opium. Yet they shrug it off, joke or apologise, then continue to back policies that send less fortunate folk to prison for the same https://t.co/n9ceZbF1yZ

— Ian Birrell (@ianbirrell) June 8, 2019
He's got cocaine, running around his brain
Gove explained to the press:
I've had many famous ideas over the past few years – ideas like replacing teaching assistants with wallabies or selling the prison system to McDonald's. I can now confirm that every notion I've had during my time in office has been pure, 4am coke blather.
Not everyone was buying it, however. One journalist asked:
How do we know you're not just some fucking idiot?
Thankfully, they were able to put this to the test, as every journalist in the room had cocaine on them. The gathered throng watched as Gove poured bag after bag onto the table. He then scraped out a line as thick as a snake.
Mind-blowing
"Are you sure you want me to do this?" Gove asked. "Because I really get on one when I've had a whiff of sweet Lady High."
The audience nodded, and Gove set about snorting the impractically large line he'd constructed.
"Oh wow," he said – five minutes later – when he'd finally finished snorting it. "This gives me a really good idea for a new Brexit bus, actually."
A thousand milliseconds later, his head exploded.
Featured and in-story images via Chris McAndrew – Wikimedia / Wikimedia – Chris McAndrew / YouTube – ODN / Wikimedia – Adrian Pingstone / Wikimedia – Chris McAndrew / pixabay / Flickr – Michael Vadon / Wikimedia – Paulien Osse / pixabay / Wikimedia – Gage Skidmore / Wikimedia – Adrian Pingstone / Wikimedia – Chris McAndrew / Wikimedia – Think London (images were altered)
We know everyone is suffering under the Tories - but the Canary is a vital weapon in our fight back, and we need your support
The Canary Workers' Co-op knows life is hard. The Tories are waging a class war against us we're all having to fight. But like trade unions and community organising, truly independent working-class media is a vital weapon in our armoury.
The Canary doesn't have the budget of the corporate media. In fact, our income is over 1,000 times less than the Guardian's. What we do have is a radical agenda that disrupts power and amplifies marginalised communities. But we can only do this with our readers' support.
So please, help us continue to spread messages of resistance and hope. Even the smallest donation would mean the world to us.
Support us