The week in satire Vol. #124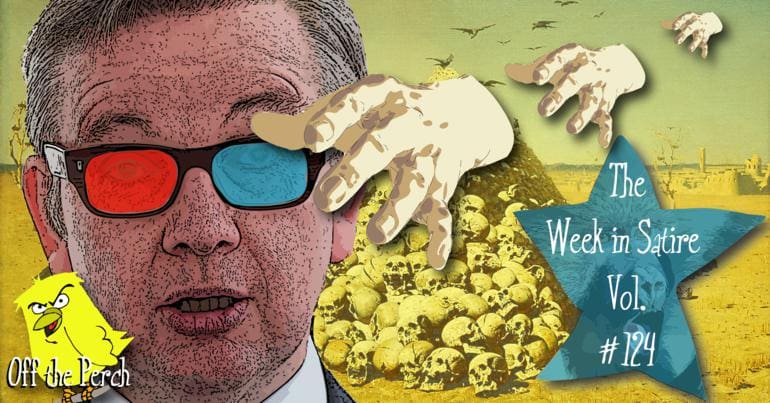 Support us and go ad-free
And what a week it was!
A week in which the Tories came out in favour of civil rights! A week in which the Tories specifically argued for the right for men to manhandle protesters and girlfriends! And a week in which everyone else asked: "How is there always a new low?"
But what else happened?
Let's look back and see:
Although the race to become Tory leader/PM is officially running right now, it really isn't. It actually began when Theresa May became PM, and it ended when she resigned. The winner – unfortunately – is Boris Johnson. And whether they know it or not, his rivals are competing for distant second place.
Electioneering
Our next prime minister will be chosen by Tory Party members.
Read on...
When 500,000 Labour members elected Jeremy Corbyn, the entire media-political class called it an anti-democratic Trotskyist putsch.

So what about this…? https://t.co/Rkh0ELd920

— Kerry-Anne Mendoza (@TheMendozaWoman) June 17, 2019
Johnson won the leadership by displaying all the characteristics that appeal to Tories, namely:
Being prone to racist 'gaffes'.
Being prone to racist racism.
Making alternatively vague, undeliverable, and dreadful Brexit proposals.
Arsing up everything he touches.
'Talking tough' with foreign countries (unless they're the US, in which case he turns into a lap-poodle).
Tax cuts for the rich.
Misery for everyone else.
To catch up to Johnson, his rivals would have needed to read out a Jim Davidson edited version of Enoch Powell's 'Rivers of Blood' speech while burning £50 notes in front of a homeless economics expert. Instead, the fools talked about how they'd 'fix' the country – a problematic move because:
They're the idiots who broke it.
The people voting think Britain isn't broken enough.
Least lost
To be fair, Jeremy Hunt has wised up to the grim dystopian vision that Tory members want. That's why he's vowing to euthanise people's nans.
Every older person should die with dignity and respect#C4debates #HastobeHunt pic.twitter.com/QUD77Cpgxi

— Jeremy Hunt (@Jeremy_Hunt) June 16, 2019
Potential Tory leader Rory Stewart has (potentially) been exposed as a spy:
Tuesday's Daily TELEGRAPH: "Mystery of Stewart's past links with MI6" #bbcpapers #tomorrowspaperstoday pic.twitter.com/MuPuM3GluW

— Allie Hodgkins-Brown (@AllieHBNews) June 17, 2019
As you'd expect, Stewart himself has denied working for 'intelligence' – insisting that he's always worked for the Tories.
Smarts
Stewart explained:
Have I worked for 'intelligence'? Quite the opposite, actually – I worked for David Cameron then Theresa May.
When asked to clarify who he worked for before that, he gave a coy smile and answered:
Let's just say I liked my jobs how I like the austerity-ravaged masses: shaken, not stirred.
This suggests Stewart may indeed have been a spy in the glory years of British intelligence – the early 2000s. Could Stewart have helped in acquiring the information that led to the Iraq War? Unlikely. Unless he somehow managed to shrink himself down to sub-atomic size and retrieve said intelligence from its source – Tony Blair's imagination.
Shexy
All this spy stuff has proven quite titillating for the sort of dull, centrist, media types who find Stewart invigorating. Ironically, a lot of these people are also furious about Russia interfering in our politics. They might be sad to learn that 'protecting' British interests generally means 'trashing' other countries'.
Or maybe they won't be, and will instead fantasise about Stewart bedding golden women and fighting metal-toothed giants on the moon. They're already fantasising about him being a progressive, so delusions come easy to them, it seems.
Everyone knew this Tory leadership competition would be a shitshow. Surprisingly, it's somehow even shittier than suspected. As such, our next PM will likely be worse than Cameron and May combined.
Daily Mail headline reaction to last nights BBC Tory Leadership Mass Debate "Corbyn left grinning over his lentil stew" 🤣😂😭pic.twitter.com/khrjzJYreU

— ARTIST TAXI DRIVER (@chunkymark) June 19, 2019
Great debate
The 'debate' began with a question for front-runner Boris Johnson.
"Hang on a minute," he said, looking at his phone.
A photograph later revealed that Johnson was browsing a site called JugsTube – his fingers covered in what appeared to be fried chicken grease.
"What was the question again?" he asked eventually, before mumbling something about the Boer War.
Gove went next, saying:
Michael Gove is the real challenger in this race. Michael Gove is the one Jeremy Corbyn fears. Michael Gove has the plums! Behold the plums of Gove!
While this went on, Sajid Javid and Jeremy Hunt argued over who was the most forgettable. No one remembers who won. Rory Stewart, meanwhile, sighed and shook his head – pretending to be surprised that his colleagues of over ten years are all total, fucking idiots.
Rory Stewart has gone through every stage of a drunken night out in just 30 minutes. #BBCOurNextPM pic.twitter.com/cNiQXzvLaE

— Niall McGarry (@MrNiallMcGarry) June 18, 2019
No hopers
If we were having a general election, it's clear that every last one of these dopes would crash and burn. In other words, let's push for a general election.
Saudi Arabian forces have been waging an illegal war in Yemen, and the UK has been arming them. Now, a new court ruling has suggested it might be illegal for us to support an illegal war. This means we'll actually have to review each contract – something we weirdly haven't been doing up until now.
Although, to be fair, it's only weapons of considerable destruction we've been selling.
Indefensible 
Defence secretary Penny Mordaunt argued:
There's really no need for us to investigate whether our weapons are being used in illegal activities. The people running this unlawful war assured us that whenever they commit an atrocity, they put down their British weapons and use something else.
She added:
If we can only sell arms to people who aren't committing grave acts of injustice, that will put us at a real disadvantage. We won't be able to sell weapons to ourselves for a start.
Whitewash
The problem with the government having to review these things is that it'll be the government who's reviewing them. Our criminal overlords rarely hold themselves accountable for their own criminality. Especially not when there's blood money to stain their hands with.
Michael Gove is one of the goons who pushed us towards Brexit WHILE DOING NO PLANNING FOR IT WHATSOEVER. While this has made Brexit pretty much impossible to deliver, Gove has at least managed to exit from something.
Michael Gove has been eliminated.

— Britain Elects (@britainelects) June 20, 2019
Gove was gonna be PM… but then he got high ❄️ pic.twitter.com/xuSY19BjCo

— PoliticsJOE (@PoliticsJOE_UK) June 20, 2019
Twategy
After learning that Tory members fear a Corbyn government more than anything, Gove started making speeches like:
I believe that climate change is the second greatest threat we face. The first is Jeremy Corbyn. The third is a climate-fuelled Corbynado made entirely from gusty socialists.
And:
It's crucial that Britain leaves the European Union, but it's even more vital that Corbyn leaves Britain. I'm calling this project Corbexit. Let's take £350m back from the EU and spend it on launching Corbyn into space!
And:
The problem with Jeremy Corbyn is sooner or later you run out of other people's radishes.
When asked to explain what this last point meant, Gove claimed that Jeremy Corbyn had tampered with his speech notes. And yet, despite this obviously strong campaign, Gove has now been tossed into "the dustbin of history".
Watch the moment in tonight's BBC debate I told Jeremy Corbyn to get back in the dustbin of history 👇#Gove4PM #BBCOurNextPM pic.twitter.com/m7lMLCTZ1X

— Michael Gove (@michaelgove) June 18, 2019
Shmexit
Whatever your opinion on the EU is, you have to admit that not planning how to carry out Brexit was a spectacularly bad idea. Or maybe you don't? Gove certainly doesn't excuse his lack of forethought, and he came this close to becoming the prime minister.
But yeah – keep telling us about how the Tories support the idea of a meritocracy.
Unless we do something, manmade climate change could render the planet uninhabitable. We know this because of the scientists and activists who've spoken out. As a result, the Tories have decided to do something about the problem. Namely, they've decided to strangle anyone who speaks out.
Taking a firm grip
The new minister for state violence said in a statement:
We've been doing a lot of work to make it look like we're doing a lot of work on climate collapse. Surprisingly, we never thought about just throttling the people speaking out. It solves everything in the sense that it keeps the plebs quiet while allowing us to commit hideous acts of violence.
Climate scientists pointed out that keeping people quiet won't do anything to stop climate collapse. The minister argued:
What do we care – we'll be dead by then anyway. You'll be dead much sooner if you don't keep your mouth shut.
The minister then held his hands up and began choking people.
What a choke
The police were contacted about this latest incident, and they later released a statement. It read:
Although images of a minister strangling people to death look harrowing, it's worth remembering that these protestors threatened the good gentleman with the total collapse of the planet. Obviously, citizens should have the right to defend themselves in light of such excessive peril.
As terrifyingly authoritarian as this all sounds, at least we won't have to think about climate change anymore. Until the climate significantly changes, obviously, and it's too late to do anything about it.
Featured image via Max Pixel / Pixabay / Policy Exchange – Flickr / Wikimedia – Vasily Vereshchagin / YouTube – Guardian News / Petar Milosevic – Wikimedia / Chris McAndrew – Wikimedia / YouTube – Guardian News
We know everyone is suffering under the Tories - but the Canary is a vital weapon in our fight back, and we need your support
The Canary Workers' Co-op knows life is hard. The Tories are waging a class war against us we're all having to fight. But like trade unions and community organising, truly independent working-class media is a vital weapon in our armoury.
The Canary doesn't have the budget of the corporate media. In fact, our income is over 1,000 times less than the Guardian's. What we do have is a radical agenda that disrupts power and amplifies marginalised communities. But we can only do this with our readers' support.
So please, help us continue to spread messages of resistance and hope. Even the smallest donation would mean the world to us.
Support us