The week in satire Vol. #125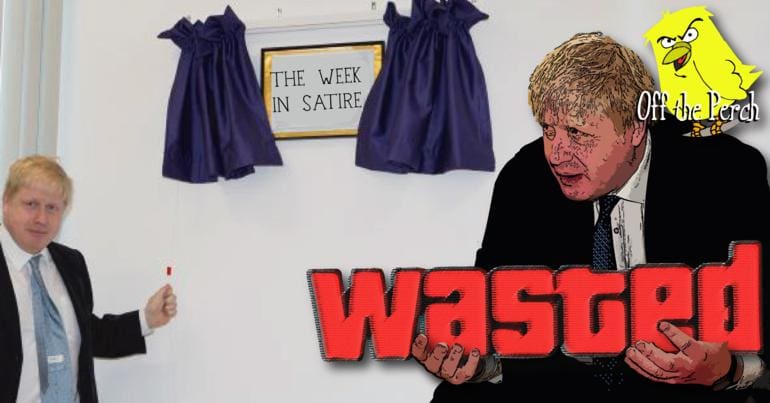 Support us and go ad-free
And what a week it was!
A week in which the Tory leadership race continued! A week in which nine years of Tory governmental failure continued! And a week in which our hopes for a general election continued!
But what else happened?
Let's look back and see:
Boris Johnson is campaigning to be the next prime minister of Great Britain. At least he's sort of doing that, anyway. To be honest, he's more just mumbling his way through sporadic interviews – confident that his poll lead will carry him through.
However, following a reported altercation at his girlfriend's flat, Johnson is now being forced to unveil an actual policy idea. It's a slogan that encapsulates his approach to potentially criminal behaviour. That slogan is:
Read on...
"NO ONE LIKES A GRASS"
Johnson is working from ideas given to him by his fellow politicians and commentators:
The big element in the Boris story isn't that there was a heated argument, it's that the police were called.

The police were called by the same person who recorded Boris and gave the story to the Guardian.

— James Cleverly MP (@JamesCleverly) June 22, 2019
Allison Pearson of the Daily Telegraph writes… pic.twitter.com/tVWu1MjWuT

— Sam ✌️ (@samisam147) June 22, 2019
Mumbling his way through a half-arsed announcement, Johnson said:
Crime in this country has reached tragic proportions, and you know why that is? It's because nosey neighbours keep reporting it. Whatever happened to that reserved British spirit? Whatever happened to minding your own fucking business? If people stop interfering, we could reduce crime by 100%.
Shitbag
When asked if he was pursuing this approach to help people like himself get away with murder, Johnson called security. Apparently he felt that tough questions – which is to say any questions – were a personal attack.
When asked if this meant Johnson favoured a 'one rule for them and another for me' approach, the would-be PM called for a sniper squad.
Jeremy Hunt is trying to show what big, massive balls he has by talking about 'war' and 'defence' and shit. As part of that, he's released a statement showing what a tough guy he is. He said:
I am prepared to go to war with anyone – that's anyone – who America tells me to.
UK could join US military action against Iran, Jeremy Hunt sayshttps://t.co/ALcidZliXf pic.twitter.com/tKr51Qul9r

— ITV News (@itvnews) June 24, 2019
War poodle
Wearing a leather pilot jacket he'd got from somewhere, Hunt said more about his impressive hardness:
All these dictators around the world need to listen up and learn that Jeremy Hunt is a man who isn't afraid of them. No – he's afraid of America, and willing to do whatever it commands. As America is prone to carrying out some pretty horrendous acts, that should be cause for concern for everyone!
To prove his violent obedience, Hunt proceeded to run around a show-dog course while holding an AK47. Confused onlookers watched as the strange man crawled through tubes and leapt over hurdles – occasionally tripping up and firing wildly into the air.
Hunt's total subservience has not gone unrewarded. When Donald Trump found out how thoroughly Hunt was willing to humiliate himself, the president shrugged his shoulders and said:
Cool.
Mystery 
We may never know why Tories rally for 'sovereignty' while hungering to be the US's lapdog. Unless it's because they're a bunch of imperialist cowards who want the protection of a bigger bully, of course. In which case the answer is obvious.
Boris Johnson – the winner of the 2019 Tory leadership race – isn't putting much effort into the contest he's already won. And why would he? He's already won.
The man who thinks he's in competition with Johnson has labelled this cowardice. The same man, however, is running away from the idea of a general election. Like literally. We just asked him about it, and he ran off.
Running man
As soon as we asked the question, Hunt pushed the microphone into our face and ran off. Putting that gangly agility to good use, Hunt scurried up and over a 15ft wall like a house spider. We gave chase, but it really was no use. Thankfully, we weren't the only ones.
When Hunt got home – covered in dirt and scratches – he found another gaggle of journalists. They began asking him if he had the confidence to fight a general election, but before they could get the words out, he screamed:
NO!
He then turned his garden hose on them. This only stopped them for so long, however, and eventually the journalists got the question out. As they repeatedly asked it, Hunt dropped to the floor clutching his tummy.
"My stomach!" he cried. "My weak, weak stomach."
Unelectable
It's clear why Hunt won't call an election. As the man said himself:
I personally think that an election would be disastrous, I think we'd let Corbyn into Number 10
This is also why we definitely should have a general election. That and the fact we haven't had one in weeks.
In a recent interview in which it looked suspiciously like he made everything up on the spot, Boris Johnson claimed that he crafts 'model buses'.
This isn't even funny. He's a lying fucking prick who's taking the piss out of the whole country. https://t.co/KmtH9C7Fiw

— kath 🙀❄️🇪🇺💚 (@KathyBurke) June 25, 2019
Johnson has now unveiled an image of his buses. Sort of.
Fake news
Most people looked at the video of Johnson lying about making buses and thought:
Why would he lie so brazenly about something so stupid?
They then proceeded to talk about it at length – largely at the expense of discussing his other faults. Johnson has now followed this up by unveiling a picture of… nothing.
"It's a bus," he claimed. "I made it. I make lots of buses."
The gathered journalists said:
Umm…
They then went away and wrote several articles about the unreal buses – none of which were read by the people who'll be voting for Johnson, as they only care about Brexit anyway.
One commentator did notice the underlying issue, and penned an article titled:
Jesus Christ, what's the fucking point, and is anything even real anymore?
The article wasn't published because it was just 5,000 question marks peppered with the occasional 'head exploding' emoji.
Trumpian
Johnson denied that he's following the Trump model of politics – claiming:
What's a Trump?
Although he clearly is, a commitment to 'alternative facts' might not help Johnson in a general election. For a start, he doesn't have the energy of Trump – coming across more like Mr Magoo than Mussolini. Beyond that, Trump promised a brand new, hideous world, whereas Johnson is proposing:
To get on with Brexit and then… you know… just sort of do a thingymaflip… and that.
It's always worth remembering that just because someone is doing something underhand, that doesn't mean they're doing something smart.
This will be true for about a day or two, and then it will be back to just being the other story because of the weight of historical coverage.

Maybe they are doing this, but the Tory members he's appealing to don't care about the '£350m lie', so not sure what their gain is? https://t.co/tFOsAZeaFN

— John Shafthauer (@johnshafthauer) June 27, 2019
Boris Johnson has guaranteed that despite his plans for a hard/moronic Brexit, there will at least be drinking water:
"There will be drinking water, whatever happens on October 31st," says Boris Johnson.

Such ambition.

— Adam Bienkov (@AdamBienkov) June 27, 2019
As people in Britain are familiar with Johnson, they've largely all come to the same conclusion:
THERE WON'T BE ANY DRINKING WATER COME 1 NOVEMBER.
Panic
Within 27 minutes of Johnson's statement, the entire UK had sold out of bottled water. Trying to downplay the event, Johnson said:
Truly we live in a golden age of retail. I expect things will only improve under my stewardship.
This caused shares to fall in pretty much every retail operation in the UK. Pleading with the Tory members, a spokesperson from the shop workers union said:
Why are you doing this? It's like he had the Midas touch, but instead of gold, everything he touches turns into horseshit.
Pestilence
Johnson once more intervened – saying:
I dispute that I regurgitate manure, but while we're on the subject, I'd like to guarantee that farmers are about to see their biggest boom since 1845.
When it was pointed out that 1845 was the year of the English-perpetrated 'potato famine', Johnson laughed and said:
Oh really? I just picked a year at random. It's funny how I'm always, always wrong about everything, don't you think?
As you can imagine, because Johnson described this fact as "funny", nobody else was laughing.
Our soon-to-be-ex-PM hasn't achieved much of anything in the past three years. Nothing much beyond being the weakest leader we've had since accidentally electing a snowman in 1878, anyway.
It isn't over until it's over, however, and May might have completely changed her image with this BRUTAL DISREGARD FOR ETIQUETTE:
Theresa May whipping out the infamous "dead fish" handshake. Iconic. pic.twitter.com/6V9bG3YZ6W

— Siraj Hashmi (@SirajAHashmi) June 28, 2019
Or maybe she hasn't, and she just gave Putin the least subservient version of what he wanted?
Respectfully, this is very unfortunate. Putin caused the murder of UK civilians with chemical weapons on British soil. He continues his active measures attack upon all liberal democracies around the world and PM May grants him a handshake and photo op. Terrible. https://t.co/3qT9OZ2tiu

— Andrew C Laufer, Esq (@lauferlaw) June 28, 2019
WASTED
One analyst said of the SLAYING:
What May did here was incredibly clever. You see, Putin wanted her to shake his hand, but he also wanted her to look like she enjoyed it. May denied him that pleasure. That's why he's so furious – furious to the point it actually looks like he's smiling.
Another analyst offered a counter-point, pointing out:
She shook his fucking hand.
Legacy
May's record in office is allowing authoritarian hate-balloons like Donald Trump to lead her around like a show pony. As such, seeming slightly less willing is an improvement. It isn't great, but it's certainly less humiliating.
Maybe if Putin orders another hit on British soil she'll take him off her Christmas card list?
Featured and in-story images via YouTube / Bundesministerium für Europa, Integration und Äußeres – Wikimedia / pixabay / Wikimedia – Holdermick3 / Flickr – Foreign and Commonwealth Office / Flickr – Ted Eytan / Flickr – U.S. Department of State /  Financial Times – Boris Johnson (images were altered)
We know everyone is suffering under the Tories - but the Canary is a vital weapon in our fight back, and we need your support
The Canary Workers' Co-op knows life is hard. The Tories are waging a class war against us we're all having to fight. But like trade unions and community organising, truly independent working-class media is a vital weapon in our armoury.
The Canary doesn't have the budget of the corporate media. In fact, our income is over 1,000 times less than the Guardian's. What we do have is a radical agenda that disrupts power and amplifies marginalised communities. But we can only do this with our readers' support.
So please, help us continue to spread messages of resistance and hope. Even the smallest donation would mean the world to us.
Support us