The week in satire Vol. #126
Support us and go ad-free
And what a week it was!
A week in which Boris Johnson showed himself to be an incapable idiot! A week in which Boris Johnson showed himself to be an even bigger incapable idiot! And a week in which Tory members continued to say, "That's our man!"
But what else happened?
Let's look back and see:
Many people are worried about the effects of no-deal Brexit – primarily because we know what they'll be. The PM hopefuls Jeremy Hunt and Boris Johnson have tried to paper over people's concerns by offering up some cash. This creates a problem. Because if we have money for a no-deal Brexit, how come we don't have money for un-idiotic things?
Show us the money
Hunt defended the promise, claiming Philip Hammond has amassed a 'Brexit war chest'. When asked where he'd got the money to amass anything, Hunt said:
Read on...
Umm… we found some money… in a tree? But not a magic money tree! There is no magic money tree – I really can't stress that enough
It was pointed out to Hunt that we'll also need a lot of money for this war with Iran he's been promoting, to which he replied:
Ah, well we'll get that money from the 'war-war chest'. And we got the money for that from… a second tree… which also isn't magical.
Command and plonker
When asked why we couldn't spend this money on the NHS instead of fighting America's wars for them, Hunt said:
Because America's saving up to buy the NHS.
Realising he'd said too much, he added:
And of course, by 'buy the NHS', I mean 'not buy the NHS'.
He then said the only four words that actually matter in this Tory leadership contest:
Brexit good, Corbyn bad.
The Brexit Party has now taken its seats at the European Parliament. In a typically farcical turn of events, it wasn't the sitting they had a problem with. And despite early claims of it being a protest, it turns out the Brexit Party just stood up wrong.
Brexit Party MEPs turn their back as the European Union anthem is played in the Strasbourg Parliament. pic.twitter.com/B58eWR0PJ5

— Philip Sime (@PhilipSime) July 2, 2019
Ode to oh boy
During an intermission, the Brexit Party MEP Simon Brick-Headington confirmed:
Was it a protest? No – the protest is planned for later on when they play the EU anthem.
When it was pointed out that the anthem had already been played, Brick-Headington laughed and said:
I think you're confused. The EU anthem is Blue (Da Ba Dee) by Eiffel 65.
This resulted in much blinking from the gathered journalists. Eventually one of them asked:
So how will you protest when they do eventually play… what you think is the EU anthem?
The MEP smiled and leaned in close:
Don't tell anyone, but we're planning to piss and shit ourselves en masse. That will let the EU know we've arrived. Just imagine the awful smell they'll have to put up with!
Brown (Da Ba Dee)
A journalist asked if Brick-Headington would feel any embarrassment for publicly shitting himself. The MEP looked confused and asked:
Embarrassment? What's that when it's at home?
He then went back to carry on representing the United Kingdom of Great Britain on the world scale. This is unfortunate, as although there's much to actually protest the EU about, the Brexit Party's main worry seems to be that it's not subservient enough to the US. That and the fact it chose the wrong anthem.
The Liberal Democrats have been touting themselves as the alternative for anyone who wants to Remain. Having revealed their position, however, it… err… doesn't look any different from Labour's?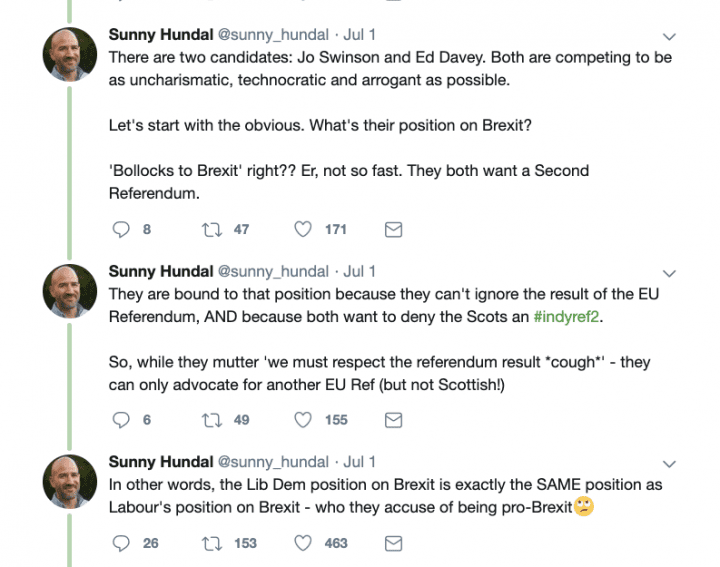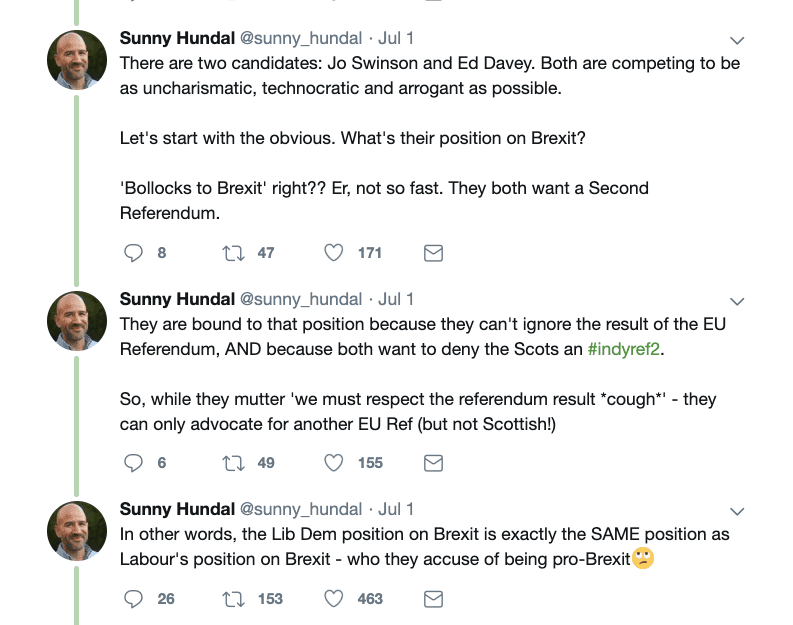 Look, if you're going to tell me the Lib Dems have a *very* different position to Labour on Brexit, then tell me what it is. Other than a Second Referendum (also a Labour position!) – what are they advocating for?

Ignoring the Referendum result? No. Revoking A50? No. 🤷🏽‍♂️

— Sunny Hundal (@sunny_hundal) July 1, 2019
But there must be some difference, right? Well, yes. According to one inside source, the Lib Dems' policy does have considerably more bollocks in it.
Remainocrats
The insider explained:
I basically just went through Labour's proposal and added 'bollocks to' before every instance of the word 'Brexit'. I wondered if this might be a bit cynical – you know – claiming to have a unique position on Brexit when actually we didn't have anything. Then I remembered we don't have good answers for any problem, so it's con Remainers or nothing.
Their policy isn't exclusively word play, however. The Lib Dems' Brexit manifesto also features pictures of a rowdy Vince Cable giving the finger to several prominent Brexiteers. When asked if this macho Remainerism was a suitable replacement for having an actual plan, Cable smacked us in the head and downed another Leffe.
Prospects
To be fair to the Lib Dems, it does make sense for them to cling to this one issue. They literally have nothing else. When voters realise they don't even have this to offer, it probably won't go well for them.
The public – by and large – fucking hate fox hunting. Tory members – by and large – couldn't give a shit and want to torture animals anyway. This has given Jeremy Hunt – who only has to appeal to Tory members to become PM – an idea.
Or it did for about 45 minutes, anyway:
Jeremy Hunt backed and then immediately U-turned on fox hunting and people are very confused https://t.co/JQ7dYTUbj1

— indy100 (@indy100) July 4, 2019
He's now got a new idea. Realising he could never get fox hunting through parliament – and that it would make him less popular than the guy who managed the NHS from 2012-2018 – he's proposed something slightly more achievable.
The Hunt becomes the hunter
In a speech to Tory members, Hunt said:
Look – we all know that fox hunting is a proud English tradition. I can't get it through parliament, but I can do the next best thing – and that's personally hunt down and strangle a fox myself!
The Tory members looked confused. An awkward Hunt ignored this and set off on his horse. As he isn't really one of those rural Tory-types, he'd actually turned up on a Vespa. He'd also brought cats instead of hounds – all of which immediately scratched him and ran off.
The oddity 
Hunt spent the next several hours prowling around the supermarket car park he'd mistaken for the countryside. Although it did have some bushes around it, it didn't have any fox dens. It did have some hedgehogs, however. Hunt found this out to his terror when he went in the bushes for a piss and found himself surrounded.
"Clever girls," he said.
The would-be PM was found several hours later, having suffered a grievous prickling. His odds of becoming PM remain the same, i.e. non-existent to laughable.
Jeremy Hunt began this leadership race a loser and he'll end it a loser. He doesn't seem to get that, though. This is why he's making a series of increasingly unhinged promises to the Tory membership.
Promises, promises 
Over the past 24 hours, Hunt has promised to:
Send our troops back to the Falklands/Normandy/the Crusades.
Give tax rebates to tax dodgers.
Construct a statue of Margaret Thatcher in every supermarket car park.
Replace the NHS with a giant whipping machine that's treadmill-powered by the 'plebs' it whips.
Start a bidding war for Scotland between Cuba and North Korea.
Use science to bring back extinct animals so that rich twats can hunt them back to extinction.
Use science to bring back Alf Garnett and record 1,000 more episodes, but this time without the satire.
Enact something called 'MEGA BREXIT'.
So far, none of these promises has won him any favour.
Total Hunt
It would be easy to feel sorry for Hunt. Oh no – wait – it wouldn't, would it? Because this is the guy who spent the best years of his life gleefully trashing the NHS.
Although it's a travesty that we're going to end up with PM Johnson, it has at least been fun watching his rivals get their dreams crushed.
A judge has found Stephen Yaxley-Lennon (AKA Tommy Robinson) guilty of contempt of court. This is despite him assuring the judge that he was "one of the best patriots going".
Indefensible
Robinson offered a number of unique defences. He claimed his 'patriotism' should make him immune to any crime. Examples of his patriotism included the fact that he:
Owns the complete DVD collection of Only Fools and Horses and has started making his way through the extras.
Always wears a Union Jack thong.
Sings "it's coming home" every time the England squad gets so much as a throw-in.
Trashes the European bistro he's in every time the team playing the England squad gets so much as a throw-in.
Sings the national anthem to conclude a long night of cocaine abuse.
Only 'cracks off' to vintage pics of Page 3 girl Sam Fox.
Is cynically using the crimes committed by Muslims to wage a culture war against all non-white people in the interest of achieving racial purity.
Verdict
The judge described Yaxley-Lennon's vision of 'patriotism' as:
Tawdry, depressing, pig-headed, criminal, and racist.
Yaxley-Lennon replied:
Yeah, that's what I'm saying, so how come you won't let me off?
Featured and in-story images via Chris McAndrew – Wikimedia / Flickr – Rupert Colley / Flickr – NHS Confederation / pixabay / Flickr – CentreForCities / YouTube – Guardian News / Wikimedia – EU2017 Estonian Presidency / Flickr – Foreign and Commonwealth Office / YouTube (images were altered)
We know everyone is suffering under the Tories - but the Canary is a vital weapon in our fight back, and we need your support
The Canary Workers' Co-op knows life is hard. The Tories are waging a class war against us we're all having to fight. But like trade unions and community organising, truly independent working-class media is a vital weapon in our armoury.
The Canary doesn't have the budget of the corporate media. In fact, our income is over 1,000 times less than the Guardian's. What we do have is a radical agenda that disrupts power and amplifies marginalised communities. But we can only do this with our readers' support.
So please, help us continue to spread messages of resistance and hope. Even the smallest donation would mean the world to us.
Support us