The week in satire Vol. #127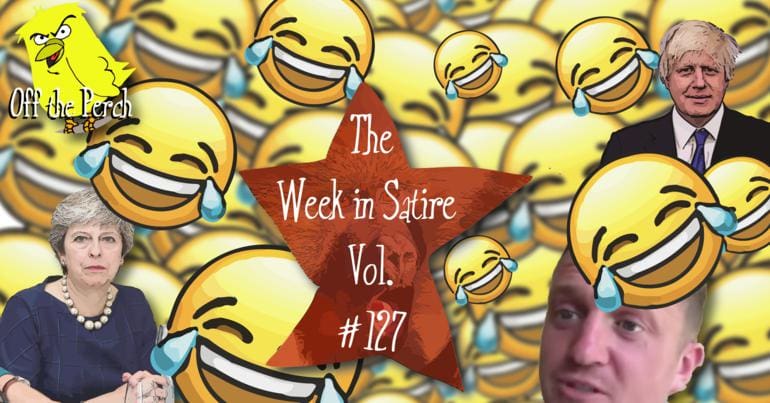 Support us and go ad-free
And what a week it was!
A week in which Boris Johnson showed the country what he's made of! A week in which the country wondered what we've done to deserve this! And a week in which the Tory members hungering for Brexit screamed, "HARDER!"
But what else happened?
Let's look back and see:
A recent leak revealed that the UK ambassador to the US thinks Donald Trump is a blundering, incompetent dunce. In other words, he thinks what everyone – who isn't a prominent Tory – already thinks.
But what does the US ambassador to the UK think of our leadership? A fresh leak has revealed exactly that.
Read on...
LOL
The leaks cover a period from 2017 until just yesterday. One of the earlier ones sees the ambassador Hoagie Skunktwerks saying:
It's difficult to explain how badly this general election is going for Theresa May. A friend described it to me as a drunk ballet dancer trying to pirouette on an oil slick. That's close, but you also need to imagine the oil being on fire.
The post-election communique read:
😂😂😂😂😂😂😂😂😂😂😂😂😂😂
A later message said:
Jumping Jesus, she's made Boris Johnson the foreign secretary! At least I think she made the decision. It's not clear who's actually in charge. Oh – and if you don't know who Johnson is – imagine if an idiot and a scarecrow had a baby, and it was raised by an aristocratic polar bear.
The most recent one said:
Theresa May just resigned? Didn't she resign months ago? It's difficult to keep up with these people. She's certainly not done much leading in a while. But anyway – now the leadership contest begins. They're going to be queuing up to kiss our asses; I'm going to go get my mine waxed and bleached in preparation!
Shambles
As idiotic as Trump is, the UK isn't doing much better. It's barely even doing the same. It might even be doing worse.
And let's face it – if there's one man who can out-incompetent Trump, it's Boris Johnson.
Stephen Yaxley-Lennon (aka Tommy Robinson) has 'begged' Trump to give him political asylum. When people made fun of him for his previous stance on asylum seekers, Yaxley-Lennon had a better idea. He's now asking:
Please Mr Donald, sir, president, pal – make me the UK ambassador to the US!
International man of mockery
The timing has worked out well for little Stevie. Trump is currently refusing to speak to our man in Washington. This came about after a leak revealed the ambassador thinks Trump is something of a clueless, incompetent orangutan. Trump replied by saying:
No one calls Ronald J. Trump incontinent!
Yaxley-Lennon claims to have all the skills needed to be the UK ambassador. Or at least all the skills that Trump would like in a foreign country's representative, anyway. He doesn't seem to understand that the ambassador is there to serve us – not kiss the president's arse on our behalf. Although it's easy to see why he'd be confused given the way the government humiliates itself for Trump's amusement.
Desperation
In his message to Trump, Yaxley-Lennon said:
If you make me ambassador I'm willing to do the one thing you want from an underling: that's whatever you ask, no matter how embarrassing it is. Please – don't let them bang me up! The prisons every right-winger says aren't harsh enough are actually fucking horrible!
Trump has yet to respond to Yaxley-Lennon's request. Other people have, though. Most of them are saying:
Ha ha ha!
Boris Johnson and Jeremy Hunt debated on 9 July. But who won? Well, as the Tory membership has already decided to go Johnson or go home – the winner was whoever avoided watching.
State of affairs 
Hunt continued his strategy of answering as if every question was 'what do the Tory membership want to hear?' This meant responses like:
I'm… tough on crime? I'm tough on Iran? I'll be firm with Trump? I'll do whatever Trump wants? I'll dress like a giant chicken and practice auto-erotic asphyxiation? I'll cull squirrels to reduce TB in postmen? I'll gentrify Hadrian's wall?
Johnson, meanwhile, continued his strategy of not really needing a strategy because he's already 'won'. This meant answers like:
Well yes, I should probably something.
And:
Could somebody call me a taxi?
Off the hook
As both Johnson and Hunt have spent the last decade in and out of office, the two men could have faced questions like:
So the NHS is fucked. Why don't you explain yourself, Hunt?
And:
So Garden Bridge was a load of old bollocks. Why don't you explain yourself, Johnson?
Or:
So the country's fucked. Have either of you two clowns considered just fucking off?
That they didn't, shows why the true winner of this debate was the people who didn't watch.
When President Trump attacked our ambassador, would-be PM Boris Johnson showed everyone what he's made of. Namely by throwing the ambassador under the bus.
Johnson has made clear exactly how little spine he has. Trump – who takes great joy in tormenting the worms who wriggle around him – has been having some fun with his.
To the wolves
Trump began by mocking Johnson's hair – a cut that's almost as shabby as his own. The former foreign secretary immediately blamed his barber, but the spurned stylist argued:
You think I want to cut his hair like that? He comes in with £5 and a picture of Worzel Gummidge and tells me to get to work. He reckons that the crapper his appearance is, the more people forget about his overall shitness.
Trump mocked Johnson's clothes next, prompting the man to ditch his tailor. The spurned shop worker said:
Boris always looks like a child in his dad's suit because he won't let me measure him properly. He just sits down in a chair and tells me to make do with what I can get at.
Family affair
The final betrayal came when Trump said Johnson himself is clearly an inferior product. In response, Johnson went on the news to say that his mother "indulged in absinthe and cigars every day of her pregnancy".
Johnson's parents responded by labelling him an:
Oily, brown-nosed weasel.
It's not clear if this was an insult, as the Johnson family crest is an image of a brown-nosed weasel oiling itself.
Because he needs to look tough, Jeremy Hunt is proposing that we expand the navy. Although, to be fair, this is a picture of him in Britain's last warship:
Jeremy Hunt has said the Royal Navy has been 'run down too much' https://t.co/JQgSW3VEVK

— The Telegraph (@Telegraph) July 12, 2019
Could building more boats be a boon for British manufacturing? Probably not. Because like all important Tory projects, Chris Grayling has been put in charge for some reason.
Lost at sea
Grayling immediately awarded the contract to the ferry company that didn't have any ferries – that's Noboats Incorporated. They've assured journalists that they've upped their game since then, however. They even put on a little display.
"Thank you for coming to our demonstration," the Noboats rep said. "Now if you look to the pond beside us, you can see our latest experiment."
Initially, people didn't know where to look. They couldn't see anything floating in the water besides a plank of timber. It turned out this was the demonstration, though.
"It's called wood," the rep explained. "Through extensive testing, we've discovered that it floats. By nailing several hundred thousand of these so-called 'planks' together, we believe we can construct a fully operational dreadnought battleship. Although we will need several more billion pounds on top of what we've already billed you for. Up front. No refunds."
Sunk
Thankfully, Grayling didn't have the authority to action this yet. He possibly won't in future. Unless Johnson puts him in charge of something, of course, which he definitely will, because this country is cursed.
A recent interview – and indeed Johnson's entire career – suggest the man has no clue how to achieve Brexit:
In the least surprising news of the century, when Andrew Neil asked Boris Johnson one simple question about the details beneath his Brexit masterplan, it turned out he has absolutely no idea what he's talking about.pic.twitter.com/3oOVrrR8qQ

— Graham Lithgow (@grahamlithgow) July 12, 2019
Johnson has now released a plan. A plan that people immediately recognised…
Blow the bloody doors off
The edited Brexit plan is clearly edited from the Italian Job Wikipedia page. It reads:
Boris Johnson is released from being Mayor of London and meets up with Michael Gove, the lackey of his friend and fellow nice chap Rupert Murdoch, who has been killed by red tape while hacking dead women's phones in Fleet Street. Gove gives Johnson his boss's plans for the Brexit that attracted the hostile attention of Euro-twats, which details a way to steal a great deal in the city of Brussels…

The rest of the gang, having sneaked out of the EU in a red bus while disguised as politicians, rendezvous with the coach in Brussels. On the absolutely flat roads, driver "Big" Nigel loses control of the coach. The back of the bus is left teetering over a small ditch and the Brexit slides towards the rear doors. As Johnson attempts to reach the Brexit, it slips further. The plan finishes on a literal cliffhanger with Johnson announcing: "Hang on a minute chaps, I've got a great idea".
Typically – Johnson chose to rip off a plan that ends without getting to the plan part.
The Eton Job
Johnson hasn't actually denied plagiarising the summary. When asked about it, he just sort of mumbled for 25 minutes. He then excused himself and walked into what turned out to be a broom closet.
So definitely PM material, then.
Featured and in-story images via Think London – Wikimedia / Steve Fareham – Geograph / Public Domain Pictures / pexels / Flickr – EU2017 Estonian Presidency / YouTube – Sky News / YouTube / pixabay / Annika Haas – Wikimedia (images were altered)
We know everyone is suffering under the Tories - but the Canary is a vital weapon in our fight back, and we need your support
The Canary Workers' Co-op knows life is hard. The Tories are waging a class war against us we're all having to fight. But like trade unions and community organising, truly independent working-class media is a vital weapon in our armoury.
The Canary doesn't have the budget of the corporate media. In fact, our income is over 1,000 times less than the Guardian's. What we do have is a radical agenda that disrupts power and amplifies marginalised communities. But we can only do this with our readers' support.
So please, help us continue to spread messages of resistance and hope. Even the smallest donation would mean the world to us.
Support us