The week in satire Vol. #128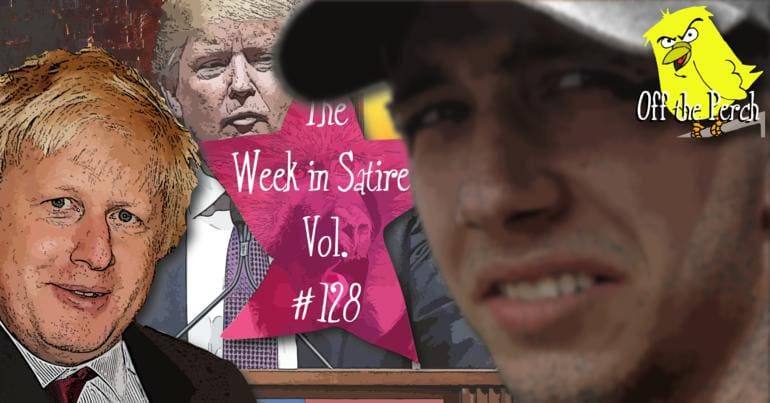 Support us and go ad-free
And what a week it was!
A week in which people said for the last time, "At least Boris Johnson isn't prime minister!". A week in which people also said, "Oh god – this time next week he will be!". And a week in which people said: "How does everything keep getting worse!?".
But what else happened?
Let's look back and see:
On 14 July, the England team won the Cricket World Cup. Joy soon turned to dread, repulsion, and horror, however, as the victory prompted Theresa May to once more do the dance.
Read on...
Well done @EnglandCricket! #CWC19Final #ENGvsNZ pic.twitter.com/D3aGf1eTU2

— Theresa May (@theresa_may) July 14, 2019
May day
When she arrived at the cricket match, she told one journalist:
I became prime minister to destroy working-class communities and win sports tournaments, and I'm all out of working-class communities.
Upon victory, she launched into the dance that's alternatively known as the 'Maybot' and the 'Oh God, Please Make it Stop'. One terrified onlooker said:
She has so many sharp angles. When I looked up and saw it, I thought someone had tipped a draw of cutlery out over my head.
May first unveiled the May dance at the Tory conference. Appearing on a stage cast from the compressed ashes of all the human beings she's destroyed, May proceeded to jive like a praying mantis on the mass grave.
The England cricket team has since issued an apology.
Look, we really are very, very sorry. We thought she only danced when confronted with people who have less money than her; we didn't realise a happy event might set her off too.
End of Mays
May's legacy is pretty much secure at this point; she is, without doubt, one of the most useless prime ministers we've ever had. It seems like she's trying to distract from that by making herself 'the PM who did that awkward/nauseating dance'. She'll fail to distract most people because of the aforementioned uselessness.
America's racist president Donald Trump made a comment so racist the other day that even some of his fellow racists had to acknowledge it as racism.
Not all of them have done so, however – some have just kept their mouths shut. Unfortunately for the Tory leadership candidates, they aren't in a position to avoid the subject. Instead, they played a game called:
Let's Distance Ourselves from Trump's Clearly Racist Comments Without Saying the Word Racism™.
Why are we scared of calling Trump racist? "Not helpful to use that kind of language", says Hunt. It either is or isn't racist, calling it out is not a slur or lowering the tone. Johnson's answer similarly wet. FFS.

— Arj Singh (@singharj) July 15, 2019
Dancing around the subject
The Tory leadership hopefuls realised they couldn't just straight-up endorse racism. They also couldn't properly call it out, as racists like Donald Trump wouldn't like that. When asked how he'd describe Trump's comments, Jeremy Hunt answered:
I'd probably say… prejudice-esque?
Johnson described it as:
Culturally unproductive?
The interviewer kept on the point – directly asking if they'd use the word 'racism' to describe the racist comments. In response, both men asked if they could describe their thoughts by way of charades.
Johnson performed what appeared to be a harrowing enactment of a person being racially abused – the sort of racism that he himself has encouraged. Hunt acted out the entirety of the crusades, which also felt ironic, as he's currently pushing for another war in the Middle East.
Farce and farcer
On the one hand, it's good that these two men have sort-of almost called Trump out.
On the other, we're clearly facing the same situation we had with May, whose mixture of simpering appeasement and occasional mild criticism created a situation in which she didn't seriously challenge the orange baboon, and yet he still treated her like a total fuckhead.
Following his latest incidence of blatant unfettered racism, Donald Trump claimed 'not to have a racist bone in his body'.
Those Tweets were NOT Racist. I don't have a Racist bone in my body! The so-called vote to be taken is a Democrat con game. Republicans should not show "weakness" and fall into their trap. This should be a vote on the filthy language, statements and lies told by the Democrat…..

— Donald J. Trump (@realDonaldTrump) July 16, 2019
Despite the confidence with which he tweeted this, Trump is flat-out refusing to release his most recent bone exam.
Release the test
Although Trump won't release the test, a whistleblower from the bone lab has come forwards. According to them, Trump actually doesn't have a non-racist bone in his body.
The unnamed bone boffin revealed the following:
I've never seen anything like it. His ribs all had 'Make America White Again' on them; his pelvis is a Confederate flag. The back of his skull has a depiction of the 21st century's most infamous racist – President Donald Trump.

Even the tiny little bones in his feet had tiny little swastikas. They'd all been inscribed backwards, but that's a pretty common mistake among dipshit racists, to be fair.
Tweetstorm
Trump objected to the leak, saying:
This so-called anonymous bone loser is FAKE NEWS and a CROOKED DEMOCRAT!
He later tweeted:
What's racist about a man having hundreds of tiny swastikas carved into his bones? Do you think that's racist? I don't see why that's racist.
And then:
The people screengrabbing my previous tweet are FAKE NEWS and CROOKED DEMOCRATS!
The congresswomen of colour he initially attacked had a smarter response. Although, to be fair, any response to Trump is by default the 'smarter' one:
You know what we're going to do tomorrow?

Same thing we do every week. Fight for:
✅ Living wages & unions
✅ A humane border
✅ Healthcare + edu as rights
✅ Loosening the grip of corp lobbyists on our democracy

They can stay busy defending racism.

We've got things to do.

— Alexandria Ocasio-Cortez (@AOC) July 15, 2019
It's clear that Boris Johnson hasn't actually done any planning – whether that be for:
Brexit.
Becoming prime minister.
Life.
He has now fleshed out his vision of what Britain will look like post-no-deal Brexit, though. It's exactly as ridiculous/terrifying as you'd expect.
No deal. No sense.
Johnson began with all this:
Live : he's finally lost the plot.
He is actually insane. 😱😱 pic.twitter.com/GeNuTAqZnI

— Alex Taylor (@AlexTaylorNews) July 17, 2019
After assuring everyone that we'd have "water" and "Mars bars", he went on to promise:
And buildings! We'll still have most of the buildings. Definitely the sturdier ones. I can probably guarantee that the majority of structures will survive. We might even build a few new ones.

But what of food, I hear you ask? Shortages? I hardly think so! I mean… sure… maybe the slop we'd grown accustomed to will change, but what if I said you could have newer food? Better food? Take chicken for example – aren't you sick of it? Wouldn't you rather have a delectable London street pheasant?
When pressed on what this bird was, Johnson admitted he was talking about pigeons. He argued:
Pigeons are actually the tastiest fowl there is. The only reason we can't eat them is that blasted EU red tape. The same is true of rats. And dirt. All of which you'll soon be gorging yourself on.
Promises, promises
If there's one thing we can take away from Boris Johnson promising there'll be drinking water post-Brexit, it's this:
There will be no drinking water.
Boris Johnson isn't afraid of threatening to do things. He recently threatened to 'prorogue' parliament – i.e. 'disband' it – to get no-deal Brexit through. MPs responded by saying they'd just stop him from doing this. Johnson has predictably now threatened to prorogue them to stop them stopping him proroguing them.
Slippery dope
Similarly predictably, one MP said:
We'll vote to stop him doing that, too. It's getting silly now. It's like he just comes out with whatever nonsense comes into his head for the sake of saying something.
Johnson shot back:
If they threaten to stop me proroguing them to prevent me proroguing them, I'm afraid I'm going to have to prorogue them.
The same MP as earlier said:
This is exactly what I'm talking about. Obviously he's not thought this through. What's he going to say next – 'I'll prorogue them times a million'? He's got all the sense of a skip full of dead clowns.
The never ending Tory
Johnson responded to this last point by saying:
I'll prorogue the rotters TIMES INFINITY.
Our MP shot back:
What a dickhead. WHAT A DICKHEAD! I've had enough of this prick. I'm gonna march over there and punch him right in his stupid fucking face.
Caroline Lucas then did exactly as she'd threatened to do before eventually being restrained by five police officers. This is the effect that the likely Johnson premiership is having on otherwise peaceful politicians.
We've known for some time that Boris Johnson will almost certainly be the next prime minister. We've known, but let's be honest – we haven't believed it. How could anyone accept something so ridiculous?
Now – as the coronation date draws near – the dreadful idea has finally sunk in.
The worst timeline
Off The Perch spoke with some of the shell-shocked people on the streets. One man told us:
The past nine years have seen Britain becoming increasingly – let's be forthright – fucked. The answer to the million and one problems we face is not Boris Johnson. The guy's directly responsible for half the shit that needs solving, and partially responsible for the rest.
A woman said:
When Cameron and May got the job, they seemed halfway competent. You know – if you squinted a bit and only paid attention to the media. Johnson doesn't even come across well in the gutter rags that support him. Imagine how much worse he's going to be at actually doing the job!
A non-binary person told us:
I don't think he'll be the worst PM we've ever had, but only because he won't have time. My guess is he'll get the job; accidentally declare war on New Zealand; have a complete nervous breakdown; find himself running naked through Luton, and then call a general election. All in all, I reckon he'll be PM for about 45 minutes.
Wishful thinking
Although it's finally sunk in that Johnson will be PM, it hasn't sunk in how bad he'll be. It probably won't until his first fuck up.
In other words, we won't have long to wait.
Featured and in-story images via ktanka – Wikimedia / Paul Fisher – Flickr / Foreign and Commonwealth Office – Wikimedia / Max Pixel / Wikimedia – Toglenn / Flickr – Chatham House / Wikimedia – Gage Skidmore / pixabay /YouTube – Guardian News / Theresa May – Twitter (images were altered)
We know everyone is suffering under the Tories - but the Canary is a vital weapon in our fight back, and we need your support
The Canary Workers' Co-op knows life is hard. The Tories are waging a class war against us we're all having to fight. But like trade unions and community organising, truly independent working-class media is a vital weapon in our armoury.
The Canary doesn't have the budget of the corporate media. In fact, our income is over 1,000 times less than the Guardian's. What we do have is a radical agenda that disrupts power and amplifies marginalised communities. But we can only do this with our readers' support.
So please, help us continue to spread messages of resistance and hope. Even the smallest donation would mean the world to us.
Support us