The week in satire Vol. #129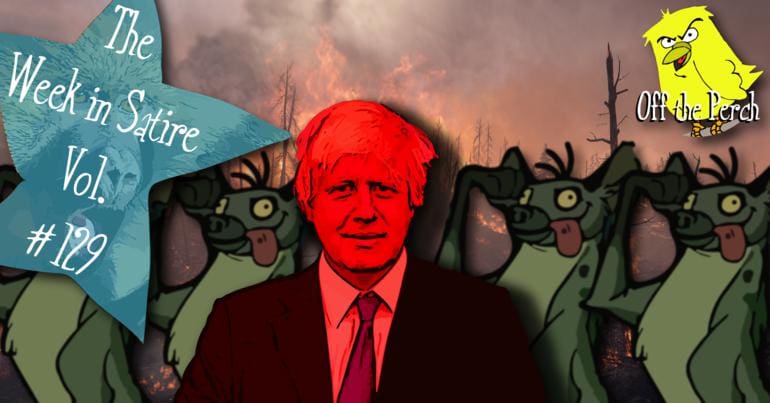 Support us and go ad-free
And what a week it was!
A week in which Brexit Johnson became PM! A week in which that somehow ended up being worse than expected! And a week in which shit got horribly fucking real!
But what else happened?
Let's look back and see:
The increasingly feral British media has landed another scoop: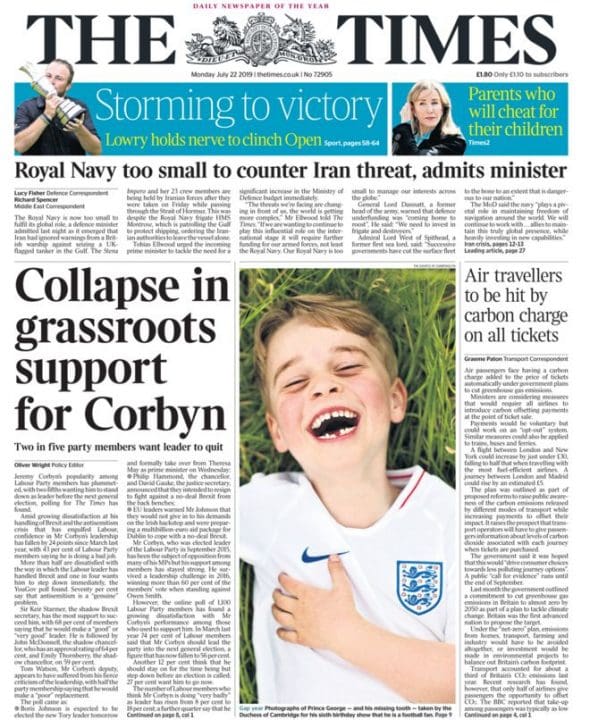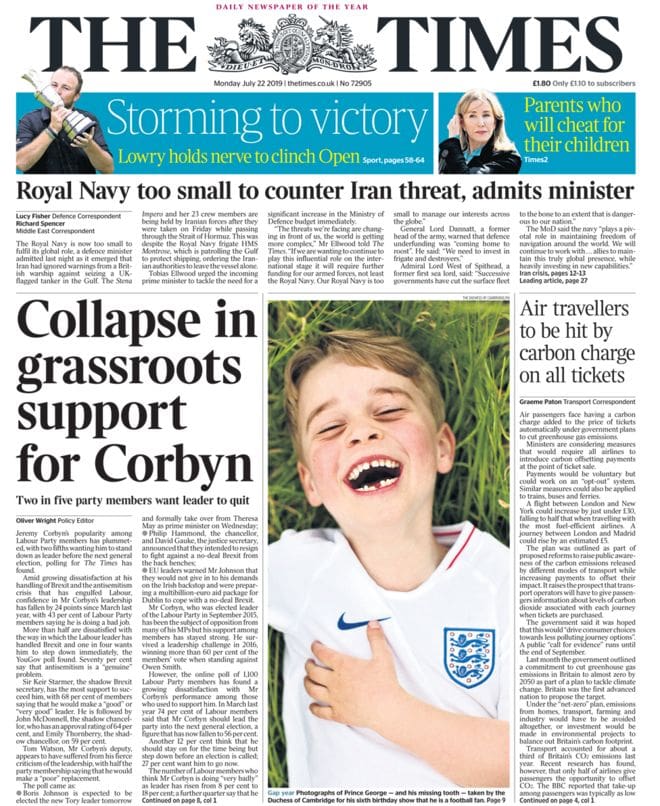 Read on...
Support us and go ad-free
But there's a problem. Because this is roughly the same level of support Corbyn had in the last leadership race. The one he won in a landslide. A 'landslide' being literally similar to a 'collapse' but figuratively quite different.
60% voted for Jeremy Corbyn in the last leadership election in 2017. New poll shows 60% want him to lead Labour into the next general election. Not quite sure how that amounts to a 'collapse' of grassroots support.

— Liam Young (@liamyoung) July 21, 2019
Collapse in journalism
Journalists from Rupert Murdoch's Times still have to maintain a veneer of professionalism, so one of them came out to say this:
Yeah – so a lot of you are pointing out that – to the untrained eye – it looks like Corbyn still has the same level of support he did two years ago. Right… okay… but the thing is, yeah… umm… well… so I guess it's not the same people supporting him as before, or something?
When asked to confirm if he knew what he was on about, the journalism-themed 'news'-regurgitator said:
So… err… some people stopped supporting him… but others started supporting him… thus… you know… disguising the collapse.
The new normal
When asked if you could really call this a 'collapse', the man said:
Well, I'm sure we could, because we have. Maybe we should have reported that Corbyn has lost the support of the better Labour types – the proper Corbynistas? Yeah – that might fly.
Having just come up with it, the 'journalist' left to go and write the 'news'.
Boris Johnson is prime minister. So that's… err… something.
While the rest of Britain notably won't be celebrating, Johnson himself wanted to do something to mark the occasion. He chose to run himself a bath.
Predictably, things somehow got out of hand.
Useless 
Johnson had been in the bathroom at 10 Downing Street for 45 minutes when an aide knocked on the door.
"Mr Prime Minister?" they called. "Are you okay?"
"It's the damndest thing," Johnson answered. "The blasted bath won't fill."
Once granted access, the aide quickly discovered two things:
Johnson's dressing gown only reached down to his upper thighs.
He hadn't put the plug in.
With the problem solved, the aide left Johnson to it. Some 20 minutes later, they came running back when they heard a cat-like wail from the PM.
"Mr Prime Minister?" they called through the door. "Are you okay?"
"No I am not!" he cried back. "It's the ruddy water. It's freezing cold!"
"Umm…" the aide said – knowing what they had to ask but worrying about saying it out loud. "…and you're sure you turned on the hot tap?"
Silence ensued.
"Ah," Johnson said eventually. "So there's more than one tap, is there? Oh well – third time's the charm, I guess."
Sub-prime minister
All seemed well, but then another moan came from the bathroom. When Johnson didn't answer, the aide barged their way in. They discovered that the PM had somehow filled the bath with jelly and got himself stuck inside.
Johnson – unable to turn his head – had a suggestion.
"I think we should try to arrange that brewery piss-up like you suggested."
Despite the best wishes of the Daily Mail, Britain has been racked by thunderstorms since Boris Johnson became PM.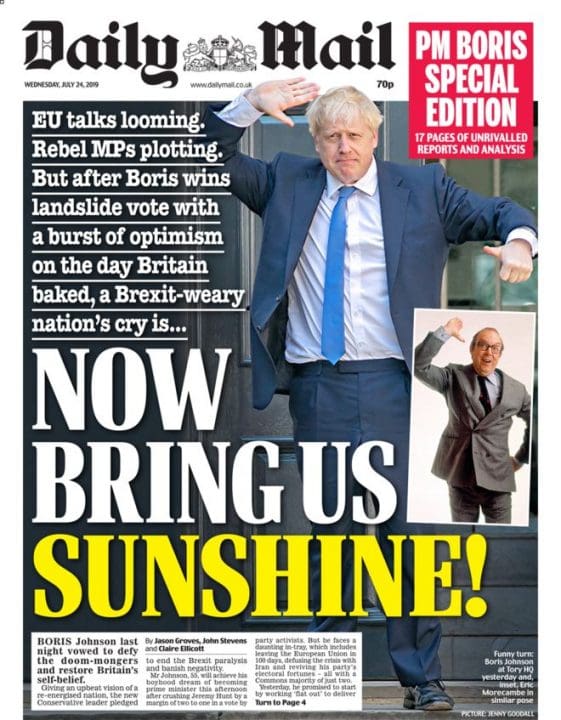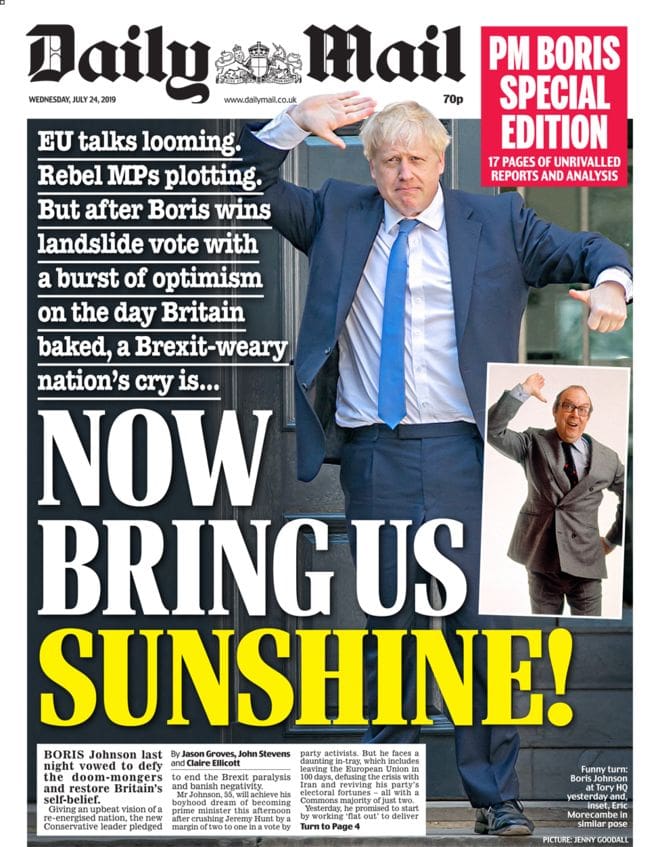 So is this all a coincidence? Or is it a message from the gods? A message which presumably reads:
What in our names have you little dickheads gone and done now?
The anti-Corbyn
The rump of Tory members who voted for Johnson love two things:
Brexit.
Hating Jeremy Corbyn.
This is why the Tory leadership hopefuls set themselves up as a series of anti-Corbyns – throwing his name in whenever they could. Johnson has even made anti-Corbynism one of the four main pillars of his leadership.
Deliver Brexit
Unite the country
Defeat Corbyn
Energise the people
– DUDE (BJ 2019)

What circle of hell have we descended into? https://t.co/hAMnhGkyrN

— Shresh Ramsout (@ShreshRamsout) July 23, 2019
But does his opposition to Corbyn / mild social democracy really mean Johnson is some sort of hellish devil man? Well no, not in itself. It's just that it does when you consider all the rest of it.
A high-ranking exorcist told Off The Perch:
You also have to look at Johnson's racism, his general bigotry, and his full-blown support for a decade of Tory policy. There's also the fact that he reeks of sulphur, and has the cloven hooves of a goat. And let's not forget those red horns which grow from his head if he goes too long without sanding them. That's why he keeps his hair looking like a fetid penguin nest.
Their Satanic travesties
The only problem with the Johnson-devilman theory is that many prophecies warn that the devil will be appealing when he comes. Beyond the handful of Tory members who voted him in, however, it's difficult to see who's charmed by this fiendish fop.
Despite stiff competition from May and Cameron, Boris Johnson has formed what may be the worst cabinet of all time:
Boris Johnson – Prime Minister
Sajid Javid – Chancellor
Priti Patel – Home Secretary
Dominic Raab – Foreign Secretary
Gavin Williamson – Education Secretary
Theresa Villiers – Environment Secretary

This isn't a cabinet. It's a medieval torture chamber. #cabinetreshuffle

— Chuka Umunna's Flip Flops (@WarmongerHodges) July 24, 2019
But where did Johnson get the idea for this coalition of treacherous morons? Surprisingly, the answer is Walt Disney.
The Lion Thing
Johnson has blatantly ripped off The Lion King (which is itself very possibly ripped off Japan's Kimba the White Lion). When asked why he's opting to mimic the political strategizing of an evil cartoon lion, Johnson said:
After this Scar fellow took power, he just kind of lounged around while the lady lions and hyenas did all the work. I really quite fancied that.
It was pointed out that while Scar did this, the entire Pride Land fell into something of a post-apocalyptic nightmare. Johnson continued:
Oh did it? I didn't really notice. I just saw that everyone brought fresh meat to the wily Scar while he did naff all. Did you know Scar went to Oxford? We goaded the same homeless man with a burning £50 note two years apart.
Hyena pride
Moving past that, Johnson was questioned as to whether he cared that the hyenas ultimately ended up eating Scar alive – ripping him to pieces with their sharp teeth.
"Oh did they?" a yawning Johnson asked. "I'm afraid I'd dozed off by that point. It's all this meat I'm gorging myself on – it really is making me rather… sleepy…"
As the PM fell asleep, Dominic Raab and Priti Patel entered the room. They each had an arm of the community nurse they'd just taken down in their mouth. Despite having recently eaten, both still looked hungry.
It seems like Johnson has gone from being the hyena in a pack of scabby lions to a scabby lion with a pack of scabbier hyenas. We'll see how that works out for him.
The planet is – quite literally – catching fire. Record temperatures are being smashed. The railways are melting. Our climate is collapsing.
So what's the most appropriate way of covering this?
Oh – I dunno – how about a picture of some fucking kids frolicking in a fountain or something?
The media continues to illustrate climate chaos stories as if they are about holidays. How about pictures of forest fires, dried up reservoirs and wilting crops. Because that's the reality, not endless days playing in the pool. pic.twitter.com/kapnlZozsy

— Miles King (@MilesKing10) July 25, 2019
lots of news outlets taking the same excitable "ooh we're going to break the record!" tone today

the planet is on fire and it's our fault and a lot of people are going to die, can you fucking not https://t.co/vzN1ou9hy4

— Dan Hett (@danhett) July 25, 2019
Three cheers for the apocalypse
Off The Perch caught up with the BBC's head meteorologist to find out why they're applauding the planet dying:
Well, it's exciting isn't it? Breaking records and that? We live in a very exhilarating time, as we're seeing weather records broken all the time. Did you know that the permafrost is catching fire now? That never used to happen! It's thrilling, right?
When asked why they didn't use pictures of these unprecedented ecological disasters instead of women sunbathing, the scientist told us:
We've been told not to use them because they might make people feel a bit sad-face. Also, we've already paid for the 'fun in the sun' pictures, so we might as well get the most out of them.
Post-sense
The predictions of climate collapse are all coming true. In many instances, reality is actually exceeding what we feared. But – as bad as that is – nearly as troubling is the media's urge to get the Pimms out and celebrate every time we lurch further towards the apocalypse.
Johnson – the man who planned a bridge that never happened – is planning a high-speed railway in the North. Which sounds great. Until you remember that railway lines are owned by degenerate human vultures.
Dick Branson
A leak has revealed what Virgin Rail has planned if the government is kind enough to build the company a fancy new railroad:
HS2 will allow us to transport commuters from Manchester to Leeds in half the time. That's great, because it means we can get away with making the journey TWICE as miserable.

These train pigs might think they're overcrowded now, but they haven't seen anything yet! We're planning double decker trains, but the top level will have no floors. Instead, passengers will stand on planks of wood held up by the commuters below them.

We can also get away with running half as many trains and charging twice the price. You know why? Because who's going to fucking stop us, that's why.
Pointless
Some people have suggested that building a fancy new railway line without nationalising it is like buying soup without getting a bowl. And yes – it is like that. It's going to be a hot, steaming mess that the next government will have to clean up.
Unless the Tories get in, in which case we'll throw money at Virgin Cleaning to fuck that up, too.
Featured image via Jarle Naustvik – Flickr / Max Pixel / pixabay / pixabay / pexels / YouTube – Disney / Wikimedia – Think London / pixabay / Wikimedia – Kuhlmann MSC / Flickr – Eva Rinaldi / pixabay (images were altered)
Support us and go ad-free
We know everyone is suffering under the Tories - but the Canary is a vital weapon in our fight back, and we need your support
The Canary Workers' Co-op knows life is hard. The Tories are waging a class war against us we're all having to fight. But like trade unions and community organising, truly independent working-class media is a vital weapon in our armoury.
The Canary doesn't have the budget of the corporate media. In fact, our income is over 1,000 times less than the Guardian's. What we do have is a radical agenda that disrupts power and amplifies marginalised communities. But we can only do this with our readers' support.
So please, help us continue to spread messages of resistance and hope. Even the smallest donation would mean the world to us.
Support us