Brian Cox's critique of John McDonnell sums up everything that's wrong with centrist logic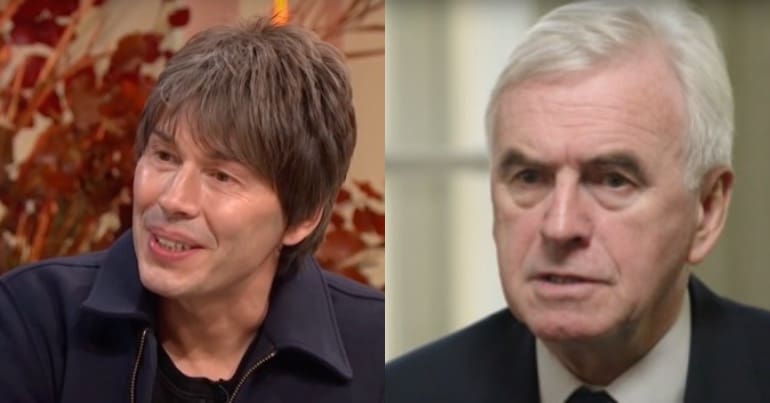 Support us and go ad-free
TV personality and physicist Brian Cox has been trashing John McDonnell for putting forward the shocking proposition that being friends with Tories who cause mass human suffering isn't for him. And his reaction symbolises everything that's wrong with centrist logic.
"I can't forgive them for what they've done… I've never seen human suffering like this."

Shadow Chancellor John McDonnell on why he won't be friends with the Conservative party.

Watch the full interview tonight at 22:30 @BBCTwo #newsnight | @maitlis | @johnmcdonnellMP pic.twitter.com/RmyvhLKiyI

— BBC Newsnight (@BBCNewsnight) November 21, 2018
Read on...
We should be friends with people who inflict mass human suffering, apparently
Countering McDonnell, scientist Brian Cox has moderately proposed that we should be friends with people who inflict mass human suffering. It's more polite, apparently.
But Cox isn't done there. According to him, if you won't be friends with such people, then it's apparently evidence you secretly desire to preside over a "one party state" – invoking images of despots like Joseph Stalin:
If you struggle to be friends with someone of the 'opposite political persuasion' then it seems to me that you believe a one party state is the way forward – because the only 'good' people are people who agree with you. Certainty suggests hubris – doubt suggests wisdom. https://t.co/2JWCMhBhZf

— Brian Cox (@ProfBrianCox) November 21, 2018
Novara Media journalist Ash Sarkar quickly pointed out what a ridiculous leap of logic this is:
I'm no professor, but isn't it a tiny bit of a leap from "I spend my leisure time with people who I share values with" to "Outlaw other political parties"?

— Ash Sarkar (@AyoCaesar) November 21, 2018
Centrist delusions
Cox's outburst is an example of the kind of absurdities that so-called centrism inflicts on people's reasoning.
In the world of a centrist, it's assumed that the major parties are separated by small reconcilable differences of opinion within an already settled economic and political consensus. And Cox's voting record seems to be indicative of this:
I'm not party political. I have voted for all three main parties in my life – depends on policy at time of election.

— Brian Cox (@ProfBrianCox) June 29, 2018
Therefore, within Cox's cosy, comfortable, liberal democratic world, we should tolerate and respect all political views. But what is absent here is an appreciation that this 'consensus' may have normalised destructive policy, or that the current government consists of extremists. Instead, the likes of Cox believe that all should be treated with equal respect and civility.
The limits of this position of extreme tolerance have been hilariously explored by comedian Aamer Rahman regarding the delicate issue of the ethics of punching Nazis:
Now you have to be friends with them too
But now, apparently, not only do we have to tolerate even the most reprehensible of our political opponents, we also have to be fucking friends with them.
So as Gove, Hunt, Rudd, May and co. pour petrol over our society, bursting it into an inferno of destitution, inequality and social misery, we're expected to take them to the pub, play Jenga, and just raise a few small niggles we have about policy.
So you could be friend's with someone knowingly implementing policies designed to punish the vulnerable like universal credit? Knowingly selling arms to be used against civilians? Knowingly destroying our planet for short term gain?

— Ed Poole #GTTO (@edwardpoole1975) November 22, 2018
This idea becomes possible because centrists presume that everyone is a well-meaning public servant, no matter how destructive, misguided, or executed on the behalf of special interests their policies are.
They hold onto this idea like a religious article of faith and they are completely blind to the possibility that some people are beyond the pale; that their policies are so toxic and destructive that perhaps they deserve to be condemned and ostracised.
The media's shocked reaction to McDonnell's comments perfectly illustrates this. McDonnell has blasphemed against their holy political consensus. And in their small bubble world, McDonnell and the Tories are (or should be) just rival colleagues in a convivial political soap opera. As such, anyone who can't be friends with rivals in this world must be an unreasonable crank – which is exactly how the mainstream media wants to frame him. The possibility that McDonnell is refusing to be friends with those who have normalised a situation of cruelty through public policy isn't even considered.
Cox's hypocrisy
Reacting to the incident, Cox declared on Twitter that:
Diversity of opinion is the defining characteristic of democracy.

— Brian Cox (@ProfBrianCox) November 21, 2018
But this was just after – I shit you not – he blocked someone on Twitter for disagreeing with him. Not very friendly behaviour, Brian. Why not just agree to disagree and go for a Nando's instead?
So what was the blocked user's crime? She asked a pertinent question about how far friendliness and civility should go with certain political opponents:
Not always. What if they were fascists?

— Janine (@celticrose111) November 21, 2018
To which Cox respectfully replied:
Your response is so vacuous I must block you.

— Brian Cox (@ProfBrianCox) November 21, 2018
Of course, Cox seemed to be invoking Godwin's law, which states that:
As an online discussion grows longer, the probability of a comparison involving Nazis or Hitler approaches.
This favoured liberal rule is frequently used to dismiss people who are raising basic, but insightful, moral comparisons about the limits of liberal democracy.
Based on Cox's unwillingness to engage with the question of fascism, he presumably assumes that to be friends with fascists is incomparable to the question of whether you should be friends with Tories. But as a philosophical point, what are the characteristics of fascists that make them incomparable to Tories?
Fascists have historically harmed minorities, poor people, and disabled people. They've inflicted violence and misery on others based purely on ideology. In short, the level of harm fascists have inflicted on others through their political projects makes them intolerable. That allows us to arrive at an important basic principle: that, at a certain point, the harm a political force inflicts on citizens makes them intolerable and certainly unworthy of friendship.
While I would not dare to argue that Tory policies are equivalent to those of fascist regimes, it is undeniable that the Tories have inflicted great harm on many people – albeit on a smaller scale:
Many people have died Brian as a direct result of Tory austerity. Real, living human beings, just like you or me. Many have actually committed suicide. Can you imagine what despair drives you to that point? I certainly wouldn't befriend someone who supports such cruelty. Wake up.

— The Left Reverend Red Robin 🙌 🌹 #GTTO (@BlogRedRobin) November 22, 2018
My son is 21, severely autistic and I watched him lose years of progress after a PIP assesment. Bed wetting, lost speech and stares to self harm again after what he was put through. I has to hide the knives and so he stares to bang his head against the walls. 1/2

— Rhea 🐉 (@Morrigan_Wolfe) November 22, 2018
Or more recently:
It's a disgrace that the Government response to the UN Special Rapporteur on extreme poverty, whose verdict is damning on its role in inflicting poverty & misery on millions of our fellow citizens, is to simply deny the reality of what is happening in our communities. https://t.co/JzFGMK0cnq

— Dan Carden MP (@DanCardenMP) November 22, 2018
Fuck being friends with Tories
These things considered, it is entirely reasonable for McDonnell to refuse the friendships of Tories.
Cox's reaction is reminiscent of when mainstream journalist Helen Lewis asked: "why is everyone so fucking angry?". It shows a contemptible ignorance of the scale of harm inflicted on society by the Conservative Party. And if Cox is aware of it, how on Earth could he in good conscience ask Labour politicians to be friends with its enforcers?
Perhaps it's Cox's own comfort and incubation from suffering that leaves him unable to comprehend why others choose to abstain from friendships with such destructive political forces.
The whole affair has parallels to Martin Luther King, who once wondered whether the greatest obstruction to black emancipation was:
the white moderate, who is more devoted to 'order' than to justice; who prefers a negative peace which is the absence of tension to a positive peace which is the presence of justice
Maybe one day we can all hug a Tory and be besties, but only when they choose to help fight social injustice at home and abroad, instead of enabling and supporting it.
We know everyone is suffering under the Tories - but the Canary is a vital weapon in our fight back, and we need your support
The Canary Workers' Co-op knows life is hard. The Tories are waging a class war against us we're all having to fight. But like trade unions and community organising, truly independent working-class media is a vital weapon in our armoury.
The Canary doesn't have the budget of the corporate media. In fact, our income is over 1,000 times less than the Guardian's. What we do have is a radical agenda that disrupts power and amplifies marginalised communities. But we can only do this with our readers' support.
So please, help us continue to spread messages of resistance and hope. Even the smallest donation would mean the world to us.
Support us