A letter from Alastair Campbell is the final straw. I'm grassing up the Lib Dems.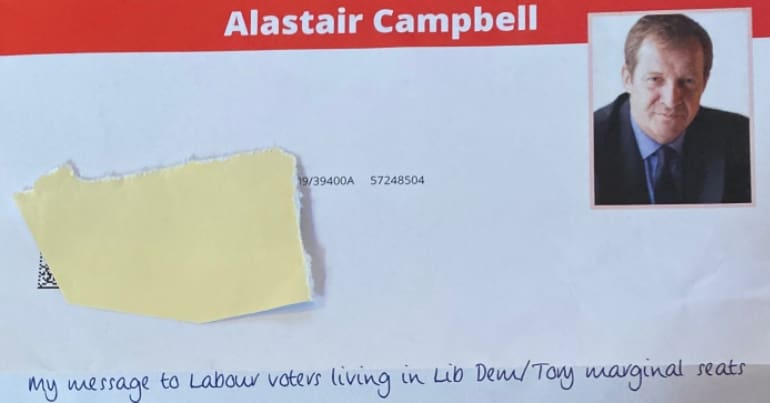 Support us and go ad-free
One of my personal rules in life is don't grass. But a letter I received from Alastair Campbell on behalf of the Lib Dems has pushed me over the edge and I'm reporting the party to find out if this meets the necessary standards or breaches electoral law.
Receiving a letter from 'dodgy dossier' Campbell isn't exactly something that would ever brighten my day. But this letter left me almost shaking with rage. Because it looks like it's sent from the Labour Party.
"My message to Labour voters"
The letter is entitled "My message to Labour voters living in Lib Dem/Tory marginal seats" and has a red header with Campbell's name alongside a photo. The letter has Labour's colours, features a known Labour figure and has no obvious markings whatsoever to suggest that it might come from the Lib Dems.
I showed this letter to my partner and asked him who he thought it was from. "Labour, obviously", was his response.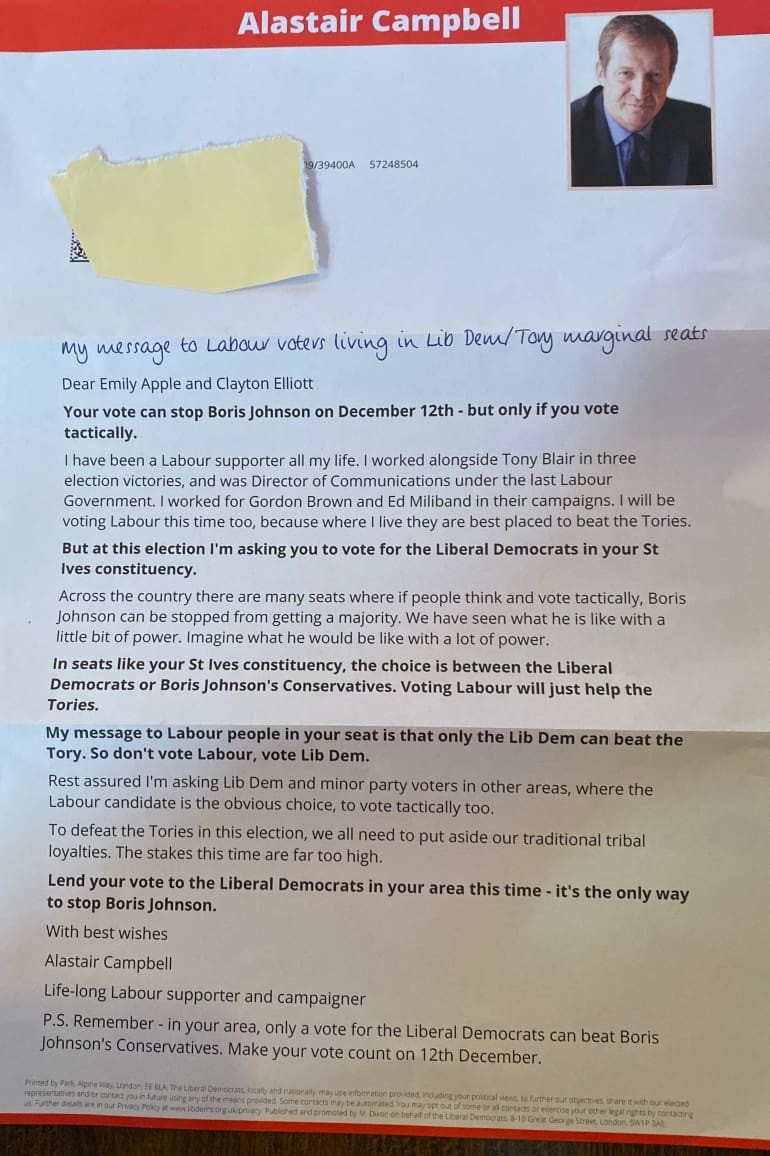 Read on...
Support us and go ad-free
Campbell claims to "have been a Labour supporter all my life" which is a little odd given he was expelled from the party in May after voting for the Lib Dems. And, according to the Telegraph, Campbell:
no longer wishes to be a Labour member, warning that Jeremy Corbyn is poised to lose the next election against Boris Johnson and destroy the party "as a political force capable of winning power".
Well, Campbell's certainly doing a good job of trying to make that happen. Campbell does, however, claim that:
Rest assured I'm asking Lib Dem and minor party voters in other areas, where the Labour candidate is the obvious choice, to vote tactically too.
Now, this is true. Campbell has written a letter that can be used by Lib Dems or Labour. And from Campbell's Twitter feed, it does look like he is supporting tactical voting. But this takes nothing away from the fact this letter is paid for by the Lib Dems and I think the way it's presented is deceptive.
Get your glasses ready for the fine print
At the bottom of the letter, in very small and very light print, the letter does state:
Published and promoted by M Dixon on behalf of the Liberal Democrats.
But even with good vision, you need to squint to see it. It reminds me of the Hitchhiker's Guide to the Galaxy when Arthur Dent is told the plans to knock down his house were available:
on display in the bottom of a locked filing cabinet stuck in a disused lavatory with a sign on the door saying 'Beware of the Leopard'.
Fib Dems
The Lib Dems have lied their way through this election from phoney bar charts, a letter from a polling expert who has since disowned himself from the Lib Dem's claims, fake newspapers to this dodgy letter – the party has shown itself to be utterly unscrupulous. Although perhaps that shouldn't be a surprise coming from the party that went into coalition with David Cameron and backed austerity.
Living in the ultra Lib Dem marginal of St Ives – where just 312 votes separated the Tory and Lib Dem candidates during the last election – I've had a small forest delivered of this crap on a daily basis. The amount of money the party has spent in our constituency must be eyewatering. At least living in a true marginal, the bar charts aren't as phoney as they are in some places.
And honestly, living in a marginal that's so close, I've agonised over whether I can lend my vote to the Lib Dems. But I can't. Partly because Alana Bates is a really good Labour candidate who's been on the frontline of campaigns for many years. Partly because I'm Jewish and it feels really important to me to register my support for Corbyn's Labour. And partly because I want to vote for what I really believe in.
On the same day I received the letter from Campbell, I also received a missive from our Lib Dem candidate Andrew George. George is touted as the candidate who isn't as bad as the other Lib Dems because he stood up to the bedroom tax. This letter is one of those phoney handwritten ones. And it states:
It is telling that respected former MPs sought refuge with the Liberal Democrats. Sarah Wollaston, Sam Gymiah, Luciana Berger, Stephen Dorrell, Chuka Umunna, Heidi Allen, and more.

They can see what others see. We are the best home for decent and moderate people.
So even without Campbell's intervention, this sealed the deal for me. Because I could not in good conscience ever vote for a candidate who's written a personal letter describing these people as "decent and moderate".
This is not a free and fair election
In June 2018, I travelled to Turkey to report on and monitor the elections there. At the time I wrote that it "was not a fair and free election". In that piece I documented some of the problems Kurdish voters faced and the climate of oppression that surrounded the election that went beyond ticking a box in a polling booth:
 A democracy is not just about being able to put a cross in a box every five years. It is about the process in which that election takes place. It's about the laws that govern the election. And it's about the freedoms that exist in the country as a whole.
I really didn't think that I'd be writing the same thing about a UK election. But whatever the result on 12 December, this election has not been free and fair.
Now obviously I'm not saying the situation is as bad as Turkey. The UK is not locking up journalists or opposition politicians. There isn't the "climate of fear" where thousands of people are in prison. But that doesn't mean there's been anything democratic about this campaign.
This is not what democracy looks like
Setting aside what the Lib Dems have done, it's the Conservative Party and the establishment media who've ensured this election isn't democratic. There are so many stories that show this – with politicians knowingly lying and mainstream journalists repeating their lies verbatim – this has happened on numerous occasions but perhaps the most striking example was the nonexistent punch that Tory sources fed to Laura Kuenssberg and Robert Peston, who regurgitated the lie to their millions of followers.
But one recent story really exemplifies how bad things are. A study by First Draft showed that 88% of paid for Tory party ads between 1 and 4 December were "not correct or not entirely correct". The figure for Labour? None. Zero. Zilch.
So how did the BBC, our supposedly unbiased neutral public interest broadcaster decide to report this? By burying it on its tech page with the headline:
General election 2019: Ads are 'indecent, dishonest and untruthful'
This story leads with a separate study that the BBC uses to clutch at straws to portray the parties as bad as each other. And you need to scroll over halfway down the page before you find the First Draft figures – figures based on looking at "every paid-for Facebook ad from the three main UK-wide parties run over the first four days of December".
Let's repeat this slowly. A report finds that 5,952 Conservative Party ads in four days involved lies or nearly lies. But instead of reporting this as headline news, the BBC runs a headline that makes all political parties look as if they're equally bad and buries the story on its tech pages.
We deserve so much better
So yes, I'm turning grass and reporting the Lib Dems for this deception. Because this can't carry on. We can't live in a system where major political parties can use lies and deceptions to win votes without consequences.
Luckily, we're not living in Turkey. Unlike many of my colleagues there, I'm free to write this without facing jail. And we do have the means to get alternative narratives – aka the truth – out in the world. Because of this, Labour still might do much better than any of the polls predict.
But these points aren't relevant. This has been the nastiest election campaign in living memory. This is not what democracy looks like and we all deserve so much better.
Support us and go ad-free
We know everyone is suffering under the Tories - but the Canary is a vital weapon in our fight back, and we need your support
The Canary Workers' Co-op knows life is hard. The Tories are waging a class war against us we're all having to fight. But like trade unions and community organising, truly independent working-class media is a vital weapon in our armoury.
The Canary doesn't have the budget of the corporate media. In fact, our income is over 1,000 times less than the Guardian's. What we do have is a radical agenda that disrupts power and amplifies marginalised communities. But we can only do this with our readers' support.
So please, help us continue to spread messages of resistance and hope. Even the smallest donation would mean the world to us.
Support us