David Attenborough's UN summit warning is his grimmest yet, and world leaders need to listen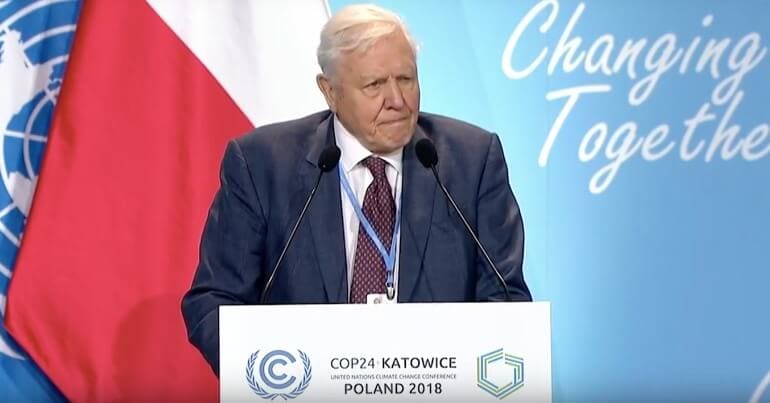 David Attenborough has been educating us about the environment for over half a century. The legendary naturalist has been consistently warning about climate change over recent years, and the 2018 UN climate summit saw Attenborough deliver his most chilling warning to world leaders yet.
Collapse of Civilisation
Attenborough was chosen to take the "People's seat" and make a speech to delegates at COP24, the UN climate summit in Poland:
Attenborough set the tone of his speech early, opening with a grim warning to world leaders:
Right now, we are facing a man-made disaster of global scale. Our greatest threat in thousands of years: climate change. If we don't take action the collapse of our civilisations and the extinction of much of the natural world is on the horizon
"I am only here to represent the voice of the people," he added. "to deliver our collective thoughts, concerns, ideas, and suggestions".
The naturalist then took aim at the delegates:
The world's people have spoken. Their message is clear. Time is running out. They want you, the decision makers, to act now. They're behind you, along with civil society, represented here today. Supporting you in making tough decisions but also willing to make sacrifices in their daily lives.
Attenborough concluded with an impassioned plea to world leaders, stating:
The people have spoken. Leaders of the world, you must lead. The continuation of our civilisations and the natural world upon which we depend is in your hands.
Attenborough's warnings
The award-winning naturalist has been consistently warning the world about climate change during the past two decades.
Attenborough was warning that the steep rise in global temperatures "is due to human activity" from as early as 2006:
In a 2011 BBC interview, Attenborough warned the evidence for climate change is "incontrovertible" and that these changes to the environment will have "catastrophic effects on the human race". In a 2012 interview with the Guardian, he warned that scientists were 'under-representing the dangers' of climate change and that the situation is "worse than we thought".
Attenborough even used his award-winning programmes Planet Earth and Blue Planet to warn us about climate change:
We must protect our planet, and all those creatures who call it home. #PlanetEarth2 pic.twitter.com/9WpOWbMXgr

— BBC One (@BBCOne) December 11, 2016
Leaders must lead
Attenborough's grim warning at the UN comes at a critical time in climate change history.
The latest World Meteorological Organisation report shows that the years 2015, 2016, 2017 and 2018 are the four hottest since records began and the past 22 years have included the 20 warmest. The UN states that in order to avoid going over a 1.5C rise in temperature, climate action must be increased "fivefold".
2017 saw Donald Trump turn his back on the Paris agreement. The US president remains sceptical of climate change, even ignoring factual evidence from his own administration. The world is also set to exceed the global warming targets set out in the 2015 Paris accord much earlier than previously thought.
Still hope
The COP24 summit hopes to establish a "rulebook" which will work towards making rules, clarifying financing, and creating ways to verify that nations are meeting their emissions targets.
Let's hope Attenborough's message resonated with these global leaders. The world needs to collectively work towards stopping climate change once and for all, before it's all too late.
Featured image via YouTube
Since you're here ...
We know you don't need a lecture. You wouldn't be here if you didn't care.
Now, more than ever, we need your help to challenge the rightwing press and hold power to account. Please help us survive and thrive.
Support