The Brexit campaigns broke the 'shackles of human decency', and the results are horrifying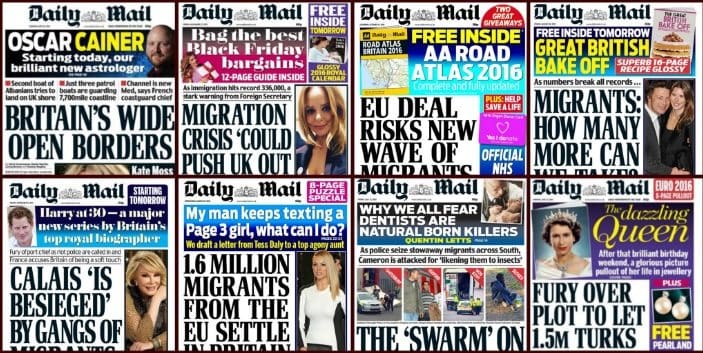 Support us and go ad-free
Hate crime is on the rise in Britain since the results of the EU referendum pointed Britain towards the exit of the European Union. In recent years Britain has had low levels of outwardly expressed racism, and we have grown complacent, thinking that to some extent we had overcome this weakness in the human condition, and undermined its position in our society. But the increasing incidence of blatant, in your face, racism experienced by people on the street, and in public life, has blown away the previous complacency and we are left facing a rising tide of hate crime of a predominantly racist nature.
The National Police Chiefs Council (NPCC) recorded a 57% increase in hate crime reports in the days after the referendum, compared to the same period four weeks previous to that. But that was just the initial surge, by the end of a full week the NPCC reported that hate crime incidents had increased from 63 pre-referendum to 331 post referendum, a staggering 525% increase.
There have been an increasing number of mainly racist hate crimes brought to light on social media. A shocking case on a Manchester tram showed three young men subjecting a non-white immigrant from the US to a tirade of foul racist abuse, calling him a "f*cking immigrant" and then throwing beer over him.
There have been cards distributed in Huntingdon containing phrases such as "No more Polish vermin". A halal butcher in Walsall has been firebombed in what the police are treating as a racist attack. And an Afro-Carribean day care centre had to be evacuated in Hulme, Manchester after receiving racist threats over the phone.
Professor Neil Chakrobarti and Dr Steve Hardy from the University of Leicester Centre for Hate Studies are convinced this recent increase in hate crimes is due to the "toxic climate" produced during the EU referendum debate. They think that this toxic climate has helped encourage people to publicly attack those they regard as different. Chakraborti says:
One key difference in the recent spate of hate incidents is that this behaviour has been fuelled and legitimised by politicians and by the media. Hostility towards 'difference' was present before the EU referendum but may have been largely confined to conversations in private spaces…

However, the toxic climate surrounding the referendum debate enabled this hostility to surface within political speeches, on front pages of newspapers and in everyday conversations within pubs, in classrooms and on social media platforms.

Read on...

Support us and go ad-free

When ordinary people have a political mandate to blame those who are different for society's ills then the shackles of human decency are stripped away.
The Brexit campaign is mainly responsible for creating this toxic climate during the referendum debate, and that does not mean everyone who voted Leave is racist. Many Leave voters abhor hate crimes in all their forms, but they would be hard-pressed to deny that the Leave campaign and supporting media did stir up and feed oxygen to the glowing embers of xenophobia.
Nigel Farage, prime toxic climate instigator
Although many in the Brexit campaign have contributed to this toxic climate there is one man in particular who has excelled himself. When Nigel Farage unveiled his anti-migrant poster showing a large orderly queue of mainly non-white refugees and migrants, he was roundly condemned, and the poster was likened to Nazi propaganda. The UKIP poster carrying the slogan "Breaking point: the EU has failed us all", was described by Dave Prentis of the union Unison, in The Guardian, as a:
blatant attempt to incite racial hatred… This is scaremongering in its most extreme and vile form. Leave campaigners have descended into the gutter…

To pretend that migration to the UK is only about people who are not white is to peddle the racism that has no place in a modern, caring society.
Your new poster resembles outright Nazi propaganda, @Nigel_Farage. Thanks to @brendanjharkin for pointing it out. pic.twitter.com/Rd89XZSvfD

— Connor Beaton (@cdbeaton) June 16, 2016
In June he was accused of "blatant scaremongering" by a fellow Leave campaigner when he suggested UK women would be under increased risk of sexual attack due to migrants. Asked whether increased sexual attacks by migrants was likely, Farage said, "It depends if they get EU passports. It depends if we vote for Brexit or not."
Farage also had his own "rivers of blood" moment when he predicted that "violence is the next step" if we lose control of the UK borders and voting doesn't change anything. At the moment there is no guarantee that the Brexit vote will remove us from the EU free movement of people agreement, as it may need to remain for the UK to maintain access to the European Common Market. Will Farage be saying 'I told you so' if violence breaks out then?
Upon winning the referendum, Farage plumbed new depths by saying:
And we will have done it without having to fight, without a single bullet being fired
Just 11 days after Jo Cox was brutally shot and stabbed to death by Thomas Mair, who is reported to have links with the far right group Britain First. A group that predicts, "Our country and Europe is heading for a civil war".
https://www.youtube.com/watch?v=9c9F0JBFPko
Media fanning the flames
The Daily Telegraph, Daily Mail and Daily Express were reported to the Independent Press Standards Organisation (IPSO), by campaign group InFacts, for running eight inaccurate stories about the EU before the referendum. The stories included overblown claims on the number of migrants entering the country, scare stories over migration increasing terrorism and exaggerated claims of the number of criminal convictions given to migrants.
One of the eight stories was by the Daily Mail which claimed EU migrants were convicted of 700 crimes per week. The Mail was forced to publish a correction to the story saying that the figure 700 actually referred to breaches of court orders and appeals, as well as convictions. The Telegraph was also forced to correct a similar story.
Another pro-Brexit story by The Daily Mail claimed that a group of migrants arriving in a lorry from the UK shouted: "We are from Europe – let us in". The Mail was forced to correct the story, saying the group was actually from the Middle East. Saira Grant, from the Joint Council for the Welfare of Immigrants, said of the Mail story:
Inaccurate stories like this lead to a toxic public debate which very much affects how we treat refugees and migrants who are often in fear for their lives and futures… we cannot continue to set our nation's policy in a context of half-truths and headline grabbing distortions of reality.
Even well-known scientists are receiving abuse
The current increase in hate crime is also affecting people with a high public profile. Jim al-Khalili is a British physicist, author and broadcaster who currently hosts Radio Four's The Life Scientific. However, due to his dark skin and exotic name, he has been subject to a tirade of racist abuse on Twitter since the referendum campaign results came in. He may be putting a brave face on things, but others may not be that resilient. Racist abuse like this can, and does, leave people traumatised and fearful.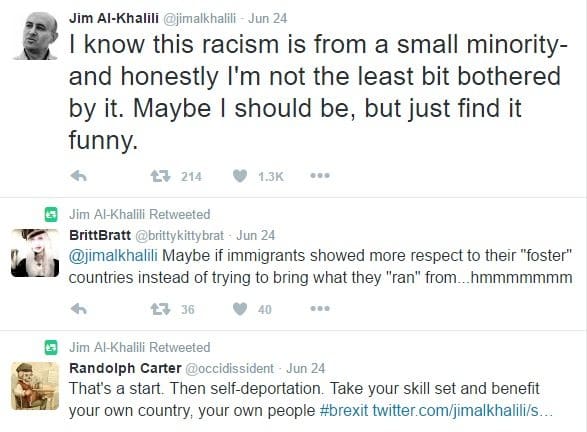 Austerity's role
The rise of fascism in Germany in the 1930's is a lesson from history in how economic depressions (Wall Street Crash) can play a part in promoting far right politics. So it is not surprising that the majority of the working class in Britain who have been lacerated by the sharp end of the Tory austerity agenda, should vote against its prime mover David Cameron; hoping for a change for the better that the Brexit camp has promised them. History has shown us that thoughts of hate and fear gain ground in populations brutalised by poverty, it is a lesson our government should reflect on.
Greece, perhaps the EU country hardest hit by austerity, has also seen a huge increase in far right politics and hate crimes due to the increasing popularity of the neo-fascist group Golden Dawn.
But even where austerity has not hit as hard, far right political parties are making gains all over Europe. From the Front National in France to Alternative fur Deutschland (AFD) in Germany. AFD have been compared to the Nazis by the German vice-chancellor.
There is a light that never goes out
We know where things can lead if these hate crimes continue to spread like wildfire through the UK. The politicians and media must abandon their anti-immigrant rhetoric, or accept themselves as guilty of incitement. Instead, the government needs to abandon its austerity agenda, and have a courageous conversation about immigration, and how we build an economy that serves our social goals. The country is crying out for investment, so it can flourish, and it has never been cheaper for the UK government to take out loans due to the low interest rates.
Whether you voted for Leave or Remain doesn't matter, we all need to battle this rising tide of hate. It was Edmund Burke who said:
The only thing necessary for the triumph of evil is for good men to do nothing
It is up to everyone to stand up and be counted when hate crimes and racism rear their ugly heads. The good news is it is already happening, as demonstrated on the Manchester tram where many passengers spoke out against the abusers and in support of the abused man. It was the abusers who eventually got ejected from the tram rather than the man they had targeted with their vitriol.
The anti-racism safety pin campaign is another excellent example of an innovative idea by someone angered by the increasing racism, wanting to fight back and give help and support to those being abused. It is these actions and ideas, that promote love over hate,  that will enable us to reverse this rising tide of hate crimes.
Get Involved
Express your concern over the rise hate crimes by contacting your MP
Report hate crimes to the police if you are able, or anonymously via True Vision
Featured Image via Wikipedia Commons
Support us and go ad-free
We know everyone is suffering under the Tories - but the Canary is a vital weapon in our fight back, and we need your support
The Canary Workers' Co-op knows life is hard. The Tories are waging a class war against us we're all having to fight. But like trade unions and community organising, truly independent working-class media is a vital weapon in our armoury.
The Canary doesn't have the budget of the corporate media. In fact, our income is over 1,000 times less than the Guardian's. What we do have is a radical agenda that disrupts power and amplifies marginalised communities. But we can only do this with our readers' support.
So please, help us continue to spread messages of resistance and hope. Even the smallest donation would mean the world to us.
Support us