LGBT+ History Month: 36 brilliant resources for Queer Black, Asian, Ethnic Minority and POC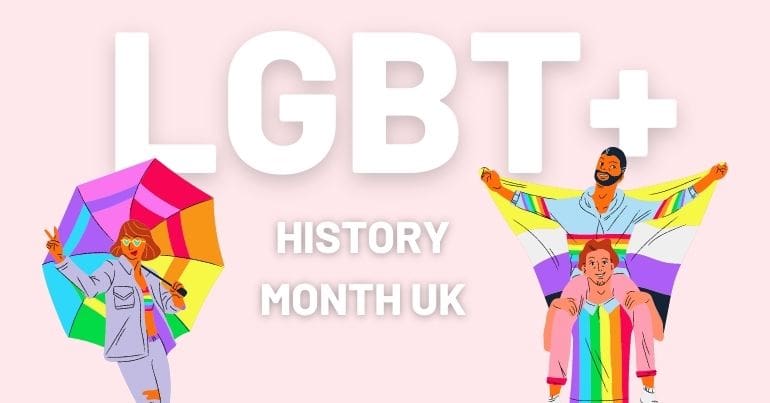 Support us and go ad-free
LGBT+ History Month takes place between the 1-28 February in the UK and is celebrated annually. Its purpose is to give tribute to LGBTQI+ activists and heroes of the past, to educate young people about the history of the gay rights movement, and to champion a modern, safer, and inclusive society. The grassroots and volunteer-led charity's aim of LGBT+ History month is "to promote equality and diversity for the benefit of the public".
We've teamed up with the UK's biggest LGBTQ+ collective, @SinkThePinkLDN, to give you the facts about this year's five faces of #LGBTHM21 pic.twitter.com/NruDnbm4iZ

— LGBT+ History Month 🏳️‍🌈 (@LGBTHM) February 8, 2021
2021 marks LGBT+ History Month's 16th birthday! And this year's theme is "Body, Mind, Spirit" linked to a National Curriculum subject. The education charity Schools OUT UK also contributes to the month by campaigning for LGBTQI+ inclusion and safe spaces within educational institutions. Through researching, debating, and developing the school curriculum on LGBTQI+ people and issues they face, Schools OUT UK works with the "Department for Education, OFSTED, the Equality and Human Rights Commission, local authorities and academies; teaching and other trade unions" including "stakeholders in the education process".
Read on...
Support us and go ad-free
All five faces for #LGBTHM21, illustrating this year's theme: Body, Mind, Spirit pic.twitter.com/40nYmL62Ei

— LGBT+ History Month 🏳️‍🌈 (@LGBTHM) February 5, 2021
This month organisers have created workshops, lectures, webinars, and other fantastic online events. If you're a member of the LGBTQI+ community or a supporting ally, you can help by donating towards LGBTQI+ resources, training, and services here.
To keep in touch with this year's theme we've decided to compile a list of amazing charities, organisations, and community groups that specifically cater to LGBTQI+ People of Colour including Black, Asian and Ethnic Minorities. Celebrations might be a little different this year, but these brilliant online recourses (and these are just a few) are a way to stay connected, learn, and share experiences for LGBT+ History Month. So, let's get started!
UK Black Pride – (London)
UK Black Pride is Europe's largest celebration and grassroots movement for LGBTQI+ people of African, Asian, Middle Eastern, Latin American and Caribbean-heritage. For #LGBTHistoryMonth, UK Black Pride is supporting the work of Opening Doors London – a charity that works with LGBTQI+ people over 50.
UK Lesbian & Gay Immigration Group – (London)
UKLGIG supports LGBTQI+ people through the asylum and immigration system with legal information and advice, as well as psychosocial and emotional support.
BlackOut UK – UK (London)
"We are the heroes we've been waiting for" says BlackOut UK's Twitter bio. The media platform aims to address shared challenges, build a network, create events and a platform for voices of Gay, Bi and/or Trans men of African descent in the UK.
Imaan LGBTQ+ – UK (London)
The UK's leading LGBTQI+ Muslim charity Imaan's next event is on 23 February called "We exist too: being Muslim and Queer". In a collaboration with fellow Muslim LGBTQI+ charity Hidayah (see below), and as a part of the London Met's Pride celebration the event will "shine a light on LGBTQ folk who are fighting to achieve collective liberation".
Gaysians – UK (London)
Gaysians sums itself up as simply "Queer. Asian. Here" – an umbrella brand for the British Asian LGBTQI+ community. It helps to connect "resources, networks and organisations related to being queer South Asians" as well as producing its own content within the community.
Happy LGBT+ History Month 2021!

We will mark this informative & celebratory month in true gaysians style & platform people that we feel have made an impact in our community, throughout history and from around the world. #LGBTHistoryMonth#LGBTHM21

THREAD 👇🏾👇🏾👇🏾 pic.twitter.com/3cz92e2qEA

— Gaysians (@gaysians_uk) February 3, 2021
BisofColour – UK (London)
BisofColour operates "Cos bisexuality isn't just for white folks".  It's a welcoming and supportive group for Black, minority ethnic and mixed heritage bisexual people.
The NAZ Project London – UK (London)
The Naz Project London is a charity that delivers culturally specific sexual health services to Black, Asian and Ethnic Minorities who have historically been left behind. The team believes inequalities involving sexual health and the BAME community must be addressed. 'On The Sofa with Naz' is an online event running on multiple dates where the charity will provide free Sexual Reproductive Health Training to LGBTQI+ BAME women in Lambeth, Southwark and Lewisham (LSL) area.
@NazProjectLdn is back with #NoMoreSilence, a monthly safe space for Black GBTQ+ men. For the first 2021 session, we'll be looking at Black British Queer History & the music that has shaped your experiences:
🗓️ 25th Feb
⏰ 6:30pm
Go to: https://t.co/g1P16N8Nk0#LGBTHistoryMonth pic.twitter.com/RROAkDnk3L

— NAZ (@NazProjectLdn) February 16, 2021
Gendered Intelligence – UK (London)
Gendered Intelligence supports "BAME young people, with disabilities, with religious beliefs who are trans men, trans women, gender non-conforming or non-binary".
For 13 – 25-years-olds who are "unsure or questioning their gender, or just looking to meet like-minded people", the group meets once a month at the Roundhouse in London.
Sarbat LGBT + Sikhs – UK (London)
Have you ever wanted to try Bollywood Dancing? Well, now's your chance! Join Sarbat LGBT+ Sikhs in their online classes as part of LGBT History month. Sarbat is a volunteer led group that addresses LGBTQI+ issues from a Sikh perspective. Focuses include encouraging conversations, tackling homophobia, biphobia, transphobia, and building "bridges within and beyond their communities".
Queer Asia – UK (London)
Queer Asia strives to build a platform that challenges "dominant ideas, forms and representations of gender and sexuality". The collective group consists of researchers and activists.
Naz and Matt Foundation – UK
Naz and Matt Foundation's mission is to "never let religion, any religion, come in the way of the unconditional love between parents and their children". Through fighting homophobia sparked by religion or cultural beliefs, the organisation supports parents with accepting their LGBTQI+ children.
You may be interested in watching our film @theguyliner, also available to stream on Channel4 #MyGodImQueerhttps://t.co/qGYNZugEbf pic.twitter.com/3lGuVbQQXV

— Naz and Matt Foundation (@nazandmatt) February 11, 2021
British Asian LGBTI – (UK & Ireland)
"Why is this minority group so under represented?" asks British Asian LGBTI, which aims to unite the LGBTQI+ community, and to reduce isolation and discrimination. Through an online forum, its members "defend global LGBTI rights including repealing Section 377 in India and Asia, [Section 377 held that gay sex was an "unnatural offence" – a 2018 ruling overturned it] specializing in intersectionality of race and sexuality issues".12 March, it will be running an event named "Breaking Barriers and Shattering Stigmas for South Asian LBT women's healthcare".
Hidayah – (UK: London, Bristol, Birmingham, Leeds, Manchester, Glasgow/Edinburgh, Carfiff/Newport & USA)
Hidayah translates as guidance in Arabic and is a registered volunteer-led charity working across the UK and USA. It creates projects and activities specifically for LGBTQI+ Muslims. Educational workshops, well-being support resources and mentoring programmes are just a few services on offer. On 24 February Hidayah will show a screening of director Kareem Sleem's documentary film Gayrabia with a Q&A session. It also has an upcoming magazine (see pitching details below):
BREAKING NEWS

👇👇👇👇👇👇👇

We're going to create our first ever publication. First issue is going to focus on strength & self-love. We're looking for contributions form 2 writers ….

Please see the thread pic.twitter.com/jO6fcrFd9W

— Hidayah (@HidayahLGBTQI) February 15, 2021
Colours Youth Network – UK
Home to Colours Youth Festival, the Colours Youth Network supports young Black and people of colour who are LGBTQI+ to "explore and celebrate who they are" through meaningful connections to other young people, accompanied by a team of experienced youth workers. It runs Colours Youth Residential, a 3-day overnight stay, where young people across the UK can get involved with outdoor activities, nature, and workshops.
House of Rainbow – (International)
House of Rainbow fosters relationships and creates a safe community for Black, Asian, Minority Ethnic & LGBTQI+ people. Services include information on sexual health, asylum seekers' support, counselling and pastoral support, support for victims of hate crime, as well as faith and spirituality.
Black Trans Foundation – UK
Black Trans Foundation is a non-profit organisation which offers 4-month courses of therapy to Black trans and non-binary people in the UK.
BLAQUK – UK
BLAQUK is a youth-led Black LGBTQI+ organisation with members from all over the UK. It seeks to "provide a space for Black Queer youth to come together celebrate and embrace who we are". It does this through showcasing "black queer art, events, people and provide educative and political discourse through the work of our community".
Exist Loudly – UK (London)
Exist Loudly creates "spaces of joy and community for queer Black youth" online and in real life.
We are so excited to officially announce we have gone into a long term research partnership with @WeAreNKG to continue building upon our research into the lives and experiences of queer and trans Black youth in the UK! pic.twitter.com/VydkuGgM4L

— ExistLoudly (@ExistLoudlyUK) January 27, 2021
Glitter Cymru – Wales (Cardiff)
Cardiff based Glitter Cymru is about "being heard and the opportunity to listen to others". Through social meet-ups to "shine, sparkle and feel visible" it supports LGBTQI+ Black, Asian & Minority Ethnic people in South Wales. Weekly zoom meetings feature a topic and host of the month.
Scotch Bonnet – UK (Scotland)
The collaborative Scotch Bonnet group works to provide alternative creative and social spaces for LGBTQI+ People of Colour and allies.
Allsorts Youth Project – UK (Brighton)
Allsorts Youth Project offers support across Sussex for children and "young people under 26 who are lesbian, gay, bisexual, trans or unsure (LGBTU) of their sexual orientation and/or gender identity". For LGBT+ History Month it's been sharing some key dates in UK LGBTQI+ history:
LGBT+ History Month – Key Dates with Allsorts 💜
The Stonewall Riots – 1969 pic.twitter.com/kbKxWtZTYy

— Allsorts Youth Project (@allsortsyouth) February 6, 2021
LGBT+ History Month – Key Dates with Allsorts 💜
The Gender Recognition Act – first passed in the UK in 2004 pic.twitter.com/oJ21m49pKU

— Allsorts Youth Project (@allsortsyouth) February 18, 2021
Kiki Bristol – UK (Bristol)
The award-winning and volunteer-led collective Kiki Bristol creates joyful, safe social spaces as well as cultural events led by and for the LGBTQI+ People of Colour community. Make sure you don't miss Black Gay Ink present: Coming Out from Lockdown on 22 February which features new writing from emerging Black gay writers.
Queer & BAME Collective Exeter – UK (Exeter)
Queer & BAME Collective Exeter aim to build a "positive, inclusive, creative community for queer and/or bame students & allies at the University of Exeter". On 26 Friday, it's running a LGBTQI+ Zoom night quiz.
QTIPOC Narratives – UK (Brighton)
QTIPOC Narratives community collective creates zines and provides an alternative mental health space for writers, poets, and artists.
To all of our QTIBIPoC family, we would like to invite you to join us + the amazing @DeanAtta in the following Writing Workshop:https://t.co/YSLTfC2eqF

— QTIPOC Narratives (@qtipocnarrative) February 1, 2021
QTIPOC Brighton – UK (Brighton)
QTIPOC Brighton is a safe space, aiming to increase visibility and representation for queer, trans, and intersex people of colour. The group is diverse and "inclusive of all ages, genders, sexualities, dis/abilities, education and class". It's a welcoming group primarily used to network and socialise.
Birmingham South Asians LGBT – Finding A Voice – UK (Birmingham)
Birmingham South Asians LGBT – Finding A Voice is a voluntary led organisation, providing a social group with support for South Asians aged 18+ of any faith, culture, religion, or disability.
UNMUTED – UK (Birmingham)
Through regular meet ups, events, and ongoing support, UNMUTED provides safe spaces for LGBTQI+ People of Colour to connect, grow and explore their identity. It exists "to raise the voices and representation of LGBTQI+ people of colour in Birmingham".
Persian LGBT Organisation – UK (Birmingham)
Persian LGBT Organisation is a voluntary not for-profit organisation that welcomes and supports the UK asylum seeker community.
Rainbow Noir – UK (Manchester & North West)
This February marks Rainbow Noir's 8th birthday! This is a "volunteer led social, peer support and community action group, which celebrates and platforms people of colour who identify as Lesbian, Gay, Bisexual, Trans, Queer and/or Intersex (LGBTQI)". Yesterday, it celebrated the milestone in an online zoom party open to all.
🥳🎉✨Celebrating eight years of Rainbow Noir this February!

This Sat 20th Feb we're hosting an online birthday party and you are ALL invited! 🥳🎉✨

✨Zoom link to attend: https://t.co/4pmevlH9IW

✨More info:https://t.co/32AA0veJga#rainbownoir #qtipoc #party pic.twitter.com/CYblHOaMr8

— Rainbow Noir (@RainbowNoirMCR) February 19, 2021
African Rainbow Family – UK (Manchester)
LGBTQI+ people of African Heritage including refugees and wider Black and Asian minority ethnic groups, can receive support from African Rainbow Family. It helps those seeking asylum, to campaign for global LGBTQI+ equality and to stand against hate crimes.
Black Beetle Health – UK (Manchester/Sheffield)
Advocates for health, wellbeing, and equality for LGBTQI+ communities of colour, Black Beetle Health (BBH) explores "important health disparities" among LGBTQI+ People of Colour in the UK. BBH was recently granted The National Lottery Community Fund, a sum of £50,000, over a two year period which will support their work to implement "peer-led community-driven programmes".
QTI Coalition of Colour – UK (Cambridge)
QTI Coalition of Colour is a network for self-identified LGBTQI+ People of Colour which aims to create safe spaces to explore, discuss and share experiences of the intersection of race, ethnicity, gender, gender identity, and sexual identity.
Dosti Leicester – UK (Leicester/Leicestershire)
Dosti Leicester is a social and support group for South Asian and Middle Eastern LGBTQI+ communities across Leicester and Leicestershire. Local LGBTQI+ health and sexual health charity Trade Sexual Health works with the group to provide advice and other services.
We are now offering weekly remote HIV testing services online every Monday between 12:00 – 17:00

We will guide you through the process in real time and well as providing any support you need at the time.

Book your slot here – https://t.co/f52iThws4I pic.twitter.com/s1Q5Evnrrj

— Trade Sexual Health 🏳️‍🌈 (@Trade_S_Health) February 16, 2021
QTIPOC Notts – UK (Nottingham and surrounding areas)
QTIPOC Notts is a social group for LGBTQI+ People of Colour that holds monthly Wednesday meets for the community.
The Bayard Project – UK (Leeds)
The Bayard Project is a non-profit organisation social/support group that creates a "fun, safe, and inclusive space" for Black, Minority and Ethnic LGBTQI+ communities. Through monthly meetups with group members, the project provides ongoing support including positive mental and sexual health resources.
QTIPOC Leeds – UK (Leeds)
LGBTQI+ people of colour can take part in events such as "sober potlucks" and "coffee hours", coming together with a sense of community. QTIPOC Leeds aims to uplift QTIPOC voices and increase the community's visibility.
Featured image via Aaliyah Harris / Canva
Support us and go ad-free
We know everyone is suffering under the Tories - but the Canary is a vital weapon in our fight back, and we need your support
The Canary Workers' Co-op knows life is hard. The Tories are waging a class war against us we're all having to fight. But like trade unions and community organising, truly independent working-class media is a vital weapon in our armoury.
The Canary doesn't have the budget of the corporate media. In fact, our income is over 1,000 times less than the Guardian's. What we do have is a radical agenda that disrupts power and amplifies marginalised communities. But we can only do this with our readers' support.
So please, help us continue to spread messages of resistance and hope. Even the smallest donation would mean the world to us.
Support us