A new book brings together ten interviews with radical Palestinian women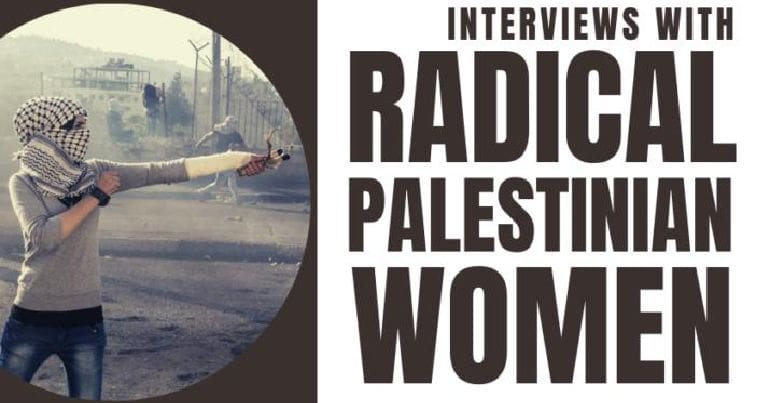 Support us and go ad-free
Tom Anderson is a member of Shoal Collective and was involved in the production of the book highlighted in this article.
A new book – edited by writers' cooperative Shoal Collective – brings together ten interviews with radical Palestinian women.
Our new book – Interviews with Radical Palestinian Women – is out now!

Including interviews with Shahd Abusalama, Lama Suleiman, Sireen Khudairy, Faiza Abu Shamsiyah, Mona Al-Farra, Rana Abu Rahmah and Izdihar Afyounihttps://t.co/62lyhaHOAO

— Corporate Occupation (@CorpOcc) September 20, 2021
Read on...
Understanding the struggle in a 'three dimensional way'
The aim of the book – according to its editors – is to give readers a three-dimensional and intersectional understanding of the Palestinian struggle. According to Shoal Collective:
The idea for this book came out of a concern that solidarity movements have a tendency only to engage with Palestinians about their fight against the Israeli occupation. Sometimes this can be a barrier to seeing them as fellow revolutionaries, and as comrades in our intersecting struggles for a better world and against authoritarianism, white supremacy, patriarchy, capitalism and state control.
The editors hope that: "the breadth of topics covered in the interviews will help people outside Palestine to understand the Palestinian struggle in a three-dimensional way, and to see Palestinian radicals as allies in our global struggles for freedom."
Being politicised under occupation
The interviews describe how the women have been politicised by the Israeli occupation of Palestine, and how the situation left little option to them but to be radical.
According to Lina Nabulsy, one of the women interviewed:
I just woke up one day and there was an occupation, there were soldiers on the streets. I grew up with the occupation. My mum tried to protect us, me and my sisters, to make sure that we didn't get into politics, but it didn't work.
She continued:
During the [Second] Intifada I went to throw rocks at the Israeli soldiers. But I was never a good aim and I ended up hitting the shebab [the other demonstrators]. So instead I helped by carrying buckets of rocks to the frontlines.
The Second Intifada was the Palestinian popular uprising against Israel's military occupation which began in 2000.
Sireen Khudairy – another of the women interviewed – describes her realisation of the reality of life under Israeli occupation when she visited the Jordan Valley for the first time. The majority of Palestinians in the Jordan Valley are forbidden by the occupation to build anything – including houses and schools – and many are unable to connect their communities to water or electricity:
[When I was young] I went to visit a relative in Al-Maleh in the north of the Jordan Valley. It was the first time I had been there. I returned home feeling totally sick. The people in Al-Maleh didn't have water or electricity. They lived in a very bad situation. After that, I started to ask my father more about the situation in the Jordan Valley. I was thirteen years old then.
Khudairy describes organising a demonstration when she was a teenager after a friend's brother was shot dead by Israeli soldiers:
When I was fifteen years old, me and my friend led a demonstration. She had received a note from a friend of hers during class saying that her brother had just been killed. The teachers tried to calm her and say that she couldn't be certain it was true, but we ignored the teachers and left the class. We went and asked other students if they wanted to come and protest with us.
Struggle as "a way of life"
Shahd Abusalama – who was born in Gaza but now lives in the UK – describes how her experiences, and the experiences of other Palestinians, mean that struggle is a way of life. Here she comments on how people in the UK use the term 'activism':
This 'activism' is a funny term for me, because we [Palestinians] are born into a complex situation and 'activism' – what people call 'activism' – is almost a way of life for us. I was born into a politically active family. My dad was an activist and he spent a total of 15 years in Israeli jails for his membership of the Popular Front for the Liberation of Palestine (PFLP) [a revolutionary socialist political party, historically part of the Arab Nationalist Movement and later the Palestine Liberation Organisation]. All of these political parties are considered terrorists under the Israeli occupation. All my family really – men and women – were to some extent actively engaged in what was happening, but it was really a way of life, a way to overcome our feelings of helplessness.
A struggle against both the Israeli occupation and the Palestinian Authority
Some of the women interviewed critique the increasing authoritarianism of the Palestinian Authority (PA). The PA was created during the 1990s Oslo Agreements between Israel and the Palestinians, and has always been dominated by the Fatah faction of the Palestine Liberation Organisation (PLO). When Hamas won the 2006 elections, Fatah was unwilling to let go of power, and violent fighting ensued. Now, the West Bank is controlled by Fatah – backed up by the US and EU – while Gaza is controlled by Hamas. No presidential or parliamentary elections have taken place in Palestine since 2006.
A recent poll showed that 80% of Palestinians surveyed wanted to see Mahmoud Abbas – the PA's president – resign.
According to Nabulsy:
There are no elections, so we don't have any form of choice. The last election was in 2006
She continued:
Many people outside of Palestine still think that the Embassy represents us. But there is no such thing as the Palestine Liberation Organisation any more. Its institutions have collapsed. The PA is more destructive for the struggle right now than anything else.
Nabulsy describes her realisation that the PA security forces were working on behalf of the occupation:
I realised that police were getting trained to fight against their own people. Soldiers were getting trained in protest dispersal. Our security forces were getting trained by Americans and Europeans.
Nabulsy goes on to describe how – after the Arab Spring rebellions across the Middle East and North Africa – Palestinian women took part in the movement for a new society in Palestine. She said:
The revolutions happening in the Arab world awakened the desire in Palestine to stand up and shout. Palestinian women felt that this was our time to scream too.
She goes on:
We started having debates as activists – what kind of liberation do we want? If this is what I am going to get then I don't want it. I don't want to fight for another capitalist form of a colony. I don't want the democracy that they're talking about. I don't want an Arab state like Egypt. I don't want to live in a place where I'm not free as a woman. We started to ask a lot of questions like this. It's not just about ending the occupation. It's much more global than that.
She describes her first-hand experience of the PA's repression of protests against them since the Arab Spring, and of the PA's collaboration with Israeli security forces:
Here in Ramallah the protests got crushed by the PA. They targeted us and went after us individually, isolating us from each other. There was coordination between the Palestinian and Israeli security forces to get activists. [Later on] my friend Basil Al Araj was tortured by the PA, and then released so that the Israelis could assassinate him.
"Whores on the streets of the headquarters of the president"
Nabulsy goes on:
Female activists involved in the movement were branded as 'whores on the streets of the headquarters of the president'.

When I was arrested and taken into custody by the PA I saw people bleeding, being tortured. You get tortured first in the Palestinian prisons, and then your forced confessions get used by the Israelis.
Similarly, Khudairy describes her experience of arrest by PA forces. She was being harassed because of her work with anti-occupation group Jordan Valley Solidarity:
The Palestinian Authority detained me for a day in December 2013, and psychologically they treated me worse than the Israelis. Or maybe it just felt worse because I felt that they should be my people. They were talking to me like I was an enemy, saying that they "had a peace agreement with Israel", and that I should "respect this agreement".
Manipulated by international funding
Another theme running through the interviews is how Palestinian society is affected by international funding. According to Nabulsy:
European funding has destroyed the essence of the Palestinian grassroots. We used to have Popular Committees that would cooperate with each other. We didn't rely on the mercy of America and Europe. But now we are slaves to government funding.
She goes on:
The funders don't deal with the occupation. For example, they talk about the problem of water but they work around the occupation and they won't talk about the core problem, which is that Israel steals our water.

The EU gives caravans to the people of the Jordan Valley, and then when the Israelis come and bulldoze them there is no political will to do anything about it. Fuck them and their caravans!
Ghada Hamdan – another of the interviewees – tells a similar story:
[In Palestine] Working for an NGO is considered to be a good middle class job. But if these NGOs are dependent on Western funds, your project starts to depend on the agendas of Western NGOs, as it's them that make the decisions about what they will fund. They will make you sign papers about who you can collaborate with. They say that you can't collaborate with terrorists: people they define as Hamas, someone who was in prison, someone who threw rocks at the Israeli army. A terrorist for them could be a freedom fighter for us.
Inspiration from global struggles for liberation
The interviewees take their inspiration not from states but from peoples' movements worldwide:
According to Palestinian artist Izdihar Afyouni:
As a Palestinian, I am forever indebted to Black revolutionary thought to form my discursive political frameworks. The first revolutionary text I read was Assata Shakur's autobiography. That was the text that led me to the works of other Black Panthers, like Malcolm X, who was a vocal anti-Zionist and stood firmly in support of Palestinian liberation and against American funding of the settler-colonial project. Angela Davis's text, Freedom Is A Constant Struggle: Ferguson, Palestine and the Foundations of a Movement, is an incredibly urgent rallying call for cross-border solidarity in the face of institutionalised racism and state violence.
Abusalama says:
I feel strong affinity with the Irish, Black, Kashmiri and Kurdish struggles, for example. I think for us this kind of reaction is a matter of survival; it reminds us that we are not struggling alone. It's almost an attempt to reclaim our humanity in an immensely dehumanising situation.
A resilient anti-colonial culture
Several of the women talk about how preserving Palestine's cultural heritage is a form of resistance.
According to Abusalama:
I'm looking from a distance now, and I realise how so many elements in our [Palestinian] culture are basically founded on community and communal solidarity – you see this in a lot of things. You see this, for example, in the folk dance of Palestine –in Dabke, and how people enact it. In funerals and festivals of freedom and things like that. And peoples' compassion with each other – I would say that capitalism still failed to make people centred on themselves in Palestine because of this collective experience and this sense of community as well.
Abusalama goes on:
The narrative of resistance is embodied in the songs, the way our bodies move and the way people come together, holding hands and dancing together, there's a lot of beauty to it.
Khudairy also emphasises the importance of traditional Palestinian culture in maintaining the spirit of resistance in Palestine. She's established a women's centre in Bethlehem's Dheisheh refugee camp called 'Dar Siti', or 'My grandmother's house':
[Dar Siti] will be a place for friends to stay, for studying, and a meeting place. Dar Siti will be based on the grandmother style of living,with the traditional style of sitting on the floor. And cooking in the way that our grandmothers cooked. We want to reclaim our old culture, the old ways of living. Dar Siti will be a place for activists and artists, to be more close to the community, to talk to them, and to build their work together.

The women of Dheisheh are organising social activities for the families of prisoners and martyred people, and [they're also organising] protests to support prisoners. We all try to sit and talk together about our different situations. That's really important. Women's organising is very strong in Dheisheh now.
According to Mona Al-Farra, speaking from the besieged Gaza Strip:
What [the Israelis] are trying to do in Gaza is a new kind of genocide. Part of that genocide is that they want to destroy our culture, our heritage. Me and my comrades, we want to keep the Palestinian identity alive, and not to allow them to crush us with their boots.
Boycott
The women interviewed were all strongly in support of the global Boycott, Divestment and Sanctions movement against Israeli apartheid and colonisation
According to Ghada Hamdan:
I support the boycott movement, especially to influence the people abroad. Israel wants international support and to be able to do business abroad. If Israel feels excluded and alone,and no-one wants to do business with them, then they will start reconsidering what they're doing.
Mona Al-Farra comments:
I'd like to mention something before I forget. And that is that the BDS movement has done very well. I work within the Palestinian NGO Network (PNGO) to encourage people here in Gaza, in hospitals and medical facilities to boycott Israeli companies and we succeeded a great deal.
And Abusalama argues:
The BDS [campaign] is very, very powerful; it's growing. The fact that Israel is delegating a whole ministry to combat the BDS – The Strategic Affairs Ministry [an Israeli government ministry established to counter the success of the BDS movement], this signifies how threatened and insecure they are.
"I want liberation"
Shoal Collective asked Nabulsy what sort of liberation she would like to see. She said:
For Palestine, and all around the world I would like to see a place where we're allowed to live life. I want a completely different world. I want liberation. A world where respect is returned to humanity in all forms and colours.
She concluded:
If we die in the process of fighting for this world, then at least we have died fighting the good fight. The moment we stop believing we can get to this utopia then we don't have anything left to fight for. Why would you take another breath if you didn't believe anything can change?
Featured image via Shoal Collective / Active Stills (with permission)
We know everyone is suffering under the Tories - but the Canary is a vital weapon in our fight back, and we need your support
The Canary Workers' Co-op knows life is hard. The Tories are waging a class war against us we're all having to fight. But like trade unions and community organising, truly independent working-class media is a vital weapon in our armoury.
The Canary doesn't have the budget of the corporate media. In fact, our income is over 1,000 times less than the Guardian's. What we do have is a radical agenda that disrupts power and amplifies marginalised communities. But we can only do this with our readers' support.
So please, help us continue to spread messages of resistance and hope. Even the smallest donation would mean the world to us.
Support us