Greenpeace protester tells The Canary why she took action and what really happened when Tory MP attacked her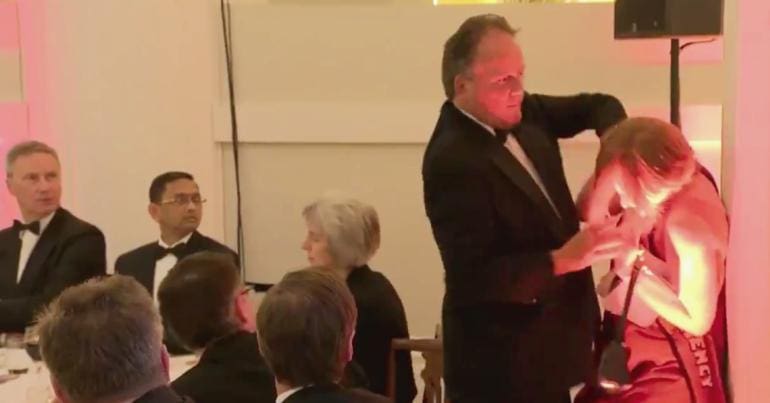 Support us and go ad-free
On 20 June, Conservative minister Mark Field reportedly 'assaulted' Greenpeace activist Janet Barker at the bankers' banquet in London. Barker told The Canary what happened that night and why she'll continue to take action to raise awareness of climate chaos.
"The time is now – to change"
We went there to raise the issue of a climate emergency and the fact that the treasury is actually responsible for where all the money goes. Within that room, there were all these bankers and investors and they're just continuing with business as usual. We've got to stop that, we've got to start putting climate breakdown as a priority, not just economy, economy. So that was our message. We'd written an alternative speech, which basically stated that the time is now – to change.
Philip Hammond keeps saying "oh yeah, well the government's decided to go zero carbon by 2050 so why are they protesting?". Well, we're protesting because while the government's saying that, the treasury's decided that it's too expensive. But in reality, we've got to invest now because further down the line, it's going to be chaos. That's the essence of why we were there.
"We don't act violently"
We walked in, predominantly women. There were a few men there too but, of course, the men were just presumed to be guests, because the room was predominantly men. We did meet some security as we went in, and they did start to close the doors. I think I was one of the last people to make it in. We were dignified, we wore the correct attire that 'women should wear'… The aim was to get to the plinth where Phillip Hammond was delivering his speech and for a small group to deliver our speech. It was all peaceful – it's in the name isn't it, Greenpeace. We don't act violently. My role was to go towards the side of the plinth, film it and then hand out copies of our speech to the other guests.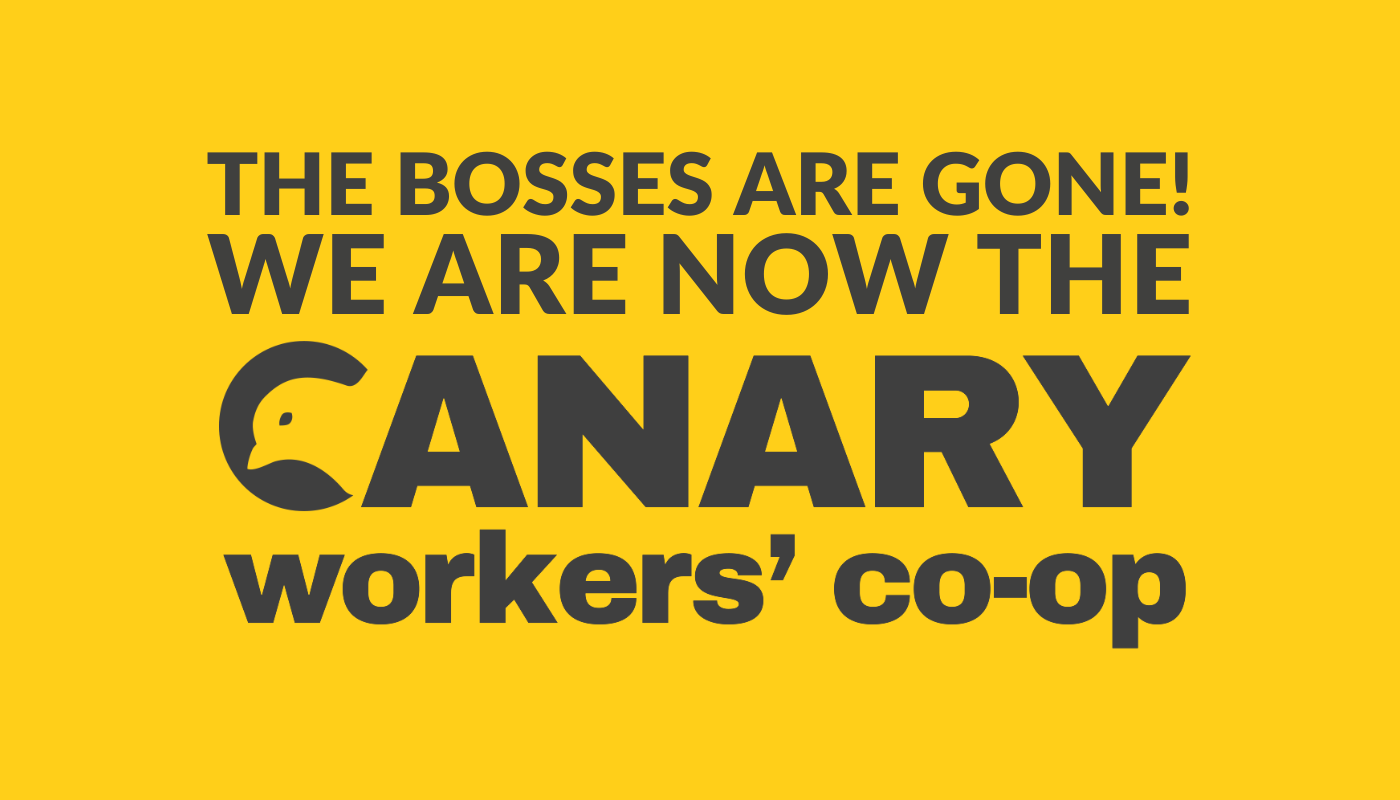 As it happened, most of the group got stuck and held up by security. I was on my own. So I thought, well, I could try to get round to Hammond from here – I'm on the right side of the room and I've got all these speeches, it would be a shame to waste them. I wasn't running, I was walking and made my way around the tables. Yes, I was walking with purpose, but not running because I didn't want to panic people.
And then this chair came out in front of me. I expected resistance in the form of dialogue, possibly from someone blocking my way. If Mark [Field] had just stood up and said "I'm sorry, you're not going any further", I'd have said "excuse me sir" and tried to charm my way out of it. But I wouldn't have started pushing and shoving him. So I was taken completely by surprise that he grabbed me by the neck and the arm.
I wasn't prepared for that.
Read on...
"He was really angry"
I did say to him "this is a peaceful protest". But he was pushing me and said: "I'm not letting go of you until you're out of this building". At one point we were going down some stairs, I didn't fall but I was worried I might. All the way through, I could tell he was really angry – you can tell by someone's tone of voice. He kept repeating over and over "I'm not letting go of you". I can't remember everything he said, but it was the tone. It was so ridiculous – when you're in a situation that you're not in control of that's how it feels.
When he pushed me against that wall, he would have realised that I wasn't a threat and that I didn't have anything on me that was dangerous. Also, he sat there and watched me on the other side of the table while I was filming for a good few seconds. Afterwards, I walked around the table but he could have stopped me when I was filming… He could have shouted out "whoa, where are you going?" All that time he had opportunity to say something, even to tap me on the shoulder and ask what I was doing.
"This is what happens when people like you disrupt our dinner"
When we got to the door, he pushed me out and said, "this is what happens when people like you disrupt our dinner". He pushed me hard, I didn't fall but it felt like he wanted me to. There was a sense he thought 'I'm better than you, who do you think you are?'. A situation like that either gets you really angry, or you're just disbelieving.
I was shaken. But I got straight on a tube and wasn't even able to think clearly about which direction I needed to go in… I was shaken and a little bit teary, but I didn't want to cry.
Everyone was incredibly supportive when I got back [to base]. We're all conscientious protectors and we're doing this for the planet. Everyone agreed that his actions and his reactions were wrong – because the main issue is the reasons why we're doing this. If he fought with so much passion against climate change as he did with a peaceful protester then we might actually get somewhere.
"I want the focus to be on why we were there"
These people… do they have training on how to talk to people or how to deal with situations? They obviously don't. They have training in how to make money. He had plenty of opportunity [to stop me]. It was only when I got to his seat that he jumped up and chucked me against the pillar.
I've got a bruise on my arm. I've not got bruises on my neck, but he was pinching my neck. he was using the momentum around my neck to push me forwards.
I've never really experienced violence from men. I've never really experienced violence at all in all the years I've been protesting. I've been very privileged in that sense. I am privileged: I'm white, I'm a woman… I had a nice upbringing… I imagine that if I'd experienced similar [violent] things like this in the past, it would have been a lot more traumatic.
I've been getting messages from other women saying that I should go further… [that] I should prosecute this man. But it's such an awkward position to be in because I don't want it to turn into a battle between me and this man who reacted badly. I want the focus to be on why we were there. I kind of feel that we'd lose ground on that by me pursuing it through the courts.
"Maybe, they're fearful of him?"
When I got back to base… people asked if I was alright and I explained I was forcibly ejected.
[Later] we watched the live feed. It was all [about] the people who got in to do the speech. We thought brilliant, we got on the BBC and that's amazing because they normally ignore us… Then people started to ask if I was OK because the video had just come out of an MP manhandling me… So it wasn't until afterwards that I really recognised what had happened.
I kind of assume everyone [who saw the attack] was in shock. Or maybe, they're fearful of him? Maybe they could sense the anger in him? Maybe they've lived very sheltered lives and they don't know how to deal with situations and with people in general? It's a bit depressing, isn't it? People need to start standing up for each other.
There's not enough empathy, within those circles and people of power, they're lacking empathy. If we did have more understanding and more empathy we'd all be in a hell of a better place. He [Field] needs to go and have anger management and review how he deals with people – people who're expressing different views to his. He needs to get into nature, appreciate it, protect it and then he'll calm down a bit. He needs to start showing respect to women as well.
"This is survival on every single level"
No way will this stop me. It's in me, it's my passion… this is my life. As a sproglet I was very lucky, I used to play in the woods, get covered in mud. I just love nature. So I'll keep fighting for it. I don't want to sound mushy, but it's in my heart and it's in my soul.
Sometimes, I feel like we're almost too late to protect the planet. And then I look outside and look at what's at stake and I think, there's too many innocent lives on this planet, not just human. I read about the permafrost that's melting, the methane coming up, the Himalayan glaciers are melting at an unprecedented rate. That's affecting millions of people. So I just feel, how can we possibly ignore this?
This is survival on every single level. And yet, prioritising effing Brexit, prioritising fracking, prioritising HS2 and Heathrow – it's just mindboggling. It's thoroughly depressing and emotional – we have got to do stuff now. If it's uncomfortable to us now, think of how much more uncomfortable it will be when we've got food shortages, we've got water shortages, when we've got mass migration of people that are going to be fleeing from conditions that are worse than ours.
This is an emergency now. The blue lights are flashing, the red lights are flashing, the sirens are going and still they're faffing around on the edges. With empty hollow words of "yeah, zero emissions by 2050". Well, I'm sorry but that's just far too late, we need zero emissions in the next few years worldwide. We've got to pull out all the stops, we've got to make life uncomfortable for ourselves. Do you know what? I'm not number one at the moment. The survival of the planet is number one.
"W
e the people, demand you do something"
Please, please, please put pressure on those in power: pressure on the politicians, pressure on the decision makers, pressure on the corporations that are making investments of the wrong kind and of fossil fuel industries.
Collectively we've just got to say: "We the people, demand you do something and that you put our future, you put our climate, and our very survival on this planet ahead of short-term economic gain. Because there's no money on a dead planet. There's no jobs on a dead planet. There's nothing on a dead planet".
I just think they [the government] need to open their eyes and read the signs. They're all childish, they don't see the reality of life for the majority of people… We're trapped in a system so a lot of people are not able to take action on climate because they're so worried about how they're going to get food on the table. I almost wonder if they're doing that on purpose – trying to keep us in our place? The government doesn't do enough, it puts business and short term gain ahead of people, ahead of planet and ahead of nature.
The government needs to go and read the science and they need to open their eyes to the climate emergency.
We know everyone is suffering under the Tories - but the Canary is a vital weapon in our fight back, and we need your support
The Canary Workers' Co-op knows life is hard. The Tories are waging a class war against us we're all having to fight. But like trade unions and community organising, truly independent working-class media is a vital weapon in our armoury.
The Canary doesn't have the budget of the corporate media. In fact, our income is over 1,000 times less than the Guardian's. What we do have is a radical agenda that disrupts power and amplifies marginalised communities. But we can only do this with our readers' support.
So please, help us continue to spread messages of resistance and hope. Even the smallest donation would mean the world to us.
Support us