Letters to the Canary: The Greek train disaster, misogyny, and will Starmer win in Scotland now?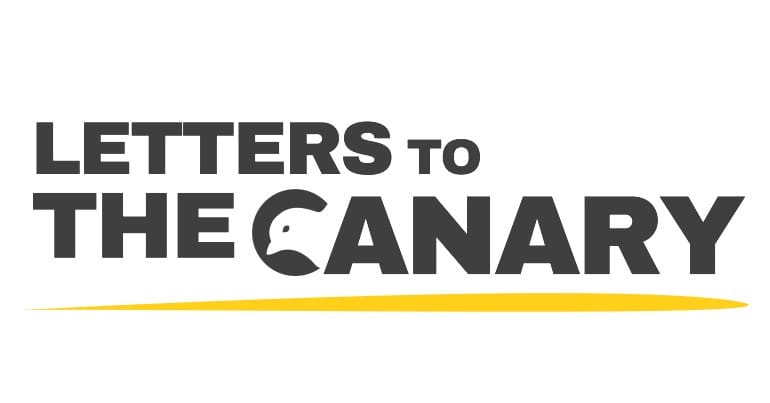 Support us and go ad-free
The Canary is excited to share the latest edition of our letters page. This is where we publish people's responses to the news, politics, or anything else they want to get off their chest. We've now opened the letters page up so anyone can submit a contribution. As always, if you'd like to subscribe to the Canary – starting from just £1 a month – to continue to support truly radical and independent media, then you can do that here:
This week's letters
This week we have people's thoughts on the Greek train disaster, the state of the BBC, the post-Sturgeon fallout, dodginess from the cops, and a response to a Canary article on misogyny. 
---
---
Greece and a train crash
The tragic train crash on 28 February in which 57 people were killed and even more injured should have never happened. Just two weeks before the crash, the Greek railway trade union was issuing another warning that the appalling state of the train system would lead to tragedies. The privatization of the railways forced on the government by the EU in 2017 saw the workforce reduced from 2000 to 770. It's been stunning to hear recently retired station masters talk of having no cover, working seven-days a week, totally abandoned. Imagine doing this job when the signaling system that was supposed to be in place 10 years ago still does not exist. Despite a never-ending flow of reports from the EU, trade unions both in Greece and Germany, and successive Greek governments, did nothing. On 28 February the passenger train from Athens to Thessaloniki smashed head on with a goods train traveling in the opposite direction. On the same line.

The crash, the deaths and injuries have unleashed an anger here that I have never seen before. It is ongoing – with strikes, demonstrations and protests across the entire country. Students – who figured disproportionately in the deaths – are mobilizing in great numbers.

The first response from prime minister Mitsotakis was to blame human error – especially the station master at Larissa, the site of the crash.

His comments provoked outrage. It was blindingly obvious that Mitsotakis hoped by blaming 'human error' he could prevent a deeper and more critical analysis. He failed. Immediately following the crash, there was an outpouring of information highlighting that the train system was dangerous; that crucial signaling and safety systems had not, as promised, been installed; that millions of euros meant for the trains had disappeared; that the tunnels lacked any safety features, and that reports warning of the dangers simply ignored. Privatization had made matters worse, as profit was prioritized over safety. In a key sense the crash became seen as not an accident. The people who died were killed. The father of 20-year-old Dimitris Aslanidis, who died in the crash, called the managers of the train company "murderers":

Read on...

Support us and go ad-free

"We want our children back… if we were in a serious country the entire Ministry of Transport would have been handcuffed… the assets of the ministers of the last 15 years should be frozen" (Keep Talking Greece 16 March 2023).

Widespread corruption – which includes the giving of senior posts to people with no competence, and which requires unaccountable systems and agencies – is widely known in Greece. The state which pleads poverty in so many areas of social welfare, spends billions on its armed and repressive forces (police, border guards, surveillance drones, prisons and the like). However, it is now being fundamentally challenged by the crash:

"The train crash is a reminder that the Greek state is a mixture of excessive bureaucracy, political partisanship, chaotic and often contradictory laws, ineffective and slow justice, and corruption" (Greek Reporter 17 March 2023).

The government is now on the back foot in a new terrain. One dimension is the widespread fury at the police. As people took to the streets, so did the police, as always. And as always, the police were quick to use their batons and tear gas against peaceful protesters of all ages. Even the conservative media have been unable to avoid showing the police firing tear gas into crowds of people trying to leave the subway stations in central Athens, of older people being randomly batoned, of a police truck driving at speed into peaceful protesters, and of women with blood pouring down their faces as they flee from the police. Such police brutalities against people mourning the killing of 57 people has provoked a furious reaction. The government, unusually, has been forced to express its concern at police violence. But to no effect. The police don't hesitate to declare their innocence. The police care little for what the government says.

The government is now being forced to investigate the finances of all the major players in the rail system, and their political affiliations. As many here know, the jobs of many have nothing to do with their competence or experience but who they know. The crash starkly revealed that such traditions and practices kill people.

Mitsostakis has been forced to postpone the General Election.

Now we have the bizarre experience of hearing the prime minister and his colleagues expressing their support for the outrage of the people, claiming that they too are committed to seeing a new 'clean' modern Greece, not mired in corruption and incompetence. The crash has forced many issues out from the darkness which successive governments have sought. Here there is a huge number (948) of EU convictions against successive governments for their failure to meet EU requirements. But in so many cases the governments continue to do nothing and simply ignore EU rulings. For example, for over ten years the EU has demanded action to reduce the levels of nitrogen oxide in the air over Athens. No action. Warnings over the railway system were similarly ignored. These and many more examples are now getting attention as they reveal a deep contempt for the well being of the majority (see 'The countless times Greece was convicted by EU courts' Greek Reporter March 5, 2023).

All this is ongoing now. Where it will go is unclear. All the major political parties are implicated and generally seen as unfit for government. That there is no clear figurehead leading the onslaught, which in part reflects the huge range of deeply rooted problems that are being revealed.

Of course the government is going to fight back, and will inevitably want to discredit the opposition – even if it means telling woeful lies. For example, the migration minister told a BBC reporter last week that the metro, now open and working in Thessaloniki, is but one example of the government's commitment to public services. The metro, after years of work, is still a building site.

For the tens of thousands who mourn the loss of 57 lives, many of them students, the train crash has starkly revealed what needs to change. It is acting like a detonator exploding in many directions. The crash is a tragedy which should never have happened. It is now clear that those with power and responsibility not only did nothing to avoid it – but did much which caused it.

Innocent people have been killed. We owe them.
Chris Jones, Samos Island, Greece – via email
---
Cops tagging bail suspects?
At a recent environmental protest, I spoke to several protestors and was shocked to learn that bail subjects, though unconvicted, are routinely fitted with electronic tags imposing a range of restrictions on their movements and associations. One had been tagged for nine months prior to sentencing. Another – a slight young woman – showed me the massive device on her ankle. She told me the tags require daily re-charging (this takes an hour) and that failure to do so is itself treated as a breach of bail.

This seems to me a quite outrageous breach of civil liberties: it seems that Serious Disruption Prevention Orders, though not yet in law, are already being operated in practice. I believe it deserves wider publicity, so I am suggesting it as a topic for investigation.
Chris, via email
ED: Does anyone else know anything about this? Email us via editors(at)thecanary.co 
---
The Tory Broadcasting Company
Big spread on the BBC News website – they have discovered that Rishi Sunak, Suella Braverman, and all the other racist, fascist thugs in the quite dreadful racist vote-grabbing Tory government are actually squeaky clean. The BBC's impartiality complex and all has dug up a bit information from 2013 – and joy of joys, it's that the Australian government is to blame for "STOP THE BOATS". An Australian politician used this slogan to win an election. Well bugger me. It seems that all the whispering about the Tories not being capable of a single original idea could be true after all, as their infamous slogan is an Australian one.

It makes one wonder if this slogan will be put on a plane to Rwanda, and if the BBC will have a news blackout on the slogan's deportation – given it's not even British. We will no doubt find out when this corrupt government is removed – but maybe not, as it will be replaced by a corrupt opposition dictatorship. As Creedence Clearwater Revival sang, "Big Wheel Keeps On Turning"…
Patrick Mcqueenie, via email
---
Will Sturgeon's fall lead to Starmer's rise?
One perplexing narrative about Nicola Sturgeon's time as leader of her party is that she was a successful politician. This is hard to justify now that she is departing, as her number one priority – Scottish independence – is further away than ever. And, unlike most independence-seeking political parties around the globe, the SNP has been in power in a devolved administration, where their record has been abysmal: health, education, equality, transport (especially ferries to the Scottish islands) are all in crisis, and in a worse state that when the SNP first won power. It will take a long time – if ever – for the notion of Scottish independence to recover from her rule, whereby she and her husband maintained a tight grip on their party that would not tolerate criticism. They have even proved to be incapable of organising a democratic election to determine her successor.

Keir Starmer is a lucky politician. The gains that Scottish Labour will now make in SNP-held seats will bring him to power. Whether his leadership of the UK will be more positive than Sturgeon's was as First Minister is of course another matter. Socialists should nevertheless welcome the fall of the SNP north of the border, and campaign for a devolved Scotland built on socialist policies, not narrow nationalism.
David Carter, via email
---
Ageist sexism (misogyny) in combination and misogynistic sexism is the norm in a wide number of issues for UK women.

Read the book, Invisible Women by Caroline Criado-Perez (2019) to see how women are not in modern tech and artificial intelligence, so neither in the present nor the future. The world is designed by men, for men, alone. Women's ailments are downgraded in comparison to men's – and so much else besides. The author informs us that:

"In such a framing, women are set up to be forgettable. Ignorable. Dispensable – from culture, from history, from data. And so, women become invisible".

What happened to the 1950s ladies re. pension 'reform' (actually abolition of retirement by degrees) was ageist misogyny by Tory, Labour and Lib Dem governments since the late 1970s, and would have been done by the Greens if they had got into government.

Today, the next victims are the 1960s ladies, turning 60 since pandemic start year 2020.

I campaigned to unelected parties over the years, beyond the 1950s ladies' campaign to government since 2011-13 onwards, and found there is no unelected party out there, appearing at the bottom of election results, that does not ignore the huge raft of misogynistic sexism and ageist misogyny issues in society and in laws, especially having no 'Grey Vote' policies that especially impact women.

Yet the truth found by election gurus and Europe-wide surveys is that UK women's 'Grey Vote' (ages 50 to 100 plus) is the majority of voters for any and all political parties, elected or unelected.

Us 1950s-to-1980s-born women (victims of pension reform) are the grateful, close descendants of the Suffragettes. They were either lynched to death for daring to meet up, or sexually assaulted by male mobs and the police whilst handing out Suffragettes' leaflets or marching. They fought against a policy of government, which was against us being recognised as equally human in law and by society. It was not dissimilar to the treatment of animals – as an animal cannot vote.

Has much actually changed?
Christine Williams, via email www.over50sparty.org.uk
---
---
Want to get involved? Email membership(at)thecanary.co and we'll publish your letters, too! Terms and conditions of publication apply.
Support us and go ad-free
We know everyone is suffering under the Tories - but the Canary is a vital weapon in our fight back, and we need your support
The Canary Workers' Co-op knows life is hard. The Tories are waging a class war against us we're all having to fight. But like trade unions and community organising, truly independent working-class media is a vital weapon in our armoury.
The Canary doesn't have the budget of the corporate media. In fact, our income is over 1,000 times less than the Guardian's. What we do have is a radical agenda that disrupts power and amplifies marginalised communities. But we can only do this with our readers' support.
So please, help us continue to spread messages of resistance and hope. Even the smallest donation would mean the world to us.
Support us