Letters to the Canary: the DWP, Asa Winstanley, Brighton University, autism, and racism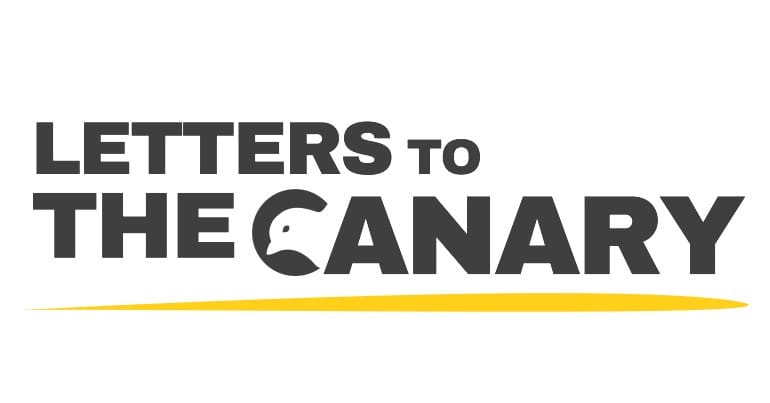 Support us and go ad-free
The Canary is excited to share the latest edition of our letters page. This is where we publish people's responses to the news, politics, or anything else they want to get off their chest. We've now opened the letters page up so anyone can submit a contribution. As always, if you'd like to subscribe to the Canary – starting from just £1 a month – to support truly radical and independent media, then you can do that here:
This week's letters
This week we have people's thoughts on the Department for Work and Pensions (DWP), responses to a subscriber-only article, some musings on journalist Asa Winstanley's new book, an open letter to the University of Brighton, and someone's lived experience and thoughts on how the state treats autistic people. 
---
---
What is going on with the DWP and NHS?
DWP assessments are being rolled out in NHS hospitals. I attended what I thought was a prostrate cancer investigation. However, I was questioned and assessed in the very worst Capita-style way, and then refused tests and chemotherapy due to my disability. I was most upset, and will never attend an outpatient appointment again. Win-win for government, I'll either die from lack of treatment, or have benefits stopped as I didn't attend hospital appointments.
Anonymous, via email
ED: has anyone else noticed this? Have you experienced the DWP in an NHS setting? Read more on it here, and contact us if you have. 
---
Responses to Canary Lowdown It's time people with privilege stepped back
Brilliant piece. British working class have not suffered as you have, but they should recognise your suffering at least. They have been made to feel worthless and ignored and abused by the privileged in this country. So they should listen; they don't because they have also been made ignorant by the non-stop propaganda the privileged employ.

Read on...

Support us and go ad-free
Mick Hills, via email
Wonderful to see Pakistani heritage journalists covering this news. I feel better informed.

Keep up the excellent work.
Angie Jukes, via email
There are too many white, middle aged, middle-class people who are offended by your site and your opinions. I know a few and they are insufferable, talking about how they have to intervene to help 'these poor people in their distress'. They want to control the narrative so they can feel good about themselves and the 'help' they give. It's as much of a power trip as anything else.

For myself [old, white, middle-class] I prefer to hear directly from the people affected by discrimination, pain and other events. I do not want it filtered through various biases from those who are aggrieved on behalf of others. If they were that concerned they would be helping you have a voice, not controlling it.

Keep up your own narrative, from your own viewpoint, in your own style of writing. It's why I subscribed to the Canary.
Martin Willoughby
---
Asa Winstanley's book
If a book was published which exhaustively reported recent malicious political assassinations, the names of the assassins, their organisations, backers (financial and political), the names of the victims, and the name of the State which benefitted most from their nefarious skullduggery, you would imagine that the press would leap on it and assiduously report every jot and tittle. Especially if the targets were the Leader of His Majesty's Opposition and British democracy itself. We can forgive the gutter press because book reading isn't their thing. But the so called heavyweights? The BBC, the Times and the Guardian? None of them have so far mentioned Asa Winstanley's recently published book, "Weaponising Antisemitism".

What are they trying to hide? Who are they protecting? Why did they connive in the corruption of two general elections? We should be told.

This book is a vitally important corrective to years of misinformation, lies, penetration of our political structures by a foreign power, persecution, and witch hunts.

The failure of mainstream media to report or review it is a crime against the British body politic.
Alan Marsden, via email
ED: you can find out more about Asa's book here.
---
An open letter to the University of Brighton VC over redundancies
Dear Professor Debra Humphris,

We write as professors, lecturers, professional services staff and students from the University of Sussex extremely concerned about the announced mass redundancies at the University of Brighton. Many of us have close ties to colleagues and students at your institution, and are deeply dismayed about the impact on the livelihoods of affected staff and students and the research and learning cultures at Uni of Brighton.

Below please find a solidarity statement signed by 384 members of the Uni Sussex community appealing to you to reconsider this grave mistake and reinvest in the people that are integral to students' experience, development and wellbeing.

'From the Downs, to the Sea, cross-campus Solidarity': Statement by University of Sussex staff and students in support of University of Brighton staff

We are appalled to hear about the University of Brighton's senior management plan to sack 130 members of its staff, with approximately 400 academics who face the risk of redundancy having to compete for their jobs against each other. Senior managers want to save £17.9 million after having spent many millions of pounds on shiny new buildings to 'grow student numbers'. It is of course entirely unclear how this is going to work at a university that already has one of the very worst student-staff ratios in the UK: 97th according to rankings.

Putting students first by putting staff last does not work. Lecturers and professional services staff are integral to students' experience, development and wellbeing. Cutting staff and increasing student numbers will further escalate workloads in an environment that is already not sustainable. We must fight back against a managerial logic that believes in "cutting" one's way to growth in the Higher Education sector. And we must do so collectively, across institutions.

We believe in solidarity across universities, across students and staff, and across disciplines.

We:

support Brighton University staff and student demands to reverse redundancy plans, and calls for change in leadership
believe that this is one struggle, one fight – every effective local campaign against cuts in the sector strengthens the position of all of us
think that solidarity is our strongest weapon.

More info here: https://blogs.brighton.ac.uk/ucu/2023/05/05/brighton-university-staff-vow-to-strike-in-defence-of-jobs/ and here: https://www.timeshighereducation.com/news/more-100-jobs-risk-brighton-seeks-save-ps17-million
University of Sussex, via email
ED: read more of our coverage on the University of Brighton redundancies here. 
---
Autism: a national scandal?
I am writing to bring your attention to the distressing autism scandals that have emerged across the UK, as highlighted in BBC's Panorama and Channel 4's Dispatches program titled "Locked Away: Our Autism Scandal." These investigative reports have unveiled instances of sexual abuse suffered by autistic girls within hospitals and care homes. It is crucial that we shed light on these issues and work towards justice and protection for all individuals affected.

In addition to the revelations of abuse, I am deeply concerned about the Department for Work and Pensions' (DWP) cruel Personal Independence Payment (PIP) policy, which has tragically resulted in claimant deaths. Despite numerous calls for transparency and accountability, the DWP refuses to publish claimants' death figures, raising serious questions about the treatment of disabled individuals within our society. This policy perpetuates harmful stereotypes, labelling disabled people as "lazy" and a "burden to the taxpayer."

Shockingly, this echoes the discriminatory attitudes and actions witnessed during the dark era of Nazi Germany. Disabled individuals, especially those with severe mental and physical disabilities, were targeted due to Nazi beliefs that they were a burden to both society and the state, leading to the T4 program of 'euthanasia' between 1939 and 1941.

Furthermore, the imposition of Do Not Resuscitate (DNR) orders on individuals with learning disabilities and vulnerable adults during the coronavirus (Covid-19) lockdowns is a violation of their fundamental human rights. This discriminatory practice displays a callous disregard for the value and dignity of every life. We must unite to demand thorough investigations into these practices and establish robust safeguards to protect the rights and lives of those with learning disabilities and vulnerable adults.

It is disheartening to witness the failure to acknowledge an essential historical context regarding Dr. Hans Asperger, who discovered autism in children at the Am Spiegelgrund clinic in Vienna, Austria. Dr. Asperger's collaboration with the Nazis under the Aktion T4 program, which aimed to exterminate children with various learning disabilities and harvest their brains, cannot be ignored or forgotten. By disregarding this crucial historical context, we perpetuate injustice and undermine the ethical foundation of autism research and support.

As an autistic individual myself, I share a deep sense of frustration and resonate with the injustice caused by institutionalised discrimination. It is utterly unacceptable that our voices are silenced, and our experiences dismissed. We must stand together to challenge this injustice, demand equality, and create a society that upholds the dignity and rights of every individual, regardless of their abilities or disabilities.

I kindly request your support in raising awareness about these urgent concerns and exposing the systemic issues that affect autistic individuals and disabled people as a whole. Through our collective efforts, we can bring attention to these pressing matters and advocate for much-needed change.

Thank you for your commitment to journalism that challenges injustices. I look forward to the possibility of collaborating with you to address these pressing issues and amplify the voices of those affected.
Ben Scott, via email
---
---
Want to get involved? Email membership(at)thecanary.co and we'll publish your letters, too! Terms and conditions of publication apply.
Support us and go ad-free
We know everyone is suffering under the Tories - but the Canary is a vital weapon in our fight back, and we need your support
The Canary Workers' Co-op knows life is hard. The Tories are waging a class war against us we're all having to fight. But like trade unions and community organising, truly independent working-class media is a vital weapon in our armoury.
The Canary doesn't have the budget of the corporate media. In fact, our income is over 1,000 times less than the Guardian's. What we do have is a radical agenda that disrupts power and amplifies marginalised communities. But we can only do this with our readers' support.
So please, help us continue to spread messages of resistance and hope. Even the smallest donation would mean the world to us.
Support us