The week in satire Vol. #130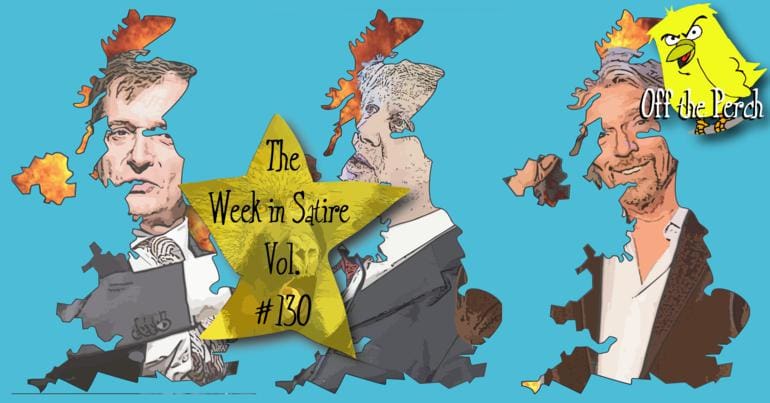 Support us and go ad-free
And what a week it was!
A week in which the media hailed the 'Boris bounce'! A week in which the public witnessed the 'Boris splat'! And a week in which the gap between reality and journalists' reporting of it grew ever wider!
But what else happened?
Let's look back and see:
Some things just sell themselves. No-deal Brexit, it seems, is not one of them: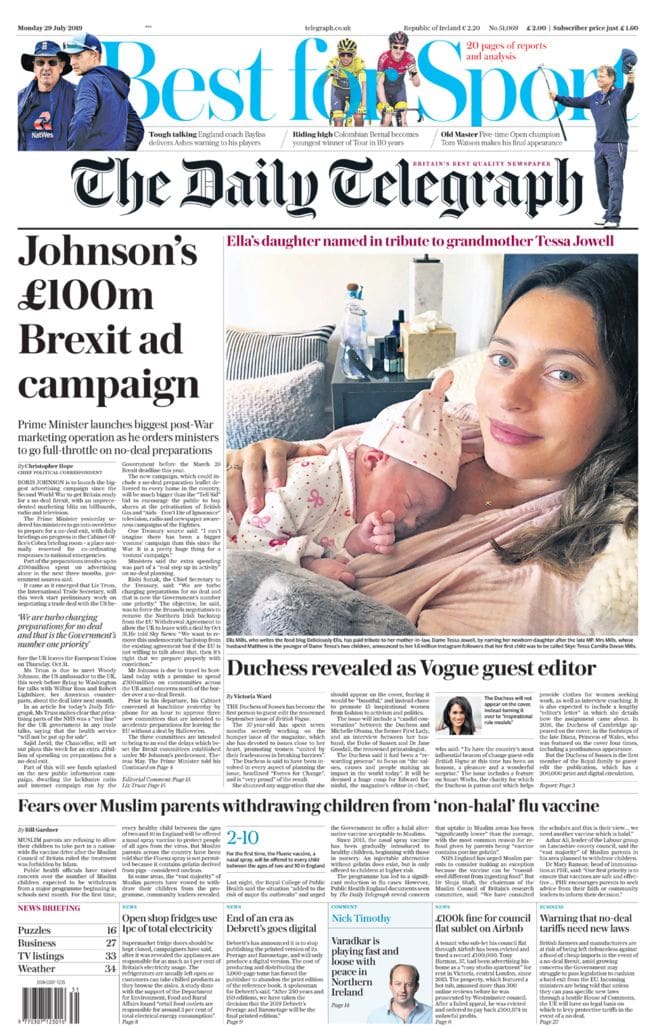 Read on...
Support us and go ad-free
Campaign
So how does one sell a product like no-deal Brexit? Johnson's original plan was to rip off tried-and-tested ad campaigns. Suggestions included:
Got Brexit?
Maybe she's born with it; maybe she just can't get the medicated shampoo she needs since the ports closed.
You know when you've been Brexited.
Just do it. We can't think of any good reasons for no-deal, so please, just do it.
Have a break – have all the time off you need, in fact – we're moving the factory to China.
No-deal Brexit makes you drunk.
The future's bright; the future's President Orange and his NHS-eating trade deal.
Its wash-your-fingers-after-handling-the-chlorinated-chicken good.
Vorsprung durch it up 'em!
I'm loving (Brex)it.
A Brexit each generation stops the doctors graduating.
No-deal Brexit – the best a man can negotiate.
After analysing them all, Johnson decided to go with simply:
No-deal Brexit: aren't you just a little bit curious to see how much worse things can get?
Badvertising
Johnson has a minuscule majority, no electoral mandate, and the worst policy idea since Atlantis decided to cut flood defences. He does have an advertising budget, though.
If the latter trumps the former, it looks like we can conclusively say Brex sells.
Alastair Campbell – Tony Blair's infamous spin-doctor – has left the Labour Party. Or, to be more accurate, he's stopped trying to get back into it. Labour had already thrown him out.
Despite Campbell having less influence over the current Labour movement than Margaret Thatcher's ghost, he still has enough friends in the media to go out in a blaze of attention seeking.
About to do @BBCBreakfast on why I can no longer pretend @UKLabour is the Party I have worked for all my life and why @jeremycorbyn should do the right thing for the country by making way for someone who can do the job and defeat right wing hard Brexit populism of @BorisJohnson

— Alastair PEOPLE'S VOTE Campbell (@campbellclaret) July 30, 2019
Full text of my letter to @jeremycorbyn explaining why I no longer want to be readmitted to Labour – https://t.co/DmdI85W3OW

— Alastair PEOPLE'S VOTE Campbell (@campbellclaret) July 29, 2019
Good riddance!
Campbell and Blair took the art of political bullshitting to a whole new level. Predictably, faith in politicians dropped significantly. Despite this, these same men can't understand why no one listens to them any more.
When asked if being rid of this infamous liar was a good thing, a Labour spokesperson said:
Some people said it's better to have him on the inside pissing out than the outside pissing in. In actuality, we had him on the inside pissing in. I'd rather have him on the outside pissing himself, to be honest, which seems to be what's happening.
The legion of BBC presenters who see Campbell as their Brexit messiah said things like:
If the Labour movement isn't there to bow to the whims of non-unionised millionaires like us, then what is it there for?
Centrists have argued:
So Campbell pushed for an illegal war that killed hundreds of thousands of innocent Iraqis – and? That was ages ago. A lot of those dead Iraqis are probably alive again by now.
Great riddance! 
Of course, some might argue that Campbell – one of the most untrusted men in the non-Westminster world – is an asset. They'll probably have a well-structured argument, too, because these people are nothing if not good at selling shite.
Despite all evidence to the contrary, Boris Johnson allegedly wants to keep the United Kingdom together. The problem?
Well – it turns out much of the kingdom is united in its dislike of him.
Get tae fuck
An Irishman, a Scotsman, and a Welshman walked into the Off The Perch offices. The first one told us:
It's pretty obvious that the Brexiteers forgot Northern Ireland existed before the referendum. It's pretty obvious they don't care what happens to us now they've remembered. As Johnson hired his new cabinet by using a sign of himself with the message 'you must be this stupid to serve', I can't see things getting any better.
The Scotsman said:
When I ask myself if I want to be ruled by a bunch of vindictive English aristocrats, the answer is no. When I ask if I want to be ruled by the biggest bawbags of the bunch, the answer is also no. In other words, I'll be voting yes in the next referendum.
The Welshman said:
We're not in the news as much, but we're also unhappy with the shire's choice of prime minister.
Disunited
It's not just Johnson letting the side down. It's also the crack team Johnson put together, with an emphasis on crack:
Tories on #Scotland and which Raab regards as an English "region".
If you still think this lot are competent or give a shit about anyone but themselves, or staying in power, then frankly, I don't know what planet you're on. pic.twitter.com/6rYv1uHqrq

— Stephen Brown (@StephenWFLabour) July 29, 2019
Will this lead to the break-up of the UK? You'd think so. If only because Johnson said it won't.
So the good news is that the allegedly skint Great Britain has found another £2.1bn down the back of Treasury's sofa. The bad news is we've already spent it – namely on something which is almost certainly going to see us vomiting money like a busted cash machine.
Magic money tree
The last decade has revolved around Tory politicians saying:
No, we don't have any money for poor people; no, we don't have any money for the NHS; no, we don't have any money for disabled people – oh wait! I just found some money to do this thing that we want. Ah – sorry – we spent it all. So no, we don't have any money for potholes, libraries, or education, sorry.
In case you're wondering, the list of things there's always money for is:
War.
Brexit.
Tax cuts for the rich.
Pay rises for MPs.
State visits from Donald Trump.
The Westminster bar.
Periodically employing Toby Young for his 'expertise'.
So much pointlessness
The no-deal situation is a tricky one. On the one hand, not planning for it would prove disastrous if it actually happened (much like not planning for any Brexit proved catastrophic after the referendum). On the other hand, we're spending billions on something THAT SHOULDN'T EVEN BE ON THE TABLE IN THE FIRST PLACE.
We clearly have a 'Brexit at any cost' government. This is somewhat of a step in the right direction. We just need to replace 'Brexit at any cost' with:
A fair country that has top-notch public services and a firm commitment to fixing climate breakdown while ensuring everyone is living their best life at any cost.
The media recently hyped up an alleged 'Boris bounce'. Johnson himself – being less than the brightest Tory in our government of dunces – took that a bit too literally. This is why he left work yesterday by the third floor window. It's also why he continued the rest of his commute in an ambulance.
Thump
Johnson appeared in a window at the House of Parliament. He shouted down at the people below:
I'm the lizard king! I can do anything!
He then belly-flopped out the window like a delirious salmon – laughing all the way. Or laughing until he touched down, anyway. His merriment notably ended when he hit the ground.
Things didn't get any better from there. As the shocked Etonian lump lay there moaning, one of his aides rushed over.
I'm sorry to report this, sir, but we just lost the Brecon by-election. To make matters worse, a recent poll suggests everyone hates you. To make them worser your trousers have split. On top of that, you're not wearing any underwear. And your arse has a poorly realised tattoo of Margaret Thatcher with the body of a bulldog. And also the ambulance won't be here for at least 45 minutes because of NHS cuts.
Weak and bouncy
People who like Johnson will be glad to know that he'll make a full recovery. Everyone else will be glad to know that nurses are probably spitting in his food.
Johnson denies hiring extra police because society could collapse within months
For years now, the Tories have been cutting police numbers while simultaneously creating the sort of horror-society that leads to more crime. While the former is what we should aim for, it doesn't really work when you do it alongside the latter.
Boris Johnson is planning to hire lots more police. He's also planning to ramp up the horror-society conditions we've been living through.
The big question is why?
Sorry, not why. The big question is when?
When is Johnson expecting society to collapse?
As it turns out, it's within weeks.
Still upper twit
As Johnson himself explained:
If Britain got through World War II, we can certainly survive no-deal Brexit. We just need to go onto a war footing. That's why we're thinking of the public as the equivalent of the Nazis and the police as the plucky British army.

We're actually thinking about re-commissioning the spitfire to replace all those water cannons I bought then never used. There's nothing like a good blitzkrieg to bring people together.
Fuzzy thinking
Theresa May's attempts to move towards a police state were always thwarted by her own stinginess. Johnson is at least smart enough to realise that a police state requires – and this should be obvious – police.
Hopefully, the public realises that they can vote for someone else as soon as there's another election.
Featured and in-story images via Chatham House – Flickr / US Air Force / Twitter – HM Treasury / Flickr – Ben W / Flickr – Financial Times / pixabay / Flickr – University of Salford Press / Wikimedia (images were altered)
Support us and go ad-free
We know everyone is suffering under the Tories - but the Canary is a vital weapon in our fight back, and we need your support
The Canary Workers' Co-op knows life is hard. The Tories are waging a class war against us we're all having to fight. But like trade unions and community organising, truly independent working-class media is a vital weapon in our armoury.
The Canary doesn't have the budget of the corporate media. In fact, our income is over 1,000 times less than the Guardian's. What we do have is a radical agenda that disrupts power and amplifies marginalised communities. But we can only do this with our readers' support.
So please, help us continue to spread messages of resistance and hope. Even the smallest donation would mean the world to us.
Support us