Corbyn-supporting Labour members like me have tried to make Brexit work, but it's time to dump it completely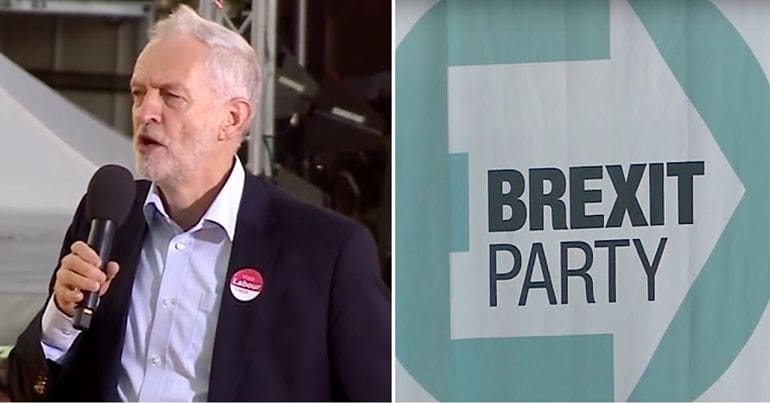 Support us and go ad-free
This article is one of three Opinion pieces looking at what's next for Brexit in the aftermath of the EU elections. You can also read Tracy Keeling argue why Labour mustn't support a second referendum and Frea Lockley on how racism has been the biggest winner from Brexit.
You don't hear much about people like me. We're the Corbyn-supporting die-hards who've compromised, but secretly wished Brexit would die all along.
But we now know that Labour's admirable soft-Brexit compromise has failed. In my experience, the only Brexit that'll satisfy most leave voters is on destructive no-deal terms. And we can see that Brexit is fuelling the far right. Confronted by that difficult reality, we have no choice but to become a remain and transform party, or face the political wilderness.
Why Labour's noble strategy has failed
Labour has tried to be the adult in the room. Brexit won by 51.9% leave to 48.1% remain. In any sensible country, that would mean we leave – but keep relatively close to the EU.
But people have forgotten that we aren't a reasonable country. We're a country that had an empire and whose broken voting system means the winner takes all and, constitutionally speaking, says 'fuck the losers!'
Despite this, Labour nobly believed it could bridge the Leaver / Remainer divide, and find a British compromise. Which, apparently, is a thing…
Read on...
Support us and go ad-free
When two tribes go to war
With hindsight, this strategy was always naïve.
The referendum was inherently polarising, a binary choice between Leave and Remain. Like Corbyn, I don't want to think of people as 'Leavers' or 'Remainers'. But like it or not, many people do. That's what the Conservative's referendum gave us: the genie is out of the bottle. And so, as admirable as it might seem to say "the real divide is between the many and the few", the real division between Remainers and Leavers is an inconvenient truth that won't go away.
In retrospect, the moment Leave or Remain was printed on the ballot papers, we were fucked. If you put people into simplistic categories, then simple dogmas develop to distinguish one camp from the other. And without fail, the most extreme voices with the simplest uncompromising visions take command of the ship.
And so it has proven.
On the Remain side, calls for a second referendum have mutated into calls to revoke article 50 and remain. On the Leave side, campaigns which explicitly said leaving wouldn't mean exiting the single market, or a no-deal Brexit, now claim it could mean so.
And this 'no-deal is the only true Brexit' narrative has taken hold like a bushfire on the Leave side.
What a trip to Cyprus taught me about Brexit voters
I sensed this was happening while on holiday in February. I was out one night in Cyprus with my girlfriend's parents and their friends. We were on one of those stereotypical Mediterranean holiday strips where restaurants sell pies and pints to give that authentic foreign experience…
If there was a perfect example of the British working class, they were it. Train drivers, builders, shop workers, and so on. We sat chatting and drinking for five minutes before Brexit inevitably came up. "No deal will do for us," announces Tony on behalf of himself and his wife. "Yep, WTO will be fine, we've always got through in the past," says David.
You can poll people all you want, but sitting there I knew this was the new Leaver's Brexit common sense. A few months later and a no-deal Brexit has gone mainstream.
Mum and dad: soft Remainer polling
I've also conducted extensive polling of my Remainer parents.
It dawned on me before the European elections that mum had asked me 4 times in the last month what Labour's Brexit policy was. And despite my best diagrams and epic explanations, it was still a mystery to her. Dad was more to the point: "Look, I'm not being funny, but I think they're getting it wrong. People don't get it."
And that's just the point. Beyond the geeky political world, people are crying out for simple messaging. Something that's understandable when Brexit has become such a complex mess. But should Labour pander when the reality is more complex? Perhaps not. But when hard-right Brexit supporters are offering simple solutions and gaining popularity, you have to change tactics to stop them winning. And unfortunately, that might mean sacrificing some pro-Brexit support in the process.
Labour's third way Brexit approach needs to change, dramatically
So this is where I'm at.
I've long suspected Labour's Brexit policy was a one-way ticket on the Titanic. But I'm a democrat and respected the dangerous consequences of ignoring people that feel rage against the machine.
But there's only so much understanding I can give people.
Because now, respecting people's democratic wishes and grievances feels like pandering to those who'd happily drive us all off a cliff, sticking their foot down on the accelerator and shouting "FREEEEEDOM! NO DEAL BREXIT! DEATH TO TRAITORS! BLUE PASSPORTS FOR ALL!!". And all for a type of Brexit that nobody can credibly claim people were offered before they voted in the 2016 referendum.
The real danger now isn't ignoring what people want, it's giving it to them (a no-deal Brexit). A no-deal Brexit that would gift hard-right Tory fantasists an opportunity to deregulate Britain into a big business tax haven. And for such a vision I have two words: fuck that.
Respecting democracy and understanding people's fears and frustrations doesn't mean you knowingly let them fly us all into the sun.
This fundamental dilemma for Labour means remain is the only viable option
If the only Brexit that satisfies Leave voters is no-deal, then what's the justification for Labour's soft Brexit anymore? Because trust me, it won't satisfy Leavers.
Time and again when I ran in the local elections, both I and the Labour Party itself were accused of "betraying Brexit / democracy" – despite us pledging to honour the referendum. And the clear implication from voters was that only a clean no-deal Brexit would do.
Meanwhile, all the dedicated Remainers will simply vote Lib Dem or Green, or any other party that opposes Brexit unconditionally. Meaning: we'll be hammered from both sides, instead of one.
Brexit is now a far-right cause
Brexit has also well and truly become the cause of the far right, with its politics of hatred, social conservatism and racism. And socialist Brexit supporters (Lexiteers) must accept they are the minority. Arguably, by continuing to support Brexit, they are playing a dangerous game and injecting rocket fuel into a far right that thrives off the same Brexit cause they support.
Labour's options
The above considered, there are only three options. One, hold the line and persist with the soft Brexit approach that has failed. Two, become a no-deal Brexit party and betray everything we believe in. Or three, be honest with people. Tell them a no-deal Brexit would be a disaster. Tell them leaving the EU won't solve all their problems, or fix our rotten democracy or economy. And finally, pledge to remain and TRANSFORM (not reform) the EU to solve the climate and economic crises we face with the combined efforts of our European comrades. As Paul Mason argued in the Guardian:
Labour's narrative has to be built around resistance to Brexit as a project of the racist and xenophobic right, and a story of communities revived by hope and solidarity
'But Tom Watson and the People's Vote crew are dicks!' – so what?
The difficulty with what I've proposed is the understandable hostility many Corbyn supporters have towards the People's Vote campaign.
They rightly conclude that many in this campaign are motivated as much by destroying Corbynism, as they are by stopping Brexit. And there's no doubt that their tactic of attacking Corbyn has put off many pro-European Corbynites. This hasn't been helped by the campaign's association with careerists like Tom Watson, or Chuka Umunna.
But not everyone in that campaign is a middle-class liberal hell-bent on stopping socialism in our time. And, although you might hate me for saying it, it's reflective of the tribalism that plagues our politics that too many people are unable to see past this. I'd ask you: what is the alternative?
Because if Labour's soft Brexit has failed to win hearts and minds and the alternative is a far-right Farage-type no-deal Brexit catastrophe, then people need to choose the lesser evil, and fast.
Whether you like it or not, this is where we're at.
We can't let Brexit kill the possibility of a socialist government
But perhaps I'm wrong. Perhaps the EU elections don't reflect wider public opinion. Perhaps the normal people stayed at home and would vote differently at a general election. But from my own experience (and it is just my own) I highly doubt it.
We need to keep our eye on the greater prize. Because the stark reality is that the unpopularity of our party now, because of Brexit, might undermine the possibility of a future socialist Labour government.
So it's time to say, without shame, let's kill off an extreme far-right Brexit.
Featured image via Sky News and France 24 English.
Support us and go ad-free
We know everyone is suffering under the Tories - but the Canary is a vital weapon in our fight back, and we need your support
The Canary Workers' Co-op knows life is hard. The Tories are waging a class war against us we're all having to fight. But like trade unions and community organising, truly independent working-class media is a vital weapon in our armoury.
The Canary doesn't have the budget of the corporate media. In fact, our income is over 1,000 times less than the Guardian's. What we do have is a radical agenda that disrupts power and amplifies marginalised communities. But we can only do this with our readers' support.
So please, help us continue to spread messages of resistance and hope. Even the smallest donation would mean the world to us.
Support us