The left is under the most extensive attack since the 1950s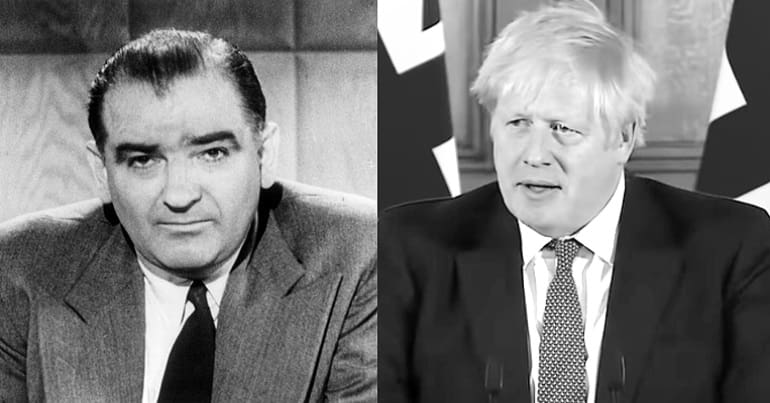 Support us and go ad-free
A former Labour MP has been tasked with examining left wing groups as part of a government review into UK 'extremism'. But this move is just the thin end of the wedge. It is one part of a much wider assault on left-wing views and activity.
Taken as a whole, we are witnessing perhaps the system's greatest attack on us since the McCarthyism of the 1950s.
John Woodcock: witchfinder general
As The Canary's Tom Coburg recently wrote:
In November 2019, home secretary Priti Patel appointed lord Walney (former Labour MP John Woodcock) as the government's envoy on countering violent extremism. According to the Telegraph, Woodcock will be looking at "progressive extremism" in Britain. That includes how 'far-left' groups could infiltrate or hijack environmental movements and anti-racism campaigns.
To be clear, 'extremism' is a nonsense term. As police monitoring group Netpol's Kevin Blowe wrote for The Canary, it can mean a number of things: from being a member of a civil disobedience group to being part of a campaign that challenges corporate power. Moreover, the government hasn't even defined the term extremism or extremist in law. So it allows the state, and its agents, to decide who gets labelled as one.
The thin end of the wedge
Already, the right wing in the UK is cheering Woodcock on. The Telegraph wrote with glee that he'd be looking at "anti-capitalist" groups. Woodcock himself stated that:
I want to look at the way anti-democracy, anti-capitalist far-Left fringe groups in Britain like the Socialist Workers Party tend to have much more success hijacking important causes… than the far-Right, and the harm that may do.

Read on...

Support us and go ad-free
Woodcock's review is the thin end of the wedge. Because it sums up what's happening across society. He's implying there is no alternative to corporatism (or "capitalism" as he incorrectly refers to it). Anything "anti" that is wrong and must be stopped. And in the wider world, this is already happening. It can be broken down into several areas.
Un-social media: controlling the narrative
Facebook and Twitter have been actively silencing dissent. This has now been happening for a while. In 2017, Facebook changed its algorithm to intentionally remove smaller, left-wing news outlets from people's feeds. The Intercept reported last year that as Facebook was banning far-right, QAnon-related groups, it was doing the same to antifacist ones, too. It consistently shuts down pro-Kurdish accounts. Also, UK Twitter has repeatedly banned left-wing voices. And now, Facebook will be "depoliticising" its platform. In short, it's looking to reduce the amount of news in people's feeds. But campaigners say this will hit small, grassroots groups the hardest.
Now, you could argue 'it's the algorithms what did it'. But someone designed those algorithms. And according to reports, CEO Mark Zuckerberg personally intervened to make sure left-wing sites were hardest hit. Why? It's about control of the narrative. And it's also about protecting powerful people and companies' interests.
Losing the internet
The internet nearly caused control of the narrative to be lost. In the early days, it was a fairly open platform. But then, the dot com crash of 2000 came. The demise of countless new, smaller tech start-ups was a disaster capitalist's dream. It paved the way for the domination of the internet by a few companies. And in turn, these companies have ended up being some of the biggest in the world.
At first, this was about concentrating ownership. But after events like the Arab Spring, the system realised the power the internet could yield for the people. So, the shutting down began. But just recently, we've seen some tech giants openly go to war with governments. Most pointed in this is Australia. Its government is making companies like Facebook pay the media for its content. Facebook isn't happy. In response, it has blocked all news content from its Australian site. Google, meanwhile, is so far going along with the Australian government's plans.
The situation in Australia sums up another problem. Namely the establishment corporate media. Because it too has massive control over the public narrative.
Manufacturing consent, 21st century-style
The Canary's Tom Coburg recently summed up the problem with the establishment corporate media. He wrote that:
Professor Noam Chomsky co-wrote Manufacturing Consent: The Political Economy of the Mass Media, which famously argued that the mainstream media's role was all about suppressing criticism of the powerful. Now recent moves by media in the UK are about to see that 'manufactured consent' taken to a whole new level.
Coburg argued that UK media is already dominated by a few players. People like right-wing Rupert Murdoch control huge sections of it. But Coburg wrote about how it's about to get worse. He said that:
in February 2021, Ofcom was reported to have given its approval for Murdoch and Brooks to launch News UK TV, an outlet that will undoubtedly reflect the political leanings of its owner.

Meanwhile, it's understood that former editor of the Daily Mail, Paul Dacre, is rumoured to become the next chair of Ofcom [the broadcast media regulator].
Dominating the narrative
And then:
In January, it was reported that Richard Sharp, a former Goldman Sachs banker who donated an estimated £416,189 to the Conservative Party, is to be chair of the BBC's board of directors.
In short, the corporate media was already run by a few, right-wing people. Now, it's about to get worse. The new Australian rules are all the more concerning, too. Because with Google and Murdoch now in financial cahoots, power over the narrative is even more concentrated.
Overall, the left wing is being shut down on social media. It's actively deplatforming our news sites. The establishment corporate media is more and more dominant. So, we all better get back to protesting on the streets, yes? Well, we are facing a clampdown there as well.
Co-opting climate chaos
Whatever you think of Extinction Rebellion (XR), it's gotten a name for itself. Its protests in London and around the world have been high-profile. But the system is determined to shut the group down. UK home secretary Priti Patel called its members "criminals". She said its methods were a:
shameful attack on our way of life, our economy and the livelihoods of the hard-working majority.
Billionaire tech mogul Bill Gates said XR was not "constructive". And Woodcock will be including the group in his review. So, why are the establishment attacking XR? It's about control of the climate change narrative.
In short, we're seeing corporations and those in power co-opting the green movement for their own benefit. Gates is one example. Elon Musk is another. Shell, one of the world's largest oil companies, is another; rolling out low carbon fuels. The system and its proponents know that we've screwed the planet. They know it needs fixing. But in the process, these disaster capitalists also see a money-making opportunity. Plus, if the system fails, so do they. So, XR and its people-led approach needs stopping. And the UK's increasingly authoritarian police are central to this.
Increasing authoritarianism
Police monitoring group Netpol recently wrote that the UK government:
is planning to introduce major changes to public order legislation to crack down on protests, under a new "Protection of the Police and Public Bill" planned for 2021.
It's looking to increase police powers over protest. These include police being able to control where they happen and using stop and search powers on protesters. Netpol says it comes in the wake of not only XR but also Black Lives Matter (BLM). Patel accused the latter of "hooliganism and thuggery". Little wonder, when its call for defunding of the police is, like XR, a threat to the system. BLM's drive for equality and social justice is the same. Corporate capitalism needs inequality to function. Any true levelling of the playing field would be too damaging for it.
So, what if the police do arrest and charge you over a demo? At least lawyers will be able to help you. Or so you'd think.
Battering the law
The government is also attacking the legal profession. As former Green Party leader Natalie Bennett recently wrote for Bright Green:
It's not just that the government has drained away the resources of legal aid: the annual legal aid budget is now £1.6bn a year, £950m less in real terms than it was in 2010, or removed all support for large areas of work under the 2013 Legal Aid, Sentencing and Punishment of Offenders Act (LASPO).

It's also that the government has actively attacked the role of lawyers in upholding the rule of law: Priti Patel attacked "do-gooders" and "lefty lawyers", her Home Office tweeted (although after an outcry deleted) an attack on "activist lawyers" and even produced a video with the same theme (also eventually deleted).  Marina Sergides, a barrister at Garden Court, testified to the APPG: "We are public servants but we are not treated as public servants… we are actively attacked by the government".

That attitude permeates throughout government action. Just this weekend, Paul Powlesland tweeted that while assisting, pro bono, anti-HS2 protesters at Euston, he was slapped with a £200 Covid regulation fine. He said he's confident of being able to fight it in court – but what a pass we've come to when police are acting against legal protection.
So, the left is becoming increasingly squeezed. We're unable to operate effectively online. Our media outlets are impaired. The corporate news is all the more dominant. Physical protest is becoming more and more restricted. And our right to legal recourse is also under threat. So, we'd best hope that Generation Z is going to save us then?
Indoctrinating the youth
In 2020, the UK government issued new education guidance. Vice reported that it:
told leaders and teachers involved in setting the RSE curriculum that anti-capitalism is categorised as an "extreme political stance", comparable to the opposition to freedom of speech, antisemitism and the endorsement of illegal activity.
Of course, this would mean students would not hear any opposing views on capitalism. But it could also mean erasing huge parts of history. As George Monbiot said in a Twitter thread:
Behind these histories lies an even bigger and more sacrilegious truth. It's that the system we call capitalism… is really a system of global theft… Let's imagine there'd been no theft. No gold, silver and land stolen from Native Americans, no people stolen from Africa, no wealth stolen from India and the other colonies, no ransacking of our life support systems. How successful would this system we call capitalism have been? How rich and powerful would nations like ours have been? I would guess: not very. Capitalism is not what it claims to be. It is not the great success story its beneficiaries proclaim. It is the ideological structure we use to shield ourselves from brutal truths.
So, the system has to erase valid criticism of it for it to continue to evolve. And it's embedding this further, too.
Cancelling cancel culture
We're also seeing a "twin" attack on so-called "cancel culture". The UK government has just said it's 'strengthening' free speech at universities. Education secretary Gavin Williamson said:
I am deeply worried about the chilling effect on campuses of unacceptable silencing and censoring. That is why we must strengthen free speech in higher education, by bolstering the existing legal duties and ensuring strong, robust action is taken if these are breached.
In short, the UK Tories are targeting students trying to shut down transphobes, racists, and misogynists.
Also with this comes a government focus on 'heritage'.
The "war on woke"
The government is bringing together 25 of the UK's biggest heritage bodies and charities in an attempt to whitewash British history. Third Sector said that the government has "summoned" them:
to a summit where Oliver Dowden [the culture secretary] is expected to tell them "to defend our culture and history from the noisy minority of activists constantly trying to do Britain down".

It is being seen as an escalation of the government's "war on woke" against so-called "cancel culture", amid concern at senior levels in the government over what it sees as attempts to rewrite Britain's past.
It's an obvious attack on BLM and the removing of slave trader statues. But moreover, it's an attempt to shore up the false nationalist history peddled by the establishment that has led the system to the point it's at today.
So, you'd be hard-pushed to find somewhere the system wasn't attacking the left. These individual cases are nothing new. But what seems new this time is the sheer scale of it. And a freelance journalist has compared this to another time in history.
A new McCarthyism?
Tim Fenton said that much of this is a new form of McCarthyism. Historically, it's not far off in terms of the current system's MO. Woodcock's review is the same as a 'Salem Witch Trial'. That is, in the context made famous by Arthur Miller in his play The Crucible. Miller's Salem witch trials were a metaphor for the clamp-down on communists during the 1950s in the US. But Fenton's point is also useful in seeing why this is going on.
In the 1950s, two forces were pulling the world apart: communism and capitalism. Human society was at a crossroads of ideologies. It could have gone either way. Fast-forward to the 21st century, and we are in a similar position. Except this time, the forces are not communism and capitalism. They are corporatism on one side and humanity on the other. This isn't just a UK phenomenon, either. It's been the same in the US. And it's the same in France. It's the same in Australia. Power is now highly concentrated. And those with it want to make sure it stays that way.
But in the UK, Woodcock's review isn't the end of the story.
The left wing: being dunked, Tory style
The government will soon be introducing the Online Safety Bill. As I previously wrote for The Canary, this proposed legislation is peak Tory government. It's dressing up an overarching attack on freedom and democracy as something that's good and protective for us. Put this authoritarian piece of law in tandem with Woodcock's review. Then, tie in all the other crackdowns mentioned above. And what you have is perhaps the greatest attack on the left since McCarthyism in the 1950s. In fact, it may end up being even worse.
With the advances in technology have come more and more ways for activists to organise. But consequently, traditional methods have been lost. Our lives and our human interactions are now dominated by tech. This leaves us exposed to governments and corporations exerting more power than ever before over them. My late father was a prominent member of the communist party in the 1950s/60s. He used to have a favourite story to tell. When they held meetings, the chair would always end his opening speech by saying:
And finally, a very special welcome to our friends at the back of the room.
He was referring to undercover police. But the meeting would still go ahead. Now, we live in the age of virtual organising. And our right to even discuss having a meeting may end up being curtailed. Our freedom to object to, and protest against, what the system is meting out has never been under such a threat. It's up to all of us to push back – before it's too late.
Featured image via Rupert Colley – Flickr and Sky News – YouTube
Support us and go ad-free
We know everyone is suffering under the Tories - but the Canary is a vital weapon in our fight back, and we need your support
The Canary Workers' Co-op knows life is hard. The Tories are waging a class war against us we're all having to fight. But like trade unions and community organising, truly independent working-class media is a vital weapon in our armoury.
The Canary doesn't have the budget of the corporate media. In fact, our income is over 1,000 times less than the Guardian's. What we do have is a radical agenda that disrupts power and amplifies marginalised communities. But we can only do this with our readers' support.
So please, help us continue to spread messages of resistance and hope. Even the smallest donation would mean the world to us.
Support us