The Spectator is now plumbing the depths of desperation while trying to defend Israel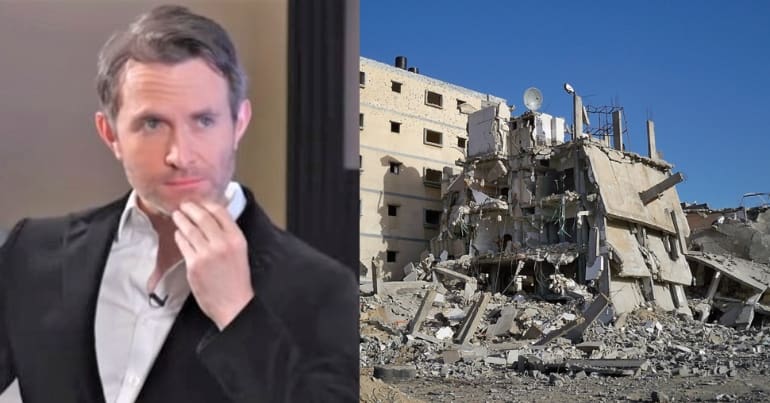 Support us and go ad-free
The Canary has been extensively covering the situation in occupied Palestine. Heightened Israeli authoritarianism against Palestinians (described by professor Ilan Pappé as a "calculated and cynical provocation") led to a response from Palestinian armed groups. As usual, the response from Israel has been grossly disproportionate. It's involved airstrikes against civilian targets that included residential buildings, hospitals, and schools. So far, Israeli offensive military actions have left hundreds dead, including over 60 children.
Naturally, right-wing commentators have been engaging in desperate mental contortion to categorize Israel's actions as some kind of 'self-defence'. The race-to-the-bottom has been a long and predictable compendium of propagandizing, minimizing, and obfuscating. But in a competitive field, the Spectator, the house organ of the Conservative Party, might ultimately take the prize for most flagrant excuse-maker for Israel's actions.
Dishonestly framing the debate
Two Spectator articles published on 20 May, in particular, stand out for their shameless dishonesty. The first is an article by neo-conservative cheerleader for the Iraq War Douglas Murray. His article starts off predictably enough, with a sampler of boilerplate pro-Israel talking points. For Murray, Israel is engaged in nothing more than the "defence of its own citizens" against "the terrorists of Hamas and Islamic Jihad in Gaza". Those who speak out against Israel's atrocities are "ignoramuses" for "cry[ing] about 'disproportionate' death tolls".
But for Murray, "all this, and much more, has been rehearsed a thousand times before". So apparently in a UK context, "there is only one interesting observation that can be made about this conflict". And that is:
It does not matter what the size or scale of any conflict involving Israel might be, the reaction on the streets of the UK worsens each time.
His list of allegations includes claims that:
Protests outside the Israeli Embassy in London, "attended by leading politicians of the opposition Labour party" involved "openly anti-Semitic messages".
Protesters at the Israeli embassy threw missiles at police.
"Convoys of cars of pro-Palestinian activists [drove] through Jewish-populated areas of London shouting 'Fuck the Jews. Rape their daughters'".
Dubious evidence…
The evidence that he provides for these claims is not exactly rock-solid. Of course real antisemitism is never excusable and must be condemned. But Murray's source for the claim about the alleged abuse the protesters in the car convoy shouted out, for example, is an article from the Jewish Chronicle (JC) that embeds a video posted on Twitter. The video appears to show protesters in one of the convoy's cars making the remarks over a loud speaker.
Read on...
Support us and go ad-free
Though arrests have been made, no one as of yet has been charged with using racist language. Moreover, the video has not been authenticated as real.
The claim about Labour politicians attending a protest with "openly antisemitic messages", meanwhile, is based on another Twitter post. It shows Jeremy Corbyn on stage with "a ten foot inflatable antisemitic caricature. With horns". The clothing and facial hair of the blow-up figure, however, appear to be caricaturing a member of the Saudi royal family. While the representation could arguably be racist against Muslims or Arabs, it can't be called antisemitic.
…but that's not the point
But there's a bigger matter at hand here. Because supposing every one of these allegations were true, the question then arises: 'Why is Murray so preoccupied with the reactions of British solidarity activists?' The answer, of course, is that he wants to deflect attention from the real issue that is going on. Namely, Israel's vicious and inhumane actions during this recent flare-up of violence.
In other words, Murray's trying to manipulate his readers by drawing attention to the most reprehensible (alleged) activities of a small number of unrepresentative protesters. This is done in order to emotively evoke scorn for a deliberately loosely-defined Palestinian 'side'. And it's a textbook example of the 'guilt by association' fallacy. After all, those in the car convoy were a handful of people and speak only for themselves. Likewise, it was probably just one person who brought the blow-up doll to the rally outside the Israeli Embassy, and certainly not Corbyn himself.
Shameless diversion tactics
The next article in the Spectator's line-up of wilful distortion is a guest column from Spiked magazine editor Brendan O'Neill. O'Neill starts his article with the question:
Did you know that for the past three weeks Turkey has been engaged in a military assault on Iraqi Kurdistan?
He starts by listing the various atrocities Turkish forces committed against Kurds over the last few weeks. He then asks melodramatically:
Have you seen any big, rowdy protests in the UK about this worrying act of asymmetrical warfare? Have you seen any footballers wave the Kurdish flag in solidarity with displaced, terrified Kurds? Have you seen social media swamped by furious denunciations of the 'bloodthirsty' Turks and outpourings of love and concern for the brutalised Kurds?
"I haven't," O'Neill responds to his own questions. Well, he must not be looking very hard because there have been plenty of denunciations of Turkey's brutality and ever-worsening human rights record and its treatment of the Kurds all across progressive media, including in The Canary. But again, let's assume for argument's sake that he's right – that not a single Palestinian solidarity activist has uttered a peep about it.
In this case, this still wouldn't be a good argument. Because it amounts to nothing more than the tried and tested diversion tactic known colloquially as 'whataboutery'. 'Whataboutery' is one of the oldest and most hackneyed tricks in the right-wing toolkit. It attempts to divert attention away from legitimate criticism of one actor onto another (usually a political opponent) by asking 'what about this?'.
Pulling the antisemitism card
The title of O'Neill's article, What's the real reason so many people hate Israel?, adds a further component to the manoeuvre. (I think you can see where this is going…). It implies that those who focus on Palestine while ignoring what's happening to the Kurds must have some ulterior motive. And though left unsaid, it's clear enough what O'Neill is implying: that the purportedly inordinate focus on Israel is motivated by a visceral hatred of Jews.
This other favorite tactic of right-wing backers of Israel has been called out by none other than expert on the Israel-Palestine conflict Norman Finkelstein. (Finkelstein is Jewish and the son of Holocaust survivors.) Again, it goes without saying that antisemitism should be unequivocally condemned. But unfortunately for O'Neill and his whole narrative, extensive research has shown that antisemitism is far more prevalent on the political right than the left. And let's not forget when Tory MPs attended the unveiling of a statue of an actual antisemite, Nancy Astor. When this happened, the MPs in question, including Boris Johnson, largely got a free pass in corporate-owned press.
What makes O'Neill's article even more pathetic is that the Kurdish independence movement shares many common grievances, as well as many common goals, with the Palestinian liberation struggle. And so representatives of the former would surely flinch at the thought of their struggle being conscripted into apologetics for Israel's crimes.
As if it could get even worse…
And just as you think he can't stoop any lower, O'Neill moves on to enlist Saudi Arabia's human rights record in his duplicitous exercise. He says:
Saudi Arabia can bomb a school bus and kill 40 children, as part of its brutal war in Yemen, and most Western campaigners don't lose a wink of sleep. But Israel just has to start wheeling its military aircraft out of the hangar and they're up at the crack of dawn on a Saturday
Again, he must not have been paying much attention. Because The Canary itself has condemned Saudi Arabia along with US and UK support for it, such as extensive arms deals with its hereditary dictatorship, many, many times. We have even condemned the specific action he's referring to on at least two separate occasions.
The Spectator's shameless propagandizing for Israel's actions is not just self-refuting, but self-parodying as well. Mouthpieces like Murray and O'Neill are now engaging in such desperate mental contortion to defend these actions that it's becoming an increasingly pathetic spectacle to behold.
Featured image via Wikimedia Commons and Wikimedia Commons
Support us and go ad-free
We know everyone is suffering under the Tories - but the Canary is a vital weapon in our fight back, and we need your support
The Canary Workers' Co-op knows life is hard. The Tories are waging a class war against us we're all having to fight. But like trade unions and community organising, truly independent working-class media is a vital weapon in our armoury.
The Canary doesn't have the budget of the corporate media. In fact, our income is over 1,000 times less than the Guardian's. What we do have is a radical agenda that disrupts power and amplifies marginalised communities. But we can only do this with our readers' support.
So please, help us continue to spread messages of resistance and hope. Even the smallest donation would mean the world to us.
Support us