Even Laura Kuenssberg spotted that Labour 'Securonomics' is Austerity 2.0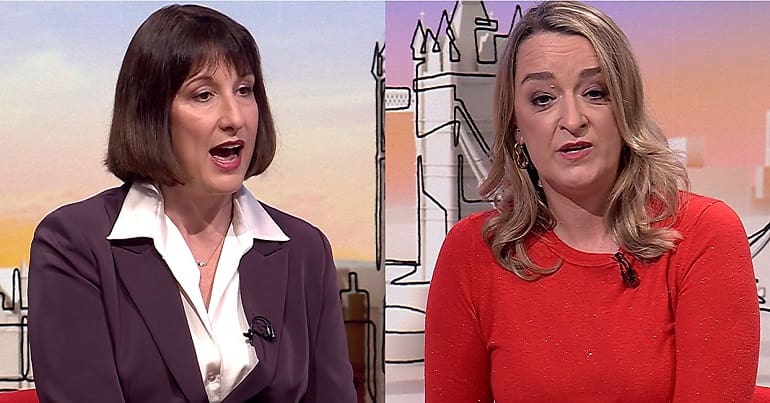 Support us and go ad-free
Another Sunday, another dismal opinion piece from Laura Kuenssberg. Surprisingly, the subject of this week's article is actually somehow less politically competent than the writer herself – said subject being Labour's Rachel Reeves. Labour is peddling an economic ideology it's dubbed 'Securonomics'. Unfortunately for shadow chancellor Reeves, an uncharacteristically wily Kuenssberg peeled the 'Securonomics' sticker off the side of this ideology and revealed the words 'George Osbourne-Grade Austerity' written underneath.
Lower your expectations, plebs
Before we get on to Reeves, let's make it clear that Kuenssberg's latest piece was – as ever – right-wing propaganda of the highest order (that or the ramblings of an over-promoted political nitwit – your choice tbh). Her latest piece is titled:
Why you should not expect a cheque book election
Her argument for that is:
Voters on the left may be frustrated that Labour is promising less than in recent years, but it is harder to make big promises when there is less to go around – so we shouldn't expect a cheque book election.
The odd thing about this argument is that there's this thing called 'the present world we all fucking live in' where we tried to boost the economy by spending less on services and it clearly made everything worse. As the Trades Union Congress (TUC) wrote in 2019:
Austerity was supposed to repair the economy and the public finances.

Read on...

Support us and go ad-free

But a decade after it was inflicted on the country by Tory Chancellor George Osborne, the UK economy is in a dire state.

GDP growth has hit a new low, employment is falling and insecure work has mushroomed. The pay crisis goes on and financial hardship has forced too many into debt.
In the same piece, the TUC notes that the standard of living fell, insecure work became more common, and economic growth flatlined. It has a graph showing that although the Tories sold austerity as the solution to the 2008 recession, it actually ended up being one of our slowest recoveries ever: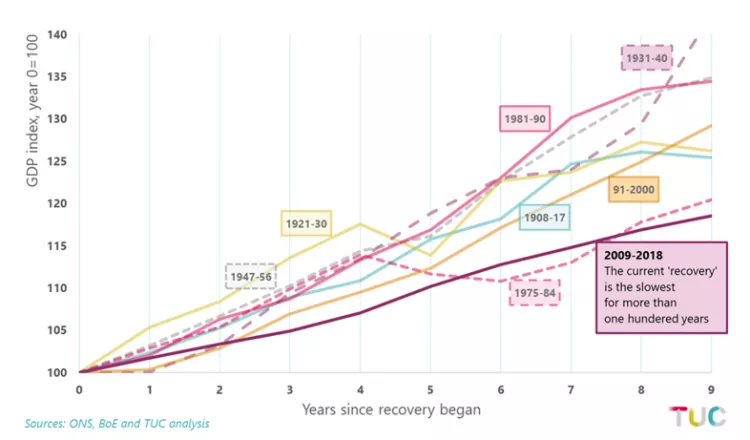 As Raoul Martinez wrote for Novara Media in 2017:
When the [2010 Conservative-Liberal Democrat] Coalition came to power, neither history nor mainstream economic theory provided any support for the claim that cuts were the only way to reduce the deficit. Cutting spending in a recession has been tried many times and – without exception – failed. For instance, in the aftermath of the First World War, the US, Britain, Sweden, Germany, Japan and France all adopted austerity policies with devastating impacts on their economies. President Herbert Hoover's austerity response to the 1929 economic crash was followed by the Great Depression.

The historical failure of austerity as a response to economic crises resulted in a widespread consensus among academic economists that, since recessions are caused by a reduction in demand (and when there is no room to offset cuts by reducing interest rates), cutting spending only makes the situation worse. The textbook response to economic downturns, as any student of the subject knows, is to increase spending. By spending more in the short term, a government can reduce public debt faster because smart spending creates jobs, increases tax revenues and releases more people more quickly from dependency on the state.

However, as governments began to embrace austerity, a handful of economists produced research telling them exactly what they wanted to hear.
However, journalists like Kuenssberg are now parroting what the government (and would-be Labour government) 'want to hear'.
In their book Manufacturing Consent, Edward Herman & Noam Chomsky wrote that "money and power are able to filter out the news fit to print" in order to "to get their messages across to the public". Back then, of course, there was usually a degree of subtlety to how those in power used the media to change public attitudes.
But now, 'journalists' like Kuenssberg simply tell you that "you should not expect" things to improve. The reason she gets away with it is that after decades of manufactured consent, much of the public think that 'bad to worse' is the only realistic direction of travel.
And speaking of bad to worse, let's take a look New-New-Labour's latest updates to its economic policy.
Securo-what?
In a recent speech, Reeves said somewhat dramatically:
From the ashes of the old hyper-globalisation, securonomics emerges.
Okay, but what is 'Securonomics'? She explained:
Building the industries that guarantee Britain's economic security.

Forging resilience at home, while creating new partnerships abroad.

And bringing together an active state in partnership with a vibrant market.

Securonomics means ensuring that a mum and dad in Worthing… who are doing everything right, no longer feel like they are doing "something wrong".

But more than that – they can start to take advantage of the enormous opportunities in our economies.

This is the true promise of securonomics.
Okay, but what is 'Securonomics'? Spoiler alert: the answer is 'gibberish' – something that even Kuenssberg noted, as she wrote in her piece:
It is meant to sound radical, but what it means in practice is unclear.
She earlier noted:
Labour are not short of slogans about the state of the economy. You only need to glance at their MPs' social media, or dip into the House of Commons for a few minutes, to hear one of the economic charges they are levelling against the Conservatives.

But when you look closely at the party's actual plans, it is not so easy to spot the difference.
In the same article, Kuenssberg quotes an anonymous Labour wonk as saying:
Securonomics is extremely clever because it feels like there is a lot in there but it is not very obvious what is.
Given the stupidity of this statement, you can see why the wonk chose to remain anonymous. Given that even Kuenssberg – the UK's shallowest political thinker – has identified the vapidity of 'Securonomics', it's hard to believe that anyone will feel like there's more there besides a subpar slogan. And that isn't all that Reeves failed to get past Kuenssberg.
Reeves: busted by Kuenssberg (yes, you read that correctly)
In their interview on Sunday with Laura Kuenssberg, the host noted:
What's interesting about this, is that the last time we had a government that said fiscal rules/spending limits were at the top of the list, the way they dealt with that was to introduce austerity.
You can't see the video, but Reeves is wincing at this point (at least we think she is – she arguably just has resting-wince face). Kuenssberg continued, saying to Reeves:
that by your analysis – you've written – 'austerity starved the economy of the investment it needs to grow; austerity failed'. But listening to you today, if spending limits those fiscal rules at the top of your list, by your logic, you might make the same mistake again.
Reeves responded:
No.
She then mumbled unintelligibly for several seconds before claiming outrageously:
This is nothing like what the Conservatives did.
We're not going to waste time transcribing her explanation as to how the two ideologies differ, because said explanation failed to explain anything.
Arguably, by the end of it, we were even more confused than we were at the start. We suppose this is what makes Securonomics "extremely clever" – namely that when you're listening to it being described, it makes you feel like you're a genius in comparison to the person who's babbling at you.
You can watch Reeves' explanation below from 30 seconds in if you like. However, the tweet above it essentially tells you everything you need to know:
Rachel Reeves explains that Labour austerity will be nothing like Tory austerity. #BBCLauraK pic.twitter.com/oXzbf6nGUU

— Saul Staniforth (@SaulStaniforth) July 9, 2023
Austerity: The Next Generation
If you're inclined to think Kuenssberg skewered Labour for being too close to the Tories, don't be. The correct way of looking at the situation is that Reeves talked shit about austerity – something the BBC and Kuenssberg helped sell to the public – and thus she needed taking down a peg.
It doesn't matter how discredited austerity is; it doesn't matter how things have demonstrably continued to worsen under it – these freaks are locked in. At this point, it's like the ship is halfway sunk, and they're yelling at us to bail more water in. The reason they don't care is because they're not on the same ship as us, and they never were. That's why this use of the word "our" in Kuenssberg's latest piece troubled us so much:
It's a well-worn trope that the politicians who look after our wallets are the ones who tend to win.
Did you feel like your wallet was well looked after when the Tories won in 2015? In 2017? In 2019? We didn't, but clearly some people did, and that's why they see austerity as a positive.
For the rich at least, things do keep getting better. That's who Kuenssberg is speaking to; it's also what Securonomics exists to keep secure. And that's why in the next election the choice is going to be between Tory Austerity™ or Off-Brand Labour Austerity Lite.
Featured image via BBC iPlayer – screengrab
Support us and go ad-free
We know everyone is suffering under the Tories - but the Canary is a vital weapon in our fight back, and we need your support
The Canary Workers' Co-op knows life is hard. The Tories are waging a class war against us we're all having to fight. But like trade unions and community organising, truly independent working-class media is a vital weapon in our armoury.
The Canary doesn't have the budget of the corporate media. In fact, our income is over 1,000 times less than the Guardian's. What we do have is a radical agenda that disrupts power and amplifies marginalised communities. But we can only do this with our readers' support.
So please, help us continue to spread messages of resistance and hope. Even the smallest donation would mean the world to us.
Support us