One famous whistleblower supports another. Daniel Ellsberg calls Chelsea Manning 'very patriotic'.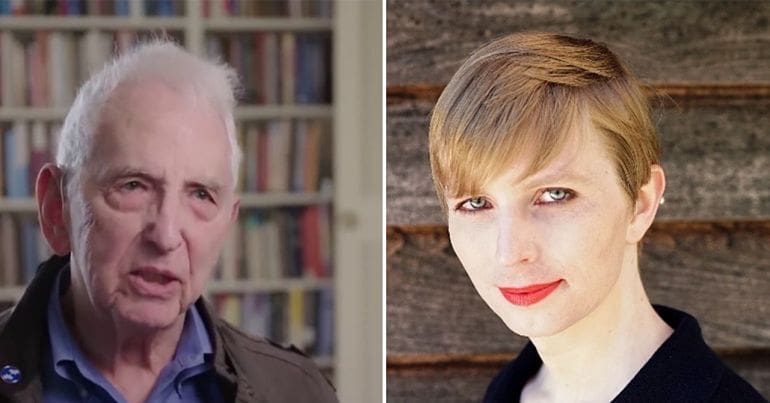 Daniel Ellsberg has voiced his support for Chelsea Manning. Ellsberg was appearing on Democracy Now! when he made the comments on 10 March. He said that Manning "tells the truth" and that he "admire[s] her". In 1971, he famously leaked the Pentagon Papers, which revealed that the US government had lied to the public about its policies in Vietnam.
Manning was recently jailed for refusing to testify against Julian Assange and WikiLeaks in front of a grand jury. She previously served nearly 7 years in prison for leaking information to WikiLeaks. In a statement she said she "will not comply with this, or any other grand jury".
Manning's history
Ellsberg pointed out that the grand jury asked Manning about her relations with WikiLeaks ten years ago. At that time, WikiLeaks published the Collateral Murder video which Manning leaked. The video shows the crew of a US Apache helicopter firing on and killing civilians and journalists. Ellsberg noted that when people watch this video:
What they are witnessing is a very typical, by all reporting, act of murder.
He said she:
also revealed massive, widespread torture being conducted by our Iraqi allies, with our knowledge and complicity, going on into President Obama's term, from George W. Bush.
For this reason:
there's a lot of resentment against her in the intelligence community and in the Army, in general, about the shameful things that she revealed.
Attacking press freedom
Ellsberg also said the government jailed her again in an attempt to make her "contradict her earlier sworn testimony". The US government wants "her to contribute to incriminating WikiLeaks". This is because the media is the real target according to him. He said Donald Trump cannot openly destroy it. Because of this he has to do it via an attack on Julian Assange and WikiLeaks. A direct attack on the press, he said:
would clearly be found unconstitutional.
Ellsberg describes Manning as "very patriotic" and says he "know[s] no one more patriotic" than her because she is:
willing to risk and even give her own freedom, her own life, in order to preserve our constitutional freedoms and the Constitution.
The Democratic Party
Appearing on the same programme, journalist Glenn Greenwald made the same points as Ellsberg. He also talked about the Democratic Party and its support of Trump. Manning's detention and the grand jury are "a grave threat to press freedom". This is because it's an:
attempt to make it a felony to publish classified material—which is what WikiLeaks did.
But "a lot of Democrats are supportive of" Manning's detention because they hate WikiLeaks. They believe it helped Trump win the election in 2016. And this means:
they're happy to see Julian Assange go to jail, even if it means standing behind the Trump administration.
Manning will remain in jail until she purges her contempt or the grand jury finishes its work. This means she could be kept in jail for up to 18 months.
Featured image via YouTube – Democracy Now! /  Wikimedia – Tim Travers Hawkins
Since you're here ...
We know you don't need a lecture. You wouldn't be here if you didn't care.
Now, more than ever, we need your help to challenge the rightwing press and hold power to account. Please help us survive and thrive.
Support